Happy Canada Day!
Dustin Abbott
July 2nd, 2012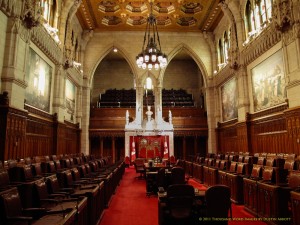 This is just a quick post to wish you all a Happy Canada Day.  As an American, I learned long ago that celebrating one's nation is the right thing to do!  In two days, I will join with other expatriate Americans to celebrate Independence Day abroad.  There will always be a deep and abiding love for the country of my birth, but I am also thankful for the privilege of celebrating my adopted country as well.  Canada is a beautiful country, and I am blessed to be a photographer in a very photogenic nation!  I am so thankful for my Canadian wife, and my three children (dual citizens) who were all born here.  Canada has been good to me!  I have attached a picture I took of the Senate chamber at the Parliament building in the Canadian Capitol of Ottawa, Ontario.
We had a fantastic day yesterday celebrating Canada Day.  We had an afternoon service followed by a BBQ, games, and fellowship.  Then, to cap it off, a group of us from the church met in Petawawa at the perfect site for fireworks.  A panoramic view of the Ottawa River, with a beautiful sunset and mild temperature.  We laughed and talked, lit sparklers, and watched the beauty, waiting for the show to begin.  And it was a great show, with a few "new ones" that we hadn't seen before.  We hooted, hollered, and whistled, and went home tired and happy.  Memories are the fabrics of our lives, and I, for one, am thankful for these chances to celebrate and to weave a few more threads into the tapestry of our lives.  Happy Canada Day, Independence Day, or whatever your national holiday may be.  We are blessed!
DISCLAIMER: This article and description contains affiliate links, which means that if you click on one of the product links, I'll receive a small commission. As an Amazon Associate I earn from qualifying purchases.