My Gear
I've gotten a reputation as a "photography gear guy", and many people write me on pretty much a daily basis to ask me questions about gear.  This page will be an updated log of what I've currently got in my kit…and why.  For your convenience I am also embedding buying links so that you can go out and do further research for yourself.  In some cases I have reviewed the gear that's in my kit, and I'll also embed links to those reviews where they exist.
My buying philosophy is that I look for the best "bang for my buck".  I want high quality gear, but I don't have a "cost is no object" kind of budget.  Sometimes that means making compromises.  But I have learned both as a photographer and a reviewer that most expensive doesn't always = best.
If you want to watch a series of videos where I detail what is in my personal kit and why, take a look here.
Camera Bodies:
In the video below I detail what camera bodies I have right now and why I own them:
At present I have three different camera bodies.  Two of them aren't very different (they are both Canon 6D's).  I wrote about why I chose the Canon EOS 6D DSLR Camera over the 5DMKIII here.  Someone asked not long ago (over a year after my review) if cost was no object, which of the two bodies I would choose.  I responded that my best case scenario would be to own one of each, as I feel both the 6D and the 5DIII have great individual merits, and each is better suited for certain situations.  I'll include a link to shopping for the Canon EOS 5D Mark III DSLR Camera, as it is also an excellent full frame camera body.  In 2016 I plan to replace one of my 6d bodies with the new 50MP Canon 5Ds.
I have recently added Canon EOS 70D DSLR Camera to the stable for use with my telephoto glass and for video work.  It is a nicely built, versatile APS-C camera with a lot of features that I really like .
My fourth current camera body is the EOS M3 mirrorless body.  I reviewed it here.  To summarize, however, the EOS M3 has several strengths, primarily sporting excellent image quality in a very compact body with vastly improved ergonomics.  With the EF adapter it also doubles as an excellent back-up, accepting all EF or EF-S mount lenses.  Finally, it is a great platform for using my vintage lenses, which I get in the mood for periodically.
Ultra-Wide Angle:
Wide angle lenses are pretty key to what I do.  In this video I break down the wide angle lenses that are in my kit; both current and vintage lenses:
My current wide angle choice is one of my overall favorite new lenses, the Tamron SP 15-30mm f/2.8 Di VC USD.  It is a masterful lens with amazing image quality and a great focal length.  It is the new king for shooting the night sky, too.  You can read my review here and might also enjoy a series of comparisons of the top wide angle lens that begins here. I use the Fotodiox Pro WonderPana filter system to further release my creativity with the lens. I have also extensively used the Canon EF 17-40mm f/4L USM Lens along with the Rokinon 14mm Ultra Wide-Angle f/2.8 IF ED UMC Lens For Canon in the past, and they are both good performing wide angle lenses at a good price.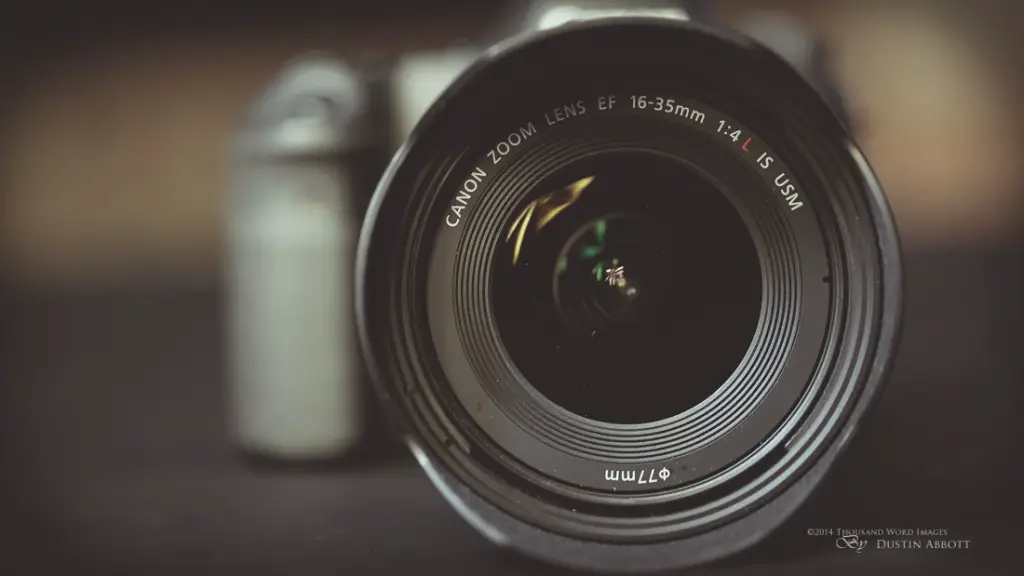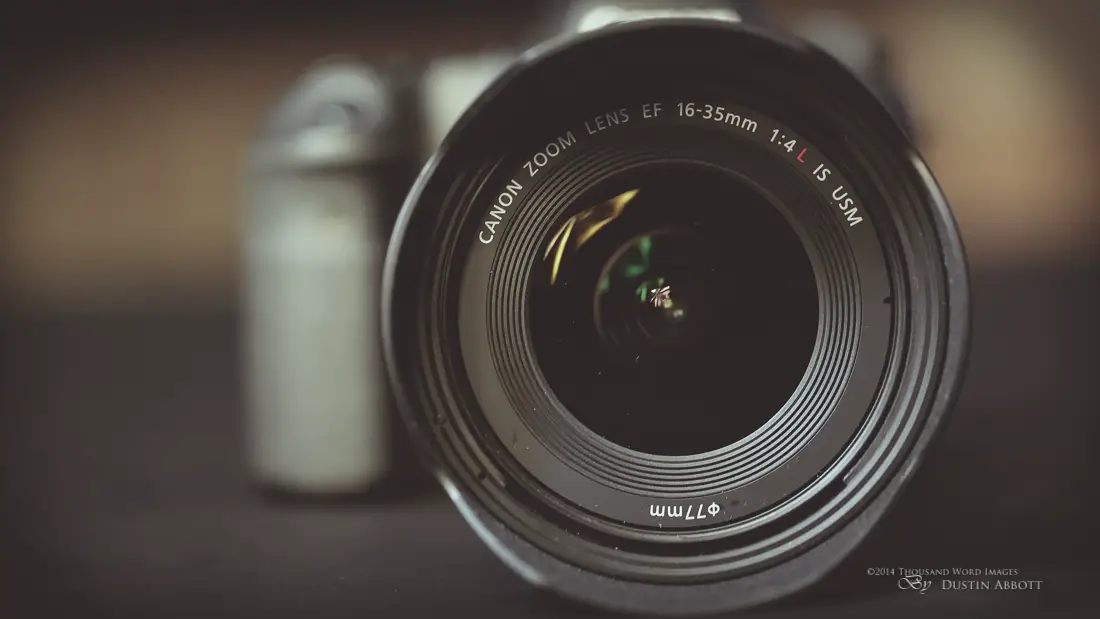 Another great choice in the category for Canon users is the new EF 16-35mm f/4L IS USM.  It improves on nearly all of the shortcomings of earlier Canon wide angle zooms.  It is not cheap, but it is reasonably priced for its performance.  You can read my review here:
Finally, I own and use the astoundingly good Rokinon 12mm f/2 NCS wide angle prime for my EOS M.  This little lens rivals the optics of the full frame equivalents in a beautifully made, nicely compact package.  It can use traditional filters and produces amazing images.  I reviewed it here.
General Purpose:
General purpose lenses are the bread and butter of photography.  In this video I break down the lenses I personally own and use for general purpose:
This is really the starting place if you are just beginning.  It can be difficult transition if you are accustomed to having a camera with a built in lens that has a very large ration of 10x+ magnification, but there is a reason why there are few of those type of lenses for DSLRs and even fewer for full frame DSLRs.  Superzoom lens have far too many optical compromises for discerning photographers, so the focal lengths tend to be much smaller but far more focused on image quality.  I have used some excellent general purposes lenses.  When I shot a crop body, I favored the Tamron SP AF 17-50mm f/2.8 XR Di II.  Excellent image quality in a very affordable package.  I have also used the excellent Canon EF 24-105mm f/4L IS USM Lens on both crop and full frame bodies, and it is particularly appealing when bought in a kit with a full frame body. I have used two copies of that lens on separate occasions, and both were excellent.  My current reigning champion, however, is my Tamron SP 24-70mm f/2.8 DI VC USD Lens.  It is good enough that I eventually sold my 24-105L because it wasn't getting used.  It has become my most used lens because of its excellent optics (nice and sharp wide open), versatility, excellent VC (image stabilizer), and rugged, weather sealed build.  It's not cheap, but it's a bargain compared to its direct competition.  My full review of the Tamron can be found here: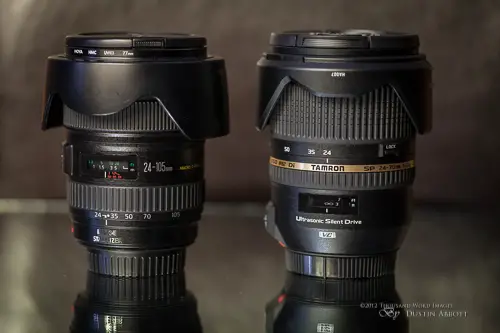 I also use the Canon EF-M 18-55mm f/3.5-5.6 IS STM general purpose zoom on my EOS M body.  It is a very compact lens with an excellent focal range and good stabilizer.  It has surprisingly good optics and a bargain price.
Primes:
If you are not familiar with the term "prime" as applied to lenses, it refers to a fixed focal length lens.  Primes have no zoom range, and so newer photographers frequently overlook them.  And in all fairness, modern zoom lenses are often very, very good.  You will find still find prime lenses in almost every pro's bag, though, because of a few reasons.  First, the current largest aperture of any full frame zoom lens is f/2.8.  Prime lenses are frequently f/2 or wider (Canon has a 50mm f/1.2L).  This may not seem like a big deal, but take a look at this chart (courtesy of Ryan Hulse)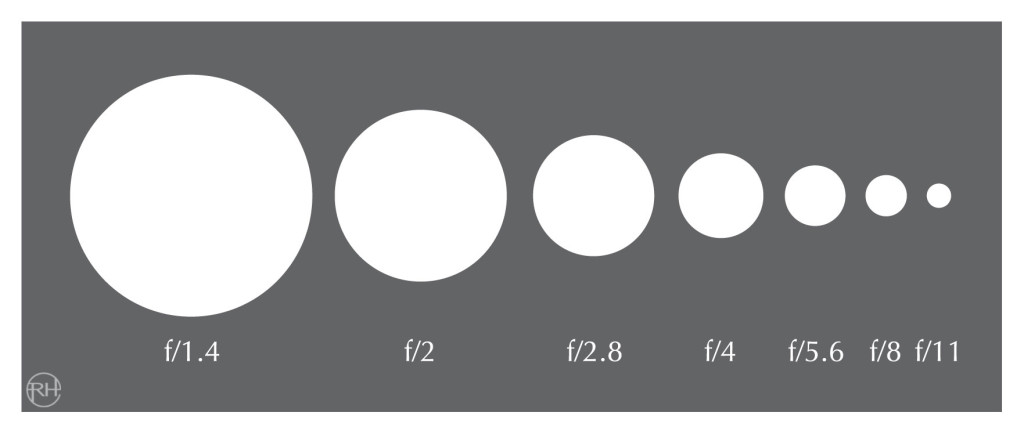 An aperture of f/2 lets in twice as much light as a lens with a maximum aperture of f/2.8, and four times as much as a lens with a maximum aperture of f/4.  A lens with a maximum aperture of f/1.4?  It can let in four times as much light as that f/2.8 zoom at its maximum aperture.  This means two things:  first, in very low light a prime lens becomes a very important tool because ISO can be kept lower and/0r a higher shutter speed can be achieved to stop action.  Secondly, a large aperture prime has greater latitude for "melting" backgrounds and allowing for that rich, creamy bokeh look.  I currently have a number of prime lenses in my kit, including the aforementioned Rokinon wide angle and:
.
Canon EF 40mm f/2.8 STM Lens This little "pancake" lens is in my kit for several reasons.  First, it is the most compact full frame compatible lens with AF currently available for a Canon body.  It is not particularly fast (in terms of aperture) for a prime lens, but makes up for it by being extremely sharp wide open and with color rendering far superior to its bargain price.  It is on a VERY short list of lenses you can actually put in your pocket for a full frame camera, and the combination on a 6D seems remarkably portable.  It is a high value/low risk proposition, and a great investment if you want an option with a larger aperture than your kit lens and better image quality.  You can read my further thoughts about it here:
Canon EF 35mm f/2 IS USM Lens  You can read my review here.  This lens is one of my newer additions, and I am very impressed with the image quality and bokeh quality from this fairly compact prime.  It is a great option for either a full frame or crop sensor body, and since the price drop (it was overpriced at launch) it now represents a good value for the optical quality which rivals the far more expensive Canon EF 35mm f/1.4L USM Lens.  It is wonderfully sharp wide open and has excellent color rendering.  The new EF 35mm f/1.4L II is the image king in the category, but comes at a steep price.  If you want the best, though, look no further.
I also recently added the new Tamron SP 45mm f/1.8 Di VC USD prime lens.  It has pro grade build and optical performance at a reasonable price, and also allows you to focus down more closely than any of its rivals.  It produces gorgeous bokeh and is my new 50mm(ish) pick.  You can see my review of it here.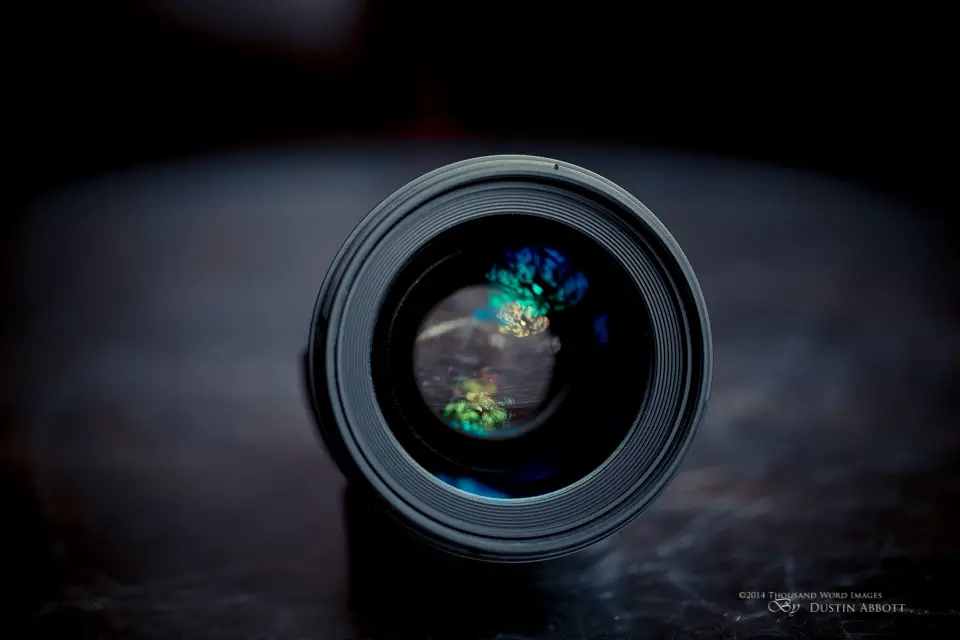 Another nice choice for a 50mm prime is Sigma's new 50mm f/1.4 ART lens that has great optics and a beautiful (if somewhat large) build.  I reviewed it here and you can purchase it here.
Canon EF 135mm f/2L USM Lens.  This lens is not a new design, but has remained one of the superlative lenses available for the Canon system in terms of image quality.  It produces wonderfully unique images with some of the finest, creamiest bokeh available.  This is the superlative portrait lens, and some of my best portraits have been taken using this lens.  It is not a small investment, but its relative value is very high considering some of the even more expensive portrait options.  This is the lens you want if you are going to shoot portraits.  It's special, and it was a dream for me the day I added it to my kit.
I don't currently own it, but for years I also used the Canon EF 85mm f/1.8 USM Lens as a portrait lens.  It remains one of the highest image quality to price values with a good build quality, very fast focus, and excellent image quality.  It can frequently be had for around $400.
If cost were no object, the finest prime lens that I have ever used is the absolutely incredible Zeiss Otus Planar T* 85mm f/1.4 lens.  It is at the very top of my personal wish list.  You can read my review of this amazing optic here.
I also own the Canon EF-M 22mm f/2 STM prime lens for the EOS M.  It is a fantastic performer for a bargain price, and if you have an EOS M/M2/M3, this is the must have for the system.  It gives you a very flexible little "pancake" prime that makes the EOS M extremely "pocketable".
Macro:
A good macro lens is a great choice as a third (or even a first) lens.  The best new macro lens do a little bit of everything, and nothing else really allows you to get close enough to really magnify the amazing tiny world that is out there.  Some of the most amazing photos are produced by a good macro lens.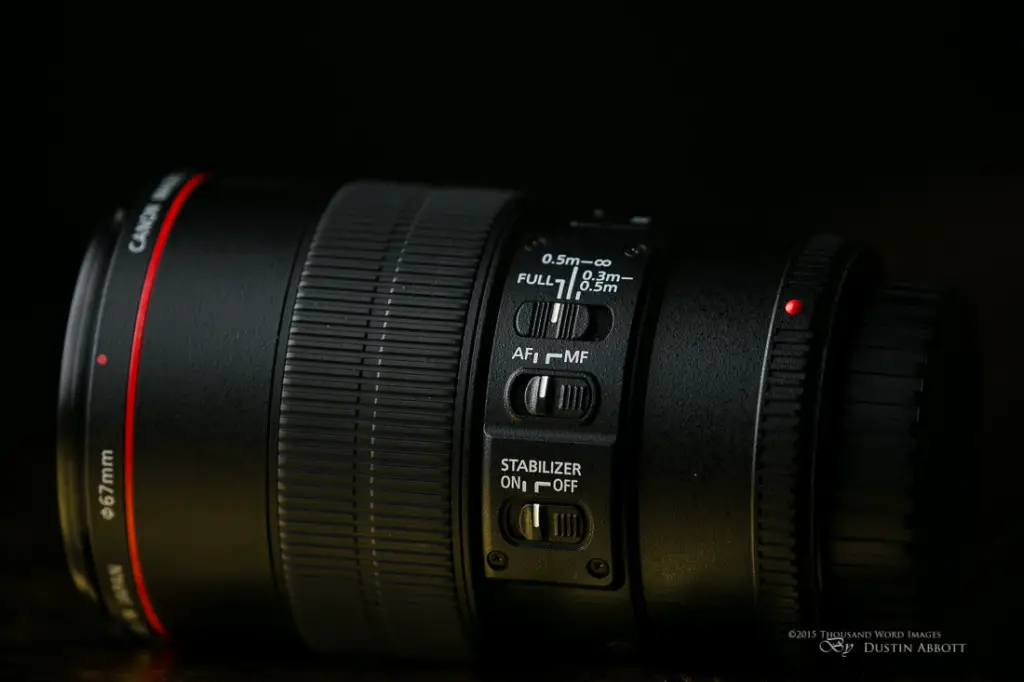 Canon EF 100mm f/2.8L Macro IS USM Lens.  This is one of my favorite lenses, as it features a great build quality, awesome IS system, but above all it has truly superb optics.  It produces wonderfully creamy bokeh, is very sharp, and doubles as a great portrait/event/general purpose lens.  It is a true 1:1 macro, and I actually use it handheld the majority of the time.  There are just so many times where the more deliberate shooting with a tripod isn't an option.  The color rendering from this lens is particularly nice. If it's price is a little rich for you, I also recommend the Tamron 90mm f/2.8 SP Di MACRO 1:1 VC USD Lens for Canon It is also a very strong option, and you can read my review of it here:
Telephoto:
Everyone needs some decent reach at times.  In this video I detail the telephoto lenses that I own and use:
I currently have three telephoto options.  One is a large aperture zoom that I use for event work and portraiture, the second is a telephoto that is a great for wildlife.  The third option is a compact telephoto for the M system that is great for travel and landscapes.
Tamron SP 70-200mm f/2.8 Di VC USD Zoom Lens:  You can read my review here:  I initially only had a copy of this lens that I reviewed and then returned, but I felt that it was too compelling an option for event and wedding work to not have in my kit.  I eventually acquired a copy for my permanent kit.  I am consistently impressed with both the great image stabilizer on this lens as well as its consistently excellent sharpness. This Tamron features superb optics and smoother bokeh than its Canon competition, although the Canon is more robustly built and takes teleconverters better. The two Canon f/4 variants are also good choices here.  I've owned them both and have been impressed with them.
Although I no longer own it, I highly recommend the Canon EF 70-300mm f/4-5.6L IS USM Lens:  You can read my review here:  I really love this lens.  It is fairly heavy, but is nicely compact and travels nicely.  It is built like a tank, has great sharpness and color, and is very consistent throughout its focal length.  This is one of Canon's hidden gems, and rewards every one who owns it.  I had a hard time parting with mine, but let it go to purchase…
The new Canon EF 100-400mm f/4.5-5.6L IS USM II is a stunningly good lens and is my new top pick in this category.  I added it my kit in 2015 and thoroughly enjoy it.  My review of it can be found here:
Tamron SP 150-600mm f/5-6.3 VC USD – this lens set the telephoto world ablaze by combining solid build quality, surprisingly good optics, and an extremely cheap price.  Demand has been furious ever since its release.  I no longer own the lens (I let it go for the 100-400L II above), but still consider it to the best bang for the buck ultra-telephoto lens out there.
The Sigma 150-600mm f/5-6.3 DG OS HSM Sport lens has a pro-grade build and great optics.  It is more expensive than the Tamron, and is pretty heavy, but it is a valid choice if you need something sturdier and you shoot off a monopod or tripod frequently.  You can read my review here.
My last telephoto option is the compact Canon EF-M 55-200mm f/4.5-6.3 IS STM.  It has exceptional optics despite its small size and is a great travel option.  I carry it with me when I go out to shoot landscapes and it has produced for me again and again.  You can read my review here:
Accessories:
In this video I detail some of the little things that help me be successful as a photographer:
---
Purchasing your gear through B&H and these links helps fund this website and keeps the articles coming. Thank you for your support.

Great News! I can now offer a 5% discount on all purchases at Amplis Foto, Canada's Leading Photographic Supplier. Please enter discount code: AMPLIS52014 in your cart. It is good for everything in your cart, and is stackable with other coupons, too! It will take 5% off your entire order! Proceeds go towards keeping this site going and providing you with new reviews!