Tamron SP 150-600mm f/5-6.3 Di VC USD Review update
Dustin Abbott
February 7th, 2014
Tamron's Game Changer

Update:  February 7th, 2014.  This lens has caused a serious stir not only amongst reviews but at retail.  Reviews since mine have strongly concurred with my conclusions.  Many people have experienced backorders in countries around the world, and this lens has become a top seller already.  If you are interested, I would suggest ordering sooner rather than later, as most people are experiencing a several week wait before receiving their lens.  If you will look at the end of the article (before the comments), you will find some different ways to order and even some discounts.  Thanks, as always, for reading.

I pay very close attention to news in the camera industry.  I also interact with a lot of different photographers around the world via the Internet.I can safely say that this lens, the Tamron SP 150-600mm f/5-6.3 Di VC USD, has caused more of a stir in the community than anything Tamron has released in a long, long time.
That's not to say that everyone was thrilled.
People, being, well, people, react to news in a variety of ways.Some photographers were thrilled and excited. "That's an amazing focal length!"
And it is.
150mm is not so long as to make the lens unusable in a variety of situations, and 600mm?Well, let's just say that 600mm is the number that got people really excited.That 4x zoom range covers a host of useful focal lengths.
But then there are the pragmatists.The "realists".They dismissed the lens before any photos were shown and one word of review text was written. "It's a Tamron.""I've owned a Tamron super-tele before, and it was soft, slow, etc…"And it's true that the Tamron brand has not been previously associated with high end telephotos in the past.They have primarily been considered budget options, with lower end build and handling along with merely acceptable optical quality.
The announcement of the (amazing) price brought similar reactions.
Many people were thrilled.Photographers are used to sticker shock, and no segment has more sticker shock than the telephoto range, where long glass can tip into the 6 figure range.The new Tamron even undercut the price of Canon's aging 100-400mm f/4.5-5.6L IS lens although it offers a much more exciting zoom range.Many owners of that lens have been awaiting a replacement with superior optics and a more effective image stabilizer, not to mention that the push/pull design of that lens is very polarizing.
But the low price was nothing more than another red flag to the "cup-half-empty" crowd.They viewed the excellent price as further evidence that the lens simply wouldn't be very good."The price is low because the lens is garbage.""The lens won't focus quickly.""It won't be sharp."
The truth of the matter is that none of us knew whether Tamron had a hit or not; we just knew that Tamron was swinging for the fences with this one.Many of us hoped that due to the very positive trend in recent Tamron offerings that maybe, just maybe, Tamron had a game-changer.
After shooting more than a thousand frames with this lens, I believe that I can safely say that Tamron does in fact have a game-changer on its hands.This lens defies all expectations (including my own).It is an excellent telephoto zoom lens that reaches a focal length longer than what most people currently own at a price that they can probably afford.That makes it fairly unique.But what really sets this lens apart from previous budget offerings is that, other than price, there isn't really anything "budget" about it.I am very privileged to get to share one of the very first thorough reviews on a lens that has convinced me.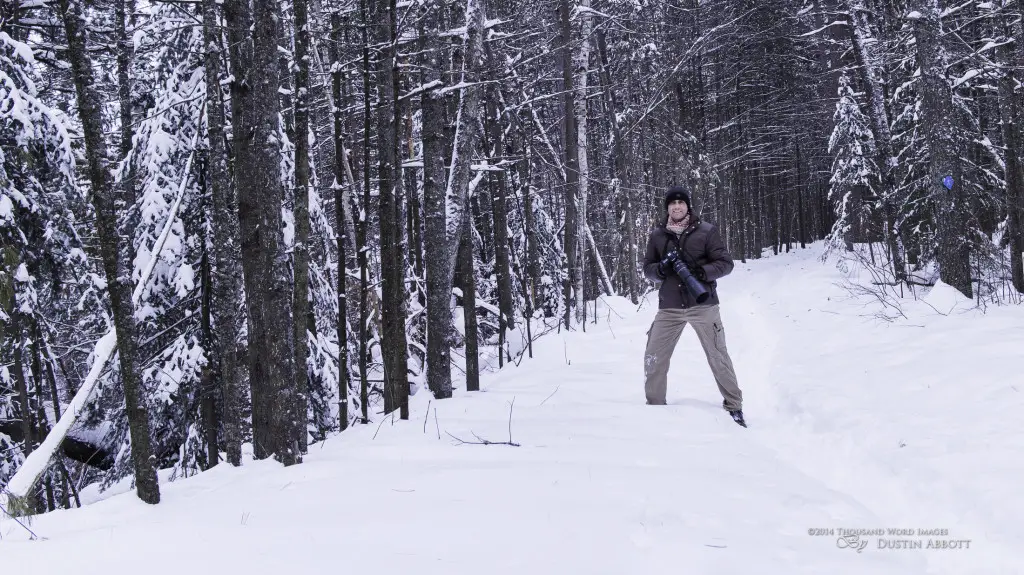 The Basic Facts
My test will be conducted on a Canon full frame sensor camera. Those of you that are shooting crop sensor bodies can expect a field of view similar to 240-960mm (WOW!) on Canon crop sensors or 225-900mm on a Nikon or Sony crop sensor. Understand that apparent sharpness will seem higher on a full frame body but optical imperfections tend to be diminished on crop sensor bodies. Depth of field is also smaller at comparative apertures on a full frame sensor.
This is not a small lens.No lens that reaches 600mm is.But after having lugged it around the woods for a while, I believe that Tamron has struck an excellent balance between size, weight, and optics.Any zoom lens is a delicate balance of compromises.A prime lens can be built and optimized for one focal length, but a zoom has to cover any number of eventualities.A lot of superzoom compacts cover this focal length (and beyond), but they emphasize compact size over optical quality, and as a result are simply not even under consideration by most discerning photographers.The Tamron weighs right under 69 oz/1951g.That is 4.3 pounds.To give you some comparisons:the 100-400L weighs right under 1400 grams, the 70-200mm f/2.8LII weighs about 1500 grams, while the 300mm f/2.8L II weighs 2350g.The new Tamron isn't light, but neither is it overly heavy.It is slightly over half has heavy as the new 200-400mm f/4L + 1.4x (3620 grams).The front element is large and takes a 95mm standard filter (which will set you back a bit!).If you struggle to carry a 70-200mm f/2.8 lens, then you probably will need to use a monopod or tripod.If you are accustomed to using a 70-200mm f/2.8 lens, I doubt that you will notice the extra weight very much.I spent hours trekking through snow with the lens on a Black Rapid strap and didn't notice the carrying weight at all.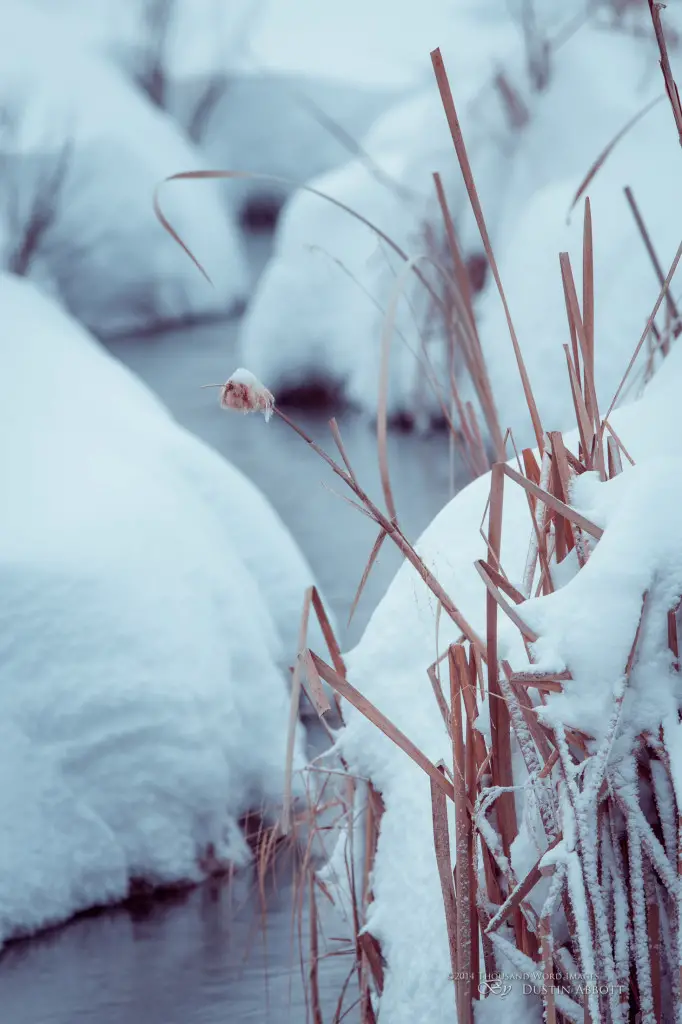 It is not particularly short, either.At its most compact, (retracted), the lens is about 10.25in/26cm).That makes it about 2 ½ inches/6cm longer a typical 70-200mm f/2.8 lens.The lens is not internally zooming, however, so it grows by an additional 3 inches/8cm at its maximum length.There is also a large lens hood that can be attached that is a little over 4 inches/10.5cm long.So at its maximum length with the hood attached, this is a nearly foot-and-a-half long lens.It should be noted that the lens is both lighter and shorter than most of the longer length prime lenses. (Owners of the 100-400L should also note that while this lens is a bit longer than the 100-400L retracted, the extended lengths with/without the hood are nearly identical.)On a very positive note, while the inner barrel does extend during zooming, it does so smoothly and without any hint of wobble.All of this news so far is either good or bad depending on what end of the priority list you fall on.If you were looking for compact, you might be disappointed.If you were looking for quality optics, then this is very good news.There is a practical limit to how compact a lens can be and still be optically superior. But as the little EOS M finds out in the picture below, this is a BIG lens.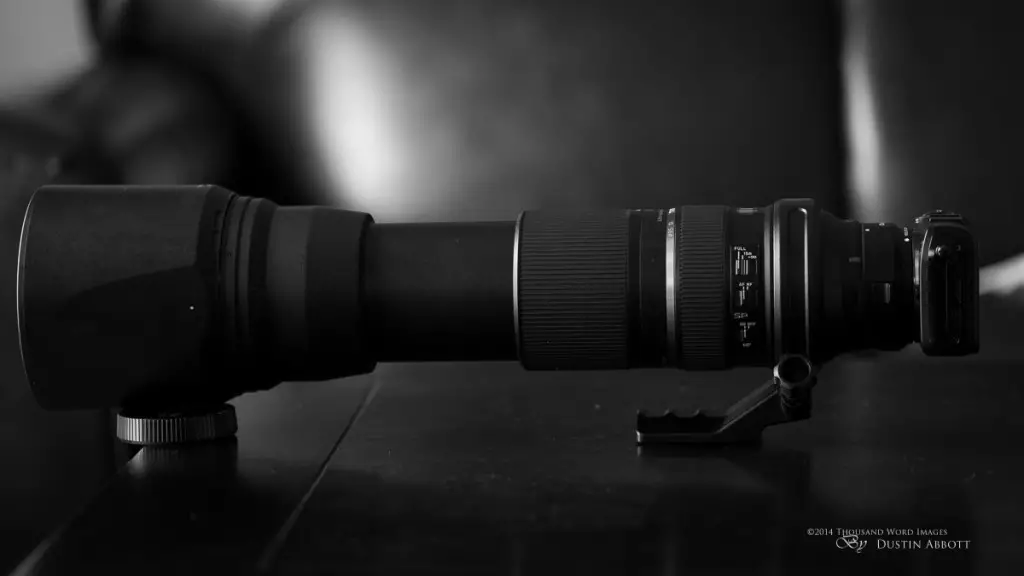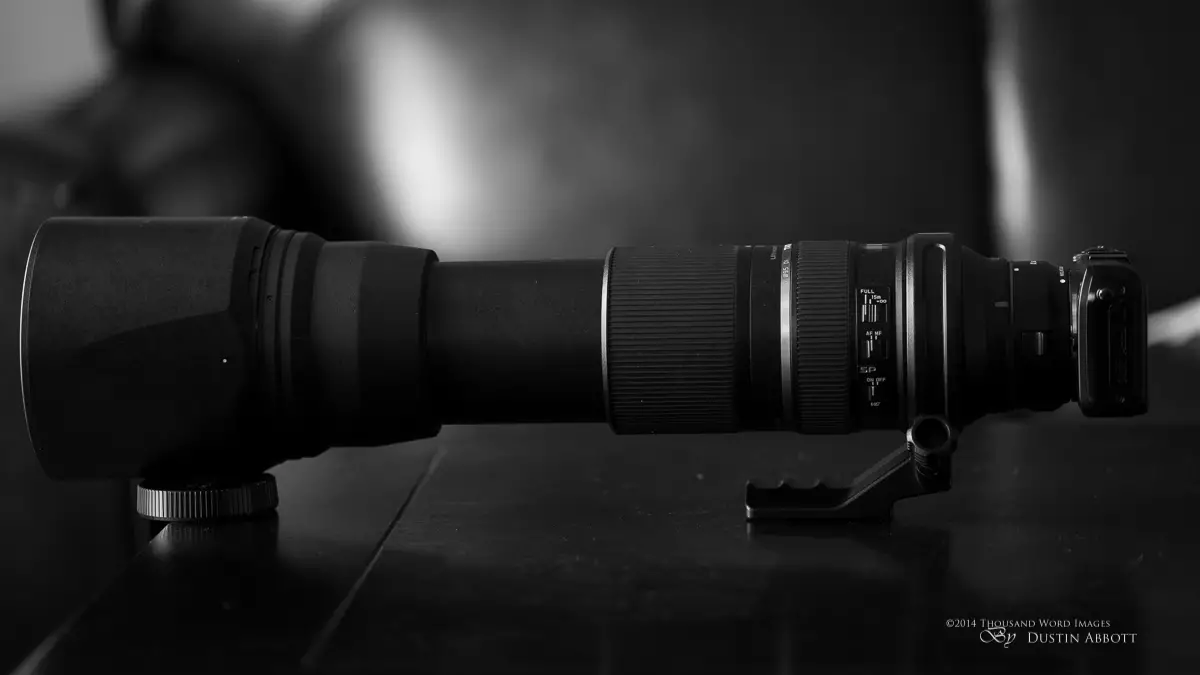 Bad news/good news aside, the construction quality of the lens is, in my opinion, all good.It is dense without being unnecessarily heavy.The lens construction is both handsome and of good quality.The barrel has a nice texture to it, and the focus and zoom rings are made of nicely ribbed rubber.Roger Cicala has recently debunked some of the marketing myths regarding lens construction from the unique perspective of someone who has actually broken down scores of lenses.It's worth a read if you want to look here.With that in mind, Tamron does claim dust and moisture resistance for this lens and it does have a rubber gasket near the bayonet mount to help eliminate moisture and dust entering the lens and/or camera body.This is always a welcome sign, as it means that the company is doing its best to go the extra mile in building a quality lens.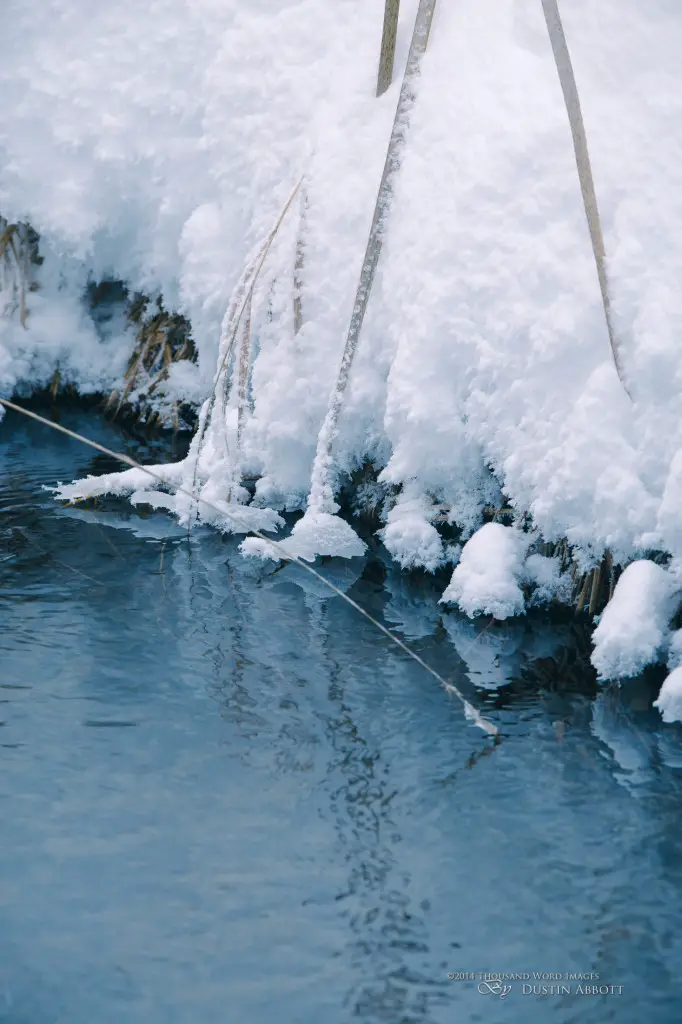 I have used it in very difficult weather conditions (extreme cold, snow, and rain) without a hint of complaint from the lens.The lens also has a metal bayonet mount (in Canon [tested here], Nikon, and Sony mounts) and a removable tripod collar.One notable departure from previous Tamron lenses is that a very elegant brushed aluminum ring replaces the gold ring.I personally like the change.It is more subtle from a distance but much more elegant close up.This is the first Tamron lens I have seen that sports this new cosmetic touch.It is constructed of the typical modern mix of high strength engineered plastics and metal, and, frankly, it feels just like all the other quality lenses that I have purchased in recent years.There is no hint of "budget" in its construction.While I am only evaluating the lens from outside, I personally feel confident that the lens should hold up well and survive the inevitable bumps that a lens this size will endure.Something worth noting is that this lens will have Tamron's industry best six year warranty.That certainly helps with peace of mind!
The lens features three switches on the left hand of the barrel.The top switch is a focus limiter with two positions, Full and 15m to ∞.Using this while shooting distant wildlife will help AF speed.The second switch is the AF/MF switch, which is less important on a lens like this that allows full time manual override, but there might be situations where you want to turn off autofocus.The third switch is an on/off for the VC, which we will get to in a moment.On top right of the barrel is a zoom lock.When carried (like I often do) in a strap or harness, the lens will exhibit zoom creep, so this is an important (and necessary) inclusion.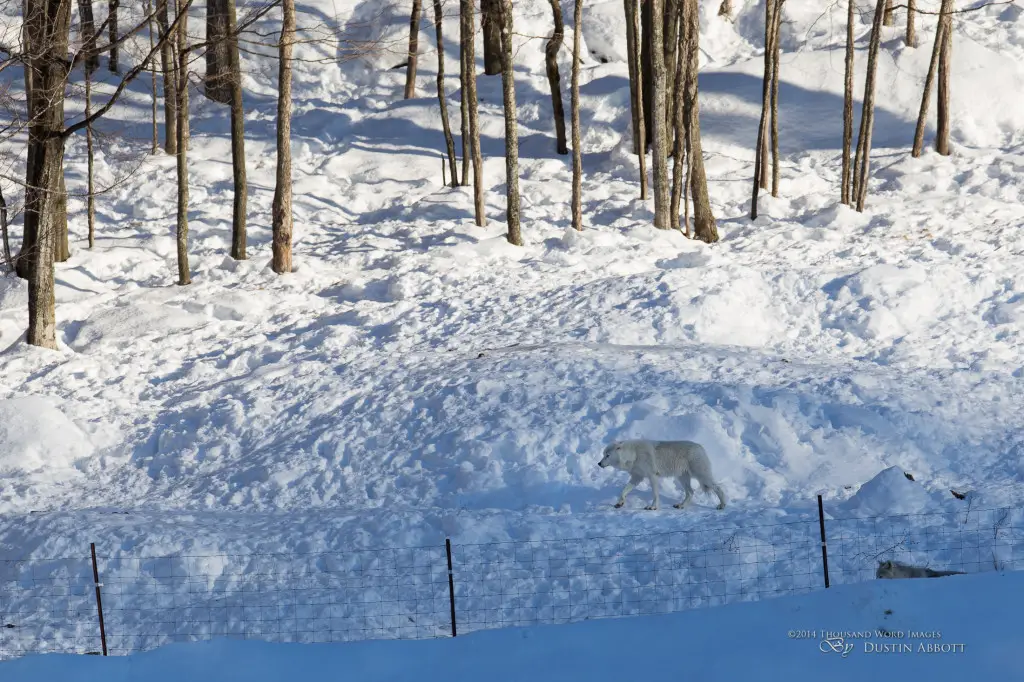 There is a distance marker window and the aforementioned tripod collar.Tamron collars are well designed and highly functional.It is very handy to use this with a monopod.When kept loose it allows for very easy rotation of the camera to change aspect.The zoom ring has markers for 150, 200, 250, 300, 350, 400, 450, 500, and 600mm.
The focus ring is the closest to the camera body (not my favorite trend, but it is definitely a trend in recent lenses).It is about 1 inch/2.5cm wide, and moves very smoothly at all times.The zoom ring is about 2 ¼" in/5.7cm wide, and while there is more resistance than an internally focusing lens, the zoom action is smooth and nicely damped.I did notice a bit more resistance in extreme cold (-20C and beyond), but that is hardly unusual. Zoom rotation direction will (per usual) be the same as Nikon and opposite from Canon.
I should also point out that the lens has an excellent minimum focus distance of 2.7m (9 feet), which gives it a greater maximum magnification factor (1:5) than almost all of its competition.That degree of magnification is very handy, and it interesting to shoot a near macro type shot from almost nine feet away!Most importantly, however, it means that framing (and filling the frame) with small animals (squirrels and birds) is very achievable.
AF and Focus Speed
Before I write this section I want to give a disclaimer.I have virtually no experience with high end super-tele primes.Wildlife/bird photography is far from my primary pursuit as a photographer.I own many very fast focusing lenses, but the closest lens I personally own to this lens is the very excellent Canon 70-300L.Furthermore, I use Canon EOS 6D bodies, and while they are excellent cameras, they are far from beings equals of 5DMKIII or 1DX (or 7D/70D, for that matter) bodies when it comes to AF.
This was an area that I was prepared to be disappointed in.My experience with Tamron's Ultrasonic Silent Drive (USD) focus motor has overall been quite positive.They are generally just a hair slower than Canon's USM motors and are extremely quiet in operation.USD is a huge step forward from the micro motors that Tamron used to use, which were very "buzzy" and fairly slow (particularly on their original 70-200mm f/2.8 lens).But this type of lens is a whole new challenge.The glass elements (20 elements in 13 groups) are big and heavy in a lens like this.One of the biggest concerns amongst potentially interested photographers was focus speed and accuracy.But over my time spent with the lens I have been very pleased in that regard.I haven't really thought about focus speed at all in the field because the lens has always just done what I wanted it to…and that is great news!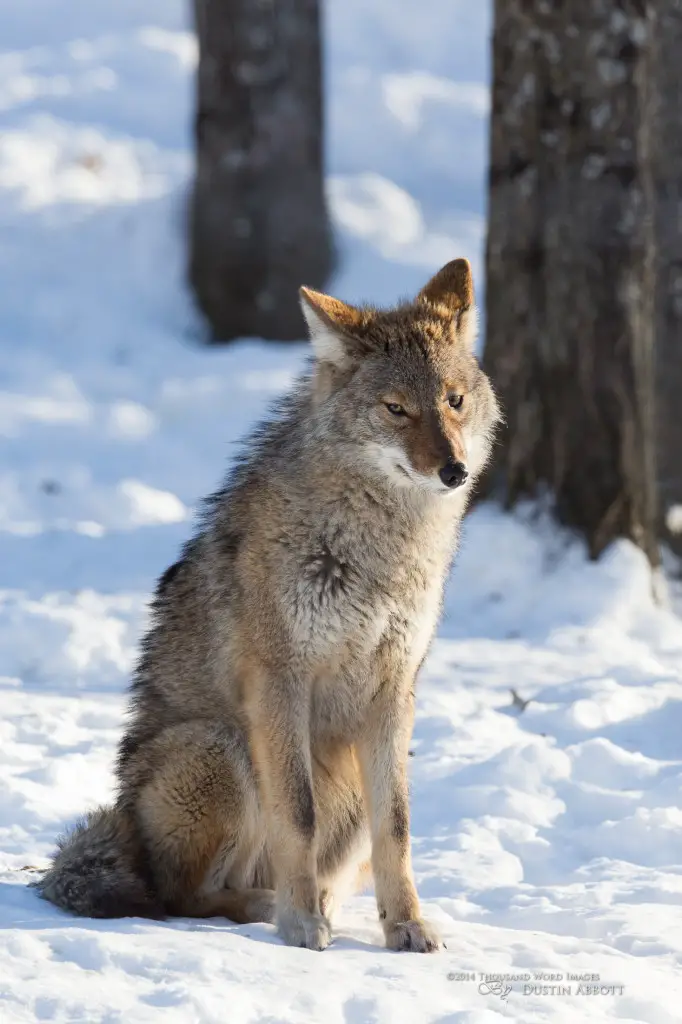 My Canon 70-300L has fabulous focusing.It is extremely fast.In a non scientific comparison I shot the two lenses side by side comparing focus speed going from one extreme to the other.The Canon is almost instantaneous in those situations.The Tamron?From 150-400+mm the lens is almost neck and neck with the Canon.Very impressive.At the extreme end the lens is slower when going from the extremes (about 15 feet out to infinity), but still focuses quickly (no more than a second).But more importantly the lens focuses extremely quickly at the smaller (and more typical) adjustments (not from one extreme of the focus range to the other).And this was without using the focus limiter.Here is a video to demonstrate the stellar focusing speed of the Tamron.
[youtube=http://www.youtube.com/watch?v=Uu0FqNdl8Q0]
All pictures taken rapidly in this test were sharp and in focus (for both lenses). One of the most important takeaways from little example is that it demonstrates that there is no "final hunting" like some lenses exhibit. They get there fast, but hesitate before achieving final lock. The Tamron finds focus and locks without final hesitation.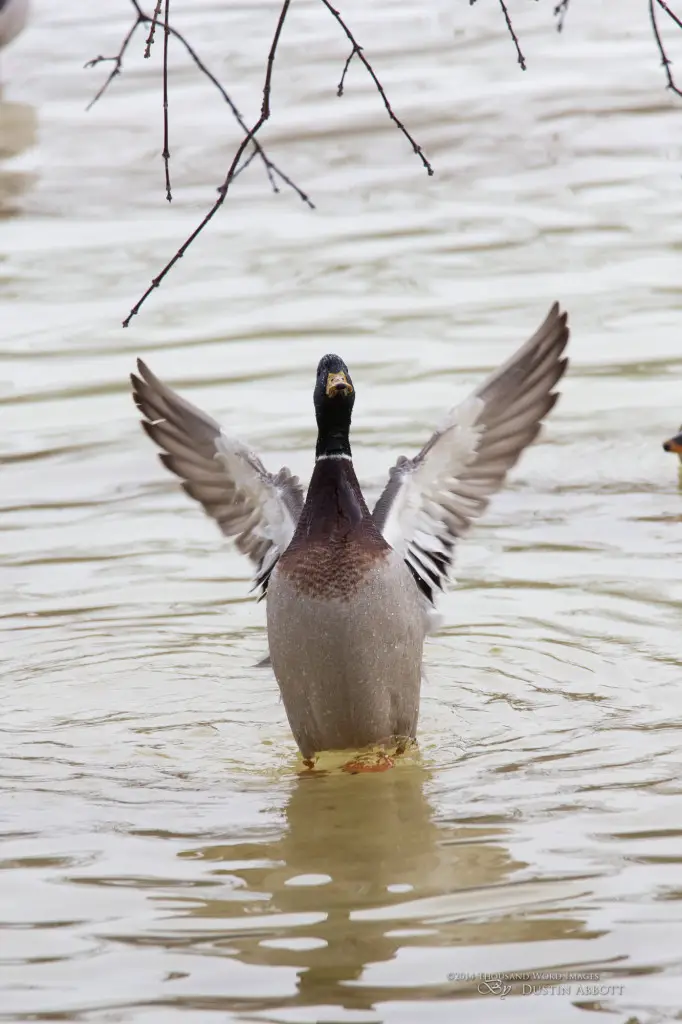 I am not a birder, so I cannot comment on bird in flight (BIF) applications, but I can note that even at 600mm I was able to successfully track a duck diving into the water from the air using AF Servo (not necessarily a strength for my camera bodies!) and was very satisfied with my results.I have absolutely no doubt that the $6000-12,000 Canon/Nikon primes focus faster, but consider me very impressed with what Tamron has done with this lens.I feel that this lens would be up to all of my expectations for personal use. The inclusion of a focus limiter switch will further help in certain situations.
Oh, and by the way, my previous best option for longer range shooting was the 70-300L + a Kenko teleconverter (getting me to 420mm), and focus speed with the Tamron is definitely better.
I also almost never encountered hunting with the lens.It locks on quickly and accurately.I found that it did a good job grabbing my subject even when there were obstacles like the branches in this photo:
This is obviously important for the many people that will be using this lens to shoot birds and wildlife.This photo and it's crop also reveals another optical strength for this lens:chromatic aberrations are very well controlled.The transition of dark limbs to a bright sky is very abrupt in this kind of shooting condition, but the chromatic aberrations look well controlled even in the 100% crop.
I did three AFMA adjustments with the Reikan FoCal software on both the wide and tele ends and got nicely grouped results.I would consider the focus accuracy very strong with this lens.My accuracy continued to improve as I become more comfortable with the lens, and in latter shoots with the lens my keeper rate was extremely high.This, too, exceeded my expectations.If, like me, you don't have a lot of experience with shooting longer range telephotos, you need a bit of practice to develop technique (tuck those elbows!).Early on I felt the lens was less accurate, but I discovered with time that the problem had really been with me.By the end of my time with the lens I felt exceptionally good about the AF accuracy of the lens.
P.S.If you are curious, yes, the Tamron did continue to AF with the Kenko Teleplus Pro 300 1.4x attached, giving an incredible potential reach of 840mm.AF was clearly affected, however, most obviously when it came to achieving final lock.It tended to hunt for a second or two before locking.Metering is fine, but the EXIF data does not reflect the inclusion of the teleconverter in either focal length or aperture value.Image quality?Degraded (obviously, but still usable, particularly if stopped down).The question would be whether or not one would be better off just cropping.These two photos (boring though they may be) are of the lens at 840mm wide open (f/9 range).
Vibration Compensation – Can This Lens be Handheld?
Another incredibly important inclusion is Tamron's Vibration Compensation (VC) system for combating camera shake.Tamron's VC system has received nothing but praise since its introduction, and this lens represents (by far) it's most necessary application.Without VC, handholding 600mm is virtually impossible.It's not that you can't combat camera shake with shutter speed (provided you have great light), but the greatest challenge is try to frame your subject.The viewfinder image is constantly in movement.As a result, Tamron's VC has never been more necessary than on this lens.Tamron has come through with an excellent system that solves most all of the problems associated with handholding a lens.I say most for two reasons:first of all, no image stabilizer can ever eliminate movement of your subject.That movement becomes more pronounced with telephoto lenses, producing what is known as motion blur.If your subject is completely still, no problem, but with many subjects you will still want to keep your shutter speed high to eliminate movement on the part of your subject.I found that that I had an exceptionally high keeper rate with most subjects starting at 1/320th second, but obviously fast moving subjects (bird in flight) will require even faster shutter speeds.
The second issue was that I did notice a slight movement of the viewfinder before the image "locked" into place.This behavior is not unusual, per se, but is a bit more pronounced because of the extreme focal length.Tamron's VC, as always, does a great job of locking your subject into place in the viewfinder, and this is true even out to the longer focal lengths.You can shoot the lens at low shutter speeds with VC, but you will probably find fewer applications for such shooting with a lens like this.In this case the primary application of VC is to stabilize the viewfinder and compensate for your movements to produce sharp images, and it works very, very well for that.I was able to shoot the lens almost exclusively handheld.Almost every shot shared in this review I took using the lens handheld (other than a couple using a monopod), and that is, I believe, the best testimonial for the excellent VC.
Variable Aperture Challenges
One thing this lens is not is "quick" in the aperture sense.It starts at a middling f/5 and ends up at an unusual f/6.3.This isn't unusual for Tamron or Sigma, per se, as they offer several lenses with a maximum aperture of f/6.3.Canon and Nikon native lenses top out at f/5.6.That throws some people off, because they may have heard that their camera will only autofocus up to f/5.6, but this lens will actually autofocus on any DSLR; that is not a concern.
I would love to see that maximum aperture down to f/5.6, but the reality is that f/6.3 is only 1/3rd stop from f/5.6, so it isn't actually a huge difference in terms of light gathering (the number looks worse than it is).Yes, some long telephoto primes have an aperture as large as f/2.8, and many of them are f/4.F/6.3 is 1 1/3 stops slower than f/4.That being said, at 10 meters, the depth of field using a full frame camera and this lens at 600mm, f/6.3, is 8.8cm.That's less than 3 and half inches!At 20 meters' distance it is still only 42cm (16 ½ inches).It is very easy to get separation from the background with this lens.This lens also benefits from the amazing advances in high ISO performance in modern DSLRs.You can get stunning pictures from this lens in most lighting conditions, although it obviously won't shine in extremely low light situations. Another point to consider is that telephotos that are f/4 at 600mm retail for over $10,000!I doubt there will be too many potential buyers that are cross-shopping these products!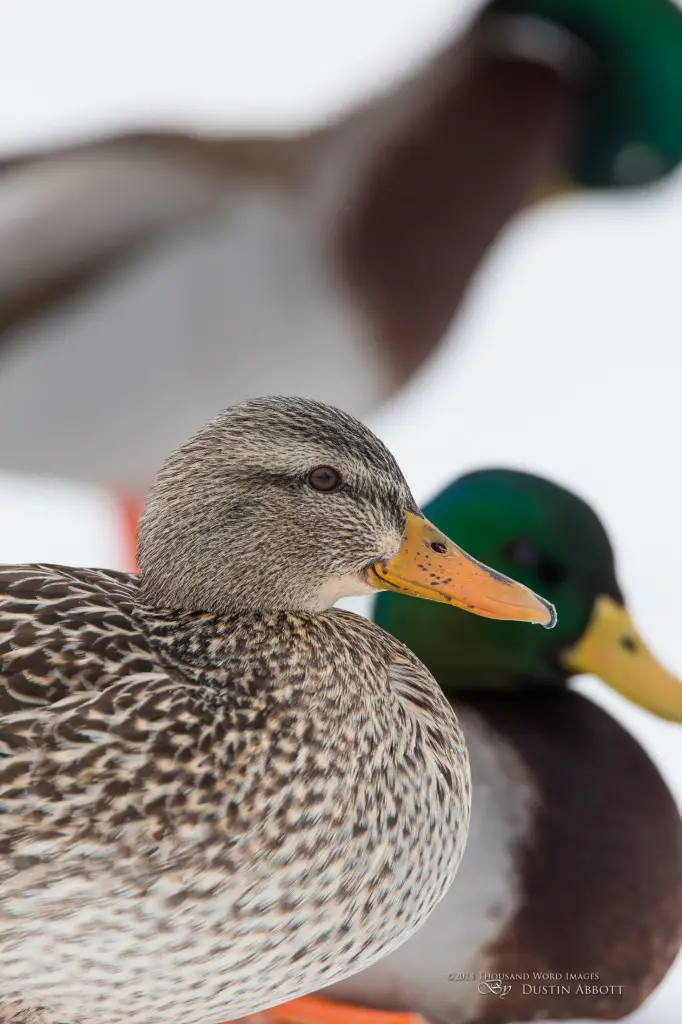 You might be wondering at what focal length the aperture changes.My tests show that lens is f/5 wide open from 150-225mm, f/5.6 from 226-410mm, and f/6.3 from 411-600mm.It actually only goes through only one full stop in its focal range, which actually makes it better than, say, the kit lenses that start at f/3.5 and work through to f/5.6.This means that those that are cross-shopping the 100-400L actually don't really lose any light at all through the comparable focal range.
So yes, this is a variable aperture zoom lens with all that brings, but the reality is it is equal in aperture to both the 100-400L and 400mm f/5.6 prime (which costs about the same and lacks IS) at 400mm.It will also be more hand-holdable than either of those options because of the superior VC.
Can It Deliver the Goods?
All of these things pale in comparison to the most important question:"Is the image quality any good?"Prepare to be impressed, because this lens delivers an image quality far above its price point.It ticks all the right boxes.Sharpness?Check!The lens is incredibly sharp throughout almost all the focal lengths. I am including a gallery of 100% crops from various photos in the reviews so that you can see the detail.But let's also stop for a moment and take a look at a slightly more boring subject (the teddy bear is back) at each focal length marked on the lens.I have also attached 100% crops of the subject so that you judge fine detail.These images have had no profile added to them and have had no additional sharpening. This little series also gives you an idea of the focal range.
Now, for comparison purposes, here are the results from the excellent 70-300L at the 150, 200, and 300mm setting.
I would give a slight edge to the Canon, but the difference is, at most, minimal, and that is very good news for image quality! The Canon 70-300L is a very sharp lens, and the fact that Tamron is staying close is excellent news, particularly since the Canon quits only halfway through the focal range of the Tamron.
It is slightly less sharp at 600mm wide open, but stopping down even a half stop to f/8 restores excellent sharpness.Here is a comparison between 600mm wide open and stopped down to f/8.You can see that textures overall are a bit sharper and the bear has a little more "sparkle" in its eyes.
I can tell a difference at 100% magnification between 500mm and 600mm, but as many photos in this review demonstrate, the lens is perfectly usable wide open.I did not hesitate to shoot it wide open, and probably used it this way for about 50% of the 225 shots I took at 600mm.It is softer at 600mm than other focal lengths (unsurprisingly), but it is actually pretty decent at 600mm.That is another concern laid to rest.Here's a series along with some crops to show you just that:
This gallery demonstrates that even worse case scenario really isn't too bad with the lens. But at it's best, this lens is very, very good! Throughout most of the focal range the lens is very sharp wide open.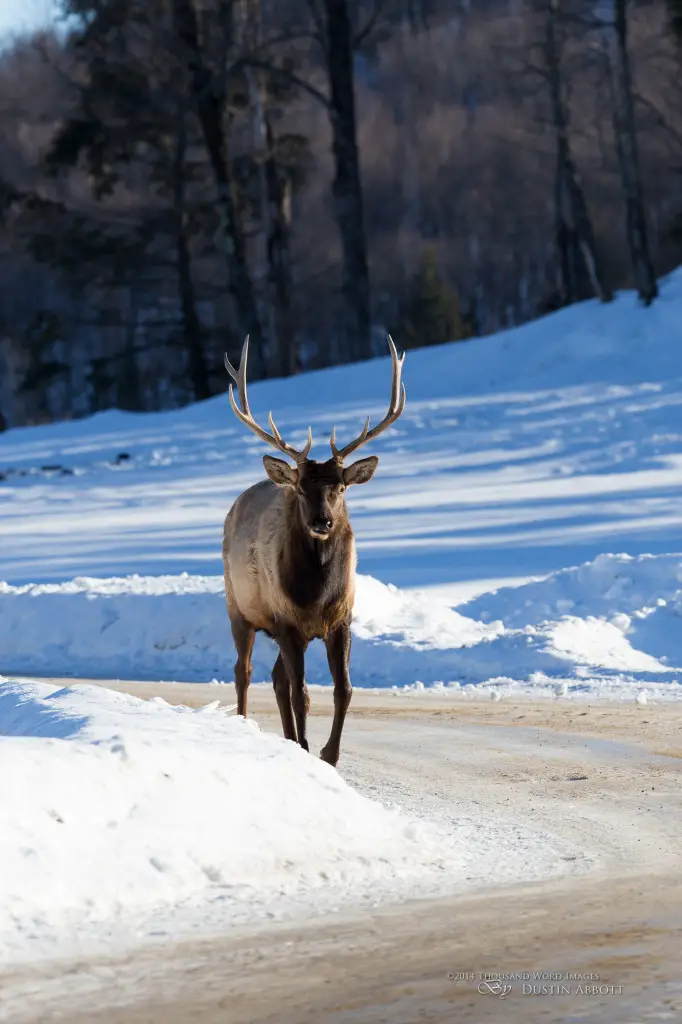 Many, many times I got that pleasant photographer's "rush" followed by an intake of breath when I zoomed 100% into photos on my big monitor at my workstation and saw tight, crisp detail…just how I like it!Once again my expectations were exceeded. Do yourself a favor and click on the images above and below and look at it in larger size. Above is 309mm, f/8, 1/320th second handheld and below is 400mm, f/5.6 (wide open), handheld at 1/400th second. The detail on my daughter's face is simply fantastic!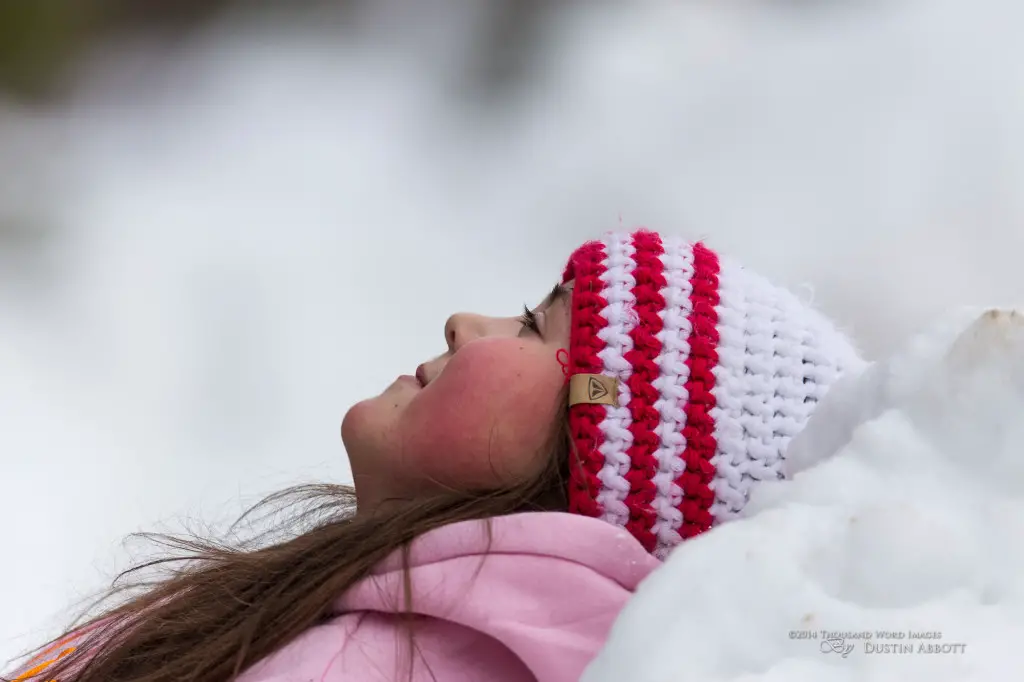 Color rendition is excellent.Canada in January is hardly the best time of year to produce stunning color, but I have managed to find enough variety that I think you will be able to tell the excellent color rendering.
I found the Tamron SP 70-300mm f/4-5.6 VC USD lens a very strong value when I owned that lens.It did a lot of things very well, save one:bokeh in the transition zone.It tended to produce very busy looking bokeh.Tamron has avoided repeating that mistake with this new lens.It has nine curved aperture blades and it produces very nice bokeh.The transition zone is smooth (important with a smaller aperture zoom), and bokeh highlights are nicely round and remain so even stopped down by several stops.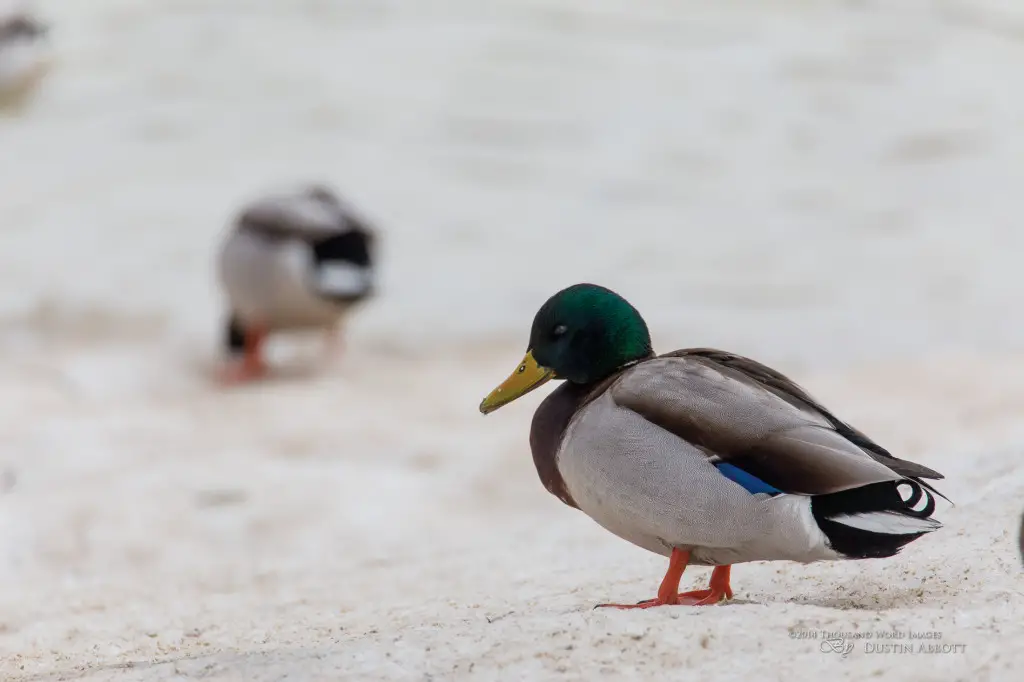 Flare resistance is also very strong thanks to Tamron's new eBand coating.I shot into the sun several times purposefully to test this and found strong resistance to both flare and ghosting.Contrast also remained strong.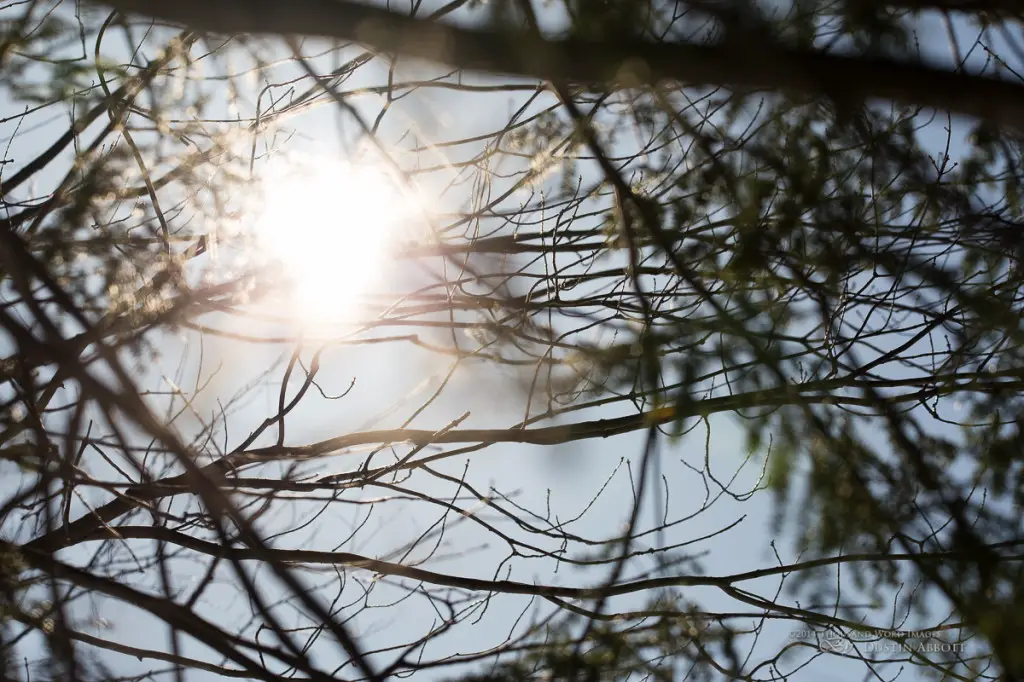 Tamron seems to have checked all the boxes here. This lens is capable of taking beautiful photos, period. The only optical improvement I could really ask for is for wide open performance at 600mm to match the rest of the focal range.
I have read the rumor on the Internet (always dangerous!) that the lens is very soft in the corners on a full frame body. I'm sorry, but I just don't see it. Here's an example, shot handheld, 600mm, f/6.3 (wide open) – aka worse case scenario. The gallery begins with the original shot, then 100 % crops from throughout the frame, including the corners where the subject is still on the focal plane.
Let's also have a look at the other end of the spectrum. This image is handheld, 150mm, f/5 (wide open), 1/400th second shutter speed. There isn't much in the foreground because of the snow, but we will take crops from 1) Extreme upper left corner 2) Middle extreme top 3) Center of the image (focal point on the front end loader) and 4) Extreme upper right corner. I would love to take crops from the lower corners for you, but there wouldn't be much there to see.
I think that these examples should put to rest the (false) rumor that this lens is going to be complete garbage in the corners. I can only tell you what I have seen with my own experience (there aren't reviews out there yet to compare experience with), but I have not observed any kind of unusual softness in the corners. For this price point the image quality is very hard to fault.
Now stop for a moment with me and reflect on the fact that this lens covers all the way from 150mm to 600mm.The ability to frame a shot like you want and still expect strong image quality is just fantastic.No prime lens comes close to providing the versatility that this lens delivers.That's huge!
Conclusion
As you can tell to this point, I think this lens is pretty fantastic.I simply don't have the budget to purchase many of the super-teles that cover this focal range, and furthermore, I don't shoot this style of photography often enough to justify the expense even if I did.But this lens hits a sweet spot for me.It's price is low enough to not only be affordable but also a small enough investment that you won't feel like you have wasted your money if you aren't shooting long distance every day. So if you can't afford a "super-tele", how about an "ultra-tele" (that's what Tamron is calling this lens segment)?The preorder price in the United States is only $1069.It is about $180 more here in Canada, but this lens represents such a tremendous value that I have had a serious conversation with a friend in the industry about how it is even possible for Tamron to make a profit at this price.I personally wonder if they are not selling this lens at a loss to drive brand recognition.It's that good.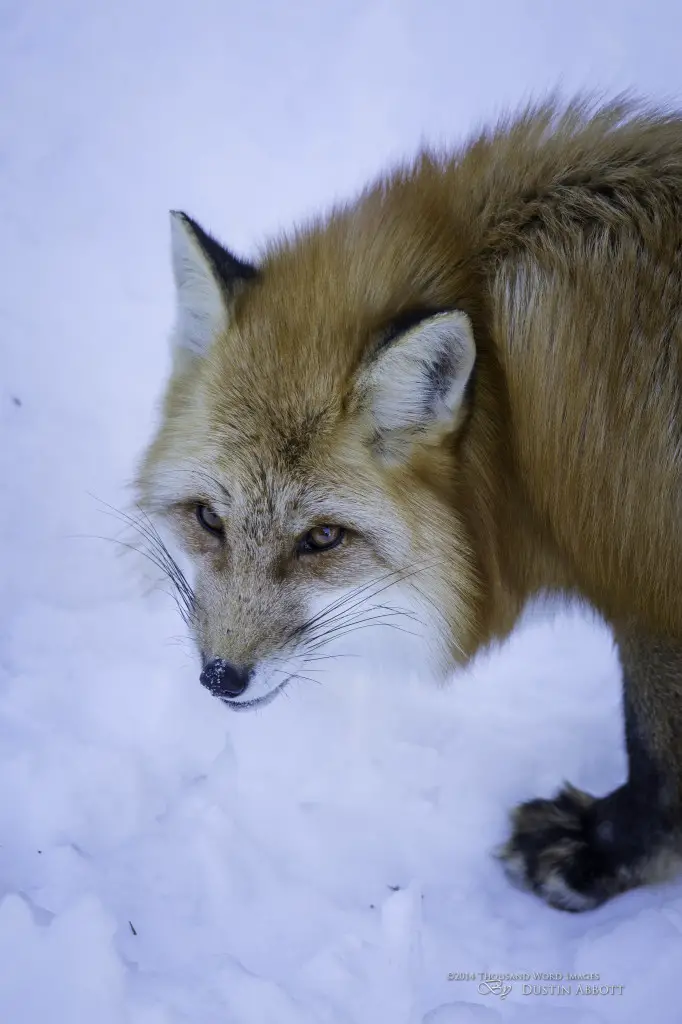 Perfect?Of course not.One niggle is that the box contains the lens, the hood, tripod collar, and the paperwork (including a digital code for the SILKYPIX Developer Software – a nice touch for those who lack editing software).But there is absolutely no consideration given to how you might carry/protect the lens after you take it out of the box.There's no case of any kind included.That probably will represent an extra expense for a lot of buyers.But when you come back to that price it seems somewhat petty to complain.
I'm sure others will think of some things to criticize that I haven't, but this lens won me over. At first I was getting mixed results with the lens, and was a bit disappointed, but I began to learn better technique for shooting a longer lens handheld (get that shutter speed up to eliminate motion blur!!) and discovered that the real problem was me, not the lens. My final several outings produced exceptionally consistent results. I also discovered a few weird things that I had never considered before, like when you are shooting from a vehicle you have to consider difference in air temperature. I was confused at some mixed results I had gotten when visiting the very cool Parc Omega in Quebec to shoot wildlife. One series would produce sharp results, the next, shot only a few minutes later, produced very soft results. What was going on? At first I was disappointed in the inconsistency from the lens, but then I saw a pattern. I realized that the sharp series would be when I was shooting from my side of the vehicle. The lens would be outside the vehicle in very cold air (about -20C)…as were my subjects. The soft series? I would be shooting from the passenger side of the vehicle through the open driver's side window, but there was about 3-4 feet of warm air (probably about 18C) in the vehicle. That large temperature variation (almost 40C) was causing distortion (astronomers call them "tube currents") that affected the sharpness of my images. Having never shot in those conditions, I had never thought of that before. Maybe this little anecdote will help someone else.
Let's break down the pros and cons:
Pros:
A truly fantastic price/value

Optical excellence throughout almost all the focal range

Versatility of a 4x zoom range

Reaches 600mm (900mm+ equiv on crop sensors)

Sturdy, weather sealed construction

Excellent VC

Better than expected focus speed and accuracy

6 year standard warranty in North America

Low CA and strong resistance to flare

Excellent color rendition

Smooth bokeh transition and highlights

Good minimum focus distance = good maximum magnification


Did I mention the price?
Cons:
Slight sharpness falloff at 600mm

Focus speed slightly slower towards longer end of zoom range

Exhibits zoom creep

No internal zooming means that overall length grows significantly

Case not included

95mm filters will be expensive

Maximum aperture of f/6.3 on the long end

Fairly big and heavy
I recognize that I am reaching on some of these cons, because some of them are just the nature of this type of lens, but I do want to reach as objective a conclusion as possible.The truth of the matter is that many of the cons are niggles and the strengths of this lens FAR outweigh the weaknesses.
The reality was that I was a little sad to repackage this lens and send it back.I am already making plans for how to get another copy permanently added to my kit!If you are looking for a reasonably low cost investment into the long telephoto field, look no further than this lens.If you are anxiously awaiting a replacement to your aging 100-400L, I would recommend giving this lens a serious look.Expect this lens to make a lot of noise.Tamron came out swinging this time! I have no problem recommending this lens.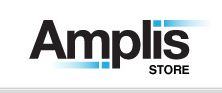 FOR MY CANADIAN READERS: Great News! I can now offer a 5% discount on all purchases at Amplis Foto, Canada's Leading Photographic Supplier. Please enter discount code: AMPLIS52014 in your cart. It is good for everything in your cart, andis stackable with other coupons, too! It will take 5% off your entire order! If you want to go directly to the new Tamron 150-600 VC, click here: Proceeds go towards keeping this site going and providing you with new reviews! It is best for Canadian buyers to shop in Canada, as it ensures that you will have no question in regards to warranty service (and you will be dealing directly with Amplis Foto for that service.)

FOR MY AMERICAN READERS: I now have a relationship in place with B&H, one of the best photography retailers on the planet. I would appreciate if you could clink on the link below to buy this lens at a great price from them!
Pre-order Nikon or Sony Mount:

Purchasing through these retailers helps keep this site afloat, so thanks for your support…and I'll try to keep the reviews coming!
If you would like to do further reading, I have written reviews for PhotoNews Magazine and Henry's.
A note regarding the photos contained in this review:I like to do post-production on my images, but I recognize that this review is different than many of my other ones.This is a lens that is just coming to market, and most of you want to know above all else what the lens can produce…not what I can produce.I do shoot RAW, but all of the images in this review have had nothing more done to them than a typical RAW conversion (using the standard profile correction in Lightroom 5) an in some cases a slight exposure or white balance tweak.A couple of images have been cropped, but by and large these photos are as they came out of the camera.
————————————————————————————————————————–
Disclaimer:I reviewed a retail copy of the lens provided to me for review purposes.It was not specially selected for me and represents a typical example of the lens.I have not been compensated for this review and my conclusions were not influenced in any way.The opinions stated here are my own.I have tried, as always, to be as balanced and objective as possible in reviewing this lens.
Recommend Reading:
Canon 70-300mm f/4-5.6L IS USM review
Tamron SP 24-70mm f/2.8 Di VC USD review
Tamron SP 70-200mm f/2.8 Di VC USD Review
The Big Gallery (More Images)
Click here to open a gallery full of images from the new lens!
[contact-form][contact-field label='Name' type='name' required='1'/][contact-field label='Email' type='email' required='1'/][contact-field label='Website' type='url'/][contact-field label='Comment' type='textarea' required='1'/][/contact-form]
DISCLAIMER: This article and description contains affiliate links, which means that if you click on one of the product links, I'll receive a small commission. As an Amazon Associate I earn from qualifying purchases.