How (and Why) I Took the Shot #3: Inferno
Dustin Abbott
April 22nd, 2014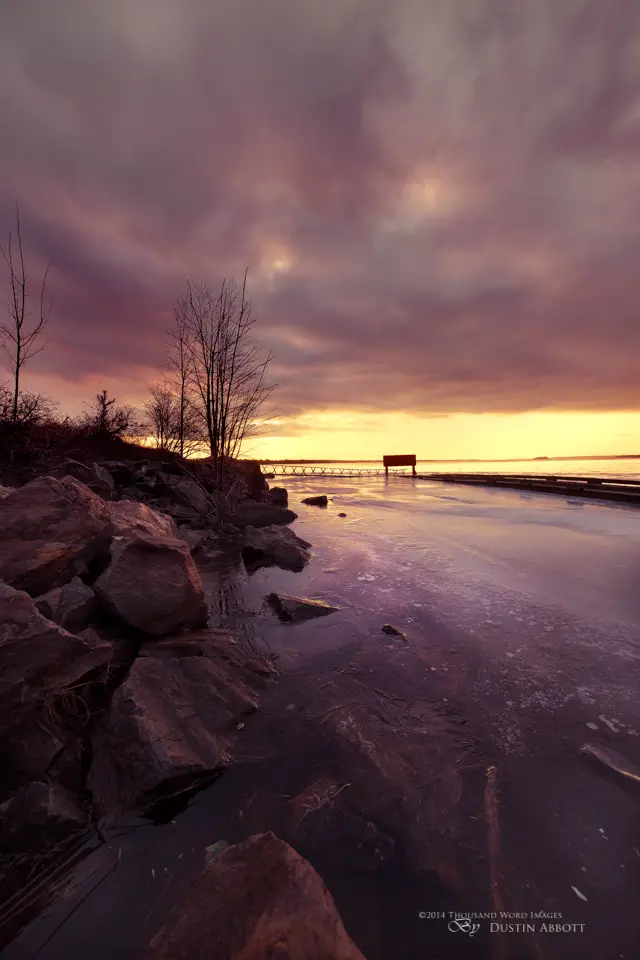 I think you will probably agree that the "why" of this particular shot is pretty self-explanatory. Being able to capture moments like these is pretty much what keeps a landscape photographer going. I arose early on Good Friday morning, took a quick look out the window, and knew that I wouldn't be going back to bed. You only have so many days with a fabulous dawn. After dressing and preparing my gear in haste, I traveled to a spot where I knew roughly what I would have to work with to enhance the great sky.
This is one of the keys to being a successful landscape photographer – scouting. Amazing skies don't automatically produce amazing photos. I have seen some shots of fabulous skies that were completely ruined by the entirely uninteresting nature of the foreground.
Foreground matters.
This is doubly true if you use a wide angle lens and compose in a portrait orientation as I have done here. My 14mm lens has an incredibly wide angle of view, and composing like this means that the foreground is somewhat exaggerated. That exaggeration produces very visually compelling images…if the photographer does a good job of composing the shot. It also means that some serious thought needs to be put into the foreground and to visualize how the final shot will appear.
I have shot at this location before. It is close enough to my house that I could travel there in time to make the most of the colors in the rising sun. I also knew I had some visually compelling elements to work with: the river, large rocks, some trees, and a dock. I wasn't sure what the state of the ice would be along this stretch, but that worked out well to provide some additional visual interest.
Setting up my gear for this shot was a bit interesting. I obviously had no interest in getting in that water, but I wanted the shot to be framed from out on the water. This meant spreading my tripod out low and getting it to rest on the thin ice sheet. I had to reach out as far as I could to set it in place, and then fought with getting everything to balance as the ice sheet would start to tip from the weight of the gear. I eventually found a point of equilibrium, and got the framing that I wanted. I used the camera's self-timer to reduce any chance of vibration.
I also chose to shoot three bracketed shots to get a very broad dynamic range. I knew this would enable me to get both clean detail in the shadows and also prevent the highlights from the rising sun getting blown out. I kept the original exposure on the low (underexposed) side to get the primary look I wanted.
In post, I took the three exposures here into Photoshop as layers from Lightroom:
In Photoshop I hand-blended the layers by using a series of luminosity masks from Tony Kuyper. I primarily wanted the range of light in the brightest part of the image from the -3 EV image and then to recapture the foreground detail information from the +3 EV image. The trees I wanted to keep as silhouettes. When I finished there, I took the image into Alien Skin Exposure 5 to work with the color. I chose to emphasize lavender and magenta hues that nicely brought out the nuance in the sky. After bringing the image back into Photoshop, I duplicated the "Alien Skin" layer and changed the blend mode to "Soft Light" at about 40% percent to add some contrast and punch to the image. I did a very slight bit of dodging and burning, and that was that.
The finished image allows the the sky to shine but also gives the eye a lot of other things to look at: bubbles and textures in the ice, both the submerged and the dry rocks, the silhouettes from the bare trees, and then the details of the little dock. Hopefully there are a few things in this little article that will provide you that extra bit of motivation you need to get out and produce something special of your own.
Gear Used:
Canon EOS 6D DSLR Camera (Body Only)
Rokinon 14mm Ultra Wide-Angle f/2.8 IF ED UMC Lens For Canon
Adobe Photoshop Lightroom 5 Software for Mac and Windows (Boxed Version)
Adobe Photoshop Creative Cloud 1-Year Subscription
Alien Skin Exposure 5
Purchasing your gear through B&H and these links helps fund this website and keeps the articles coming. Thank you for your support.

Great News! I can now offer a 5% discount on all purchases at Amplis Foto, Canada's Leading Photographic Supplier. Please enter discount code: AMPLIS52014 in your cart. It is good for everything in your cart, and is stackable with other coupons, too! It will take 5% off your entire order! If you want to go directly to this lens, click here: Proceeds go towards keeping this site going and providing you with new reviews!
DISCLAIMER: This article and description contains affiliate links, which means that if you click on one of the product links, I'll receive a small commission. As an Amazon Associate I earn from qualifying purchases.