Tamron 28-300mm f/3.5-6.3 Di VC PZD Review
Dustin Abbott
August 7th, 2014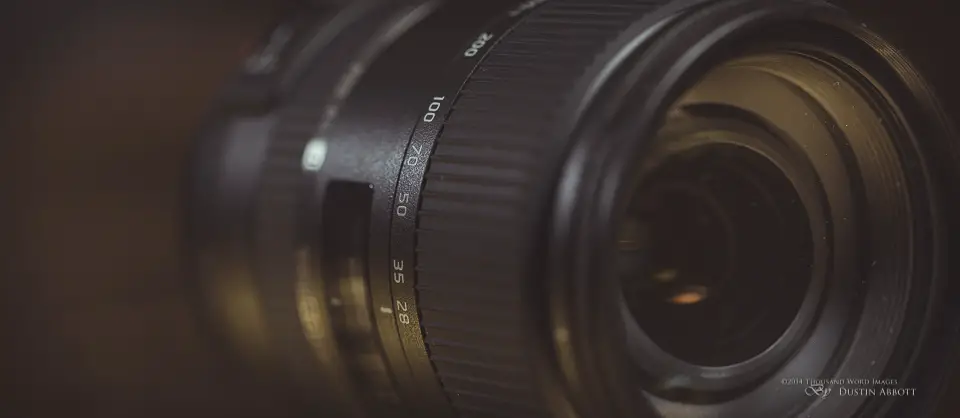 Full frame camera users rejoice! You finally have an affordable (and viable) option in the all-in-one category. There have been a few budget options in the past (including one with an identical focal length from Tamron), but they offered what can only be considered "compromised" optics. The only viable option if you wanted good optics was a very large "great white" from Canon, the EF 28-300mm f/3.5-5.6L IS USM Lens. Despite producing good images, this lens has not ever saturated the market for a number of reasons:
Size and weight: it literally outweighs all of the 70-200mm f/2.8 zooms at 59oz (1670g) and even in fully retracted mode it is just about as long. (Not exactly travel friendly)
Design: it is a push/pull design (like the EF 100-400mm f/4.5-5.6L IS USM Lens), which many users are not crazy about.
Price: though released in 2004, the 28-300L still retails for nearly $2700. Ouch!
It quickly becomes apparent why the travel crowd has not flocked to this model. It is professionally built, has an image stabilizer and good optical performance (for a superzoom), but the combination of price and size has scratched it off the list for many. Many of us (like myself) typically travel with a 2 (or more) lens solution instead. Nikon users have had a slightly more balanced option in the AF-S NIKKOR 28-300mm f/3.5-5.6G ED VR Zoom Lens. Slightly inferior optics, but a more travel friendly size and a price that is less than half that of the big Canon. But Canon shooters have lacked a comparable option…until now.
Enter the newly released Tamron 28-300mm f/3.5-6.3 Di VC PZD. 28-300mm is a VERY compelling focal range:
This lens checks all of the boxes:
Compact size and weight for travel. At 19oz (540g), it is literally a third the weight of the 28-300L and is only 3.8in (96mm) in fully retracted mode (half the retracted length of the 28-300L).
Fast focus (Piezo Drive), effective stabilizer (VC rated at 4 stops), effective coatings for reducing flare.
Moisture resistance so that you can, well, travel, and not constantly worry about a little rain or spray.
Finally, price. It comes in at under $1000, nearly a third of the price of the Canon and undercutting the Nikon by several hundred dollars.
On paper, this all sounds good. But what is the reality in the field?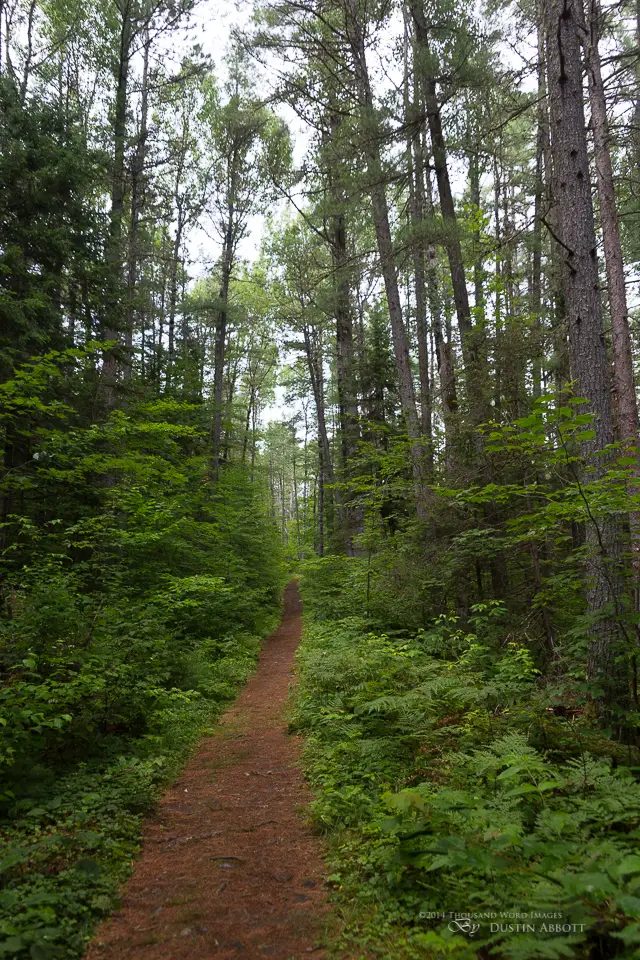 First, a few notes on the build quality. I have reviewed most of Tamron's "premium" offerings in the past year and half, including the SP 24-70mm f/2.8 DI VC USD, the 70-200mm f/2.8 VC, and 90mm f/2.8 VC Macro, and the big 150-600mm f/5-6.3 VC. All of those lenses were so good that with the exception of the 90mm Macro (I already had the wonderful 100L Macro from Canon), I added them to my kit. I have been very impressed with Tamron's improved build quality, and these lenses have proven to be tough and durable (I have used the 24-70VC in all kinds of weather [sub-arctic to equatorial] and in half a dozen countries).
I would call the build quality a notch below these examples. It doesn't feel as "premium" as those products. If these represent Tamron's "L" series, then this lens is more akin to the better EF-S lenses like the EF-S 15-85mm f/3.5-5.6 IS USM Lens. That lens was my favorite travel lens when I shot crop sensor camera because of its excellent optics and stellar build quality. It covers a more modest zoom range, but that is the lens that comes to mind when I consider this lens' build quality. The feel of the focus and zoom rings in texture (along with barrel texture and feel) are definitely similar. It's design was a little stubbier (thicker and shorter) and it weighed a bit more than the Tamron. The greatest match for the physical dimensions in the full frame department is the older, well known EF 28-135mm f/3.5-5.6 IS USM Lens. Both that lens and the new Tamron weigh in about 19oz (540g) and are 3.8″ (96mm) long. But the Tamron, of course, has an additional 165mm in focal length, which makes it compact dimensions particularly impressive. It is smaller and lighter than Canon's own EF-S 18-200mm f/3.5-5.6 IS Lens despite that being a crop sensor only lens and having a small zoom range.
By the way, the design, feel, and dimensions of the two new Tamron all-in-on zooms (the other being the newly released 16-300mm f/3.5-6.3 VC PZD for crop sensor cameras) and nearly identical…to the degree that they are visually almost indistinguishable. Their weight is identical, and the crop sensor lens is 3mm longer (very, very hard to determine by just looking). They both feature a double barrel zoom extension (which effectively doubles the length of the lens) and a 67mm plastic filter thread (non rotating – circular polarizer users rejoice!). Both feature a zoom lock (that locks only in the fully retracted [16/28mm] position), a lightly flocked engineered plastic barrel (just like every new lens!), a rubber gasket around the metal lens mount. Short of disassembling the lens, one has no way of really determining the degree of weathersealing on any given lens. That being said, Tamron is sticking its neck out a bit more than other manufacturers when it makes this claim because they back their products up with a six year warranty (in North America). That's a very long warranty period on a lens whose main purpose is travel!
I find the ribs on the zoom/focus rings a little thinner and less soft to the touch than premium lenses. My initial finding with both lenses was that the zoom extension action was quite stiff, particularly starting about the 70mm position, but with a bit of use that has loosened up nicely. I don't expect that action to ever equal the smoothness of internally zooming lenses, but my initial concerns about the zoom action have been allayed. The zoom action seems nicely damped after a few weeks use. On a positive note, I seriously doubt zoom creep will be an issue for these lenses – the zoom action is very sturdy and the front element is not particularly heavy. Both lenses have two switches on the left side of the barrel, an AF/MF switch for the focus and an ON/OFF switch for the VC (vibration compensation). The manual focus ring, while fairly narrow, is also nicely damped and focuses easily. They also feature a distance window in both feet and meters. Both lenses also feature Tamron's new signature look (introduced first on the 150-600 VC), a handsome tungsten ring that is a little more upscale looking than the older gold colored ring. All in all, the design is attractive but not spectacular. The lenses include a petal shaped hood that is relatively small and unobtrusive. The lenses may look virtually identical, but if you look at the underside of the lenses you will spot one difference: the full frame lens (28-300) says "Made in Japan", while the crop sensor lens says, "Made in China". This may be one reason for the over $200 premium of the full frame lens over the crop sensor.
Another is the internal construction. Full frame sensors are far more demanding to develop for than crop sensors, which is why the crop sensor lens features a significantly larger zoom range (25.6-480mm full frame equivalent). By necessity the internal workings inside that almost identical exterior are more complex in the full frame variant with 19 elements in 15 groups as opposed to 16 elements in 12 groups within the crop sensor lens (16-300mm). There are variety of elements designed to improve sharpness, reduce flare and aberrations, and correct for distortion.
But do they work?
By and large I have come away quite impressed. I have used the lens in a variety of situations and have pleasantly surprised by the way the various compromises of developing a lens with such a broad zoom range have been handled. The nature of such lens dictates there will be compromises. My most similar point of comparison was Tamron's own 18-270mm VC lens (version 1), which I owned and used extensively for over a year when I shot crop sensor cameras. That lens featured a highly complex distortion pattern (mustache) that was not easy to correct in post. The new lens has a moderate amount of barrel distortion and vignetting at 28mm (as shown by the brick wall test here), but as you can see, it is easily fixed by the standard Lightroom/ACR profile. The decision to go no wider than 28mm has undoubtedly helped in this regard.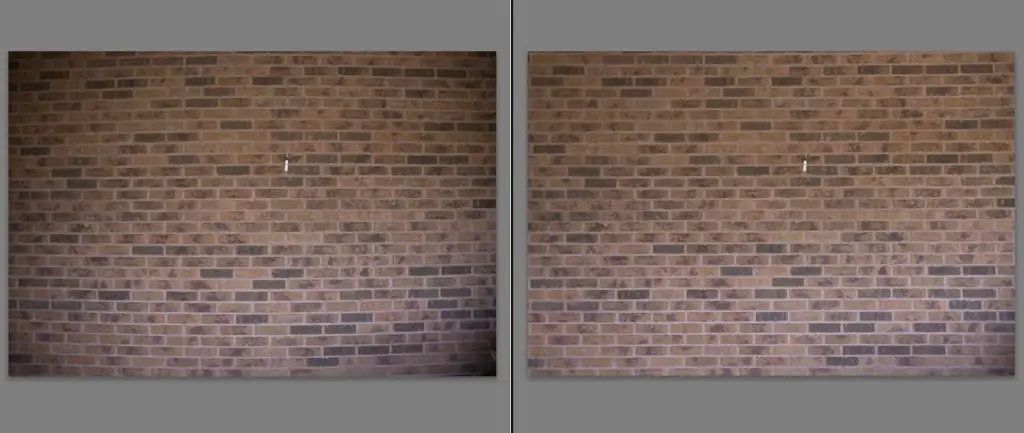 But more importantly, I was actually surprised by the amount of barrel distortion present in the brick wall test because I was seeing so little in field work. There is a minor amount of pincushion distortion at maximum zoom (300mm), but it is marginal and even more easily correctable. The vignetting is clearly less heavy at 300mm, too.
I tried shooting into the sun in a variety of ways to induce flare, but I found the lens very, very resistant to flare. I was able only to produce the smallest of ghosting right at the edge of the frame in the most severe situations, but observe no real loss of contrast or color. This bodes well for those who will be traveling into difficult lighting situations.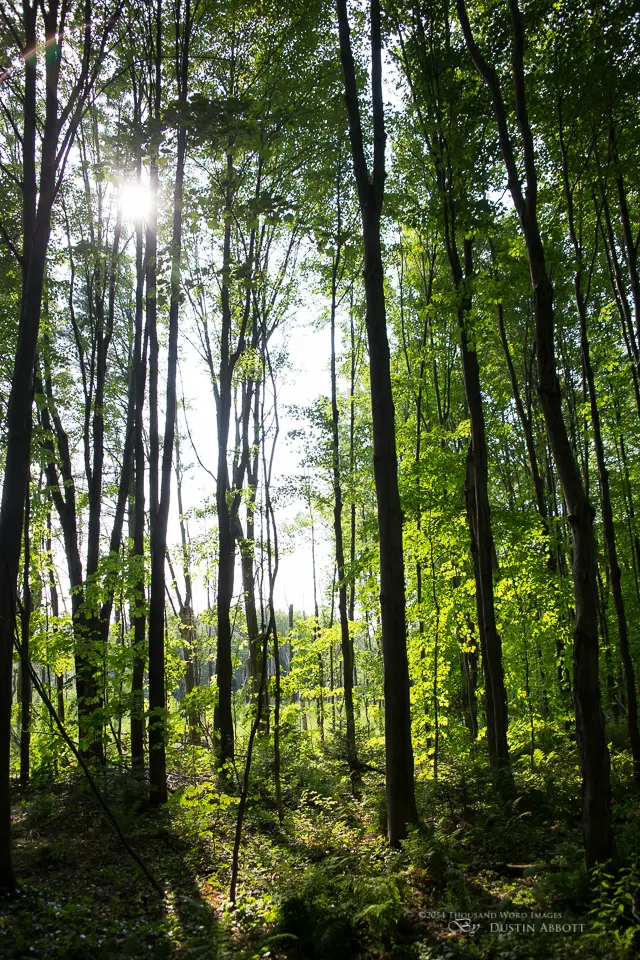 The coatings/elements are also doing an excellent job of controlling chromatic aberrations. This is one area where I have seen a huge advantage in modern lenses over those more than, say, about 8 years old. It is rare to find a modern lens that really struggles in this area, and the 28-300 is no exception. I have shot a large variety of high contrast, potentially CA inducing scenes, but have produced only minimal chromatic aberrations. The shot above (no corrections) has a bit of purple fringing in the upper left corner, but almost all of that is alleviated by using Lightroom's one-click correction. That's awesome in a lens with this broad of focal range. When shooting text at the long end I can notice a bit of fringing (see below), but it disappears with the standard profile.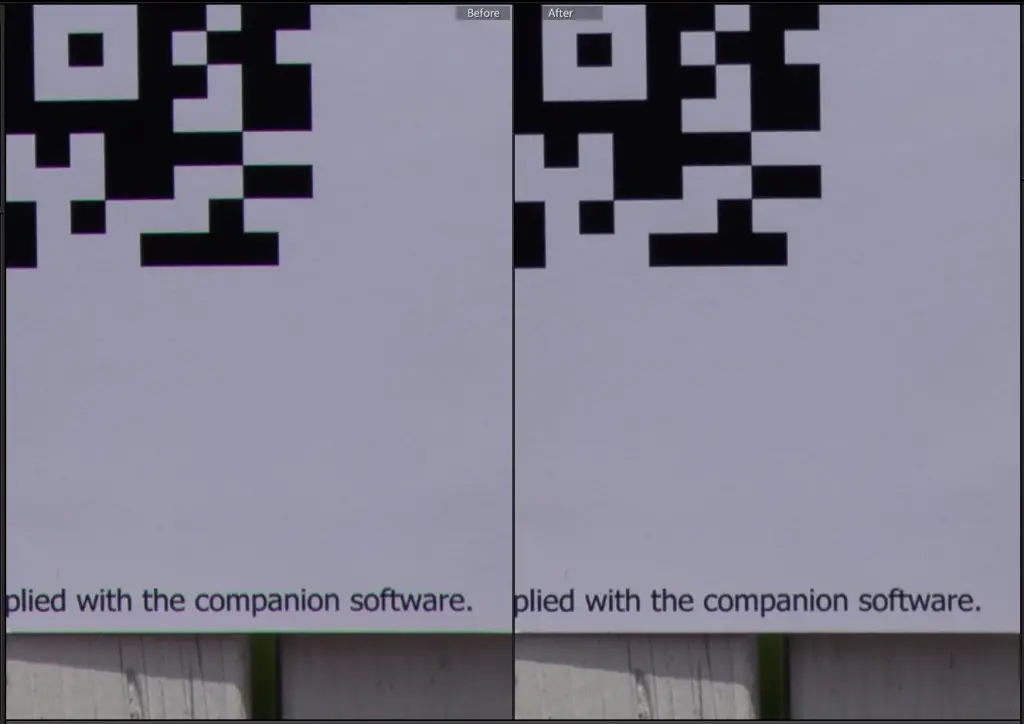 Color rendition is very nice. Images have shown nicely saturated, rich colors. There can be a slight loss of contrast towards the very end of the zoom range, but overall color looks pretty great here.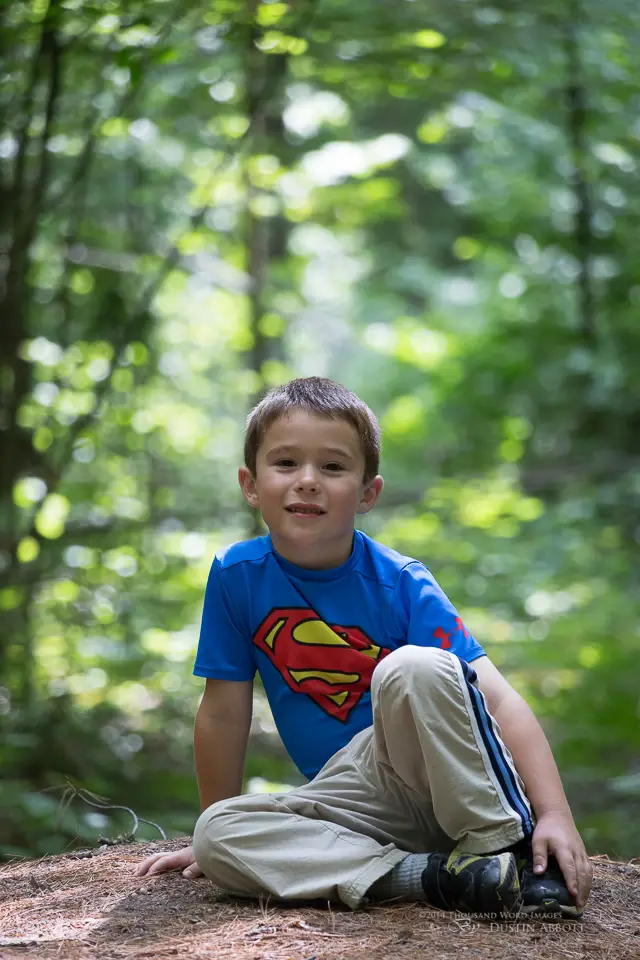 Highly Stabilized
[youtube=http://youtu.be/weJiuHd3y7E]
Tamron was only of the last players to the table with image stabilizers in their lenses, but they have proven to be very fast learners. Put simply, Tamron's VC (Vibration Compensation) is my favorite image stabilizing system in use today. The application here is seamless, with the system silently (and I mean silently) and quickly going into action without any kind of jump or disturbance. It seems to hold the image rock solid in the viewfinder, even at 300mm, and gives the photographer great confidence in taking their time and choosing composition. This is one of the rare applications of image stabilization where the estimate of 4 stops of assistance may just be conservative. If you have never used a Tamron with VC before, prepare to be impressed! I had no problem handholding 1/10th second shots @300mm on a static target. I can't imagine a scenario where I would use that skill, but it is impressive nonetheless. This shot was taken at the wider end of the spectrum, 1/6th second to help to blur the waterfall. This is a more practical example; I had no tripod but wanted a specific shutter speed.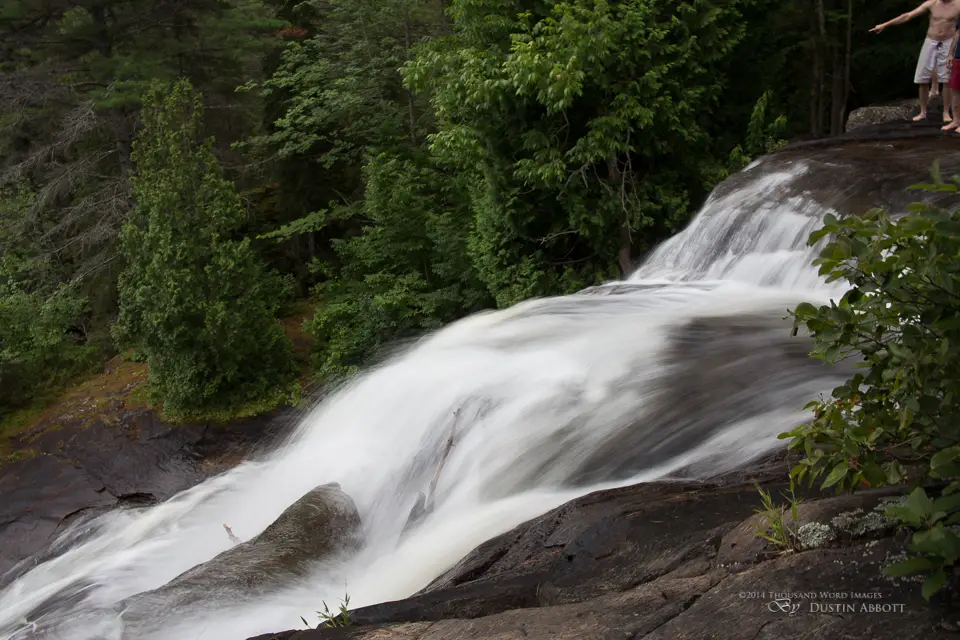 How about sharpness? Here is where many such lenses fall apart. They simply lack sharpness over their range because it is so great. With that in mind, I had reduced expectations for the performance of this lens, but have generally been quite impressed with its performance. There are times when it simply meets my expectations, then in other shots I will be shocked by just how sharp the image is. I have been often impressed with the sharpness at the end of the focal length, as this is typically where things falls apart. Tamron has done a good job of keep the zoom end of the focal length usable. One could effectively argue that 28mm and 300mm are the most important focal lengths, as these will probably get the most use. Here are a few samples/crops that show field sharpness. I have just recently reviewed the Zeiss Sonnar 135mm f/2 lens, and it had the best micro-contrast I have ever seen (which definitely affects apparent sharpness). This lens, unsurprisingly, does not have that same performance. On the other end, stopping down to typical landscape focal range (f/5.6-f/11) produces nice sharpness that extends all the way into the corners. I am very pleased with the performance in this area, and when I stop to consider just how broad the zoom range is here, I can't help but be impressed with what Tamron has accomplished here. The lens is very usable throughout its focal range wide open, with peak aperture being f/8 on the long end. Here are some samples and crops to show sharpness:
One other strength of the lens is the combination of a nice minimum focus distance and resulting maximum magnification. The lens can focus down to 19.3in (.49m), resulting in a nice magnification figure of 29% . While the lens is no replacement for a true macro lens, it means that you will have no problem taking pictures of flowers like this one that fill the frame.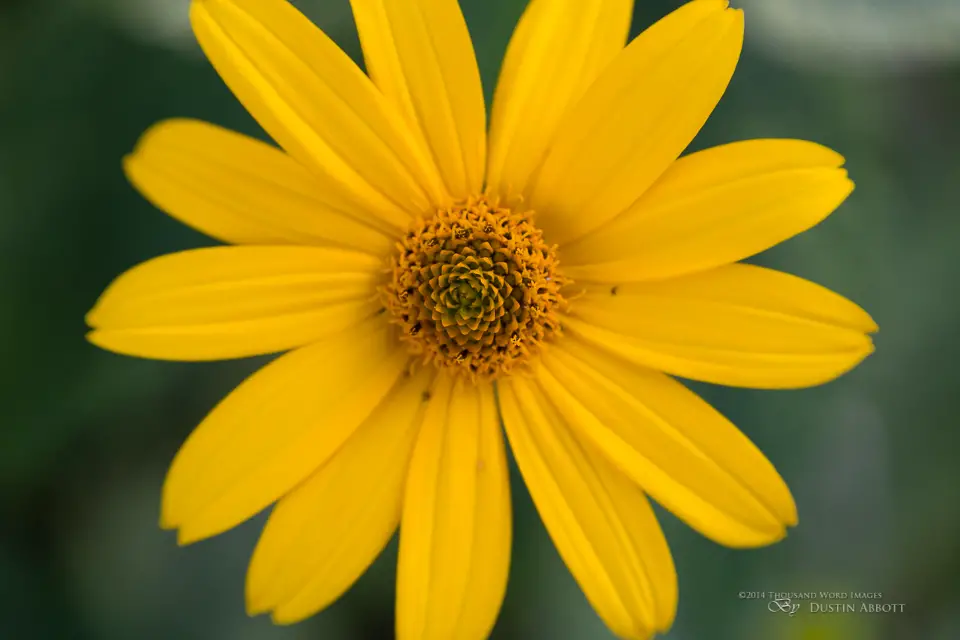 AF Accuracy
Good sharpness can be easily ruined by poor AF accuracy, so Tamron has employed one of its PZD (Piezo Drive) hypersonic focus motors in this lens. This is the first (to my knowledge) application of this motor in a full frame lens. Tamron has two different AF drives (both brought to market in the last five years). One is the PZD drive, which seems to have been applied exclusively in their line of lenses for crop sensors (Dii). The other is the USD (Ultrasonic Silent Drive), which has been exclusively used in their full frame offerings (Di). Both use somewhat different technologies to achieve the same purpose, namely fast and quiet autofocus. Early Tamron lenses employed micromotors that were much slower and quite "buzzy" in operation. I suspect that Tamron chose the PZD motor here because of the compact nature of the lens and what was surely some shared development between this and the crop sensor lens. The system does its work here, as the AF is both fast and accurate. I have used a lot of lenses with the USD system in the last couple of years and am thus very familiar with its function. I find the focus speed and accuracy equivalent to a USD lens but note that the sound (though faint) is slightly different. I have used the lens in both One Shot and AF Servo modes with good success, though this lens will hardly be the choice of professional sports photographers!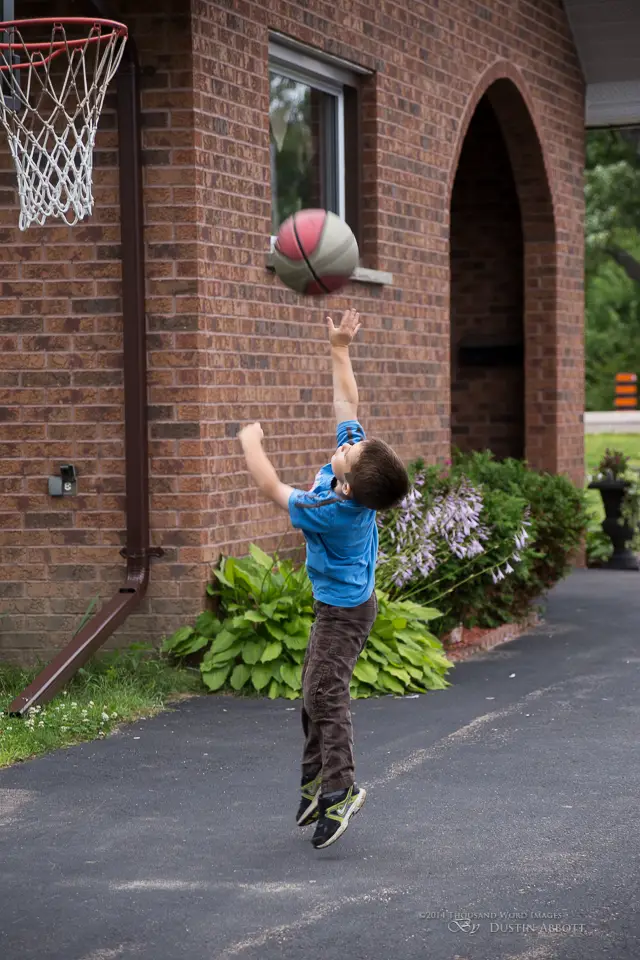 To further tweak focus accuracy (and thus apparent sharpness on my camera body), I ran the lens and one of my 6D bodies through Reikan FoCal. With my 6D I can set a microadjustment (AFMA) at both the wide and telephoto ends of the focal length. My settings were EV 12.2, 1/400th second @ about 1 meter for the 28mm range. I got a value of +2, then +1, then +2. This is a nicely consistent result, and I went with the +2 value. I generally prefer a value as close to zero as possible, as that shows the lens is naturally well calibrated to my camera body but also means that those who don't have the means to do AFMA on their lenses can still enjoy consistent results. A test of the AF consistency produced a consistency of focus percentage of 99.3, which is obviously very, very good.
I then repeated the tests on the telephoto end of the lens. The lens was zoomed out to the 300mm focal length, and the settings were: EV=12.2, 1/125th second @ 7 meters. Having accurate focus at the telephoto end is typically even more important because the depth of field will often be more shallow and the smaller angle of view will reveal more loss of detail if focus is missed. My first result was a -4 value, then my second test also gave a -4. I am always thrilled to get a repeatable result, so I locked it in. When I ran the test on AF consistency on the long end I got a 99.1% score. That is simply excellent results for a lens with such a broad focal range.
A word on aperture. That f/6.3 on the long end can be a little disconcerting. Some ignorant or perhaps unethical salesmen have told unwitting buyers that lenses with a maximum aperture of f/6.3 won't AF on their camera bodies. This is not true. Third part manufacturers like Tamron and Sigma have long made zoom lenses with a maximum aperture greater than f/5.6 (f/6.3 is 1/3rd of a stop slower than f/5.6) that have all properly autofocused on Canon and Nikon bodies (due to a little trickery). It should be noted that Nikon has broken tradition and its recent 28-300mm lens has a maximum aperture of f/6.3 on the telephoto end. I'll admit that I'm greedy; I would prefer that value to be f/5.6, but it truthfully isn't that big of deal. If you are interested on how the lens' aperture changes throughout the focal length, I did a quick test:
f/3.5 is a bit of a joke. It changes to f/4 before you hit the 35mm mark.
f/4 lasts until about 55mm, when the value changes to f/4.5
f/4.5 lasts until about 70mm, then changes to f/5
f/5 lasts until about 100mm, then becomes f/5.6
f/5.6 lasts until about 195mm, then becomes f/6.3 through the end of the focal range.
My experience tells me that this is fairly typical for variable aperture zooms. My 70-300mm f/4-5.6L IS lens is one of the better performers in this area, but most zooms spend more time at the smaller aperture values of their range.
It is fortunate then that the VC is so effective, because you cannot count on a large aperture to let in a lot of light in dim lighting conditions. The consolation is that most modern FF bodies have excellent high ISO performance. This certainly helps mitigate the downside of using lenses with smaller aperture values. Still, this is entirely expected in a lens that is so compact and yet sports such a large focal range.
A variable aperture zoom lens is rarely a "bokeh monster", but this lens fares quite well. Backgrounds are obviously not as diffused as a larger aperture lens would produce, but the transition bokeh manages to not be busy or obtrusive. If you are fairly close to your subject and using the longer end of the focal length backgrounds will quickly disappear. Rounded aperture blades produce nice, round highlights despite the smaller aperture.
Summation
In conclusion, there is no lack of applications for this great focal length. The compact size and low weight of the Tamron 28-300mm means that just about anyone can carry it and not worry about the weight. This, combined with good optics, a sturdy build (complete with some degree of weathersealing), fast, accurate focus, and a fantastic image stabilizer makes this lens a clear winner in the travel/do everything lens category. Every "superzoom" lens is by necessity a series of compromises, but somehow Tamron has been able to mitigate the effect of many of those compromises and produce a lens that does a lot of things very well. This lens is evidence of just how far lens manufacturers have come in optical development in the last few years. All of this is coupled with a six year warranty (in North America) gives the buyer some serious peace of mind. If I were to choose a lens for travel to accompany my 6D body right now, it would be this one. It is the first time that I have used an all-in-one without feeling like I will pay too great a price in image quality.
Pros:
Very compact, travel friendly size
Stellar optics with surprisingly few compromises
Easily correctable distortion
Highly effective VC system
Fast, accurate AF
Moisture resistance
67mm front element = affordable filters
Internal focusing
Great focal length (10.7x zoom range)
Excellent flare resistance
CA well controlled
Reasonable price
Industry leading warranty (six years in North America)
Cons:
The majority of the focal range is at f/5.6 or smaller
Build quality is good but not great
Some CA at long end of focal length
Reasonable price, but not cheap
Fairly heavy vignetting at the wide end wide open
This review contains unprocessed images taken with the lens reviewed here. I wanted to give you an unbiased look at how the lens actually performs. The link below contains many more images plus a look at how some of them look processed.
Note: I have reviewed a retail copy of the lens provided courtesy of Amplis Foto in Canada: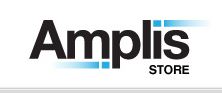 Great News! I can now offer a 5% discount on all purchases at Amplis Foto, Canada's Leading Photographic Supplier. Please enter discount code: AMPLIS52014 in your cart. It is good for everything in your cart, and is stackable with other coupons, too! It will take 5% off your entire order! If you want to go directly to this lens, click here
Gear Used:
Canon EOS 6D DSLR Camera (Body Only)
Tamron 28-300mm f/3.5-6.3 Di VC PZD Lens for Canon
Adobe Photoshop Lightroom 5 Software for Mac and Windows (Boxed Version)
Adobe Photoshop Creative Cloud 1-Year Subscription
Alien Skin Exposure 6
Purchasing your gear through Amplis Foto (in Canada) and B&H (in the United States and abroad) through these links helps fund this website and keeps the articles coming. Thank you for your support.

[contact-form][contact-field label='Name' type='name' required='1'/][contact-field label='Email' type='email' required='1'/][contact-field label='Website' type='url'/][contact-field label='Comment' type='textarea' required='1'/][/contact-form]
DISCLAIMER: This article and description contains affiliate links, which means that if you click on one of the product links, I'll receive a small commission. As an Amazon Associate I earn from qualifying purchases.