Three Way Shootout Part 1: the Lenses
Dustin Abbott
April 9th, 2015

When I did my review of the Tamron 15-30mm VC last month, I did it without the benefit of having its direct competition (at least in a Canon mount) on hand. The review period was quick because of the demand for review pre-release copies and so I didn't have a chance to get the competitors on hand. I had to rely on my memory of those lenses and the gut impressions I got from using them. Subsequent reviews by other review sites have largely confirmed those impressions. I felt strongly enough about the Tamron that I put my own preorder in. My one regret, however, was that I didn't get a chance to directly compare the 16-35mm f/4L IS with the Tamron. When Tamron of Canada mentioned that I could get some more time with the 15-30 VC I immediately reached out to my buddies at B&H Photo to provide me a comparison copy of the 16-35mm f/4L, and just for the fun of it, to throw the older 16-35mm f/2.8L II into the mix as well. They were very obliging, and so I owe a debt of gratitude to both them and Tamron of Canada (Amplis Foto) for enabling this bit of "fanboy fantasy". A lot of you have requested this comparison, so you thank these great companies for making it happen!
As I mentioned, there have been a number of reviews that have come to light since I launched mine in mid-February. Those reviews have for the most part affirmed the various conclusions that I came to myself. However, in one case, the chart testing at The Digital Picture by Bryan Carnathan (a reviewer that I have a lot of personal respect for) seemed to indicate that the Tamron was not a sharp as what I found to be, or at least as compared to the Canon EF 16-35mm f/4L IS. While I did directly compare the Tamron 15-30 to two lenses from my own kit: the Tamron 24-70 f/2.8 VC (which by the way, has since been serviced by the fine people at Tamron Canada and is sharper than ever!) and the Rokinon 14mm f/2.8, I regretted not being to compare it to its natural competition.
I decided that I would do my own direct comparison of these three lenses, but I will stick to my strengths here. This will not be a chart comparison, but rather a real world photography comparison but doing my utmost to deliver those results in as accurate, controlled, and unbiased way as possible. I appreciate those that do chart testing, and always enjoy looking at those results and using them as a part of my own purchase decisions. I recognize that it is easier to be scientific with chart testing. But much like testing a camera without a lens attached (hello, DXO) I don't find that they always tell the full story. In real life no photographer shoots charts; we shoot real-world subjects…with lenses attached! I personally find results that imitate the way I will actually use a lens to be more personally beneficial.
On top of that I want to do my best to help those of you that are weighing which of the fine options to choose for your own kit. I will do my absolute best to highlight the strengths and weaknesses of each lens along with some visual evidence to back those conclusions up. I don't work for any of these companies, nor do I own stock in them. I'm not trying to sell you anything. If anything, I am just thankful that after a long period of having no great option available in the wide angle zoom department, Canon shooters suddenly have a wealth of choices.
But what about the new EF 11-24mm f/4L? I do plan to review that lens at some point, but I don't feel like it is really a natural competitor to any of these lenses. It costs nearly three times as much as the Tamron and the 16-35 f/4L IS and almost twice as much as the 16-35mm f/2.8L. While there is some focal length overlap, it is a far more extreme instrument, and, frankly, there are only a limited number of photographers that actually need the extreme focal length provided by the 11-24mm f/4L. These three lenses, however, are very natural competitors.
Natural Competitors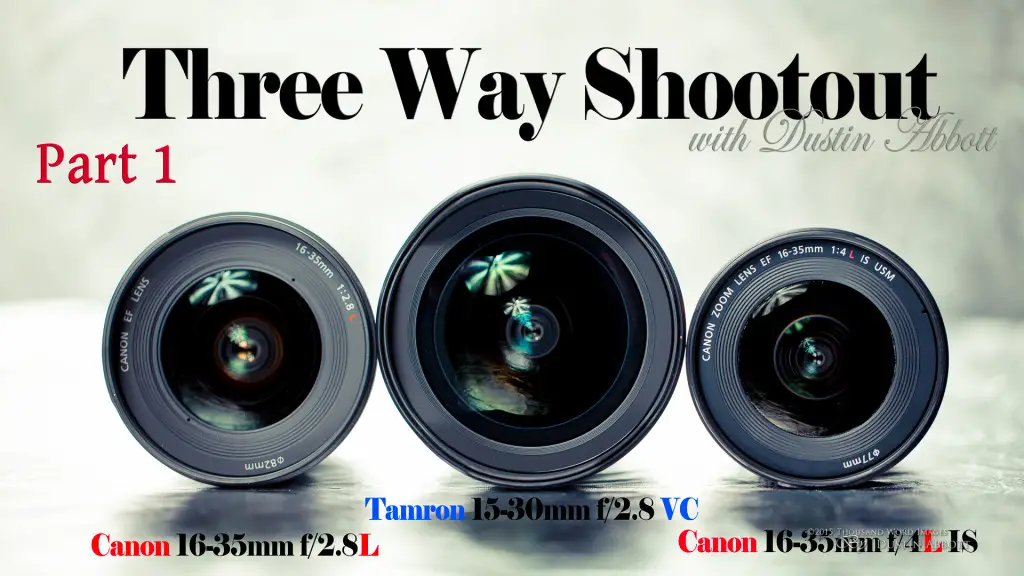 The Tamron is uniquely situated to compete with both of these Canon options, as it has the wider aperture of the former combined with the image stabilizer of the latter. At the same time it is a unique lens, so the feature set of the lens ends up being a combo of these two lenses rather just one of them. Part of what I will be doing is comparing the feature set of each lens to help you make a more informed decision if you are in the market. Unfortunately there is no lens here that has it all; as always, there is some give and take.
The 16-35 f/2.8L has a wide aperture that lets in twice the light as the f/4 lens and retains the ability to use traditional filters, but it lacks an image stabilizer and has the weakest optics by a good margin.
The 16-35mm f/4L IS has amazing optics and an effective image stabilizer, and it too retains the ability to use traditional filters, but it has a slower aperture than the other two and is thus less appealing as an event/wedding lens where you need to stop action and need the wider aperture.
The Tamron 15-30 VC has the wide aperture, image stabilizer, and the great optics, but at the cost of being able to use traditional filters and considerably more size and weight.  It also sports a six year warranty in North America – kind of a big deal!
Both the Tamron 15-30 VC and Canon 16-35mm f/4L IS are released at very reasonable prices relative to their performance, and I noted with delight in my review of the Canon that it was proving the exception to the rule of Canon's recent exorbitant initial pricing. It has held the price point of $1199 thus far, and other than the usual sales and rebates, I fully anticipate this continuing to be the market price. The same applies to the Tamron, which is being introduced at the same price point despite being an f/2.8 lens. Its price significant undercuts the Canon EF 16-35mm f/2.8L II ($1699) and the Nikon 14-24 f/2.8G ($1999). I fully anticipate Tamron stealing some market share from both of those lenses.
Here is the introductory video that will show you the difference in size and build and lay out the objectives for this comparison.
Here are a few of the questions that I would like to answer during this comparison:
Would my perceptions regarding what I found the more exciting lens bear up under direct comparison with the 16-35mm f/4L IS?
Is the 16-35mm f/4L IS as bad for astraphotography as what I remembered?
When compared directly, does one of these lenses have a clear resolution advantage in field use?
I noted the amazing contrast of the new Tamron 15-30. Will that still be the case when compared with the 16-35mm f/4L IS?
Is the added bulk and complication of not being able to use front filters a deal breaker with the Tamron 15-30 VC?
Is the added width of the Tamron on the long end going to make much of a difference?  Is the extra length on the Canons?
I've already begun a series of comparisons to answer these questions and more.  I'm discovering some interesting things, so stay tuned.  I will be breaking down strengths and weaknesses in a variety of fields for each lens, so keep watching for new articles and updates.  Take a look at each part of this comprehensive series.
Part 1:  Specs, Build, and Objectives
Part 3: Angle of View, Distortion, and Bokeh
Part 4:  Flare Resistance, Astraphotography, Handling, and Conclusions
Part 5:  Gallery of Favorite Images from the Review
Gear Used:
Canon EOS 6D DSLR Camera (Body Only)
Tamron SP 15-30mm f/2.8 Di VC USD Lens (Canon EF)
Canon EF 16-35mm f/2.8L II USM Lens
Canon EF 16-35mm f/4L IS USM Lens
Adobe Photoshop Lightroom 5 Software for Mac and Windows (Boxed Version)
Adobe Photoshop Creative Cloud 1-Year Subscription
Alien Skin Exposure 7 (Use code "dustinabbott" to get 10% off)
Purchasing your gear through B&H and these links helps fund this website and keeps the articles coming. Thank you for your support.

Great News! I can now offer a 5% discount on all purchases at Amplis Foto, Canada's Leading Photographic Supplier. Please enter discount code: AMPLIS52014 in your cart. It is good for everything in your cart, and is stackable with other coupons, too! It will take 5% off your entire order! Proceeds go towards keeping this site going and providing you with new reviews! Consider supporting Amplis Foto in Canada by buying the new Tamron 15-30 VC from them.  They provide service in Canada for all Tamron products, and a great people to work with.

DISCLAIMER: This article and description contains affiliate links, which means that if you click on one of the product links, I'll receive a small commission. As an Amazon Associate I earn from qualifying purchases.