Sony FE 85mm F1.4 GM Review
Dustin Abbott
August 19th, 2019
I recently completed a six-way comparison of all the currently available autofocusing lenses for Sony's full frame mirrorless (FE) platform. These lenses cover a wide range of price points, from $379 (all prices USD) for the Viltrox AF 85mm F1.8, to $598 (Sony 85mm F1.8), $699 (Samyang AF 85mm F1.4), $1199 (Zeiss Batis 85mm F1.8 and Sigma 85mm F1.4 ART FE), and, then at the top of the pile, is the Sony 85mm F1.4 GM (G Master) at a whopping $1798! The 85GM is part of Sony's premium G Master lineup, which is both more feature rich than competing lenses and designed with exacting optical standards. But is the 85GM worth the money?
The answer is…maybe. It's complicated.  I'm doing these tests and comparisons on the Sony a7RIII. 
Follow Me @  Patreon | My Newsletter |  Instagram | Facebook | Twitter | Flickr | 500px
Sony 85GM Build, Features, and Design
There's no question that the 85GM sets on top of the heap in terms of its feature set. Autofocusing mirrorless lenses tend (for the most part) to be cleaner and simpler than their DSLR counterparts. Because they utilize focus-by-wire manual focus systems, there is no traditional distance window or hyperfocal markings. Some mirrorless lenses (like the Samyang AF 85mm F1.4) have literally nothing other than a focus ring on them.
The 85GM manages to pack in a lot of features despite that.  You can see all the details and how it compares to the other 85mm options here:
It features a hybrid Auto/Manual aperture ring (the only 85mm of the bunch to feature this). Want to just control aperture from the within the camera? No problem – just move the dial to A (for automatic). You have the option to manually select aperture in 1/3rd stop increments via the aperture ring, however, which is my preferred approach when I have the option. There is also another feature in the form of a switch that allows one to "declick" the aperture, which can be particularly useful for video work if one wants to do aperture racking. 
The 85GM also has a unique Sony feature that only the FE 85mm F1.8 shares of this bunch of lenses – the AF Hold button. The button on the side of the barrel can actually be programmed for a variety of different functions. I used to primarly use this button to map Eye AF, but thanks to Sony's firmware 3.0 which brought full time Eye AF, this is no longer necessary. That makes this button still valuable, but perhaps less so to those of us who primarily used it for that purpose.
There is also an AF/MF switch, which I do prefer to have even on mirrorless. I have AF/MF mapped to the "down" position on the D-pad of my a7RIII, but the feedback is more definite and precise with an actual switch.
The focus ring is nicely sized and has a rubberized, ribbed texture. While this is a focus by wire system (input from the focus ring goes through the focus motor, which then moves the elements as opposed to a direct mechanical coupling to the lens focus elements), Sony has done a good job in providing a realistic damping to the focus ring that makes it behave more like a traditional focus ring. I found that there was enough weight to the ring for precise focus, though major focus changes will require multiple rotations of the ring.
The 85GM would come across as being fairly heavy…if it weren't for the Sigma which completely skews perspective. The 85GM weighs in at a robust 820g (28.8oz). This definely outpaces the Samyang AF 85mm F1.4 (568g/19.2oz) but lags well behind the Sigma 85mm F1.4 ART at a portly 1130g/40oz (which more than doubles the weight of the Samyang!!!) The 85GM has a sturdy build complete with dust and moisture resistance (gasket and internal seals). It has a semi-gloss, lightly flocked exterior, which, in my experience, is one of the most resistant to smudging or scratches.
The basic lens shape is nearly identical to that of the Samyang, as the 85GM is 89.5mm (3.52″) in diameter and the length is 107.5mm (4.23″). The Samyang is slightly smaller at 88mm (3.46″) in diameter and essentially 100mm (3.9″) in length. The lens has a squat profile that looks pretty sweet mounted on the camera.
Up front there is a common 77mm filter thread. Inside there is a more premium-than-usual 11 rounded aperture blade iris that helps to retain a circular aperture shape with the lens stopped down.
The 85GM has a beautiful build and the most robust feature set of any 85mm option on Sony. So far so good…
Sony 85GM Autofocus
Sony utilizes their linear SSM (SuperSonic wave Motor) in the 85GM. F1.4 lenses require powerful focus motors because the elements are large and heavy and require a fair amount of torque to move them. The best focus systems mask that by operating in a quick, quiet way that hides that fact. The 85GM doesn't quite hit that mark.
Once again you can check out the performance against the other options in this video segment:
Autofocus is quick when making smaller focus changes, but large focus changes are definitely more deliberate. There's also more noise in operation than some competitors, with some minor whirring and grinding as the elements move along. This is loud enough to be picked up by on-board microphones during video. It's not loud, but when using quieter options side by side (like the 85mm F1.8, the Batis, or even the Samyang) the quality of focus seems a like cruder.
When doing video AF (see this video episode for actual footage and focus observations), you can hear some noise when making focus changes, and when making major focus changes you might see a "stepping" action where the lens travels partway and pauses for a split second before completing the focus action.
That's the bad news. The good news is that in my various focus tests the 85GM actually did fairly well. When shooting fast moving action, it scored the third highest score (behind the FE 85mm F1.8 and the Samyang) and had the highest number of perfectly focused results (36 out of 46 in a burst). Where it stumbled was an occasional bad miss where the focus shifted either far ahead or far behind the runner. There would sometimes be another frame with focus slightly off as the lens tried to either move back to or catch up with the action. In my test it came up with a score of 85% (for reference, the Samyang was at 89% and the FE 85mm F1.8 at 90%).
In my Eye AF test in a portrait setting, the 85GM scored a perfect 100% score, with all portrait shots perfectly focused.
I also used the 85GM at a multi-day event and got exceptionally good focus results under a variety of shooting and lighting conditions (some quite challenging). I never had an issue with focus slowing down in lower light situations, and it continued to lock focus effectively.
So, outside of a little more noise and an occasional slower focus rack, I had good results with the 85GM lens.
Oddly enough, the focus feels a little less refined than with the much cheaper Sony F1.8 lens, though the same could be said for the FE 55mm F1.8 vs the much more expensive Planar 50mm F1.4.  So, while the 85GM's autofocus gets the job done, it will not come across as being the most refined option.
Sony 85GM Image Quality
Sony's GM (G Master) lenses are built to very high optical standards and deliver very good results. The challenge for them is often similar to that faced by Zeiss lenses, and it is this question: is that extra little bit of performance worth a LOT more money? There is no simple answer to this question, as the answer will change from person to person. For some photographers a lens that gives 90-95% of the performance (like the Samyang or Sigma ART) at 39% (Samyang) or 67% (Sigma) of the price is the obvious choice, while others believe that that extra bit of performance is worth the money. There's a market for Zeiss Otus lenses for just this reason.
The 85GM has an optical formula of 11 elements in 8 groups, including one XA element (helping with astigmatism, field curvature, coma, and other spherical aberrations). There are also three extra low dispersion elements to help reduce chromatic aberrations and deliver accurate, neutral color rendition. The lens also features Nano AR coatings to help to reduce flare, reflections, and ghosting. These also help with contrast…which is a big strength for the 85GM.  Even at F1.4 in this high contrast situation the GM delivers very clean, crisp results.
After my 50mm Sony shootout I personally spent the extra money to buy the Sony Zeiss Planar 50mm F1.4 (essentially the GM option at 50mm before there were GM lenses). I considered that extra bit of performance to be worth the money (and I didn't love the rendering/bokeh from the 1.8/55.) One thing I loved about the Planar was the great microcontrast which I felt make the lens render somewhat similarly to the Zeiss Otus 55mm F1.4. The 85GM shares this characteristic, and the single biggest advantage I think it offers is that images have great microcontrast (at a pixel level) at wide apertures in a way that exceeds the other 85mm options.
The Sigma 85mm F1.4 ART has a dirty little secret. While it tests very well in CA control in a lab, in real world conditions with harsher lighting a fair amount of fringing will show up in certain situations. Not so with the 85GM.
The Samyang has less microcontrast at a pixel level than the G Master at wider apertures. That's not to say that the GM has all the advantages. The Sigma has better corner resolution, and the Samyang has arguably nicer bokeh, but there are going to be photographers who care about the little details and feel like the Sony GM lens delivers the best performance. Let's break it down (these two video segments will give that information in detail):
If you would like to see some charts comparing different attributes, click on any of these and they will open in a separate tab where you can compare them in detail.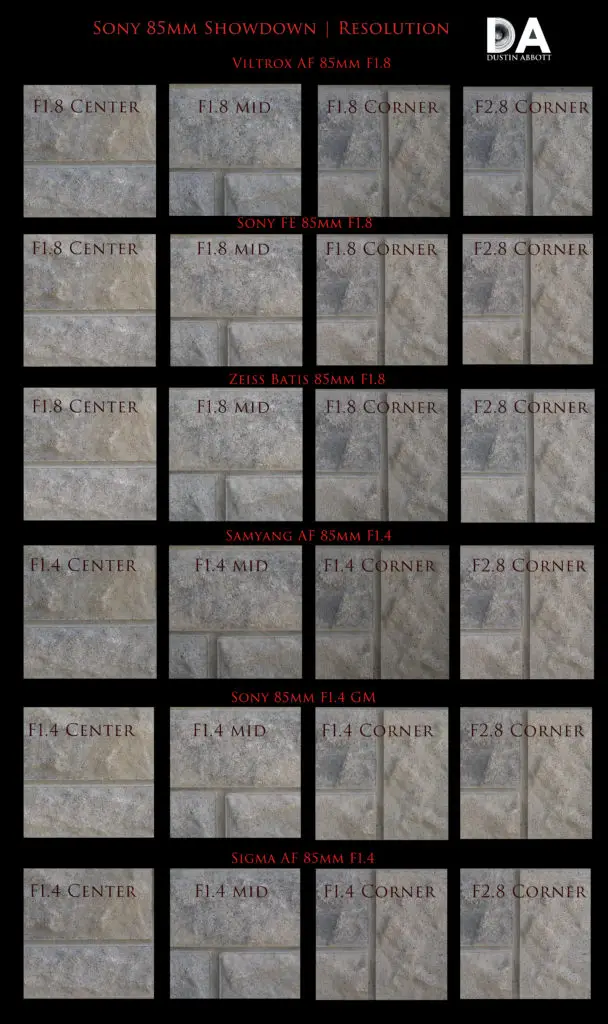 If you closely analyze these charts you will probably come up with the same conclusion I did after hundreds and hundreds of photos and shooting, shooting a number of comparisons, and looking at a lot of 42 megapixel files at a 1:1 level:  there are differences between these lenses in terms of performance…but it isn't massive.  The Sigma shows the strongest corner performance at F1.4, the Samyang has the softest bokeh, the GM has the highest contrast and delivers the highest resolution stopped down…but none of these differences are major.  I think it highly likely that if I were to mislabel any of the images from one of these six particular lenses that very, very few people would spot the difference.
The 85GM is extremely sharp in the middle of the frame, and sports the highest levels of contrast.  The Sigma looks better at F1.4 in the corners, but by F2.8 and beyond the GM is the highest resolving lens.
On that note, however, if you are photographing more than one person, know that depth of field at medium distances with an 85mm lens is quite shallow.  It's entirely possible to shoot at F4 or even F5.6 and not have everyone's face perfectly in focus.  It's helpful to try to get everyone as close to the same plane of focus as possible.  At F1.4, however, you can have the eyes and not the eyelashes in focus, for example.  I shot these budding apples, and look at how out of focus the leaves ahead of them are.
The 85GM can serve as a nice landscape lens when stopped down.  Even at F2.8 the detail across the frame here is incredibly good:
It also delivers excellent colors, with good levels of saturation and good accuracy. 
Many shooters who have used both Sony 85mm options prefer the way that the GM handles skin.  It delivers a more nuanced, flattering performance than the cheaper 85mm option.  Look at this comparison:
There is more nuance in the skin tones themselves with the GM.  The fine hairs on the face are better resolved, with little details showing up that are lacking with the cheaper lens.  Also note the superior levels of contrast in the hair.  Also worth noting is that the tree in the background is softer and with less hard edges.  
Here's another portrait example.  This is at F2.8, and shows off the strengths of the GM.  It has great contrast, rich color, and massive amounts of detail.
Chromatic aberrations were mostly well controlled (see the text example below).  There is very little purple fringing before the plane of focus, but you will see a bit of a blue-green fringing after the plane of focus.  I saw no real world situation that was much affected by this.
I consider the Samyang AF 85mm's bokeh to be "best in show", but the differences aren't significant.  The two charts below will give you a couple of comparison points that you can peruse on a pixel level in a second tab.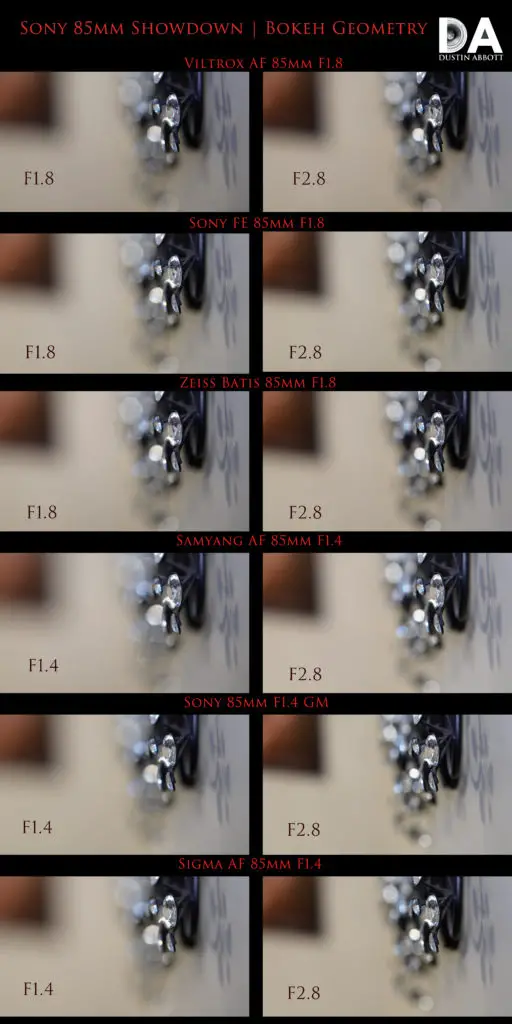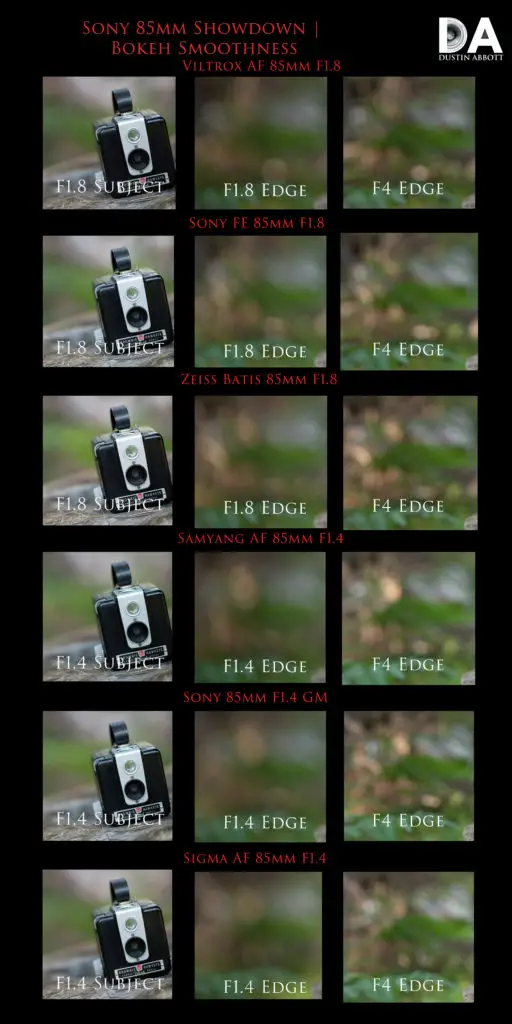 The Samyang has larger and softer bokeh highlights at similar distances, though the 85GM wins for having the best geometry near the edges of the frame.  Circular highlights are circular rather than lemon-shaped.  The extra aperture blades also helps bokeh highlights to remain nice and round even when stopped down.  Here's the difference between F1.4 and F4:
The 85GM has arguably the best mix of "punch" along with soft bokeh.  Bokeh is a subjective measure, of course, but I was generally happy with the "look" of images from the 85GM.  You can look at a few more "bokeh shots" and make a determination for yourself:
My one complaint in the bokeh department when comparing to the other F1.4 lenses (see the comparison charts above) is that the size (and thus softness) of the bokeh circles at identical differences were smaller on the 85GM than the Sigma (a bit) and Samyang (more so).  This is probably due to a slightly shorter-than-85mm focal length, some focus breathing, or even a slightly smaller aperture opening (or some combination of these).  It's not a big thing, and the fact remains that you wouldn't notice it if you didn't have a number of 85mm lenses side by side as I did for my comparison series.
No 85mm lens is going to be mistaken for a macro lens, as they tend to have rather poor reproduction ratios.  The 85GM is no exception, delivering a middle-of-the-pack 0.12x magnification.  Here's as close as it can get to my classic Kodak timer:
I really enjoyed the 85GM as an event lens.  It delivers such good contrast and sharpness wide open that I could shoot constantly at F1.4, which allowed me to keep my shutter speed up and my ISO down.  This allowed me to walk away with cleaner images that still had a lot of punch.  While I used it for a religious event (I had no weddings scheduled during my review period), I feel the 85GM would make a very good wedding lens for the same reasons that it worked well in my religious venue.
There's no question that the Sony 85mm F1.4 G Master lens delivers a strong optical performance, with great resolution, best of class micro-contrast, and quality bokeh.
Conclusion
The G Master lenses were the answer to the challenge that Sony didn't have enough serious lenses for its full frame mirrorless platform. They satisfied the need for high end primes and zoom lenses that competed with the premium options on the Canon and Nikon platforms and helped give Sony mirrorless legitimacy as a third player (where it never quite arrived on the DSLR front). They continue to represent excellence in build, features, and performance, and the Sony FE 85mm F1.4 G Master is no exception to this rule. Ironically, however, it is the exploding popularity of the Sony platform that creates a challenge for a lens like the 85GM. This last year has seen new 85mm F1.4 options from Samyang and Sigma that compete at much lower price points and bring their own strengths to the table. There are also now three F1.8 autofocus options as well at various price points (Viltrox, Zeiss Batis, and Sony), not to mention two other manual focus options that I've reviewed (Viltrox MF and Zeiss Loxia). That is EIGHT 85mm options!!
So where does the 85GM fit in the equation? Above all it is still the answer for those that want the most premium option in the class, or those who want F1.4 and distrust third parties. It is the most feature rich option in the class as well. At the same time, however, the lofty price of 85GM ($600 more than the next most expensive AF option) is going to make it a harder sell in the current market for more value oriented shoppers.
The 85GM delivers beautiful results with a tremendous amount of wide open punch, but in all fairness you probably need to look at a pixel level to appreciate the difference from the Samyang or Sigma lenses. Even then the difference is not significant. But it does exist, and maybe, just maybe, that's enough for you.
Pros:
Beautiful build quality with advanced weather sealing
Feature rich lens – aperture options include MF and declick options
Best of class microcontrast
Tops in resolution from F2.8 on
Delivers better skin tones and facial nuance than cheaper options
Best all-round balance of resolution and rendering
Accurate autofocus
Cons:
Very expensive relative to competition on platform
Autofocus not as smooth and quiet as other choices
Some visible stepping during bigger video focus pulls
Individual Reviews:
Gear Used:
Purchase the Sony FE 85mm F1.4 GM @ B&H Photo | Amazon | Amazon Canada | Amazon UK | Amazon Germany | Ebay 
Purchase the Sony FE 85mm F1.8 @ B&H Photo | Amazon | Amazon Canada | Amazon UK | Amazon Germany | Ebay 
Purchase the Viltrox AF 85mm F1.8 STM FE @ B&H Photo | Amazon | Amazon Canada | Amazon UK | Amazon Germany | Ebay 
Purchase the Zeiss Batis 85mm F1.8 @ B&H Photo | Amazon | Amazon Canada | Amazon UK | Amazon Germany | Ebay 
Purchase the Sigma 85mm F1.4 ART E @ B&H Photo | Amazon | Amazon Canada | Amazon UK | Amazon Germany | Ebay 
Purchase the Samyang AF 85mm F1.4 @ B&H Photo | Amazon | Amazon Canada | Amazon UK | Amazon Germany | Ebay 
 
Sony a7R III Camera: B&H Photo | Amazon | Amazon.ca | Amazon UK  | Ebay
Peak Design Slide Lite:  Peak Design Store | B&H Photo | Amazon | Amazon Canada | Amazon UK
(Portrait Lighting) Purchase the Godox AD200 Pro @ B&H Photo  | Amazon  | Amazon Canada  | Amazon UK  | Amazon Germany  | Ebay
BenQ SW271 4K Photo Editing Monitor – B&H Photo  | Amazon | Amazon.ca | Amazon UK
Adobe Photoshop Creative Cloud 1-Year Subscription
Alien Skin Exposure X4 (Use Code "dustinabbott" to get 10% anything and everything)
Visit Dustin's Amazon Storefront and see his favorite gear


Purchasing your gear through B&H and these links helps fund this website and keeps the articles coming. You can also make a donation here if you would like.  Visit my Amazon page for some of my gear of choice! Thank you for your support.


Great News! I can now offer a 5% discount on all purchases at Amplis Foto, Canada's Leading Photographic Supplier. Please enter discount code: AMPLIS52018DA in your cart. It is good for everything in your cart, and is stackable with other coupons, too! It will take 5% off your entire order! Proceeds go towards keeping this site going and providing you with new reviews!
Check me out on:  My Patreon  | Sign Up for My Newsletter |  Instagram | Facebook | Twitter | Flickr | 500px |  Google+ |
Keywords: Sony, 85mm, F1.4, 1.4, G Master, GM, FE, Sony FE, Zeiss Batis, Batis, Viltrox, Samyang, Samyang AF, Sigma ART, 85 1.8, Sony FE 85mm, Sony FE 85 1.8, Sony FE 85mm F1.8, Sony 85mm F1.4 Review, Sony 85mm Review, Dustin Abbott, F1.8, Review, Autofocus, Sony a7RIII, Hands On, Video Test, Portrait, Video, Bokeh, Real World, 85mm Showdown, 85mm F1.4, 85mm 1.8, 85 1.8, Shootout, Comparison, VS
DISCLAIMER: This article and description contains affiliate links, which means that if you click on one of the product links, I'll receive a small commission. As an Amazon Associate I earn from qualifying purchases.