Viltrox AF 85mm F1.8 STM II Review
Dustin Abbott
July 20th, 2020
It is extremely rare to see a Mark II version of a lens only about 15 months after the release of the original lens, but that is what we have in the Viltrox AF 85mm F1.8 STM II.  I reviewed the Viltrox AF 85mm F1.8 STM only 13 months ago, but Viltrox has taken an unconventional path and decided to release an upgraded version of the lens very quickly.  I think that Viltrox realized that while they had a very competitive lens in terms of optics and price, it was, frankly, heavier than what it needed to be and needed some improvement to the autofocus performance.  Viltrox decided to leverage their investment in the optics of the existing lens and release a second, more competitive version of the lens that is signifanctly lighter (484 vs 636g), has better autofocus and Eye AF performance, and has some minor tweaks to the lens hood and focus ring.  While heavier than the Sony FE 85mm F1.8 (371g), the Viltrox STM II is now within the same class of weight rather than feeling like close to double the weight.  They've managed to retain the excellent feel of the build quality at the same time, however.  Here's a look at the comparative specs: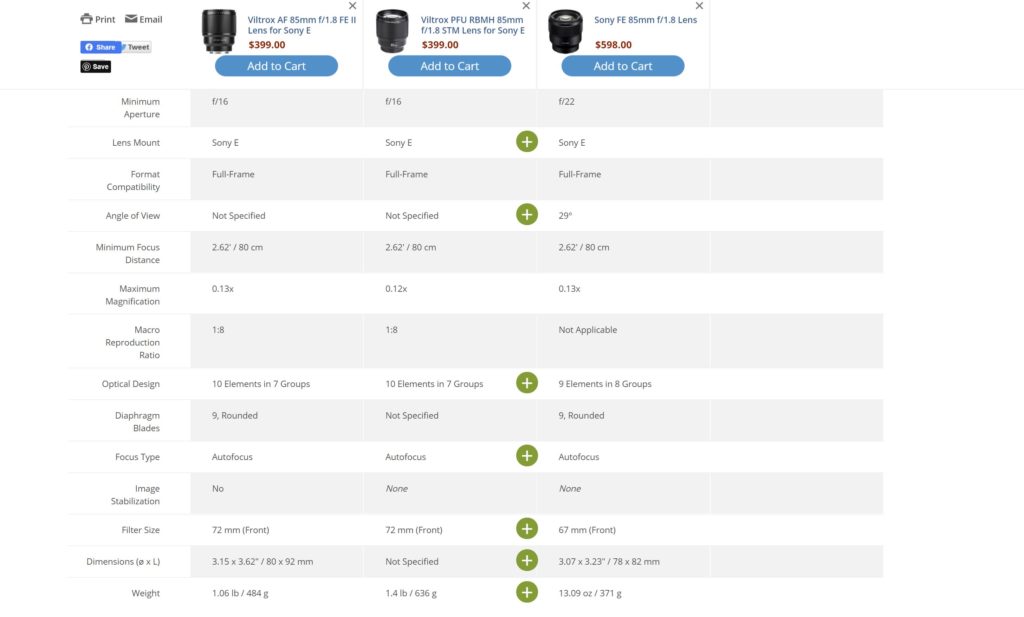 I've done this review on my Sony a7RIII and Sony a9 bodies, and you can see photos from both cameras in the galleries below.  You can also watch my definitive video review where I thoroughly break down the updates and changes, give a detailed analysis of the optical performance, and demonstrate the improvements to autofocus performance.
Follow Me @  Patreon  |  My Newsletter |  Instagram | Facebook | Twitter | Flickr | 500px
Images of the Viltrox AF 85mm F1.8 STM II
Images taken with the Viltrox AF 85mm F1.8 STM II
Purchase your gear at:  

Purchasing your gear through B&H and these links helps fund this website and keeps the articles coming. You can also make a donation here if you would like.  Visit my Amazon page for some of my gear of choice! Thank you for your support.


Great News! I can now offer a 5% discount on all purchases at Amplis Foto, Canada's Leading Photographic Supplier. Please enter discount code: AMPLIS52018DA in your cart. It is good for everything in your cart, and is stackable with other coupons, too! It will take 5% off your entire order! Proceeds go towards keeping this site going and providing you with new reviews!
Check me out on:  My Patreon  | Sign Up for My Newsletter |  Instagram | Facebook | Twitter | Flickr | 500px |  Google+ |
Keywords: viltrox, viltrox AF, Viltrox AF 85mm STM II FE, Viltrox AF Sony, STM, viltrox 85, viltrox 85mm STM, II, Mark II, STM II, viltrox 85 1.8, viltrox af 85 1.8 STM review, Viltrox 85mm Sony, Viltrox 85mm Fuji, Review, Dustin Abbott, FE, Viltrox AF 85mm F1.8, Viltrox 85mm F1.8 review, viltrox 85mm 1.8 review, Portrait, Sony a7RIII, Sony a7III, Sony a9, Bokeh, Sharpness, Resolution, Bokeh, Video Test, Sample Images, Real World
DISCLAIMER: This article and description contains affiliate links, which means that if you click on one of the product links, I'll receive a small commission. As an Amazon Associate I earn from qualifying purchases.