Canon EOS R5 Review
Dustin Abbott
October 15th, 2020
I was excited about the Canon EOS R5 from the moment it was announced.  Finally it seemed that Canon was putting together a truly competitive camera that was ready to show that they were serious about the mirrorless space.  The high-powered EOS R5 was rumored to have high resolution (45Mpx), high speed (12FPS in mechanical; 20FPS with the electronic shutter), high video resolution (8K30, 4K120), and was rumored to be the first Canon full frame mirrorless camera with In Body Image Stabilization.  Manyof us were a bit shocked when all of this proved to be true…and that the camera wasn't priced at $5000 USD!  It's not cheap at $3899 USD, but Canon has packed a LOT of value into the EOS R5 and shown its seriousness of intent of really dominating the mirrorless space.
That's not to say that all has been effortless.  The COVID-19 pandemic has negatively affected supply chains and caused release delays, and even months after the release, many people are still waiting for their preorder to arrive.  While the video specs (and performance) are genuinely impressive, early reviewers discovered an issue with overheating in some of the video modes that has gotten an outsized amount of attention.  My personal journey to acquiring an EOS R5 was frustrating, as I had sold off equipment (including my EOS 5D Mark IV) in anticipation of the EOS R5 and thus had cash on hand waiting to purchase one.  But Canon Canada was closed down for months due to the pandemic, my original order with B&H Photo got mixed up, and by that point severe shortages of the camera meant that I missed my typical moment to be early in the queue.  But a blog post to my audience expressing my apologies for not having a timely review along with my frustrations in getting my hands on an EOS R5 led to a viewer connecting me with the camera store he works for here in Ontario, Canada.  The short version of the story is that Camera Canada became a new affiliate partner, was able to get me an EOS R5 in a timely fashion, and will be a future source for loaners as well.  All's well that ends well…and B&H Photo managed to find me a loaner as well, so I actually ended up with two EOS R5's for testing (one of which is my own) along with the RF 15-35mm F2.8L IS and RF 70-200mm F2.8L IS, two lenses I've not previously tested.
I have found the Canon EOS R5 to generally be a joy in real world use, with only a few minor negatives making it into my notes.  I could see this becoming my favorite camera, particularly if the Canon RF mount starts to get some serious third party development and thus more lens options at more price points.  But is the EOS R5 the camera for you?  Read on to discover that answer, or you can watch my long-format definitive video review or shorter standard review below:
Follow Me @  Patreon  |  My Newsletter |  Instagram | Facebook | Twitter | Flickr | 500px
Canon EOS R5 Features and Specification
As I noted in the introduction, the spec list for the EOS R5 is truly impressive.  It seems like Canon through EVERYTHING into this camera, with none of the "crippling" that Canon is notorious for.
Sensor: 45MP full-frame CMOS 36 x 24mm
Image processor: Digic X
AF points: 5,940 Dual Pixel CMOS AF II 
ISO range: 100-51,200 (expandable to 50-102,400)
Stabilization: 5-axis, up to 8 stops
Max image size: 8,192 x 5,464px
Metering zones: 384
Video: 8K DCI or UHD at 30p, 24p / 4K DCI or UHD at 120p, 100p, 60p, 50p, 30p, 25p, 24p / 1080p (FullHD) at 60p, 50p, 30p, 25p, 24p
Viewfinder: 0.5-inch OLED EVF, 5,690k dots, 100% coverage, 0.76x magnification, 120fps refresh rate
Memory card: 1x CFexpress type B, 1x UHS-II SD/SDHC/SDXC
LCD: 3.15-inch fully articulating touchscreen, 2,100k dots.
Max burst: 12fps mechanical shutter, 20fps electronic shutter
Connectivity: Wi-Fi 5Ghz and 2.4GHz, Bluetooth 4.2, USB-C (USB 3.1 Gen 2), micro HDMI (type D), microphone, headphone, N3 remote, flash sync, gigabit ethernet (via WFT-R10 grip)
There are so many areas where the EOS R5 has jumped out and become the class leader, and, outside of the overheating issue which we'll explore more in the video section, Canon has mostly delivered mature, well-realized technology here.  In this section we'll take a quick overview of the design along with highlighting a few of the areas where the EOS R5 is exceptional.  
Here's how the EOS R5 physically compares to some competing cameras:
At 738g (1.62lb) with memory cards and battery, the Canon EOS R5 is definitely heavier than most competing mirrorless cameras.  This is a true Canon 5-series camera, and it feels like it in hand.  For someone like myself, this is a delight, as the camera and grip fits my hand better than any of the other mirrorless cameras I've used.  It feels like a "real" camera.  The physical specifications are slightly larger than the EOS R (see the chart above) at 138 (W) x 97.5 (H) x 88mm (D).   You can see from these photos that the EOS R5 is larger in every way but height, though by very small margins.
Some will find the EOS R5 large and heavy, particularly if their idea of mirrorless is to be small and light.  For myself, however, I want the advantages of mirrorless (focus systems, EVF, etc…) but also want a robust camera that can balance professional-grade lenses, which tend to be somewhat large and heavy.  I actually end up adding on grip extenders to most mirrorless cameras to help them fit my hand better, so I'm actually happy to have a camera that feels good in my hands without the need to add some kind of accessory.  I do still like adding a Smallrig L-Bracket for the Arca-compatibility and also the flexibility in using other accessories, but for the first time, it's not because I need a better grip experience.
The original EOS R already had what was arguably one of the best ergonomic designs of any mirrorless camera, though the inclusion of a new "innovation" Canon called the "touch bar" proved to be highly polarizing.  I was personally never a fan.
Canon avoided that pitfall here, and the two biggest ergonomic improvements on the EOS R5 are the replacement of the touch bar with the standard 5 series joystick (a welcome addition!!) along with replacing the D-Pad of the EOS R with a standard 5-series wheel.  The latter makes a big difference, as it gives you three functional control dials PLUS the control ring on the lens.  That's four potential control dials, which gives you a lot of physical control…and you can customize the functions to suit your personal workflow.  I really, really enjoy the physical control scheme here.  Everything is well situated, moves wells, and just generally works.
The top view of the EOS R and EOS R5 is virtually identical.  Canon continues to employ the useful LCD screen on top (a unique feature among mirrorless cameras), the electronic mode dial (which is fine once you get used to it), and a similar button and wheel placement.
The front view reveals a few improvements.  Canon continues to employ the very valuable protection screen over the sensor while changing lenses (I rarely have to use a bulb cleaner on my EOS R sensor, but have to blow my Sony sensors off every few days).   Canon has added a button in the position often occupied by a "depth of field preview" button on 5-series cameras, though in this case you can program that button to a wide variety of functions (I have it set up as a quick access to APS-C mode).  On the right side there is a remote control port, which gives you an additional way of controlling the camera.
This in turn makes room for the addition of a flash sync port on the left side of the camera, something that the EOS R lacked.  You'll also find a micro-HDMI port, USB C (USB 3.1 Gen 2), along with a headphone monitoring jack and microphone input.  The EOS R5 can be charged via the USB-C connection, but, like the EOS R, it requires a charging source with "Power-Send" technology, which unfortunately severely limits what you can use to charge the camera.  This is an area where I prefer Sony, as they can be charged from just about any source.
There were a lot of complaints about the single SD card slot on the EOS R, but Canon has avoided that pitfall here.  There are two memory card slots beneath a nicely engineered door on the right side of the camera.  One is for a CFexpress type B, which gives you massive amounts of potential speed, and a second UHS-II compatible SD/SDHC/SDXC slot.  I'm personally using Sony Tough cards for both the CFExpress and SD cards.  These have been my cards of choice for the past few years, and I've had nothing but flawless performance from them.
CFExpress is a new format for me, and, with any such transition, there are some quirks.  I had no card reader compatible with CFExpress on hand (I have one on order), which left me reliant on transferring via the USB-C connection to my workstation.  I've encountered one significant problem with this, however, and that is that larger video files recorded to the CFExpress slot show up as blank on my computer and leave me unable to transfer them.  I'm hoping this a quirk that will be solved by having a card reader, as those same files show up and transfer fine if recorded to the SD card.  
The other logistical issue with a new memory format is that unless manufacturers really coalesce around one particular format, it will be some time (if ever) before we see CFExpress card slots on laptops or in monitors and other such devices that make our workflow simpler.  SD has been incredibly convenient for a long time for this very reason.
One of Canon's key advantages over competitors is in its truly excellent articulating LCD touchscreens.  Canon's touchscreens are particularly well executed, with nice resolution (2.1 million dot) and very high responsiveness.  The menu design has touch in mind, and I find it very easy to navigate the menus by using using touch alone or some combination of touch and the joystick.  The ability to rotate the screen to face the front is a genuine advantage over my Sony cameras, as I can actually see if my videos will be ruined by poor framing.
Equally advantageous is the great viewfinder here.  This is easily my favorite EVF so far, with both high resolution (5.76 million dot) and the ability to choose a high refresh rate (120FPS) for smooth, fluid tracking of action.  This comes at the cost of less battery life, but it's easy to just engage the additional refresh rate for the moments when you need it.  It feels like we are getting very close to achieving the clarity of an optical viewfinder but with all the myriad advantages of an electronic viewfinder.  It's great!
Canon was slow to the party in adopting In-Body-Image-Stabilization (sensor stabilization).  They kept making the argument that lens-stabilization was superior as it could be tailored for the unique needs of that particular lens.  There are probably merits to that argument, but the point was often moot, as about half of Canon's early RF-mount lenses didn't have IS (Image Stabilization).  My long experience with Sony's IBIS is that some stabilization trumps no stabilization every time.  Canon has found a way to effectively marry their sensor stabilization (IBIS) with the lens stabilization (IS) on their lenses and deliver truly incredible amounts of stabilization.  The following is taken from an article on "The Phoblographer" as it details Canon's ratings on their existing RF lenses when used with the EOS R5 or R6:
8 Stops
The following lenses will give users of the Canon EOS R5 and the Canon EOS R6 up to 8 stops of image stabilization.
Canon RF 24-70mm f2.8 L IS USM
Canon RF 24-105mm f4 L IS USM
Canon RF 85mm f1.2 L USM (both variants)
Canon RF 28-70mm f2 L USM
Canon RF 24-105mm f4-7.1 IS STM
7 Stops
The following lenses will give users of the Canon EOS R5 and the Canon EOS R6 up to 7 stops of image stabilization.
Canon RF 15-35mm f2.8 L IS USM
Canon RF 35mm f1.8 IS USM
Canon RF 50mm f1.2 L USM
7.5 Stops
The following lenses will give users of the Canon EOS R5 and the Canon EOS R6 up to 7.5 stops of image stabilization.
Canon RF 70-200mm f2.8 L IS USM
6.5 Stops
The following lenses will give users of the Canon EOS R5 and the Canon EOS R6 up to 6.5 stops of image stabilization.
Canon RF 24-240mm f4-6.3 IS USM Lens
6 Stops
The following lenses will give users of the Canon EOS R5 and the Canon EOS R6 up to 6 stops of image stabilization.
Canon RF 100-500mm F4.5-7.1L IS USM Lens
Anything beyond 6.5 stops is essentially unheard of, and to hear that a few unstabilized lenses can achieve 8 stops based just on the sensor stabilization is truly incredible.  I quickly picked up on the fact that the Canon IBIS was more effective than Sony's equivalent system, particularly when using lenses outside the comfort zone.  A great case in point was when using the slightly difficult Irix 150mm F2.8 Macro.  It's a great lens if you're on a tripod, but the combination of that long focal length along with being manual focus only meant that it was difficult to use handheld.  That's just not the case with the EOS R5, as the IBIS holds things nice and steady while you focus, and I was able to get a good result at 1/20th of a second near macro distances:
That's about three stops of assistance, though macro adds its own demands.  Moving to a more distant target allowed me to get down to 1/10th second handheld (4 stops), which is pretty impressive for what I consider to to be a difficult combination.  What's important, though, is not that I wanted to try to shoot 1/10th of a second shots with this combination, but rather that I can get a nice, stable viewfinder while I focus and then get an effectively stabilized result in a more typical 1/60th-1/100th range.  It's worth noting that this along with Canon's innovative "Focus Guide" makes manual focus perhaps more fun that I've ever experienced previously.
Using the Canon RF 70-200mm F2.8L IS I was able to get easily repeatable results of 1/6th second handheld at 200mm (five stops) like this one:
I suspect I could get another stop or two lower if I were so inclined.  I also noted that when I used the Canon EF 35mm F1.4L II for video work, I was able to get nicely stabilized results that were dramatically worse if I turned off the IBIS.  There's no question that Canon has nailed their IBIS system in the new Canon EOS R5.  I did note that the two RF mount Samyang lenses I own (14mm F2.8 and 85mm F1.4) require a firmware update to make them compatible with the IBIS for some reason, but Samyang is working on that.  The downside there (a Samyang, not Canon problem) is that Samyang's lenses require their Lens Station for firmware updates, and the RF version of the Lens Station has very little distribution thus far.  Samyang needs to get those widely available, particularly considering there are some compatibility issues and quirks with Canon's newest bodies.
Bottom line, however, is that Canon has nailed the ergonomics and features of the new Canon EOS R5.  It's a genuinely fantastic camera to use, with great controls, a fabulous touchscreen, and an amazing viewfinder.  It has robust, 5-series weather sealing and is ready for professional use.
EOS R5 Autofocus
The Canon EOS R5 has a host of important qualities, but the single most impressive aspect of its performance may just be the focus system.  The EOS R in many ways had a very impressive focus system as well, with 5655 selectable AF points that cover essentially the whole sensor (100% of the vertical area and 88% of the horizontal).  It had a fantastic low light sensitivity of down to -6 EV with certain lenses (at -6 EV you can scarcely see your subject).  Focus speed was blazingly fast with good lenses.  It was held back initially be an awkward "Pupil Detect" that didn't work with Continuous AF (kind of pointless!), though that was later solved and improved via firmware.  What really held things back, however, is that while the EOS R had a fantastic focus system, that focus system was paired with a truly lackluster ability to track action with any kind of speed.  Best case scenario was 5FPS with AF, though if you wanted the "Tacking Priority" mode you got a truly pathetic 3 FPS.  I once was out on a shoot with a Sony a9 with the FE 200-600G lens mounted, and happened to have an EOS R with the 24-240mm with me.  I made the mistake of switching over from the a9 to the EOS R during the action (just to get in a few shots with the 24-240mm that I was testing), and I thought I had died and gone to hell.  The tracking itself was okay, but the burst rate was so slow by comparison that I felt like I had gone back a few decades.
The EOS R5 is where all good things come together, though.  We've got a 5,940 AF Point, Dual Pixel CMOS AF II system with 1053 available AF zones.  It has the EOS ITR AF X deep learning AI focus harvested from the top of the line 1Dx MKIII, and now has both human and animal eye detect that making tracking action so effortless that it hardly requires skill anymore.  I'm not saying that in a negative fashion; using a camera like the EOS R5 makes you feel like a hero.  The EOS R5 can focus in as little as 0.05 seconds, which is a class-leading figure for a full frame mirrorless camera.  Autofocus is also functional in light levels as low as -6EV, which is roughly the same illumination as is provided by a half-moon, but they've also increased the headroom from +18 EV to +20 EV (incredibly bright conditions), which means that the EOS R5 can theoretically focus in an unbelievable 26 stops of lighting conditions.  Add to this that the EOS R5 can also focus with maximum apertures as small as F22 (remember when the 5D Mark IV's F8 was a big deal?), allowing teleconverters to be used with very slow-aperture lenses like the new RF 600mm F11 IS STM and RF 800mm F11 IS STM.  I'm not sure how important those marginal performances are to most people, but what it really means is that there are basically no "normal" situations a photographer will find themselves in where the EOS R5 will not be able to effectively focus.  I had a nine-stop ND filter on for this shot, and was able to instantly autofocus:
I was able to track the action of birds flitting around my backyard feeder with more ease than ever before (maybe even better than my a9!).
I noted that what really held back the EOS R was the very poor burst rate while having tracking, but the EOS R5 has no such problem.  It's mechanical shutter is capable of an effortless 12FPS while tracking across the frame, and you can switch to an electronic shutter for an even faster 20FPS with tracking.  Both of these are without blackout in the viewfinder, and the electronic shutter is so silent that you hardly know you are taking (many) photos.  This puts the EOS R5 essentially on equal playing field with the Sony a9 series, with similar burst rates and lack of blackout.  The buffer is nearly as robust, too, with the capacity of up to 180 RAW (260 Compressed RAW) vs 239 RAW (a9II) or 350 JPEG vs 36s (a9II).  Those numbers drop a bit when using the 20FPS electronic shutter, however (see chart 2 below) to 83 RAW (130 CRAW) or 170 JPEG.  Sony's numbers are the same whether one uses the mechanical or the electronic shutter (their mechanical shutter only reaches 10FPS), so there is a bigger advantage when comparing electronic shutters.  Let's not forget, however, that the EOS R5 is pumping 45Mpx vs 24Mpx through that pipeline!
I had an easy 135 frames in one of my Electronic Shutter tracking sequences (JPEGs), and the camera seemed to be instantly ready to go by the time I looked down at it.  There's enough speed and depth for serious tracking of action.  I used the Canon RF 70-200mm F2.8L IS for these shots.  Here's a few of the hundreds of frames taken during these bursts.
In my tracking sequences, I first noted the importance of having the proper Eye Detect enabled.  I tracked our King Charles Cavalier Spaniel moving at high speed.  She's a difficult subject, as she's small, fast, and very dark around the eyes.  That's a really challenging subject, particularly when moving in a straight line towards the camera.  The first burst was really disappointing, and I could tell that focus wasn't staying on her.  About 2/3rds of the way through it dawned on me that I might not have switched over from human to pet eye detect.  I checked, and that was the problem.  After that, tracking was essentially flawless.  I felt like I got mildly better results with Mechanical vs Electronic shutter, though the increased number of frames meant that I had more variety to pick from when shooting with Electronic.  Both tracked very well, but I felt like the percentage of perfectly focused shots was near 100% with Mechanical and more like 95% with Electronic.  Here's one of the fun moments I got with ES, however.
Eye AF works a charm, with instant real-time lock on the eyes that stays locked on as you move the camera around or your subject moves.  It makes shooting portraits, events, or even video so easy.  For this headshot, I had a quick run and gun backdrop that wasn't tall enough to accommodate the height of my subject.  I moved the camera up above my head to keep the top of the backdrop from clipping, and the eye detect stayed locked on my subject and gave a great result.
Bottom line is that in every metric, this is one of the best focus systems in the world.  It's fast, flexible, accurate, and easy to maximize.  The focus system, burst rate, buffer, and tracking capabilities of the Canon EOS R5 are all top notch.  This is a camera equally good for portrait, event, wildlife, and sports photographers.  When have you been able to say that?
EOS R5 Video Specs and Performance
It is on the topic of video that the Canon EOS R5 has actually been most divisive.  It's ironic, actually, as typically Canon is berated for being too conservative on the video front, or, more often, they are accused of intentionally "crippling" their cameras to protect their Cinema line.  So Canon has endured criticism for not having enough codec choices, or too few high resolutions, or for having a crop factor when using higher resolutions.  So in a day when competitors cap off at 4K30, Canon gives us a camera that can do 8K30 and 4K120 with a full sensor readout, full CLog support, and all these video options:
8k Raw (29.97p/25.00p/24.00p/23.98p): Approx. 2600 Mbps 
MOV: MP4 H.264 Canon Log off 
8K ALL-I (29.97p/25.00p/24.00p*/23.98p): Approx. 1300 Mbps 
8K IPB (29.97p/25.00p/24.00p*/23.98p): Approx. 470 Mbps 
4K (119.9p / 100p): Approx. 1880 Mbps 
4K (59.94p/50.00p): ALL-I Approx. 940 Mbps 
4K (59.94p/50.00p): IPB Approx. 230 Mbps 
4K (29.97p/25.00p/24.00p/23.98p): ALL-I Approx. 470 Mbps 
4K (29.97p/25.00p/24.00p/23.98p): IPB Approx. 120 Mbps 
Full HD (59.94p/50.00p)/ALL-I: Approx. 180 Mbps 
Full HD (59.94p/50.00p)/IPB Approx. 60 Mbps 
Full HD (29.97p/25.00p/24.00p/23.98p)/ALL-I: Approx. 90 Mbps 
Full HD (29.97p/25.00p/24.00p/23.98p)/IPB: Approx. 30 Mbps 
Full HD (29.97p/25.00p)/IPB (Light): Approx. 12 Mbps 
8K Time Lapse (29.97p/25.00p) ALL-I: Approx. 1300 Mbps 
4K Time Lapse (29.97p/25.00p) ALL-I: Approx. 470 Mbps 
Full HD Time Lapse (29.97p/25.00p) ALL-I: Approx. 90 Mbps 
MOV: MP4 H.265 Canon Log on 
8K ALL-I (29.97p/25.00p/24.00p*/23.98p): Approx. 1300 Mbps 
8K IPB (29.97p/25.00p/24.00p*/23.98p): Approx. 680 Mbps 
4K (119.9p / 100p): Approx. 1880 Mbps 
4K (59.94p/50.00p): ALL-I Approx. 1000 Mbps 
4K (59.94p/50.00p): IPB Approx. 340 Mbps 
4K (29.97p/25.00p/24.00p/23.98p): ALL-I Approx. 470 Mbps 
4K (29.97p/25.00p/24.00p/23.98p): IPB Approx. 170 Mbps 
Full HD (59.94p/50.00p)/ALL-I: Approx. 230 Mbps 
Full HD (59.94p/50.00p)/IPB Approx. 90 Mbps 
Full HD (29.97p/25.00p/24.00p/23.98p)/ALL-I: Approx. 135 Mbps 
Full HD (29.97p/25.00p/24.00p/23.98p)/IPB: Approx. 45 Mbps 
Full HD (29.97p/25.00p)/IPB (Light): Approx. 28 Mbps 
8K Time Lapse (29.97p/25.00p) ALL-I: Approx. 1300 Mbps 
4K Time Lapse (29.97p/25.00p) ALL-I: Approx. 470 Mbps 
Full HD Time Lapse (29.97p/25.00p) ALL-I: Approx. 135 Mbps
"Are you not entertained…."
Apparently not, actually.
I was a couple of months late to the EOS R5 due to the mix-ups and problems mentioned in my opening, but the invariable "Canon Controversy" that comes with every new major Canon launch was already brewing.  This was in the form of overheating.  Perhaps not surprisingly, those high end video specs put a lot of stress of the camera hardware and generate a lot of heat in the process.  A weather-sealed, compact body loaded with technology doesn't have an effective way for that heat to dissipate (just like any other mirrorless body like this), so that heat can become a limiting factor…in certain situations.
So how limiting is it?
That really depends on your shooting needs.  I've not run into it at all, myself, because it is only encountered at the kinds of limits that I don't practically reach.  Here are the charts that show what the limits are:
At 8K30, you have 20 minutes before you hit the overheat, and only 15 minutes at 4K120.  At 4K60, the limit is 35 minutes, and there is no heat limit at 4K30.  I shoot at 4K30 and only dabble with the faster 4K options for short action clips, so the heat issues may never effect me (and I suspect many are like myself).  
The bigger problem for some is that heat buildup is cumulative, and after letting the camera cool down for ten minutes or so, one only has a fairly brief window of new recording before the heat limits come into play again.  Bottom line is that if you want to do long periods of high resolution recording (4K60 or higher), you might want to choose a dedicated cine camera instead (or at least have a couple of EOS R5 bodies to allow one to cool off in between).  I live in Canada (not exactly the world's hottest place), and won't often be using this camera at its video limits, so it's been a fantastic video camera for me thus far. 
Here's why…
First of all, that amazing focus system remains intact for video work.  There is only slightly less active focus points for video (4500), which means that the camera is tracking across the screen.  It locks effectively onto eyes and stays rock steady as the subject moves around.  That means that I can trust the camera to do that job for me when I'm in front of it for my YouTube channel.
Secondly, I finally get Canon 4K with the full sensor (no crop).  I can choose between UHD 4K (3840×2160) or DCI (4096 x 2160) if I want a slightly more cinematic look.  I can choose an APS-C mode if I want a tighter framing.  I can choose different bitrates and formats.  I can shoot timelapse movies at different resolutions (up to 8K).  I can shoot high resolution slow-motion footage.
And bottom line is that the footage looks great.  I'm typically working at lower bitrates, because I'm not grading footage and am just producing for YouTube, but I'm happy with the way things look, and I've got more flexibility than I do on my Sony cameras should I wanted to go higher bitrate or resolution for editing.
Bottom line is that while I recognize that the overheating issue can be a genuine issue for some, the vast majority of photographers for whom video is a secondary function will be delighted with the broad range of video tools here at their disposal.  If you are a videographer first, you will have to look at the charts and determine whether or not the overheating factor is going to actually limit your work.  If you think it might, the upcoming Sony a7S III might a better tool for you.
Canon EOS R5 Sensor Performance
The Canon EOS R5 gives us that rarest of treats – an honest-to-God new Canon sensor.  In this case we get a 45Mpx CMOS sensor with a broader ISO range and reportedly superior dynamic range to that found in the EOS R.  I tested Canon's first high-megapixel monster years ago (the Canon EOS 5DsR) and felt like under optimal conditions it gave some of the highest detailed, best looking images I've ever seen.  But the operative phrase is "under optimal conditions", as the 5DsR punished photographers who went outside those extremes.  Forget having sensor stabilization, so if you used lenses without IS, you had to be very careful about your shutter speeds as motion blur would start to creep in much earlier than expected.  The natural ISO range was capped at ISO 6400, and even then noise was nearly overwhelming.  Dynamic range wasn't particularly competitive, so you had less latitude for processing files from the 5DsR.  But when it was good, it was very, very good.
I'm not sure that the EOS R5 quite reaches that pinnacle of detail, but the reality is that the R5 delivers near that level of peak performance…but without all the limitations.  There is a much more achievable excellence on tap here.  Let's explore…
ISO Performance
As noted, the ISO performance on the 5DsR was rather wretched.  It's clear that Canon knew that, as the native range was capped at ISO 6400.  The EOS R5, however, has a native range that runs up to 51,200 – higher than most competing cameras.  That's either confidence or hubris.  
Fortunately, it seems much more of the former.  There is very little penalty for increasing ISO in terms of noise, color saturation, or loss of contrast through ISO 6400 (the 5DsR's limit).  Viewed at a global level, the two images look identical.
Even at a pixel level, one must look very critically to find places where the image quality is eroded.  I can see some faint pattern noise in the shadow to the right of the timer face.
All things considered, though, that's very clean.
Moving up another few stops to ISO 25,600 (which I often consider the practical ISO limit these days) shows that there is definitely much more noise in the shadows, though there is no discoloration or banding.
Where things get interesting is when I standardized the results from the EOS R5, the EOS R, and the Sony a7RIII (42Mpx) around the EOS R's resolution (6720 x 4480px).  Viewed globally, it is clear just how superior the EOS R5's results are to those of the EOS R:
The R5 shows better contrast, better color fidelity, and less apparent noise.  The EOS R has lost any blackness in the shadows and colors are less saturated.  If we zoom into a pixel level, we can see that the results are much worse on the EOS R at a pixel level as well.  Everything is rougher and has less contrast.
Remember that this was perhaps Canon's best sensor previously (or at least in the top two or three), so this is impressive for a high resolution camera.
What's also interesting is when I compare it to the Sony a7RIII, which has slightly lower resolution but has been a very strong contender in this category.  The global results look more similar, but there's a major caveat here.  You'll note that the Sony required one-third stop faster exposure, and I had to add another 1/3rd stop exposure in post to equalize histagrams, and the Canon result is still a little brighter.  The Canon sensor has better sensitivity, so I actually needed less light in equivalent lighting conditions.
When zooming into a pixel level, I felt like the Sony did an equally good job of retaining contrast and color fidelity, but I also felt there was more inconsistency in the pattern noise in the shadow area.  The Sony has random bright pixels that really stand out, while the Canon delivers more even results.  I feel like Canon has gone up against one of Sony's best and come out very, very well.
At ISO 51,200, I see a few more flaws creeping into the image.  A bit more discoloration, and you can see the noise pattern is pretty strong in the crops. 
All things considered, however, I would say that this result is as good or better than what we saw from the 5DsR at ISO 6400, which would suggest that that the EOS R5 is a full three stops better in terms of ISO performance, which is really, really impressive.  The fact  that you've added 50% more pixels than the EOS R and gotten better ISO performance is, well, unexpected.
Dynamic Range
Canon claims improved dynamic range for the EOS R5, to the tune of around one more half stop over the EOS R.  If true, that means that we've got something like a 4 stop advantage over the 5DsR, which comes back to have a lot more processing flexibility with the newer camera. I value dynamic range within a camera in two specific areas:  the ability to cleanly lift shadows without introducing noise or color banding and the ability to recover highlights without introducing "hot spots" where information has been permanently lost.  The current leaders in this category are the best sensors from Sony and Nikon (which may be a redundant statement).  The value of good dynamic range is in the margins of photography, as eliminating shadows or recovering blown out highlights doesn't always produce the better image.  Having good dynamic range (particularly if you shoot RAW), allows you a lot more creative vision over how the final image will turn out.  Photons to Photos did a test of a variety of cameras, and they found that the EOS R5 exceeds the performance of the EOS R and battles the excellent Sony a7RIII essentially to a draw.
While I find it a little hard to assign a rating in stops to dynamic range through my tests, I do have a highly repeatable scenario that clearly shows me a camera's capability to cleanly recover shadows and highlights.
I not only thoroughly tested DR on the EOS R5, but I also used the EOS R and the Sony a7RIII (a very strong performer) as benchmarks.  Here's what I found:
The Canon EOS R is fabulous at recovering shadows.  You can take a deeply underexposed (four stop) image and recover it completely and very almost no penalty:
At a pixel level, you can see that there is only the faintest amount of noise in the shadows, but colors are bright after recovery and contrast (look at the grip of the KR-5) is nice and bright.
If we compare to the EOS R, we find that the EOS R5 does a cleaner job of recovering the shadows with colors staying a little more neutral (there's a bit of cyan shift on the grey of the books on the EOS R) and, while there is some pattern noise in the EOS R5 shadow area, you can also some evidence of banding in the shadows of the EOS R.  The EOS R5 delivers a cleaner shadow recovery even with its higher resolution.  Impressive.
If we compare with the Sony, we first notice that when viewed on a global level, the Sony recovery doesn't delivers as bright and contrasty a result.
Viewed at a pixel level, we find that the Canon recovery has returned better highlights and thus better contrast.  The Sony has a greenish cast to some textures (look at the mirror inside the SLR).  Where Sony wins is in the smoothness of the shadows, which show very little pattern noise.  I would say that I favor the EOS R5's recovery overall, but, as is common when comparing multiple systems, there's so give and take depending on where the strength of the system lies.
Recovering highlights is inevitably a more difficult task for any camera system.  A clean four stop shadow recovery is not unusual, but I typically find that the highlight recovery falls apart between about 2-3 stops.  That's true of the EOS R5 as well.  Two stops of highlight recovery is no problem, but at three stops of overexposure there are definitely a few lost things:
You can see that the yellow color of the "Veneer" book has largely been lost, and the timer face looks slightly unnatural.  On a positive note, the Roman Empire book has recovered the hot spot along the spine and the color has been positively restored.  You can also see that the blown out area along the left side of the timer has been recovered to a normal looking highlight.
The EOS R5 and EOS R results are more similar that different.  I looked long and hard at a pixel level, and found a few tiny indicators of improvement, but I think the dynamic range improvement over the EOS R is mostly in the shadow recovery improvement and only a few percentage points in highlight recovery.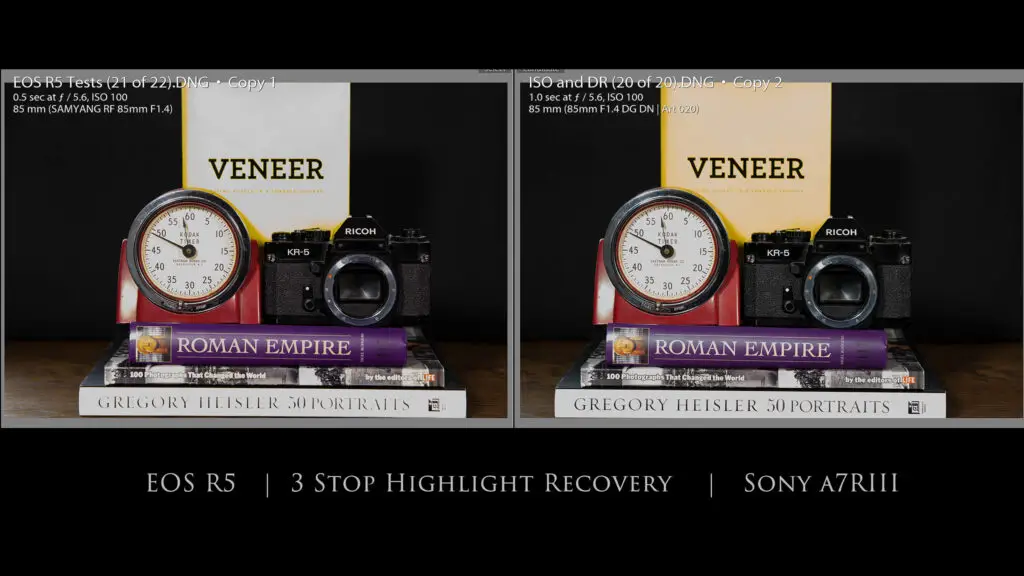 Looking at the Sony comparison is slightly more illuminating.  I found doing these tests a bit challenging, as the Sony required more exposure to get to equivalent exposure values due to it being less sensitive to the Canon.  After some work to get things as close as possible (there's about 2/3rds stop more sensitivity for Canon, so I'm suspecting its base ISO is actually a bit better than ISO 100), I found that one particular Sony strength over Canon remains.  There are certain colors that Sony is better at holding onto (the yellow of the "Veneer" book) even while most everything is equal.  The two cameras have retained the other colors similarly (look at the reds and purples), but the yellow of the Veneer book is completely lost on the Canon while the Sony looks reasonably natural.  In most ways the cameras are recovering similar amounts of information save one:  the Sony does a better job of retaining yellows in blown out zones.  I suspect the Sony still has the tiniest edge in dynamic range, but, as we can see from these tests, there is some give and take in certain areas.
Bottom line, however, is that the dynamic range of the EOS R5 should not be a limiting factor for anyone.  There's significant latitude to pull up shadows, draw down highlights, and generally select your own vision for the final look of images.  Here's some examples:
These examples also lead us to the reality of dynamic range – just increasing the dynamic range doesn't necessarily make for better images.  Sometimes crushed shadows or blown highlights make for a better image, but a camera with good dynamic range gives YOU the choice of how the final image is going to look like.
Leave the shadows?  Fine.  Raise the shadows?  Sure.  It's your choice.
Resolution
We have entered a phase where cameras are giving us the kinds of resolution that were once only available with Medium Format and beyond.  Sony's recent 61Mpx a7RIV gives an almost silly amount of resolution, and I actually criticized the fact that while that resolution has its uses, Sony has not give photographers options on choosing less resolution when needed.  Canon has long included options like MRAW or SRAW (lower resolution points while retaining RAW capabilities).  Interestingly, however, Canon has actually moved more in Sony's direction with the EOS R5, as you don't have a MRaw or SRaw option here.  Instead, you have a RAW or CRaw option (Compressed RAW).  The CRaw option takes up less space (due to the compression), but is actually still 45Mpx.  Sony also gives you the choice of Compressed or Uncompressed RAW.  On average, CRaw will save you about 40% on average in storage size, and, like Sony's Compressed vs Uncompressed), you are unlikely to spot the difference except in the most extreme of situations.
In my test, the RAW file was 53MB while the CRAW was 28 MB, so about a 47% space savings.  Here are the files:  the RAW file, then the CRAW, then a 200% magnfication:
Ummm, yeah.  I would say it is essentially impossible to discern a difference.  I would say that most people could happily shoot CRAW, save space, and never know the difference.  You could switch to standard RAW if and when you were doing your most critical work, but outside of that, CRAW is a solid choice and also gives you deeper buffer reserves for shooting action (260 CRAW files when using mechanical shutter!)
Canon's resolution is very useful here.  The ability to essentially create photos from within photos is one of the great advantages of high resolution.  I shot this lovely autumn scene:
But due to having such high resolution, I could also deeply crop and still have a highly detailed (over 3100 pixel) photo that highlights one of the most interesting points of the landscape.
Likewise when I was carrying just a 35mm lens, I could frame this scene along the river the sumac turning red.  
I could then choose, in post, to change the view to more like an 85-100mm perspective and frame in tightly on a portion of the scene.  I've still got 3200 pixels of resolution left – plenty for sharing or printing.
One final example.  High resolution can also be very useful for macro work.  There are can be a practical limit to how close you can without shading your subject, but the ability to get close and then crop the rest of the way in allows you to get great, detailed macro images with tight enough framing to show those fascinating details in the "mouth" of the orchid.
Canon also gives you a useful APS-C mode option, which means that you can mount EF-S lens on the R5 via adapter.  Because of the higher resolution of the camera, you still get 17Mpx even with Canon's deep 1.6x crop factor.  You actually end up with 1Mpx less resolution than the a7RIII, even though that camera has 3Mpx less total resolution.  The reason, though, is that the Sony crop factor is 1.5x, so you aren't cropping as deeply on Sony.  The tradeoff on Canon is that you are getting that extra reach, so my 100-400mm lens becomes 640mm equivalent on the telephoto end when I have crop mode engaged.  This can be genuinely useful for several reasons.  For one, I find that at events where I don't need higher resolution, I can switch to APS-C mode and give myself two different perspectives from one prime lens.  It can also be useful when you are trying to frame a distant subject, and actually cropping in camera as opposed to later in post make help you get the shots you want in the field with greater efficiency.  Bottom line is that 17Mpx is a useful amount of resolution, so I find it worth using, myself.
There's no question that having high resolution gives you options, and, if you elect to use Canon's efficient CRAW, you can get the high resolution of the camera with relatively little size penalty compared to lower resolution bodies.  Yes, higher resolution files take more processing power, but fortunately computers are typically more robust than they were back when we start thinking about processing the big Canon 5DsR files!
I had only one minor complaint, and that was that I found a trend towards underexposure in files that was aggravated when using wide angle lenses.  I essentially needed to dial in about 2/3rds of a stop of EV compensation when shooting with the Samyang AF 14mm F2.8 RF or Canon RF 15-35mm F2.8L IS to get proper exposure.  I'm not sure if the camera does that a bit to protect highlights, but images were sometimes more underexposed when I got them into Lightroom than what I could see in camera.  There could be a quirk between Canon and Adobe at play as well.  I'm sure either firmware or software updates will improve this behavior in time, but it was my only negative in terms of the sensor.  Bottom line is that the Canon EOS R5 has an excellent, versatile sensor that compares well with the current market.  It brings good resolution, very good ISO performance, and competitive dynamic range results while also giving you the delightful Canon colors that are so widely lauded.  I would recommend a visit to the image galleries to see photos taken with a wide variety of lenses.
Conclusion
The Canon EOS R5 was easily the most highly anticipated camera of the year, and while the global pandemic has played havoc with markets, supply chains, and even the bank accounts of potential buyers, the camera has landed with largely positive feedback.  The "thing" that must accompany a Canon release turned out to be the overheating issue, and so it turns out to be not quite a Cine series replacement, though most shooters will probably be delighted with its broad range of video capabilities.  Beyond that, however, there's very little to criticize about the camera.  The focus system is immensely powerful, capable of stopping action in an effortless fashion.
It is capable of recording beautiful colors with strong amounts of dynamic range and flexibility for getting the most out of images.
The IBIS system works well, the ergonomics are excellent, and Canon has managed to keep the camera priced within the realm of possibility, though at $3899 USD, it certainly isn't cheap.
At the end of the day, however, this is the most versatile camera that Canon has ever produced and in many ways epitomizes the vision of the what a 5 Series camera should be.  Powerful, versatile, and robust.  I'm loving using the Canon EOS R5…I just wish those great RF lenses weren't so stinkin' expensive!
Pros:
The most feature-rich camera Canon has ever delivered
Great ergonomics – easy to learn, easy to love
Canon's IBIS system is the best I've used thus far
Fabulous focus system that makes tracking or portraits effortless
Great eye tracking for humans and animals
Fantastic viewfinder – option for smooth tracking is useful
Articulating touchscreen is high resolution and highly responsive
Great resolution and great options for using it
Good buffer depth and quick buffer clearing
Great number of video options and resolutions
Good ISO performance and dynamic range
Cons:
Overheating issues with some video modes
Some might find the the body a little heavy
In-camera charging requires a power-send source
Some tendency towards underexposure 
Canon RF lenses are still tilted to the large and expensive end of the spectrum
Gear Used:
Purchasing your gear through B&H and these links helps fund this website and keeps the articles coming. You can also make a donation here if you would like.  Visit my Amazon page for some of my gear of choice! Thank you for your support.


Great News! I can now offer a 5% discount on all purchases at Amplis Foto, Canada's Leading Photographic Supplier. Please enter discount code: AMPLIS52018DA in your cart. It is good for everything in your cart, and is stackable with other coupons, too! It will take 5% off your entire order! Proceeds go towards keeping this site going and providing you with new reviews!
Check me out on:  My Patreon  | Sign Up for My Newsletter |  Instagram | Facebook | Twitter | Flickr | 500px |  Google+ |
Keywords: Canon EOS R5, EOS, R5, EOS R5, mirrorless, full frame, EOS R5 Review, Canon R5 Review, Canon EOS R5 Review, Dustin Abbott, Real World, Comparison, Handling, Dynamic Range, Tracking, Focus, Burst Rate, Tracking, Sports, Portraits, Resolution, High ISO, Image Quality, Sample Images, Photography, Dogs, Ergonomics, 45Mpx, Sony a9, RF 70-200mm F2.8L IS, RF 15-35mm F2.8L IS, Canon
DISCLAIMER: This article and description contains affiliate links, which means that if you click on one of the product links, I'll receive a small commission. As an Amazon Associate I earn from qualifying purchases.