TTArtisan 40mm F2.8 1:1 Macro Review and Gallery
Dustin Abbott
August 31st, 2021
Macro seems to be the new thing among the smaller, boutique brands coming out of China.  The TTArtisan 40mm F2.8 1:1 Macro (which we'll call the TTArtisan 40M for brevity) is the second such 1:1 macro lens that has come across my desk in the past month.  Like all of the TTArtisan lenses to this point, there are a few common denominators. All-metal construction, full manual focus and aperture control, and no electronics.  This is the fourth TTArtisan lens that I've review, and I've been pleasantly surprised with a number of the TTArtisan lenses in terms of their optical performance, which is stellar considering the bargain price point of the lens.  It is available in a wide variety of mounts, including the Sony E-mount (which I'm testing), Canon EF-M , Fuji X, and M4/3.  Different camera systems have different crop factors, each of which changes the effective behavior of the lens.  For Sony and Fuji, the crop factor of F1.5 means that this will behave like a 60mm lens on full frame, while on Canon (1.6x) it will be slightly longer (64mm), and on Micro 4/3rds (2x crop) it will be longer still (80mm).  I use my Voigtländer 65mm F2 Macro all the time for my product photography on my channel, so I'm very comfortable with the 60mm(ish) angle of view for macro.   
In many ways, it is this price point that makes this a very tempting option.  Some photographers are very macro-centric, but for most photographers macro is an occasional sideline when the mood strikes them.  A macro lens that costs less than $200 allows those occasional macro photographers to have a lens to do macro with but without a major investment.  If macro is your primary photography style, you might want to consider a more full featured macro lens, but if you are a casual macro photographer, the TTArtisan 40M will allow you to get some good looking images on a budget.
I recently reviewed the 7Artisans 60mm F2.8 1:1 Macro MK II, an improved version of their lens with a more functional design, including internal focusing (much preferred!) and with a beautifully damped, smoothly moving manual focus ring.  It's a nice handling little lens with a longer focal length (about 90mm full frame equivalent), and while I prefer the physical design of that lens, I definitely prefer the optical design of the TTArtisan 40M for reasons we will see in a moment.  The 7Artisans lens was a little more visually appealing than this new TTArtisan lens, as this lens is a little less modern looking.  The primary reason that I prefer the design of the 7Artisans 60mm lens centers around the internal focus design of that lens, while the TTArtisan 40M is an externally zooming design where the inner barrel of the lens extends a significant amount and is at its longest when at 1:1 macro (minimum focus distance, which is 18cm).
When retracted, however, the lens is a very compact 76mm in length with a diameter of 62mm. 
The filter threads are a common 52mm, and the design of the lens means that the front element is deeply recessed in the lens barrel (somewhere around 45mm), proving a natural kind of lens hood without a separate hood being needed.  The aperture iris has 11 curved lens blades, and so even at F5.6 (shown in the photo below), the aperture shape is nicely circular, which certainly helps with retaining circular bokeh highlights as the lens is stopped down.
A look at the images that the iris produces as you close down is encouraging, too, as the geometry of the aperture shape is excellent…and, surprisingly, there's almost no evidence of deformation of circles on the edge of the frame wide open.  Bokeh circles are big and round all across the frame.  Here's the aperture shape from F2.8 to F4 to F5.6:
The quality of focus is very good here.  Though the lens does extend during focus, the focus movement is nicely damped and smooth.  The damping/weight of focus is a little heavier than an internally zooming lens, but is roughly equivalent in operation to my expensive Voigtländer lens, which is to say excellent. The focus throw seems to be around 230°, which is a little longer than the 7Artisans 60mm lens and gives me a little more room for precision.  There's a little more space in the normal (non-macro) focus range, which allows for more precision when shooting objects not in the macro range.  I did find that the proper focus for infinity was difficult, though, as the proper focus point is very small and it is possible to focus beyond infinity (where nothing is in focus).  Be careful to visually confirm infinity focus for landscape type shots so that you get optimal results.
There is plenty of room on the focus ring for up close work, though.  Manual focus is actually preferred by many macro photographers for their work, as it gives you more absolute control and great precision than autofocus often does.  There is no image stabilization in the lens.  Because I did the review on a Sony camera with in body image stabilization (I had to manually set the focal length because of having no electronics in the lens), I had some success with doing handheld macro work, though, as always, it is much simpler and more reliable to do macro work off a tripod.  Nailing focus while there is natural movement of the camera (and sometimes the subject) takes serious skill, and that is exacerbated by the fact that you will often want to magnify the image while focusing to visually confirm focus.  A few of the camera systems the lens is sold for have in body image stabilization, but the lens itself has no stabilization.  This is a lens that is going to work best from a tripod when doing macro work, though that is the recommended approach to most macro photography.  Here's a handheld macro shot:
The handling of the lens is excellent, with both the focus and aperture ring moving nicely and with good precision.  The all-metal construction means that the lens isn't a feather-weight, though at 373g this is still a very easy lens to bring along and balanced well on the Sony a6600 body that I used for my review.  What I don't like is the lens cap, a very thin metal piece that threads onto the filters.  It was a bit finicky to get the threads aligned, and then you have to make a number of rotations to tighten or loosen it.  A pinch-style cap just works better, and I would probably replace this cap with a generic 52mm pinch cap myself.
Like many lenses of this class, this is a fully manual lens without any electronics.  Things like metering, live view, and normal camera function is all fine, but you do have to manually focus and manually change the aperture…and no electronic data will be transmitted to the camera, so the camera won't know what lens took the photo, the focal length, or the aperture value chosen and so that information (EXIF data) won't be embedded in the files.
What set the TTArtisan 40M apart to me is the excellent image quality.  Macro demands good contrast and high acuity (ability to render fine details), and I was disappointed by both of these things on the 7Artisans 60mm.  Not so here, as the 40mm macro delivers high contrast, high details results even at F2.8.  Here's a close look at the old Deutschmark I use for testing MFD on my chart – look at the high quality sharpness and contrast even at MFD:
A macro of this old coin shows great detail even at F2.8:
Move a little further away and the crop of this chess pawn shows great detail even at a pixel level…and you can also see that chromatic aberrations are very well controlled.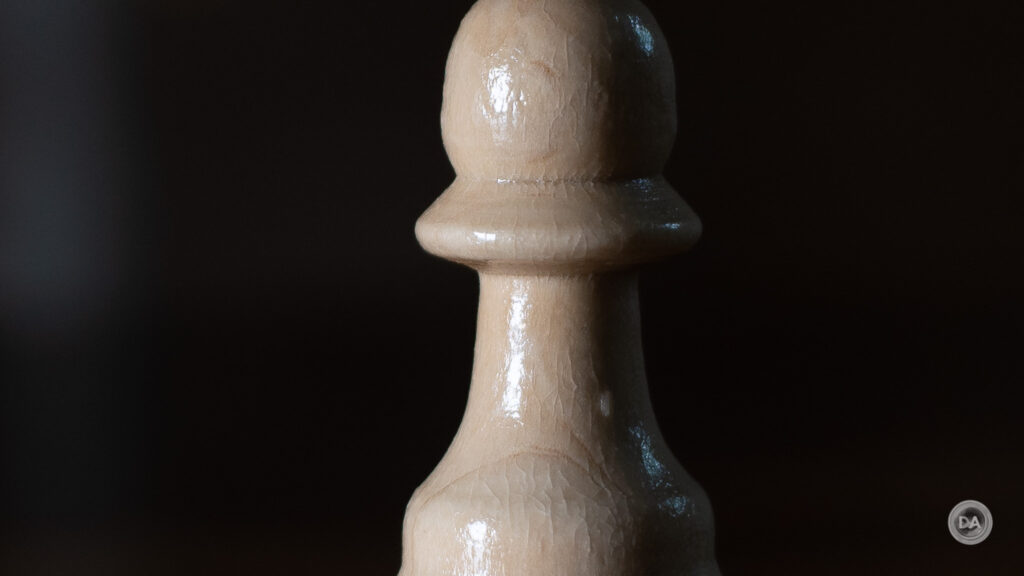 What's intriguing to me is just how well Longitudinal Chromatic Aberrations (LoCA) are handled.  You can see in the text of the Bible here that there is next to no evidence of fringing before and after the plane of focus, and the contrast renders the text nice and inky while the page is bright and white.
I found a minimal amount of barrel distortion, which I corrected manually with a +2 (there won't be automatic correction of anything because of no electronics.  Vignette is on the mild side of moderate, requiring a +45 to correct it.  Neither is a big deal, and both things are mild enough (and linear enough) to leave uncorrected in most images.
So are there any optical weaknesses?  Yes.  The corners are not nearly as sharp as the center at F2.8, and they don't really get sharp until F5.6 to F8, so use those apertures for landscape images.  Here's the marked difference between F2.8 and F8 in the extreme corners (200% magnification).
I did note that I could achieve better results at wide apertures if I actually focused in the corners, though I still would not characterize the results as excellent before F5.6.  Here's the difference between F4 with the lens focused in the center of the chart (left side) with the result if I focused in the corner (F4):
The good news about this is that typically the situations where corner sharpness matters are the moments when you ARE focusing in the corners, so the results are much better in that scenario.
There is a little bit of flare found mostly in the form of veiling (loss of contrast) if the sun is just in the right spot, but the effect can be artistic and I never saw any real damage to image quality.
One negative for potential video shooters is that focus breathing is very pronounced.  Objects will significantly change size relative to their focus position.
On the plus side, the bokeh is pretty nice in most situations, giving you a fairly good balance between sharpness and rendering quality.
But honestly, any attempt to highlight negatives seems like nitpicking when you consider the TTArtisan 40M can be had for about $150 USD, which is an amazing price for a 1:1 macro lens.  The fact that this is a truly strong performer optically is a huge surprise to me.  It is rare that I test one of these inexpensive lenses and feel like I would really like to own it (I have an extensive lens collection comprised of good quality lenses), but the TTArtisan 40M is the exception to that rule.  I don't own a dedicated macro lens for my Sony APS-C cameras, but I suspect that the TTArtisans 40mm F2.8 1:1 Macro is going to fill that niche for now…and it is a solid choice for you, too.
If you want the full picture, then check out my video review here:
Follow Me @  Patreon  |  My Newsletter |  Instagram | Facebook | DA Merchandise | Flickr | 500px
Thanks to TTArtisans for sending me a review copy of this lens.  As always, this is a completely independent review.
Photos of the TTArtisan 40mm F2.8 1:1 Macro
Photos taken with the TTArtisan 40M
Gear Used:
Adobe Photoshop Creative Cloud 1-Year Subscription
Exposure Software X6 (Use Code "dustinabbott" to get 10% anything and everything)
Visit Dustin's Amazon Storefront and see his favorite gear


Purchasing your gear through B&H and these links helps fund this website and keeps the articles coming. You can also make a donation here if you would like.  Visit my Amazon page for some of my gear of choice! Thank you for your support.


Great News! I can now offer a 5% discount on all purchases at Amplis Foto, Canada's Leading Photographic Supplier. Please enter discount code: AMPLIS52018DA in your cart. It is good for everything in your cart, and is stackable with other coupons, too! It will take 5% off your entire order! Proceeds go towards keeping this site going and providing you with new reviews!
Check me out on:  My Patreon  | Sign Up for My Newsletter |  Instagram | Facebook | Twitter | Flickr | 500px |  Google+ |
Purchase the TTArtisan 40mm F2.8 1:1 Macro @ B&H Photo https://bhpho.to/37IFzkr | Amazon https://amzn.to/2VXE8fB | PerGear (Worldwide)  | Amazon Canada https://amzn.to/37KXIOE | Amazon UK https://bhpho.to/3CQfaiP | Amazon Germany https://amzn.to/3AAKPDc
Keywords: TTArtisan, 40mm, F2.8, TTArtisan 40mm F2.8 Macro, Macro, F/2.8, TTArtisan Review, 40mm Macro Review, TTArtisan 40mm F2.8 Macro Review, 1:1 Macro, Budget 1:1 Macro, Budget Macro, TTArtisan 40mm 2.8 Macro Review, Dustin Abbott, Dustin Abbott review, Sony, Leica, Canon RF, Nikon Z, Sample Images, Video, Video Test, review, Video review, Real World, Sony a6600, Sony a6400, Sony a6100, Portrait, Sharpness, Resolution, Bokeh
DISCLAIMER: This article and description contains affiliate links, which means that if you click on one of the product links, I'll receive a small commission. As an Amazon Associate I earn from qualifying purchases.