NiSi 15mm F4 ASPH Image Gallery
Dustin Abbott
September 18th, 2021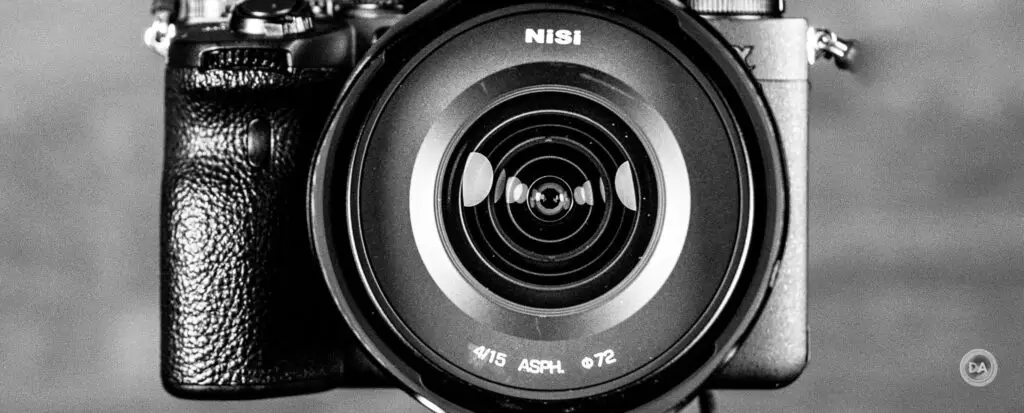 NiSi has historically been a company that has made filters for other people's lenses, and a search of their products shows a lot of filters with very high reviews.  But at some point they clearly decided that their optical glass expertise could just as easily go into the construction of lenses themselves, which has produced the very intriguing NiSi 15mm F4 ASPH lens.  This wide angle prime (it actually has an angle of view more like a 14.5mm lens) is extremely wide, but with lower distortion than most equivalent lenses.  Furthermore, by avoiding the challenges inherit in designing a very large aperture lens, they have been able to produce a lens that is compact (80.5mm in length), can use traditional screw in filters (72mm size), and that weighs only 470g despite a very nice all metal and glass construction.  As first lens design attempts go, this is a very good one.  I've been able to get very good results from the NiSi 15mm lens even on my demanding 50MP sensor on the Sony Alpha 1 that I've used for this review.
This "killer app" with this new NiSi 15mm shows up in the photo above, namely the ten straight aperture blades that produce stunning sunstars even at F4.  Yes, the blades are never fully retracted, and this design allows for beautifully rendered sunstars with long, clearly defined shafts of light that add terrific visual interest to photos.  Flare resistance is good overall, too (though not perfect), allowing you to shoot into the light and capture the beauty of brightly lit scenes.
At a price point of under $500, the NiSi 15mm is reasonably priced relative to performance, allowing photographers a chance to get a very wide angle of view on their Sony FE (reviewed here), Canon RF, Nikon Z, or Fujifilm X mount cameras.  The lens isn't perfect, but it is a lot of lens for the money and has relatively few flaws.  You can certainly get some beautiful  and dynamic images with it!
Check out my text or videos reviews to see if this is a lens for you, or you can just enjoy the photos I've had a chance to take with the lens below.
Follow Me @  Patreon  |  My Newsletter |  Instagram | Facebook | DA Merchandise | Flickr | 500px
Thank you to NiSi for sending me a loaner of the lens for review.  As always, this is a completely independent review.  The opinions here are completely my own.
Photos of the NiSi 15mm F4 ASPH
Photos taken with the NiSi 15mm F4 ASPH
Gear Used:
Adobe Photoshop Creative Cloud 1-Year Subscription
Exposure Software X6 (Use Code "dustinabbott" to get 10% anything and everything)
Visit Dustin's Amazon Storefront and see his favorite gear


Purchasing your gear through B&H and these links helps fund this website and keeps the articles coming. You can also make a donation here if you would like.  Visit my Amazon page for some of my gear of choice! Thank you for your support.


Great News! I can now offer a 5% discount on all purchases at Amplis Foto, Canada's Leading Photographic Supplier. Please enter discount code: AMPLIS52018DA in your cart. It is good for everything in your cart, and is stackable with other coupons, too! It will take 5% off your entire order! Proceeds go towards keeping this site going and providing you with new reviews!
Check me out on:  My Patreon  | Sign Up for My Newsletter |  Instagram | Facebook | Twitter | Flickr | 500px |  Google+ |
Purchase the NiSi 15mm F4 @ B&H Photo https://bhpho.to/3kkdSW8 | Amazon https://amzn.to/3AncCr3 | Amazon Canada https://amzn.to/3zlLxDj | Amazon UK https://amzn.to/3EyeiAj | Amazon Germany https://amzn.to/2YZ6reP 
Keywords:  NiSi 15mm F4, NiSi, 15mm, F4, ASPH, Sunstar, NiSi 15mm Review, NiSi 15mm F4 review, NiSi 15 F4, F/4, Wide Angle, Hands On, Dustin Abbott, Real World, Comparison, Sharpness, Bokeh, Flare Resistance, Autofocus, Image Quality, Sample Images, Video, Photography, Sony a9, sony a7III, sony a7RIV, a7R3,  Sony Alpha 1, Sony A1, Canon RF, Nikon Z, Fuji X
DISCLAIMER: This article and description contains affiliate links, which means that if you click on one of the product links, I'll receive a small commission. As an Amazon Associate I earn from qualifying purchases.