Godox MF12 Macro Ring Light System Review
Dustin Abbott
December 2nd, 2021
Macro photographer is a blast.  It opens up a whole new world of details that the naked eye simply can't see, and the resulting images are often ones that delight viewers.  But macro photography has a major challenge:  the laws of physics dictate that as you get into macro range your effective aperture closes down by multiple stops.  If that is a little too technical for you, let me put it this way:  you need at least three times as much light at macro range as you would with the same camera settings and a subject that was, say, a meter or more away from the camera.  Add to this the challenge that sometimes your equipment gets so close to the subject that it actually shadows it, effectively removing even more light.  Many macro photographers find the simplest and best solution is to introduce more light to the subject, but this can get expensive.  Enter Godox, a company that has built a great reputation for developing quality lighting at a reasonable price.  In this case, that lighting comes from their wireless MF12 Macro lights.
The Godox MF12 system works best off of Godox's 2.4ghz wireless system.  You can purchase/control a single unit, or you can add many units to get the job done.
These MF12 units are very compact, but they are fairly powerful.  Each unit has a guide number of 16, and the built-in lithium battery gives you up to 500 full power flashes before needing a recharge. I liked the fact that they also have a built-in modeling light, which further extends the usefulness of the units when working in a very dim environment. There is a ring mounting kit available, of you can put them on either their traditional flash "feet" (see below) or even mount them on light stands with the included adapter.
So how do you trigger these flash units?  The best way (by far!) is via one of Godox's wireless flash triggers/command units.  I used the Godox X-Pro unit for these shots.  It gives you full TTL control, allows you to control the flashes in groups (you can attach as many as six to the bracket), and also gives you on the fly adjustability right in front of you.  I found the wireless triggering reliable and effective.  They can be triggered optically (using the on-board flash, for example), but that's a much cruder approach.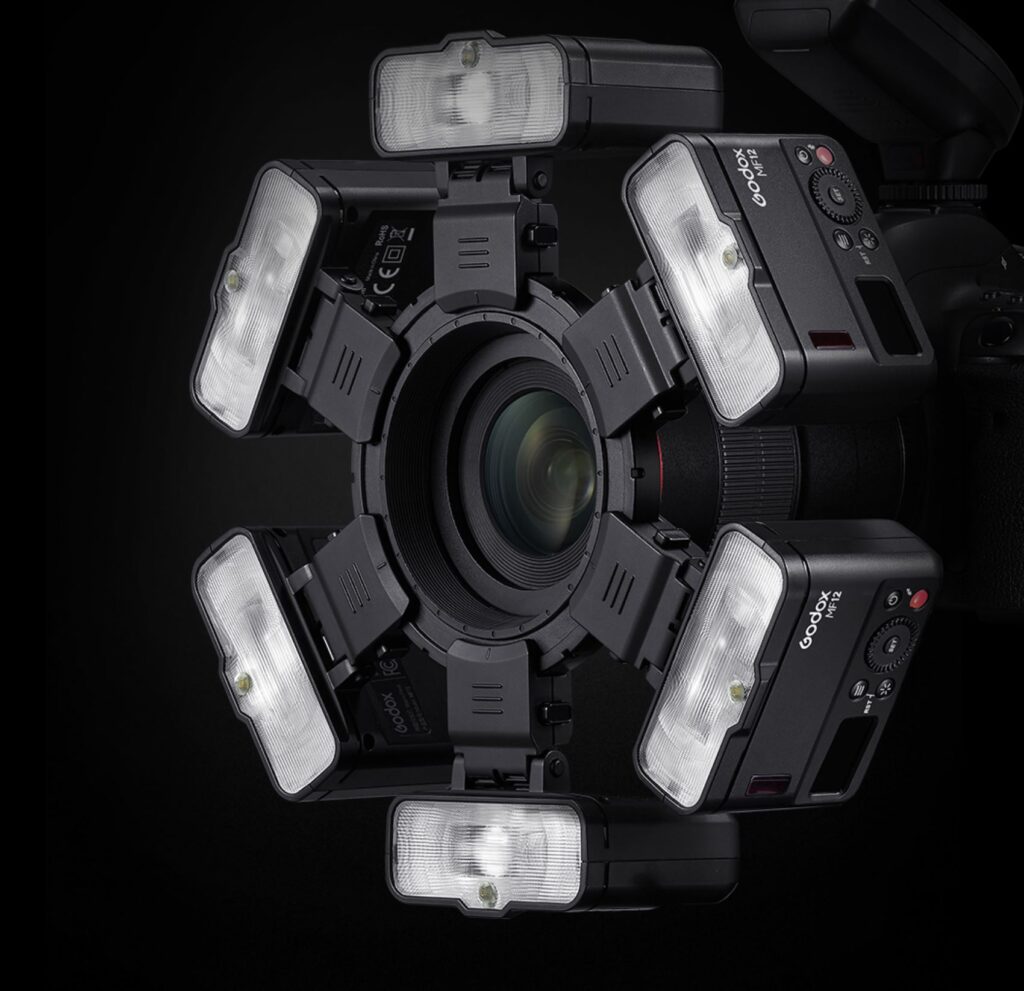 Above all, though, I love the Godox flashes and wireless systems because they just work.  I find the light output and temperature to be extremely consistent, and I also get more consistent TTL results than I used to get in times past.  I often went to manual with strobes in the past because TTL wasn't consistent enough to rely on.  TTL performance is much more consistent with the Godox system, and all of the shots shown in this review or gallery were shot in TTL mode.  I was particularly impressed when shooting the product shots I show in this series, as it can be easy for those to get blown out by lighting that's not correctly controlled.  In the shot below I was able to get light right inside a tiny flower, and get a unique view of the inside.
So is there anything that I don't like about the MF12?  Some people have complained about the bracket mounting system on the ring and that the units don't stay in the right spot, but I couldn't recreate that issue myself.  As long as they were in the detents on the circular bracket, they stayed where I put them.  I did find that the white balance of my shots tended towards the warmer side, though that's easy to fix in post.  Every now and then I have to cycle through the settings on the units because the wireless communication isn't working properly, but that was fortunately very rare, and the menus on the MF12 units are pretty straightforward.  I would also have liked there to be a wired sync option considering that these units will mostly be used very close to the camera.
But these are mostly nitpicks.  I really enjoyed the lighting potential of these little flash units, and I got some great photos with them.  You can check out my full thoughts in the video review below, or just enjoy the photos in the gallery!
Follow Me @  Patreon  |  My Newsletter |  Instagram | Facebook | DA Merchandise | Flickr | 500px
Thank you to Pergear  for getting me a review sample of the MF12 unit.  As always, this is a completely independent review.  The opinions here are completely my own.
Sample Photos from the Godox MF12
Gear Used:
You can purchase the X-Pro Control Unit for around $70 for Sony | Canon | Nikon | or Fuji

Purchasing your gear through B&H and these links helps fund this website and keeps the articles coming. You can also make a donation here if you would like.  Visit my Amazon page for some of my gear of choice! Thank you for your support.


Great News! I can now offer a 5% discount on all purchases at Amplis Foto, Canada's Leading Photographic Supplier. Please enter discount code: AMPLIS52018DA in your cart. It is good for everything in your cart, and is stackable with other coupons, too! It will take 5% off your entire order! Proceeds go towards keeping this site going and providing you with new reviews!
Check me out on:  My Patreon  | Sign Up for My Newsletter |  Instagram | Facebook | Twitter | Flickr | 500px |  Google+ |
Keywords: Godox, Godox MF12, Godox MF12 Macro, Godox MF12Review, Godox MF12 Macro Review, Godox MF12 Wireless, MF12, Macro, 2.4ghz, wireless, letthelightin, Flash, Camera Flash, Dustin Abbott, Photography, HSS, Wireless, Godox X, X-Pro, X-ProS, Sony, Portrait, Sample Images
DISCLAIMER: This article and description contains affiliate links, which means that if you click on one of the product links, I'll receive a small commission. As an Amazon Associate I earn from qualifying purchases.