Sony E 70-350mm F4.5-6.3 G OSS review
Dustin Abbott
May 2nd, 2022
Sony's development for it's APS-C mirrorless E-mount has been rather underwhelming, with new releases (from Sony, at least) being very rare.  I've reviewed plenty of E-mount lenses over the past five years (including many autofocusing lenses), but they tend to be from Tamron, Sigma, Samyang, and Viltrox.  I was impressed by the Sony E 18-135mm OSS (my review here), but the list of new E-mount lenses from Sony over the past 3-4 years is a very short one.  In fact, the lens I'm reviewing today (the Sony E 70-350mm F4.5-6.3 G OSS) is hardly a new one, either.  It was released back in 2019 alongside another premium APS-C lens – the Sony E 16-55mm F2.8 G.  Periodically I like to go back and review some catalog lenses on different platforms if I consider them to be key, important lenses, which I definitely consider the 70-350G (as we'll refer to to for brevity) to be.
Sony reserves the G designation for its mid-tier lenses and G Master for its superior lenses, and I've found that there is a lot of value to be found in the G lineup.  These lenses have more advanced features like weather sealing and a focus hold button, and the 16-55G and 70-350G were essentially the rare APS-C lenses that aligned to the higher standard of the full frame Sony lineup.  The 70-350G is not your typical consumer grade zoom, as it has superior autofocus, superior build, and superior optical performance to many such lenses.  Here's a list of some of the features according to Sony.
Excellent corner-to-corner G Lens image quality all the way to 350mm
One aspherical lens suppresses optical aberration and provide outstanding resolution from corner-to-corner
Three ED glass elements effectively arranged suppress chromatic aberration and control color blur even at corners
Circular aperture contributes to soft, beautiful bokeh
Compact, lightweight design at 625 grams (20.09 oz.) makes this 5x super-telephoto zoom remarkably mobile
Sony's advanced XD Linear Motor technology in an APS-C format lens, for fast, precise AF and tracking
Excellent control and reliability
Built-in Optical SteadyShot™ image stabilization makes it easier to capture images with greatly reduced blur, particularly when shooting at super-telephoto focal lengths
A conveniently placed focus hold button can be assigned to a variety of functions via camera body
An AF/MF focus mode switch on the lens makes it easy to quickly switch between auto and manual focus to respond to changing shooting needs
Engage the zoom lock switch to prevent the lens from extending under its own weight during transportation
Dust and moisture resistant design 
It's worth highlighting that first detail, as the 70-350G covers a deeper zoom reach than most such lenses achieve.  Canon's typical APS-C telephoto zoom in the past went a little wider but much less long (55-250mm), and some competitors (like Fuji) have a 70-300mm zoom).  Due to Sony's 1.5x APS-C crop, this lens covers a full frame equivalent 105–525mm.  525mm is serious reach…particularly in such a compact package.  In fact, let's take a look at how it compares in size to my full frame Sony FE 200-600mm G OSS:
Ummm, wow!  That's a big difference.  The 70-350G allows you to go from this angle of view at 70mm:
to this very tight angle of view at 350mm:
That's a full 5x zoom range, which is very high in a telephoto.  The fact that it can do so with competent optics (as we'll discover) is impressive indeed.  The 70-350G is going to prove a strong performer, though it does come with a more premium price tag of roughly $1000 USD (which is more than the cost of the Sony a6400 camera I did the review of it on).  Interestingly, though, this is a lens that offers better value in other markets.  The Canadian price is the same (though we often see a 30% premium), and the UK price is about 300 pounds less (often the price in pounds is about the same as in US dollars).  That means that this lens may be a much better comparative value in your country, making it even more intriguing.  So should you be considering this lens for your kit?  The short answer is yes, but if you want a more detailed answer…read on.  If you prefer to watch reviews, you can check out my detailed video review below.
Follow Me @  Patreon  |  My Newsletter |  Instagram | Facebook | DA Merchandise | Flickr | 500px
I want to thank Sony Canada (and Gentec) for the loaner of this lens. As always, this is a completely independent review.  The opinions here are completely my own.  *The tests and most of the photos that I share as a part of my review cycle have been done with the Sony a6400 along with the Sony Alpha 1 which will serve as my benchmark camera for the foreseeable future (my review here).
Sony 70-350G Build, Design and Handling
While I've noted that the relative size of the 70-350G is nicely compact, the absolute size is on the larger size for Sony E-mount APS-C lenses.  The lens is 77mm in diameter (leaving a common 67mm front filter thread) and 142 mm in length (3.03 x 5.59″), though the length will extend on to 190mm when zoomed out to 350mm.  
I had the chance to look at the new Fujinon XF 70-300mm OIS at the same time, and noted a few subtle differences in the design of the otherwise similar lenses.  The Fuji is slightly more compact when fully retracted and without the lens hood attached, but is actually longer when zoomed out and has a much larger lens hood.
The 70-350G weighs in at 625g, which makes it feel significant but not onerous in any way.  The outer shell is primarily engineered plastics, but everything feels fairly robust.  There is a subtle flocked finish that should hold up well to fingerprints and scratches.
As noted in the intro, Sony has given the 70-350G some premium features, including a weather sealed build (dust and moisture resistant).  I count around ten different seal points from this diagram, covering the rings, switches, mount, and focus hold button.
Many of the E-mount lenses in times past lacked any external switches and buttons, but the 70-350G gets a bank with two basic switches (AF/MF and ON/OFF for the stabilizer).  Premium telephotos will typically add a focus limiter and different stabilizer modes, but at least the basics are covered here.  There is also a focus hold button on the side that gives you an extra measure of control (you can program the function of the button from within the camera menus).
The stabilizer seems to do an effective job.  I got this shot at 1/6th of a second, 350mm, which calculates out at roughly six stops – exceptionally good.
The stabilizer is smooth and doesn't jump around.  I did find that handholding 350mm video wasn't particularly effective, but that's probably to be expected.
The lens does employ a zoom lock that works only at the 70mm position.  It can help to prevent zoom creep when transporting the lens (or hiking with it).
There are two rings.  The thinner and closer of the two is the manual focus ring.  The ring turns with a fair amount of precision and decent damping.  It's neither top tier focus emulation or rough and poor – more like average.  I was able to manually focus with good precision.
The second ring is the zoom ring, which is considerably wider.  It moves fairly smoothly, but not with the silky precision of the best zoom rings.
Up front there is a fairly basic lens plastic lens hood that is reasonably compact for such a long lens (we've already seen it was much more compact than Fuji's).
One practical observation is the the lens is slim enough that I had plenty of room for my knuckles when gripping the camera.  That's not always the case, so it is obviously welcome.
Inside we have a seven bladed aperture with rounded blades.  The aperture shape will initially stay rounded when stopping the lens down but will eventually become polygonal as the blades start to show their shape (as we can see here).
Minimum focus distance here is 1.1m (3.61′), giving us a useful (but far from exceptional) 0.23x magnification.
Up close performance was quite good, however, and you can get some very nice up close results with creamy backgrounds:
There's really very little to criticize as far as the build and handling go.  The 70-350G is proof positive of the size and weight savings you can achieve when you do dedicated engineering for a smaller sensor size.  Equivalent full frame lenses would weigh at least twice as much and be considerably bulkier.  The lens feels good in the hand, though it does make my a6400 feel slightly inadequate as a counterweight to it.  This is a lens that could benefit from a more robust APS-C body and in fact feels more at home on my Alpha 1.
Sony E 70-350mm G OSS Autofocus Performance
The 70-350G (and the 16-55mm F2.8G released alongside it) are only APS-C lenses (at the moment) to be endowed with Sony's premium XD (extreme dynamic) linear motor focus system.  In many ways this further highlights the 70-350G's unique position in the lineup.  This is a serious telephoto zoom, and it has a serious telephoto performance.  Sony's XD motors provide quick, silent autofocus, with sufficient torque and speed to track fast moving action.
This focus system has no problem following fast action:
Focus speed is excellent, with quick acquisitions of subjects and good "stickiness" in staying on the subject…though this is going to be dependent on what camera you have it attached to.  I noted some frustration, for example, with my Sony a6400 (which I use mostly for filming on a regular basis and only as a stills camera when testing an APS-C lens like this) when it came to grabbing the eye of Loki when he was behind the rail bars on the deck.  The eye was well illuminated, but the problem is that I'm accustomed to the more sophisticated focus systems of full frame cameras like the Sony Alpha 1 and the a7IV that I more regularly use.  I wasn't happy to get an image focused on the rails, like this:
I could force focus where I wanted by manually moving a focus point onto Loki's face, and, while the end focus result is excellent, I was disappointed that Eye AF wasn't active in this scenario:
So I switched over to APS-C mode on my Alpha 1, and the 70-350G came alive.  I shot a burst of flying mallard ducks at 30FPS and took 142 photos as a part of the burst.  As I looked over the results later, I counted about 2-3 frames where focus had dropped while around 140 were perfectly focused.
In less complicated situations, like this standard shots of our dog, Bella, I had no problem grabbing the eye accurately with the a6400/70-350G combo even without her looking directly at the camera in either shot.
I also got accurate focus at a distance on these mallards in a pond.
Non-moving subjects presented no problem regardless of what camera I was using.  I got down low for this shot of dead and dried ferns and got beautifully focused (and highly detailed!) results.
Video AF also works a treat, with smooth, fast, and quiet focus pulls.  I wasn't able to pick up any focus sound either in person or through on-board mics.
All in all, the premium nature of the focus motor really shows.  This is a serious instrument with the potential for tracking fast action. In many ways the 70-350G feels like a lens awaiting a real camera to pair it with.  To this point Sony has not released an action-oriented APS-C camera, and while this is an APS-C lens, I enjoyed it most on my Alpha 1 because of the superior performance (both tracking and Eye AF).  Sony needs the equivalent of the Fujifilm X-T4 in its lineup in a hurry!
Sony 70-350G Image Quality
Sony has employed an optical formula of 19 elements in 13 groups with a few exotic elements mixed into the formula.  The end result, however, is a very good looking MTF chart on both ends of the zoom range:
This suggests exceptional sharpness in the middle of the frame with little drop-off to the midframe…or even to the corners.  There's a little less contrast suggested at 350mm vs 70mm, but everything looks fantastic.  The MTF also suggests that most sharpness is available wide open and only very slight gains on tap when stopped down.  This shot of Loki at 132mm, F5.6 shows that this lens has no problem resolving the whole 24MP of the a6400!
So let's dive into the technical sides of performance.  First of all, this is the kind of lens that controls aberrations extremely well and has a very high degree of contrast as a byproduct.  You can see on this high contrast transition of a bright thistle against a dark background that there are no longitudinal chromatic aberrations adding fringing.  There's a very nice definition of each stem against the dark background.
Likewise I shot this shot of bare branches against a sky and found little evidence of lateral chromatic aberrations near the edge of the frame.  
This is a very well corrected lens for any kind of chromatic aberrations; that's a big part of why the MTF looks so good.
As a first party lens, the 70-350G enjoys excellent profile corrections for things like vignette and distortion.  If you remove the corrections, though, some fairly pronounced pincushion distortion appears throughout the zoom range along with a less significant amount of vignette.  Here's a look at 70mm before and after manual correction:
I had to use a -13 to correct for the pincushion distortion but a miniscule +15 to correct for vignette.
The middle of the zoom range exhibits a little less distortion (-10) a little more vignette (+25).  That trend continues on to 350mm, where the pincushion distortion is the least evident (-7) but the vignette has very slightly increased to needing a +28 to correct (which is still a very small amount).  As I said, though, you'll probably never see either of these things unless you purposefully disable corrections as I did.
So how about sharpness and contrast?
All chart tests done with a Sony a6400 (24MP) using a tripod and a two second timer.  Sharpness tests are shown at 200% magnification.  Here's a look at the test chart we will be sampling from:
At 70mm the maximum aperture is F4.5, and if we zoom deeply into crops at F4.5 from the center, mid-frame, and corners we find some very positive things:
Sharpness and contrast across the frame is very consistently good.  Stopping down further gives a very minor contrast boost, but for the most part you have very close to peak performance wide open.  That's always very useful in a variable aperture lens where you don't have a large aperture to begin with.  You don't want to be further compromised by having to stop down to achieve peak sharpness.
Minimum aperture also varies from F22 to F32, but you'll want to avoid those smaller apertures if at all possible, as diffraction is going to really reduce contrast and apparent detail.  Case in point:  F4.5 vs F22:
At 100mm the maximum aperture has closed to F5, but optical performance if anything is a bit better.  Look at how crisp this mid-frame result is:
As before, stopping down makes only a minimal difference.  You're getting very close to maximum performance wide open.
At 135mm the maximum aperture is F5.6 and image quality is better still.  Contrast is up a bit, and wide open performance from the center to the extreme corner is nothing short of excellent:
Stopping down to F8 will give a bit of contrast boost.
By 200mm the maximum aperture is F6.3, and the results across the frame remain excellent.  I see a very slight contrast boost when stopping down to F8, but again it is hardly necessary.  Wide open results are pin sharp in real world applications.
At 350mm maximum aperture is still F6.3, so this is the dominant maximum aperture value.  While lesser telephotos zooms often start to soften at the long end, the 70-350G maintains a very high standard.  It's very slightly off the peak performance found in the middle of the zoom range, but still at excellent levels.  You can see slightly reduced contrast in the corners, but there's very little to complain about here.
Real world results look very good.
Sometimes very sharp lenses compromise the quality of the bokeh, and the truth is that few variable aperture zooms deliver top level bokeh.  Everything looks pretty good here, though, even when there are closer layers in the image like this:
When you have more room to the background you end up with a purely creamy backdrop for your subjects.
I would call this image of Ferrari worst case scenario, as it is a very busy scene and the ratio of camera-to-subject-to-background isn't particularly favorable, but the image still looks pretty good (though subject isolation isn't off the chart).
I only really found one area to criticize, and that was flare resistance.  I found a fair amount of flare artifacts whether wide open or stopped down, though contrast improved when the lens was stopped down in this situation.
All in all, however, this is a very, very strong lens optically.  I got a lot of beautiful images from it even during the fairly ugly transition period from winter to spring.
If you'd like to see more, check out my image gallery here.
Conclusion
The Sony E 70-350mm F4.5-6.3 G OSS is a rare gem – a first party APS-C lens that feels on par with the companies full frame option.  In fact, I could see this lens being very enticing for those that either own both full frame and APS-C bodies or as a lightweight telephoto option for those with one of Sony's higher resolution full frame bodies like the Alpha 1 or a7RIV.  You still have plenty of resolution in APS-C mode on these bodies, and this is a very credible telephoto option that will be much smaller and lighter to pack along than something like the 100-400mm G Master.  I really liked it on my Alpha 1 for both action…and it would be a tempting option to bring along for telephoto landscape work, too.
The list of strengths is long, from the quality of the build (including weather sealing), good image stabilization, excellent autofocus, and a truly excellent image quality performance.  The list of negatives is very short.  Price might be offputting for some (though the performance of the lens warrants the price) and I thought the flare resistance could be better.  Not much to complain about…and it was fast enough to grab a credible shot even when I scared up some ducks by accident while hiking.  This was a snap shot, and while not technically perfect, still has some dynamic charm.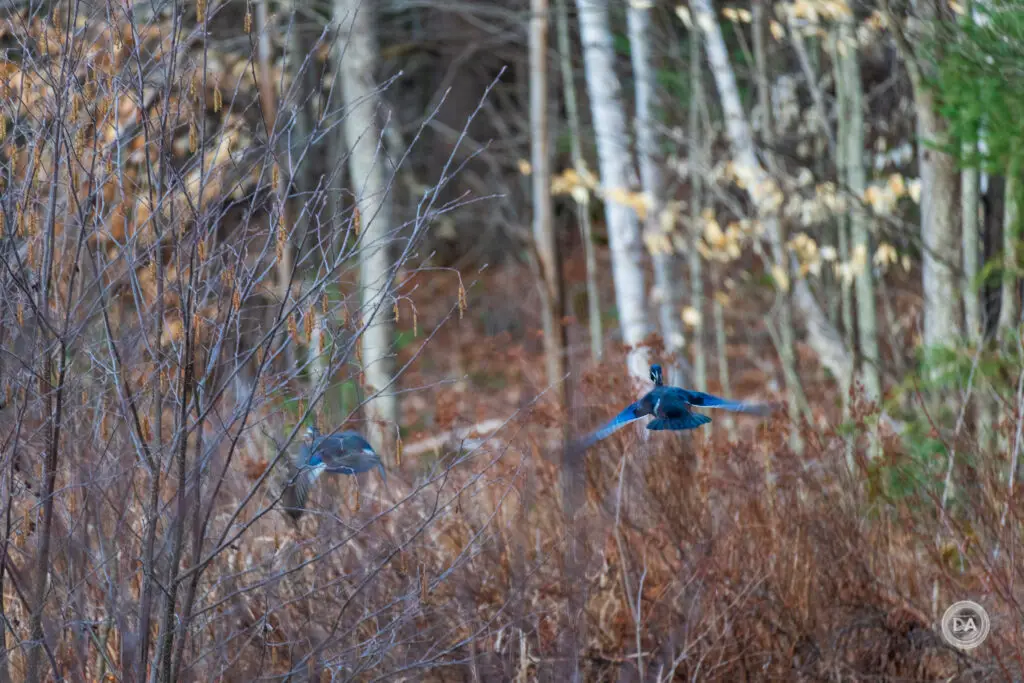 More important to the discussion, however, is that autofocus was fast enough to allow me to have this shot at all, and I've used enough lesser lenses to know that many such lenses would not have allowed for this shot.  And when you have a chance to be a little more deliberate, the lens delivers on all the technical boxes of performance.
If you are an APS-C shooter (or even fit the full frame scenario above), the Sony 70-350G should be a very tempting option for you.  The price is roughly $1000 USD, but as I noted earlier, the lens is more of a relative bargain in some other markets where gear is traditionally more expensive.  There haven't been a lot of "must-have" Sony APS-C lenses, but this is definitely one of them, and I haven't seen anything from any third party lens maker yet that matches the performance of this Sony choice.  If you need a telephoto zoom and have a thousand bucks sitting around, go for it!
Pros:
Nicely built lens with a feature set more like Sony's full frame offerings
Quality degree of weather sealing
Very effective optical stabilizer
Extremely fast and quiet autofocus
Good tracking capabilities
Consistently excellent sharpness and contrast
Sharp across frame and across zoom range
Good bokeh rendering
Good control of chromatic aberrations
Low vignette
Compact size and weight for the zoom range
Cons:
Slightly expensive
Flare prone
Some pincushion distortion
Gear Used:
Adobe Photoshop Creative Cloud 1-Year Subscription
Exposure Software X6 (Use Code "dustinabbott" to get 10% anything and everything)
Visit Dustin's Amazon Storefront and see his favorite gear


Purchasing your gear through B&H and these links helps fund this website and keeps the articles coming. You can also make a donation here if you would like.  Visit my Amazon page for some of my gear of choice! Thank you for your support.


Great News! I can now offer a 5% discount on all purchases at Amplis Foto, Canada's Leading Photographic Supplier. Please enter discount code: AMPLIS52018DA in your cart. It is good for everything in your cart, and is stackable with other coupons, too! It will take 5% off your entire order! Proceeds go towards keeping this site going and providing you with new reviews!
Check me out on:  My Patreon  | Sign Up for My Newsletter |  Instagram | Facebook | Twitter | Flickr | 500px |  Google+ |
Keywords: Sony E 70-350mm Review, Sony 70-350 G Review, Sony 70-350mm, F4.5-6.3, OSS, Sony E 70-350, 70-350G, 70-350 OSS, 70-350mm, G, OSS, Sony a6600, Sony Alpha, a6600 Review, Sony, a6600, Review, Dustin Abbott, a6500, a6400, Alpha 1, Hands On, Video Test, Sharpness, Autofocus, CA, Video AF, Autofocus, Eye AF, Lens, Comparison, Test, Dustinabbott.net, Sample Images, Sample Video, Let the Light In, Burst, Action
DISCLAIMER: This article and description contains affiliate links, which means that if you click on one of the product links, I'll receive a small commission. As an Amazon Associate I earn from qualifying purchases.