Sigma 60-600mm F4.5-6.3 DG DN OS Sport Review
Dustin Abbott
January 12th, 2023
It's hard to believe that just a few short years ago the primary complaint on the Sony platform was a lack of telephoto options.  Sony was the first to address the problem with the 200-600G (my review here), but then Sigma and Tamron jumped in with both feet.  Sigma released the 100-400mm DN (my review here) followed by the 150-600mm DN Sport (my review here).  Tamron, not to be outdone, released the 70-300mm RXD (my review here), then the 150-500mm VXD (my review here), and then followed that up with the 50-400mm VXD lens (my review here).  That's six quality telephoto options in the past three years, but Sigma has at least one more trick up their sleeve.  One of their last new lenses for DSLRs was released in early 2019 in the form of the 60-600mm Sport (my review here), a lens that dramatically increased the subject possibilities when compared to the typical 150-600mm focal range.  That extra foray into wider angle meant that suddenly the zoom ratio jumped from 4x to 10x.  Sigma has brought a new version of that lens into the mirrorless world in the form of the new Sigma 60-600mm F4.5-6.3 DG DN OS Sport (hereafter referred to as the 60-600DN).  This will instantly become the most dramatic telephoto focal range on the Sony platform, allowing you to frame a scene like this at 60mm:
…but also punch into it and capture the details like this at 600mm:
Can you think of a few subject possibilities for a zoom range like that?  I thought so!
If you don't "speak Sigma", here's a quick breakdown of what those letter combinations in the name mean.  DG is Sigma' designation for a lens designed for full frame (DC denotes APS-C).  DN refers to lenses designed for mirrorless cameras (in this case the lens will initially come to Sony E-mount [tested here] and Leica L mount, with hopefully other mounts in the future).  OS refers to "Optical Stabilizer", an in-lens stabilization system which is one of the upgrades in this design (to Sigma's new OS2 designation).  Finally, "Sport" is the designation Sigma gives to its better quality telephoto lenses designed for capturing action in demanding situations…or birds in flight.
The other highlighted feature here is a new focus system designed with the idea of increased torque and speed for a high performing lens like this one.  Sigma calls this "HLA", which stands for "High-response Linear Actuator".  There is a clear improvement in focus speed with this new focus motor, delivering near instant focus changes.  That's really going to help Sigma be more competitive with the other telephoto options listed here, as that focus speed will really enable you to capture the action you're looking for.
There are a lot of positives in this new lens that will come to market at the same price as the previous 60-600mm Sport lens (about $2000 USD).  That's about a $500 premium (at MSRP pricing) over the Sigma 150-600mm Sport and about the same as the Sony 200-600G lens.  The Sigma obviously has the best focal range of any of these lenses, but is it your best bang for the buck?  You can judge for yourself by either watching my video review below or reading on to get the full picture.
Follow Me @ YouTube | Patreon |  Instagram | Facebook | DA Merchandise | Flickr | 500px
Thanks to Gentec (Sigma's Canadian Distributor) for sending me a pre-release review loaner of this lens. As always, this is a completely independent review. *The tests and most of the photos that I share as a part of my review cycle have been done with the Sony a7IV along with the Sony Alpha 1 which will serve as my benchmark camera for the foreseeable future (my review here).
Sigma 60-600 DN Build and Handling
Sigma divides its lenses into three different categories: Contemporary, Art, and Sport.  The Contemporary lineup gets the lowest level of build and weather sealing, while the lines are a little more blurred with the Art and Sport lenses.  Typically, however, the Sport lenses do have the highest grade of weather sealing because they are the most likely to be used in inclement conditions.  Many sporting events will take place regardless of weather conditions, and, surprisingly enough, most wildlife is waterproof!  With that in mind, the Sigma 150-600 DN Sport has Sigma's highest grade of weather sealing.  While I haven't seen a diagram yet (I'm doing this review before the public release of the lens and before any such diagrams are available), Sigma says this of the weather sealing, "Dust and Splash Resistant Structure is applied to the joints of the mount, manual focus ring, zoom ring, switches, switch panel, and exterior parts to prevent dust and dirt from entering the lens. Water and Oil Repellent Coating is applied to the front element of the lens."  That sounds like a very thorough weather sealing to me.
As has been the case with all of the "Sport" lenses I've tested, the 60-600DN feels very well built.  Sigma uses a variety of materials in the design, including magnesium, carbon fiber reinforced plastics, and "thermally stable composite" (a high end engineered plastic that has an excellent thermal expansion rate).   The byproduct of these quality and yet lightweight materials is that the lens has shed 205g when compared to the DSLR version.  That's very welcome in a lens that still weighs in at 2485g (87.7oz).  This is not a light lens…but it is lighter.  Even this lighter weight makes it the heaviest in this class on Sony.  That's about 370g heavier than the Sigma 200-600G (2115g) and the Sony 150-600 DN (2100g), though you have to remember that it has a much larger zoom range than either of these lenses.
This is an externally zooming lens, so, while the retracted length of the lens is 267mm, the lens barrel does extend by a full ten centimeters (100mm), making the extended length actually longer than the Sony 200-600 G by about 65mm (the Sony is internally zooming).  Here's a look at how they compare when extended.
Sigma designed this to be a "dual-action" zoom, meaning that you can either twist the zoom ring or just grab the lens hood and treat it like a "push-pull" design.
There's also a significant lens hood here (about 85mm long), which makes for a really long combination when you have the lens hood attached and the lens fully extended.  That's about 46.5cm in overall length, or roughly 20″.  The good news is that while the lens is heavy (and you are going to have to get used to supporting that kind of weight), the balance point of the lens isn't bad and it doesn't feel front heavy in the way that the first Sigma 150-600mm Sport (on DSLRs) did. The large hood is actually fairly lightweight.  It attached via a tension knob on the bottom (it doesn't bayonet on), and there is a nylon cover that goes over the lens hood when you have that attached or reversed for storage.  Sigma also includes a traditional pinch cap in the box, though that is hard to access if you have the lens hood mounted (it's quite a ways in there!).  The lens hood is ribbed inside and, as is common with long telephotos, has a rubberized rim that will allow you to stand the lens on the lens hood (which is much more stable a position than standing it up on the rear lens cap).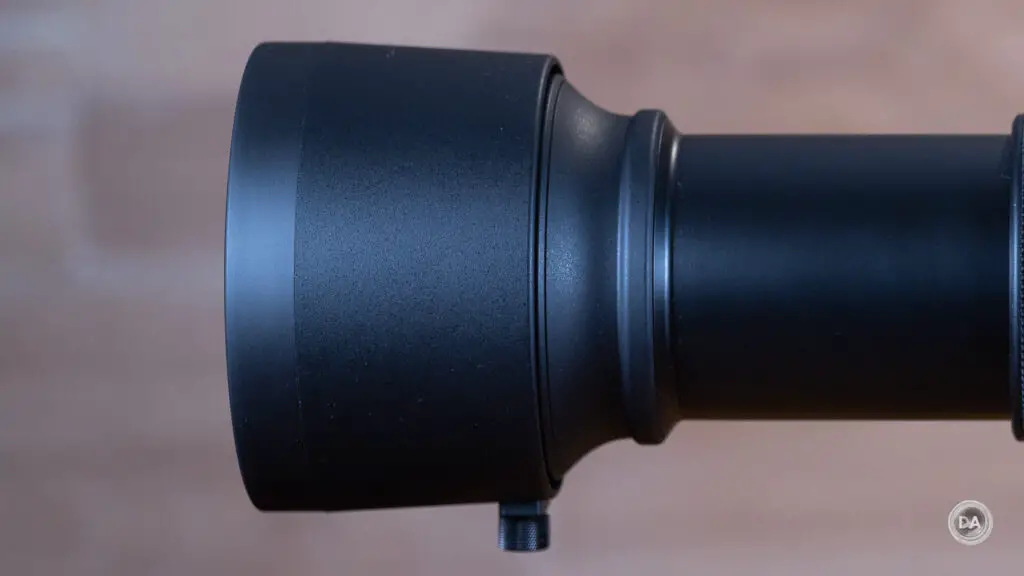 A large nylon padded case with a carrying strap is also included.  Sigma does go the extra mile in the presentation of their lenses, and they are proud that their products continue to be fully assembled in Japan.  
Worth noting is that the front filter threads take an extremely large (and hard to find) 105mm front filter size, which is larger than the 95mm size found on either the Sony or the Sigma 150-600 DN. 
Sigma went away from the Zoom Torque Switch they debuted on the 150-600 DN and have instead gone back to a standard zoom lock to prevent zoom creep.  The lock will engage at either the 60mm or 600mm position.
Like the Sony telephotos, the 150-600 DN employs the Focus Hold button in three different positions, meaning that you have easy access to one regardless of how the lens is rotated.
Sigma employs a tripod foot that is Arca-Swiss compatible, meaning that it can be directly mounted onto a tripod without the need for a quick release plate.  For some reason Sony (and Canon) do not employ this Arca design…and I've never understood why.  Sigma's tripod collar is not removable (a downside), but on the upside it does employ very nice detents at the four cardinal positions, which does make it easier to rotate quickly and to find the proper position.  The tripod foot itself is removable and replaceable, though this is not a tool less operation.  There are also strap connection points on either side of the tripod collar, which is also very welcome.
There's a fairly standard bank of switches along the left side of the lens fairly near the lens mount.  This is quite a large lens, obviously, and so I was fairly surprised to find this section felt a little cramped.  The tripod collar is raised on one side, and the lens quickly slopes away on the other side towards the fairly narrow Sony lens mount.  The top switch (AF/MF) is a fairly good size, but the other three switches are smaller, fairly flush, and a little stiff to operate.  The first of these is a focus limiter with three options, including Full, 6m to infinity, and minimum focus to 6m.  You can obviously increase focus speed by employing this, though I did find that focus was fast enough that I never reached for it.  The third switch down is a three position switch for different OS (optical stabilizer) modes.  Mode 1 is the Standard mode, while Mode 2 should be utilized while panning, as one axis of stabilization will be turned off to provide for smoother side to side panning.   Sigma does note that the 60-600DN has "Intelligent OS" that utilizes info from an accelerometer to help with panning.  The third position is an OFF switch for the stabilizer. 
As noted in the intro, the OS is a new and improved system (OS2) which significantly improves the rating of the OS compared to the 150-600 DN (which was rated at four stops).  This new system is rated at a whopping 7 stops on the wide end and 6 stops on the telephoto end, and you can really feel the improvement. As before, you can't turn off the lens' OS without turning off the camera's IBIS, so I can't tell you whether the two systems work in conjunction or not.  I shared the lens with a few other photographers, and they were blown away by how stable the lens was despite the incredibly long focal length.  I was amazed to get two steady shots in a row of this 1/5th of a second shot at 600mm on my Alpha 1 – which is near 7 stops of assistance.  This is probably the best telephoto stabilization result as I've ever seen.
Where things get a little confusing is that the final switch is dedicated to custom modes (OFF | C1 | C2).  On DSLRs you could buy the Sigma USB dock and use the Sigma Optimization Pro software to tweak some functionality (including the function of custom buttons), and, while that same functionality is available to Leica L mount customers, it isn't for Sony shooters (who make up the lion's share of the market).  That means that function of these switch positions is fixed, and they are really just more OS options.  C1 prioritizes stabilizing the viewfinder (probably a good option if you're shooting video or just have shaky hands), while C2 is called "Moderate View" and seems to focus more on stabilizing the image at capture and less on stabilizing the viewfinder (a good option when panning, for example).  This final option option gives you the most stable results on your shots, but in most situations having a shaky viewfinder image at 600mm just complicates things.  C1 does a nice job of really keeping the viewfinder steady, though. It was pretty much rock solid even at 600mm. 
If you are using the Leica L version of the lens and the USB dock, you'll be able to also tweak the distance employed on the focus limiter and assign a new value to the custom buttons.
Sony has limited teleconverter compatibility to first party Sony lenses, so unfortunately you won't be able to use teleconverters with the 60-600DN on Sony.  L-mount users can use either the TC-1411 (1.4x) or TC-2011 (2.0x) teleconverters with the lens.  There are obviously a couple of advantages for Leica L-mount owners due to Sigma being part of a cooperative that uses the mount.  It is more of a "first party" lens on that platform.
There are two rings on the lens – the typical zoom and manual focus rings.  The manual focus ring is closest to the camera.  It has very nice damping and a good feel, and I was able to make focus changes with a finger (somewhat important since you need to continue to support the lens with that hand).  The zoom ring moves fairly smoothly, but I found the resistance a little stiff and it is a fairly long zoom throw that will require two rotations to run the full zoom range.  This is one area where the Sony 200-600 G is much nicer in the field.  It has an internally zooming design that is really smooth and allows for very quick zoom changes.  I can see some shots being missed on the Sigma by comparison just due to the amount of time it takes to change the zoom position, and you can pretty much forget smoothly zooming during video capture. Sigma does provide the option to push/pull the zoom (grab the front of the lens and pull it to the desired zoom position).  This is faster, though fewer people are familiar with/comfortable with push/pull and will have to mentally reprogram for this approach.  It's worth learning, however, as it does allow you to be more reactive to changing conditions in the field.
This is a variable aperture lens, starting at F4.5 at 60mm:
60-81mm = F4.5
82-136mm = F5
137-359mm = F5.6
360-600mm = F6.3
This isn't a bad performance, lagging only very slightly behind the 150-600 DN Sport and arriving at F6.3 slower than the Sony 200-600G.
Like many modern zoom lenses, the 60-600DN has a variable minimum focus distance depending on the focal length.  At 60mm the MFD is just 45 cm (17.8″), but at 600mm the MFD is 260cm (102.4″).  The maximum magnification figure is actually found at 200mm, where you can get at 1:2.4 (nearly 0.42x) magnification, which is going to be very useful for getting nearly half size macro with a great working distance.  Here's what that maximum magnification (at 200mm) looks like.
You can get closer at 60mm, obviously, but I prefer the more blurred out backgrounds at 600mm despite the longer working distance.  Using 200mm will kind of get the best of both worlds if you want high magnification.  The third shot shows the big specular highlights you can produce at 200mm.
This is another nicely made, highly functional lens rom Sigma.  There's some give and take relative to the Sony and Tamron alternatives, but all are nicely made lenses with slightly different design philosophies, strengths, and weaknesses.
Sigma 60-600mm DN Autofocus
It's always exciting to see a lensmaker take a leap forward, and that's the case with Sigma here.  The new HLA (High-response Linear Actuator) focus motor is a definite improvement over the stepping motors Sigma has used to this point.  Here's how Sigma describes the focus system, "A linear motor is a linear actuator that controls electromagnetic forces and can be driven freely, enabling high-speed AF. It can move the heavy focus group while ensuring the lens remains quiet, but the weight is relatively heavier."  That final phrase can be a little difficult, but essentially they are making the distinction that while typical stepping motors are smaller and lighter, the linear focus motor here is more powerful and has the necessary torque for rapid focus changes even with the heavy glass elements that a big lens like this has.  And you can definitely feel the speed, as there is little hesitation when making focus changes and instead focus is essentially where you need it be near instantaneously.  
I had no problem acquiring a bird in flight and getting perfect focus even for one single shot at roughly 550mm.  Once I had the bird in frame and started focus the lens locked on near instantly.
But the 150-600 DN Sport could basically do that.  The question that I had was how the new HLA motor would handle high speed tracking sequences – an area where I found the 150-600DN bested by both the Sony 200-600G and the Tamron 150-500mm VXD.  I will note that Sigma informed me that my prerelease copy of the 60-600DN had a beta version of the firmware and that the release firmware they had been working helped improve tracking accuracy even further.  Obviously I can't test what I don't have, but I did do a series of tests with several different telephoto lenses to compare with the Sigma. 
It's always a little frustrating to me when I get telephoto lenses for testing in the dead of winter.  Many of my typical wildlife subjects are either in hibernation, have limited movement, or have just headed to warmer climes for the winter!  It's difficult to find active subjects, and carrying heavy lenses deep into the woods through heavy snow (which I did a fair bit of!) is not a particular joy for me.  It's not unusual to trudge though heavy snow for hours carrying a big telephoto lens and come back with ten shots of dead leaves because I saw no living thing out there!
Rant aside, I set up a test with the one willing subject I could find – my son.  He agreed to run for me again and again while I tracked him.  These sequences were probably about 30 meters (100 feet or so) as he ran towards me with the camera and my bursts were typically 7-8 seconds in length.  I started with the Sony 200-600 G mounted on my Sony Alpha 1, and the Sony combination at 30 FPS was magic as per usual.  You can see the timelapse of those shots in my video review, but it is basically like watching slow motion video footage.  Very smooth, and focus is perfect throughout the sequence of 206 shots (about 7 seconds worth).  You can see how little space elapses over the three shots from the sequence I'll show below, and also that focus is nailed in all of them.
I then switched to the Sigma and did multiple runs.    The Sigma is artificially limited on Sony's sport cameras (the a9 or Alpha 1 series) to 15FPS in burst speed, as this is another area where Sony has put its finger on the scale in favor of its own lenses.  You can only get a maximum of 15FPS with any third party lens on Sony.  The timelapse is slightly more choppy due to the fact that I was capturing 15FPS rather than 30FPS (I captured about 125 frames per run).  Most importantly, however, is that as you watch the timelapse footage you see perfect focus throughout the run.  No swings to front or backfocus and the tracking stays "sticky" on my son throughout the whole sequence…even when he got close to the camera.  Here's a total of 12 shots in four groups of three in a row taken from two different run sequences.  There's a bit of motion blur in some of them (shutter speed ranged from 1/400th to 1/500th, not quite enough for this action), but focus is perfect in each of them.
I'll also note that I visually had very good "stickiness" in terms of the eye tracking in the viewfinder.  Focus was staying properly locked and the end results confirm this.  The HLA motor is going to make a huge difference in tracking accuracy due to its higher torque that allows it to more quickly activate focus, and Sigma's focus algorithms (even in the beta version that I tested) are clearly improved.  This is a much more competitive instrument for sports and wildlife tracking, and, while it can't compare to the Sony combination because of the burst rate difference, the focus accuracy seems pretty close to the Sony performance. 
I'm impressed.  This new focus motor was just what Sigma needed to up their game in the one area that I felt was lacking a bit.
Autofocus accuracy is fantastic for the usual stuff.  Eye AF works perfectly:
Animal Eye AF also delivers exceptionally good results.  I got perfect lock-on to Nala's eyes and got a beautiful series of shots of her with light from a nearby window.
The only negative here is the fact that the Sigma is artificially limited on Sony's sport cameras (the a9 or Alpha 1 series) to 15FPS in burst speed.  15FPS is still very fast, obviously, but if you've made a big investment in a sports camera, you might want to consider a Sony lens for that simple reason.  It's not fair, obviously, but it's pretty typical for camera makers to try to bias things in favor of their own lenses.  The chief advantage for the Sigma in this case is the fact that you are getting that additional 140mm in focal range – a pretty significant advantage over the Sony.
I'll end with a general observation:  variable aperture lenses like this are not designed for low light work.  That maximum aperture of F6.3 means that in very low light conditions the focus system isn't left with a lot to work with, as the physical aperture can only open so wide to let in light.  This lens (or any similar lens) will work best in decent lighting conditions, be it natural light or good stadium/arena lights.  You need to be aware of that if you are purchasing the lens to shoot sports.  It also means that if you want to keep the shutter speed up high enough to stop action, you'll probably be shooting at higher ISO values in an arena, for example.  The only alternative, unfortunately, is to buy one of the serious telephoto primes that have a larger maximum aperture and cost 6x as much.  Most of us will just make do!  
Sigma 60-600DN Sport Image Quality Breakdown
Part of what has made Sigma's 60-600mm lenses interesting in both the DSLR and mirrorless iterations is that somehow they've managed to keep the image quality on par with the 150-600mm Sport.  I didn't really feel like that was the case with the copy of each lens that I tested in the previous generation, but there's no question that, if anything, the 60-600DN actually outperforms the 150-600 DN across their shared zoom range while also adding that crucial additional 90mm of framing options on the wide end.  The MTF charts show a very consistent performance across the zoom range, with 60mm ranking as the weakest and performance peaking at 400mm, though with a very mild drop off at 600mm.
Gone are the days when lenses releases into this segment were asked to resolve only 20 or 22MP.  Today this lens must excel on a 50 MP sensor like my Sony Alpha 1, or the even higher resolution 61 MP Sony a7RIV/V or Sigma FP-L bodies…so flaws are easier to spot. The primary competitors (Sony 200-600 G, 150-600 Sport, and Tamron 150-500 VXD) are all optically excellent, with the Sony having the slight edge (particularly on the edges of the frame).  Sigma has an optical design of 27 elements in 19 groups, with two of those elements being FLD (Extreme Low Dispersion) and another three being SLD (Low Dispersion) elements.  This optical formula delivers, however, with very crisp results all the way out to 600mm along with some very nice bokeh:
While I didn't love lugging this beast through deep snow to get to where I took this shot, I loved have the 600mm on tap to grab the shot of this red squirrel.  This shot also serves a nice secondary purpose, as the crop shows the bright transition edge on the top of the snow to the background, and you can see only the slightest hint of longitudinal chromatic aberrations (fringing) in that transition.
Take a look at this casual portrait shot and you'll see that the frames with the exterior light spilling into the room have no fringing on them, either.
I also saw little evidence of lateral chromatic aberrations along the edge of the frame.
Before jumping into the sharpness tests, I will give you one practical caveat about telephoto lenses in general.  Long range shots can sometimes be less than satisfying at a pixel level in some conditions for the simple reason that telephoto images are more likely to be affected by atmospheric conditions like pockets of rising warm air.  This "heat haze" or "heat shimmer" bends and distorts light waves.  You've seen extreme examples perhaps in a movie where you can see heat waves rising off hot asphalt on a desert road, for example, but even milder conditions can sometimes reduce contrast or apparent detail through smaller amounts of "atmospheric distortion".  This has nothing to do with the quality of your lens and everything to do with the environmental conditions.   I share this to help those who might buy a relatively expensive lens and then get "freaked out" when sharpness in certain situations is less than expected.
So let's dive into the technical side of things and look at strengths and weaknesses from a clinical perspective.  We'll start with vignette and distortion at 60mm.  There's a mild amount of pincushion distortion and a moderate amount of vignette.  The distortion I corrected with a -2 and the vignette with a +56 and moving the midpoint to zero. 
At 400mm the pincushion distortion is slightly increased (-5 to correct) and the vignette is roughly the same (+59).
At 600mm both figures decrease, with less distortion (-3) and distortion (+41).
I was doing my review before there was a standard correction profile for RAW images was available in Lightroom/ACR, but Sigma lenses enjoy solid profile support in camera for JPEGs and video, and I have no doubt that the correction profile will soon be available in major software editions for RAW images.  There's enough vignette that I did see it in real world situations and wanted to correct it, like in this shot of these flying ravens.
Nothing major here, though.  All of this is easily correctable. 
We'll move on to testing sharpness.  All of the tests and photos shown in this review are done on the 50MP Sony Alpha 1, which is Sony's second-highest resolution full frame mirrorless camera at the time of this review.  Here's a look at the test chart we're using for the tests.
If we start at 60mm, F4.5, we find that the lens produces stunningly good sharpness in the center of the frame, good mid frame performance, and that resolution holds up into the corners even when viewed at nearly 200% magnification here. 
The MTFs suggest that this is the weakest place in the zoom range, which should give everyone a lot of reassurance.  It's well worth noting that this is a much stronger performance than any of the alternative lenses for the simple reason that they don't even show up for nearly 100mm!
This somewhat gloomy landscape was shot at 60mm, F4.5, in less than ideal light (ISO 3200) but nonetheless shows good detail across the 50MP image frame:
You'll find some increased contrast and a slight resolution boost at F5.6, and a bit more at F8.  Minimum aperture is F22 at 60mm, but diffraction really softens the image past F11.
Performance at 100mm is similar with just a little less corner sharpness.  Stopped down a bit I prefer 100mm in the center of the frame and in the midframe, but 60mm is better in the corners.
At 150mm the performance is quite similar to what I saw at 60mm, though at a smaller maximum aperture of F5.6.  When stopping down to F8 I prefer the 150mm performance to the 60mm or 100mm performance.  If I go back and compare to the 150-600mm Sport, the new 60-600mm is an easy winner as this 200% crop comparison from the midframe shows.
When we get to 200mm we arrive at the steepest competition on the platform, the genuinely excellent Sony 200-600mm G lens.  Both lenses are excellent at 200mm, though I would give the very slightest of edges to the Sony both in the center:
…and at the edges.
It is remarkable how sharp lenses like this can be at their best.
At 400mm the MTF chart suggests that the 60-600DN is at its best, and we can that it bests the 150-600DN in both the center:
…and at the edges.
The 60-600DN Sport stays closer to the Sony at 600mm than any of these lenses I've tested to date.  The Sony probably has the slightest edge, but I'm not sure you could perceive it without looking at them side by side at 200% magnification.  I also preferred it in both the center and edges to the performance of the 150-600 Sport:
It's pretty remarkable how well the Sigma 60-600mm does when one considers that it is a 10X zoom compared to the 3x zoom of the Sony and 4x zoom of the 150-600 Sport.
Real world performance at 600mm looks excellent:
I was consistently impressed with the look of images.  I would zoom in even the back of my camera (or, even better, the high resolution viewfinder of the Alpha 1), and loved the crisp detail.  I also liked the overall "look" of images, that have a great feel to them.
Some of that comes down to the bokeh and overall rendering from the lens, which I felt was very nice.  That long focal length allows for a lot of compression of backgrounds.  This often results in beautifully soft and creamy bokeh in a lot of situations, like this.
Here's another example.
It's hard for shorter focal lengths to imitate that degree of defocus irrespective of aperture.  Even when the background was less compressed, though, the bokeh looked quite good:
You can achieve the most defocus for specular highlights at medium distances at 200mm, where you can keep the close focus distance of 60mm but with higher magnification.  Specular highlight geometry looks great at 200m, too.  I can hardly achieve defocus at 600mm because we are so near the minimum focus distance.  Shown here is 60mm, 200mm, and 600mm:
Bottom line is that the 60-600mm DN Sport is a very strong performance optically and impressed me more than the copy of the 60-600mm that I tested four years ago.
Flare resistance also proved to be quite good.  It's somewhat rare to end up with the sun in the frame when the angle of view is so small (particularly on the telephoto end!), but when I intentionally put it that, I saw very minimal impact from the sun either wide open or stopped down to F11.
In short, there really isn't a lot to complain about optically here.  You can check out even more photos by visiting the lens image gallery here.  The Sony 200-600G is still slightly sharper, but the Sigma has a much larger zoom range and the potential for much higher magnification if you shoot at 200mm.
Conclusion
The Sigma 60-600mm F4.5-6.3 DN OS | Sport is a very welcome addition to telephoto zoom options available on Sony or Leica L.  It's the largest lens in the class by weight (and size if you count the extended length), but it is also unique in the amount of zoom that it offers.  It is a real competitor to the Sony 200-600G in both price and performance, though there will always be a few built-in advantages for the Sony (TC compatibility and burst rate on the sports bodies).  I prefer the handling of the Sony in the field (smoother zoom action and the internal zoom design means that I don't have to deal with zoom creep while hiking), but I definitely prefer the zoom ratio of the Sigma along with the excellent magnification results.
The improved focus motor helps to close the gap with the Sony in terms of focus speed and tracking performance, though I would still slightly prefer the Sony because it is pretty magical for tracking.  I think the Sigma will do a great focus job for photographers, however, and again – that focal range is a huge advantage for the types of subjects you can capture.
The loser here may be Sigma's own 150-600mm DN Sport, which is only very marginally smaller and is outclassed by the 60-600DN in performance in basically every metric.  The 60-600mm is sharper, faster to focus, and has better optical stabilization.  The 150-600mm's biggest advantage is going to be price, where it will run at least $500 cheaper than the 60-600mm's $2000 USD.  My advice:  save for a few extra months and buy the 60-600mm DN; it is Sigma's "killer app" for this class of lens.
Pros:
That zoom ratio is just so useful
Good quality of construction including robust weather sealing
Feature rich – competes directly with Sony
Improved autofocus is noticeably better than previous Sigma models
The improved OS is better than anything I've seen in this class
Fairly low distortion and vignette
CA well controlled
Good sharpness across the zoom range
Great magnification and close up performance
Nice bokeh rendering
Zoom action can be push/pull or twist controlled
Cons:
Cannot be used with teleconverters
Lower burst rate on Sony's top sports cameras compared to a Sony lens
Zoom action a little stiff
Buy DA Merchandise https://bit.ly/TWIMerch
Peak Design Leash Strap:  Peak Design Store | B&H Photo | Amazon | Amazon Canada  | Amazon UK
Adobe Photoshop Creative Cloud 1-Year Subscription
Get a discount off all Skylum Editing Software (Luminar, Aurora HDR, AirMagic) by using code DUSTINHDR at checkout:
Visit Dustin's Amazon Storefront and see his favorite gear
Purchasing your gear through B&H and these links helps fund this website and keeps the articles coming. You can also make a donation here if you would like.  Visit my Amazon page for some of my gear of choice! Thank you for your support.

Purchasing your gear through B&H and these links helps fund this website and keeps the articles coming. You can also make a donation here if you would like.  Visit my Amazon page for some of my gear of choice! Thank you for your support.


Receive a 5% discount on all purchases at Amplis Foto, Canada's Leading Photographic Supplier. Please enter discount code: AMPLIS52018DA in your cart. It is good for everything in your cart, and is stackable with other coupons, too! It will take 5% off your entire order! Proceeds go towards keeping this site going and providing you with new reviews!
Keywords: Sigma 60-600, Sigma 60-600mm, Sigma 60-600 DN, Sigma 60-600 Review, Sigma 60-600mm DN Review, DN, DG, OS, DG, Sport, Tamron 150-500 VC Review, Sony 200-600, Sony 200-600mm, Sigma 150-600mm F5-6.3 DN DG OS Sport, Sigma 100-400, Review, Telephoto, Action, Tracking, Hands On, Dustin Abbott, Real World, Comparison, Sharpness, Bokeh, Flare Resistance, Autofocus, Image Quality, Sample Images, Video, Photography, Sony a9, sony a7III, sony a7RIV, a9II,  Sony Alpha 1, Sony A1 let the light in, #letthelightin, DA
DISCLAIMER: This article and description contains affiliate links, which means that if you click on one of the product links, I'll receive a small commission. As an Amazon Associate I earn from qualifying purchases.