HEIPI W28 3-in-1 Carbon Fiber Travel Tripod Review
Dustin Abbott
October 13th, 2023
I've been using the excellent Peak Design Carbon Fiber travel tripod for four years, and, to this point, I haven't really seen its equal despite reviewing 5 or so other competing travel tripods. The HEIPI W28 may have just changed that, however, as there are some genuinely unique and clever design elements that just work. Find out my whole thoughts in my review here:
Here are a few of the bullet points from the review video:
Price:  $549 USD (Tripod, ball head, case, QR plate, tools, spikes) – this undercuts the Peak Design CF travel tripod by $50. I've added the Peak Design comparison points in brackets for some of these points.
Weight:  1.35kg | 3lbs (2.81lbs)
Packed Length – 45cm | 17.7" (15.4")
Max Height – 150cm | 59" (60")
Min Height – 22cm (8.6") M | Sub 14.5cm (5.7") (13.2")
Payload = 25kg (55lbs) | (20lbs)
Enhanced center column stability
Built in Phone Clamp
Arca compatible
Table tripod part of design but can be used separately.
Full panning
Don't have to extend center column to use ball head.
Case includes space for tools and QR
There are few reasons why I've been reaching for the HEIPI over the Peak Design recently. The first is the built in phone clamp. Peak Design does included a phone adapter, but the W28 has an integrated design that means that I just have to pull it up if I want to get some B-roll footage with my phone.
The second reason is that I really like the ability to pull out the tabletop tripod portion and use it if needed. It's more practical than trying to negotiate a larger tripod down to that level.
The third reason is that I like the ability to rotate the ball head without having to extend up the center column; something I can't do with the Peak Design.
I like the Peak Design's slighter wider base and prefer its leg section locks, but I'm enjoying the overall design of the HEIPI W28 just a little bit more. HEIPI raised over a million dollars in their Kickstarter campaign to launch the W28, and I can see why. It's a very innovative design and well worth considering if you are looking for a high end travel tripod.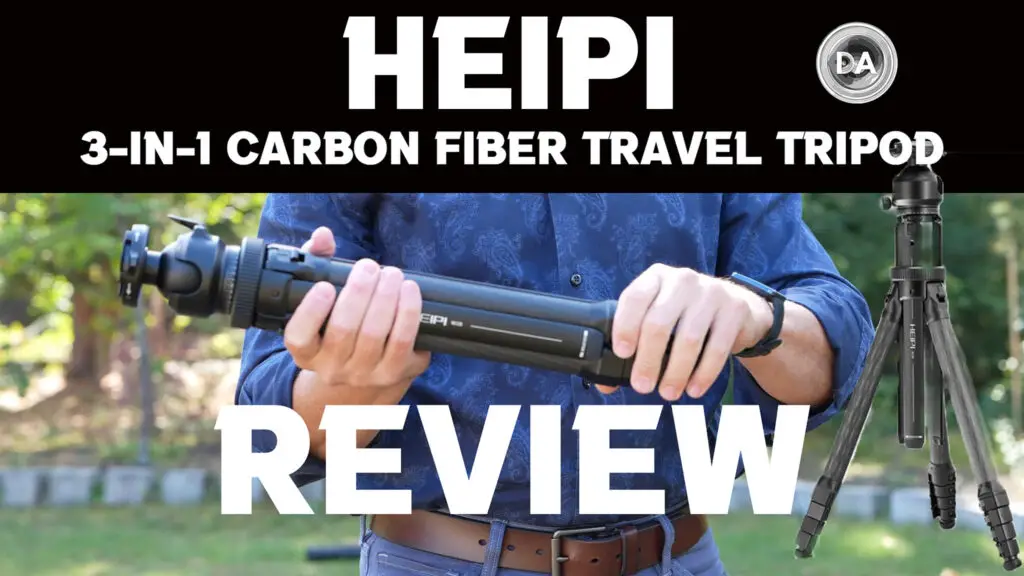 Buy DA Merchandise https://bit.ly/TWIMerch
Keywords: HEIPI, W28, 3-in-1, HEIPI Carbon Fiber Travel Tripod, 3-in-1 Tripod, Travel Tripod Review, Hands On, Review, Dustin Abbott, demonstration, photography, Peak Design, Kickstarter, #HEIPI, let the light in, #letthelightin, DA, #da
DISCLAIMER: This article and description contains affiliate links, which means that if you click on one of the product links, I'll receive a small commission. As an Amazon Associate I earn from qualifying purchases.