Bluetti AC70 1000W Power Station Review
Dustin Abbott
November 20th, 2023
I've reviewed a lot of different portable power stations at this point, and as a byproduct of increased familiarity with what the market standards are and what other companies are doing, I feel like I have a broadened perspective of what a power station should do at a certain price point. I most recently reviewed Bluetti's AC60 power station, and I felt like it really advanced the ball in terms of features and build. My largest complaint centered around the 600W inverter in that AC60, as it was larger than what is needed for the basics like electronics but not large enough for many household appliances.
On paper the AC70 seems like a huge upgrade. It has a much more useful inverter (1000W/2000W peak), a larger battery (768Wh), and excellent charging specs (up to 850W via AC and 500W via solar/DC). But the reality is a little more complicated, as in reality the AC70 proves great at doing power station things but lacks the polish of the AC60 (things like full integration with expansion batteries and weather sealing). Furthermore the price point of the two units is pretty much the same, making this more of a lateral decision between sophisticated build and features (AC60) and a more versatile inverter in the AC70. You can get my full thoughts in the video review above or through my review notes below.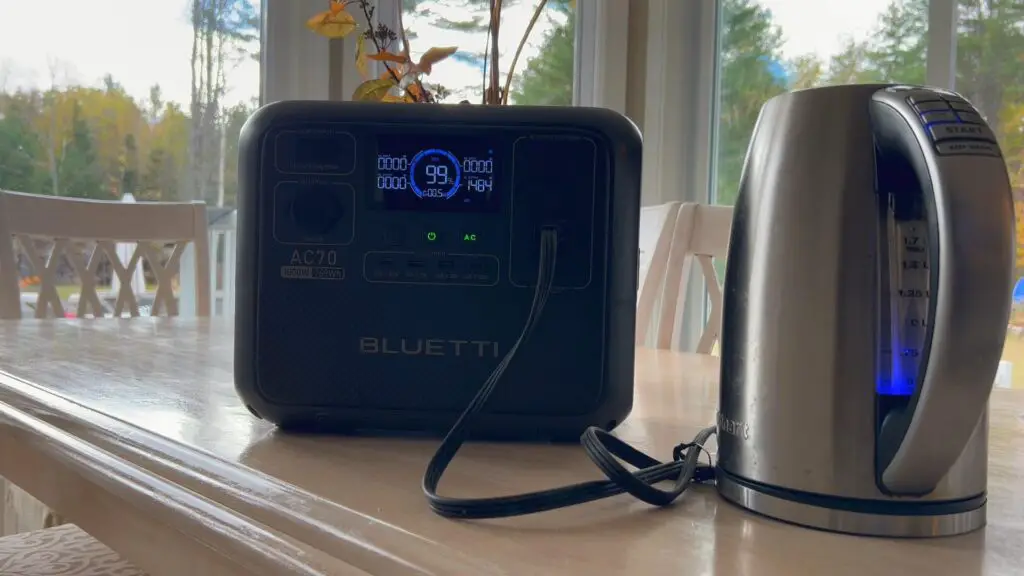 Bottom line – an update to their popular EB70S.   The AC70 has a more powerful 1000/2000 watt inverter and a larger capacity battery (768Wh) along with a host of other key improvements to the charge capacity and functionality all while dropping the price a bit.
Build and Handling
*Bold areas mark areas of improvement over the EB70S.
768Wh lithium iron phosphate battery rated for over 3500 charge cycles to 80% (pretty much ten years of daily full recharge cycles)  Improvement of 52Wh)
1000W  Pure Sine Wave inverter (2000W peak) (200W/400W improvement)
No IP Rating
5 year warranty
12.4″ × 8.2″ × 10.1″ / 314mm × 209.5mm × 255.8mm
About 22.5 lbs / 10.2kg
Integrated handle (not as nice as AC60)
No LED light
No power brick (enables UPS and pass-through charging)
Buttons responsive
Good screen with percentage readouts for output and input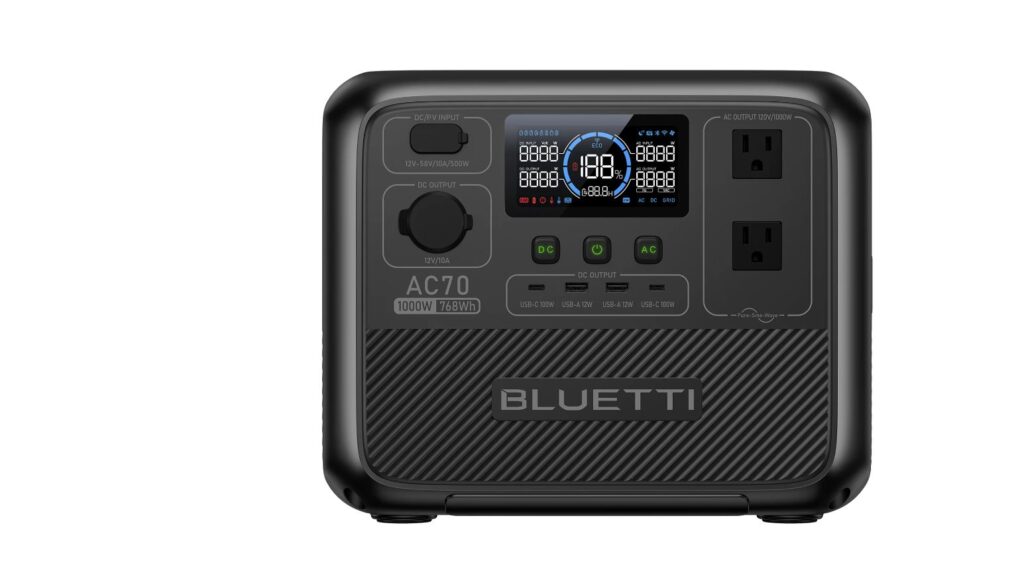 Ports
No wireless pad
2 x 120V grounded plugs (1000W total)
2 x USB-A ports (5V/2.4A) = 12W
2 x USB-C 100W + eMark chip
12V/10A car outlet
Inputs AC (no power brick) and DC7909 style
Grounding connector
Expansion uses DC7909 port
Features
Bluetooth app
Fast charge (3x options – Silent 272W, Standard 442W, and Turbo 935W)
Up to 850W input – (about 1.3 hours for turbo) 200W max for EB70S
0-80% in just 45 minutes
Solar input/DC up 500W (charge in as little as 2.8 hours)
UPS mode (less than 20ms)
Expandable with B80, B230, or B300 units (each 806Wh, 2048Wh, or 3072Wh) via XT60 cable but functions as an alternate charge source – not fully integrated like AC60.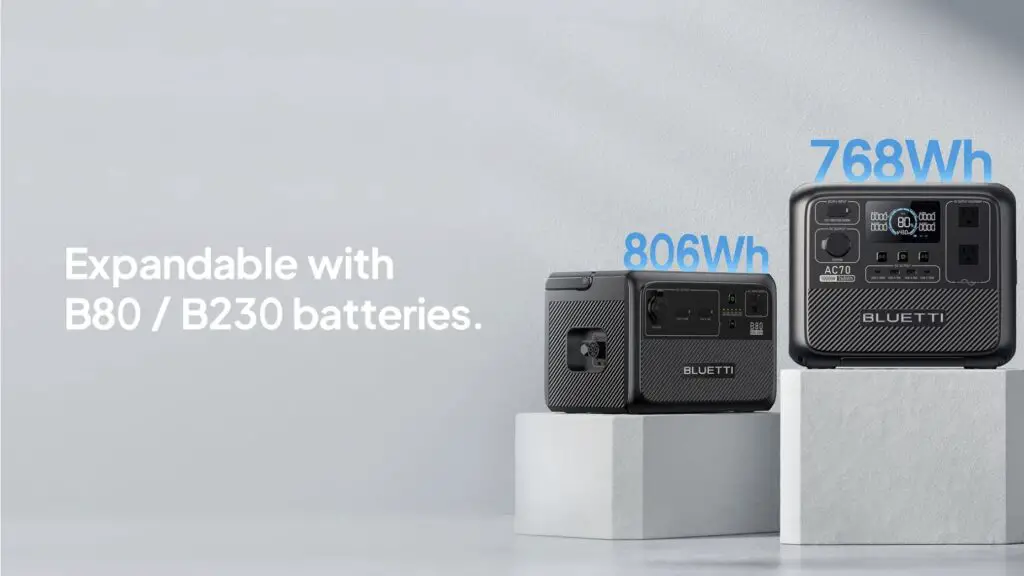 Tests
1000W blender – started at 770W and dropped to 600W range – no problem
1100W blender started at 1135W initial draw (handled by peak) followed by 850W continuous draw.  No problem (blended my smoothie with only 1% battery drain)
1500W kettle (sustained nearly 1500W draw for 45 seconds) = strong inverter.
Power Lift mode ran at 1015W on average and was able to easily bring kettle to boil (will boil faster than lift mode on AC60 – 600W) 
1875W hair dryer – started at nearly 1700W and BMS shut it down due to overload.  Switch to power lift mode – ran stable at 955W | This works well for devices with resistive loads (heating elements) but not for those with more sophisticated electronics (fridges or AC units).
Faster recharge time via AC or solar is noticeably different (autumn/winter solar makes this really important)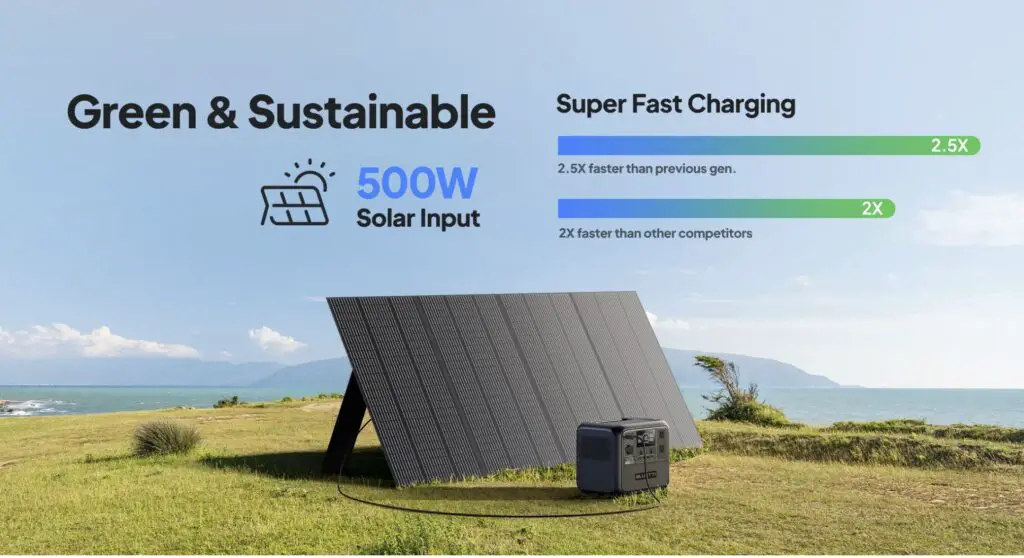 Things I Like
Powerful inverter
Fast charge times
UPS mode
Power lift
Good mix of AC/DC ports
App control
Things I Don't Like
Expansion integration not as good.
No wireless pad
No iP rating
Inferior build to AC60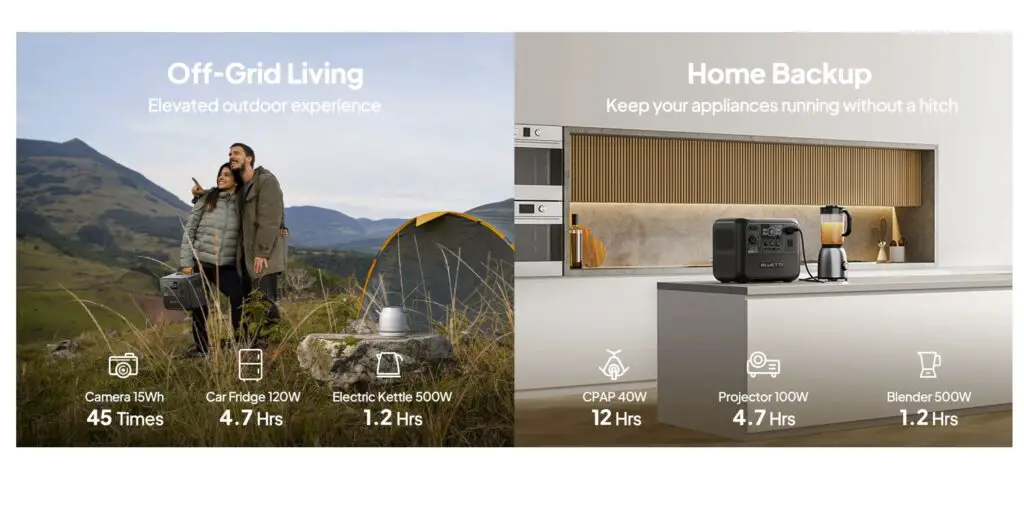 Strong value at $499 USD/$679 CDN | A mix of the AC60 and AC70 would be about perfect, but although I like the feature set of the AC60, the superior inverter and recharge times makes me lean towards the AC70 for similar money.  Far superior to the more expensive Jackery Explorer 1000
_______________________________________________________________________________________________________________
Purchase the Bluetti AC70 @ Bluetti Store Canada (use Code DUSTIN20 for $20 off) | Bluetti USA | Amazon | Amazon Canada | Amazon UK | Amazon Germany
Purchase the B80 Expansion Battery from Bluetti Store (use Code DustinAC60 for an additional 3% discount) | Amazon | Amazon Canada | Amazon UK | Amazon Germany
Keywords: Bluetti, Bluetti Review, Bluetti AC70, AC60, B70, Bluetti B80, Review, PV200, 1000W, 768Wh, Jackery Explorer, UPS, Bluetooth, Solar, Demonstration, Test, Photography, Solar Power, Portable, Camping, Hiking, Video Lights, Back up Power
DISCLAIMER: This article and description contains affiliate links, which means that if you click on one of the product links, I'll receive a small commission. As an Amazon Associate I earn from qualifying purchases.