Adding "Punch" Through Exposure
Dustin Abbott
February 25th, 2014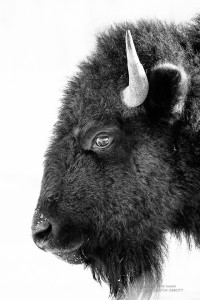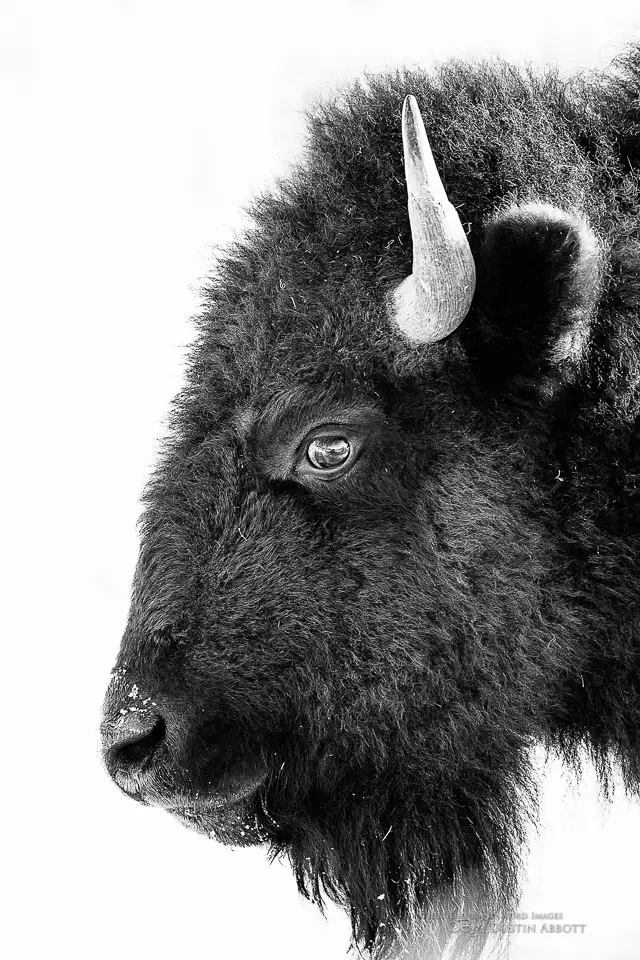 There are some people who make a very good living by buying somewhat rundown houses, renovating them, and then "flipping" them for a large profit.  Not everyone can do this.  Some people try it and discover somewhere during the renovation project that they have made a terrible decision.  But those that are successful often share a certain quality:  they can see the "bones" of a house.  They can look past the clutter and disrepair and visualize what the house could be.
This little article is about applying the same principle to photography.  As a professional photographer I take a lot of pictures, and most of the time I at least think I've taken a great shot when the shutter clicks.  Some photos are amazing all by themselves, but others are a lot like those rundown houses – they have good "bones", but they are lacking a bit of punch.  I have enough experience with both photography and software that I can look at a photo and pre-visualize how it will look when I'm finished.  Experience has taught me how to achieve that vision most of the time, and a big part of getting the vision of the finished product out of my head and into reality is through the use of Alien Skin Exposure. 
Case in point is a recent series of wildlife shots I took with a long lens that I had in my hands for review purposes.  You can read my review of this exciting new lens, the Tamron SP 150-600mm f/5-6.3 Di VC USD Lens for Canon  by clicking here.  I went to a wildlife reserve in Quebec, Canada, because it was January, the temperature was below zero, and there wasn't much wildlife stirring in my "neck of the woods".  I needed subjects for the long glass.  I got a number of really great shots of different types of animals including a number of bison (buffalo).  In my mind I had a vision of how a series of the bison "portraits" would look.  I visualized a very bold and punchy monochrome with high contrast and high sharpening.  Experience told me that Alien Skin Exposure could make that happen.  I'll share two of those photos today, starting with the "before" of where I was with them in Lightroom.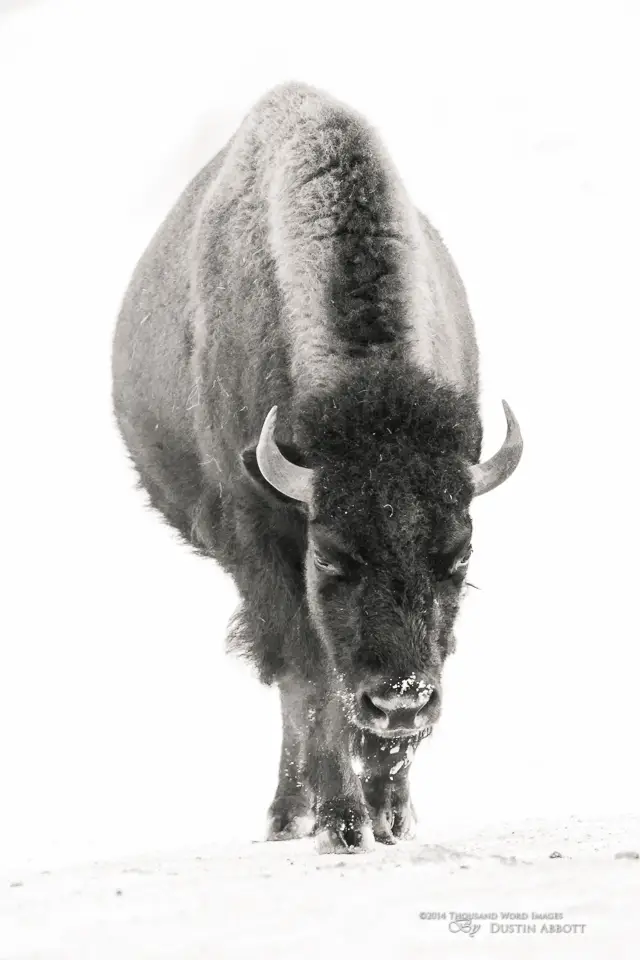 In this first shot, I had already converted to monochrome and eliminated a couple of distracting marks from the high key area around the bison.  This shot is at 600mm, so the animal is highly compressed, giving this a unique look that I liked.  It has good bones…what it needs is punch!  This is where Exposure makes all the difference.  If you struggle with visualization, Exposure simplifies the process by showing you a thumbnail of each preset and how your shot will look with it applied.  It can really help to either discover a look that you want or find the look already in your mind.  In this case I chose an Ilford Delta 100 B&W film and then made a couple of minor tweaks to it on the right hand panel.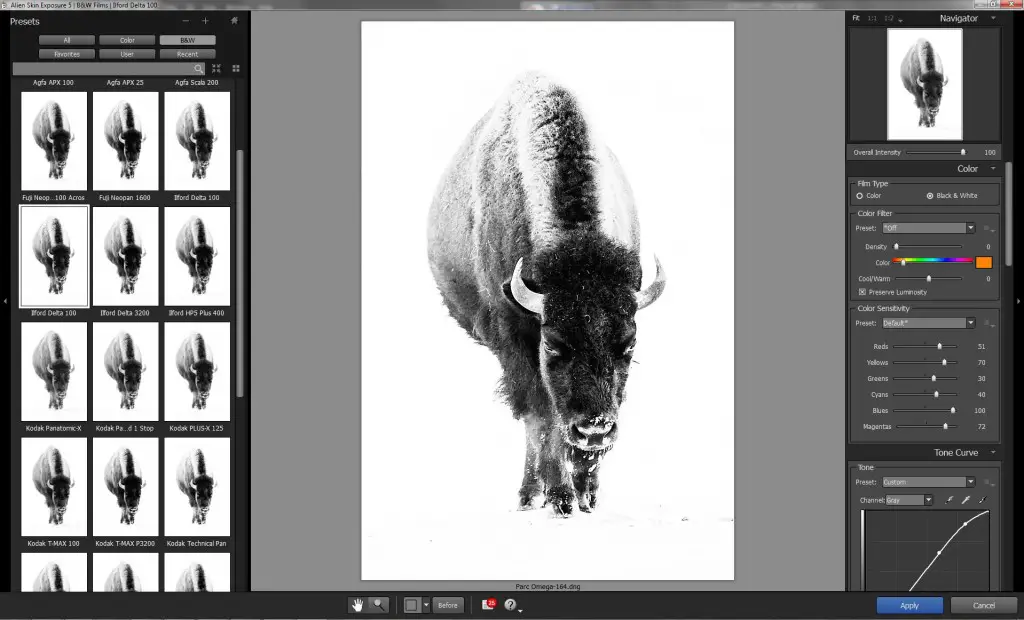 I wanted the textures of the fur and the snow on the muzzle to "pop", so I increased the sharpness.  In a matter of seconds, I had the look I wanted.  I think you will agree that the finished product is much more punchy.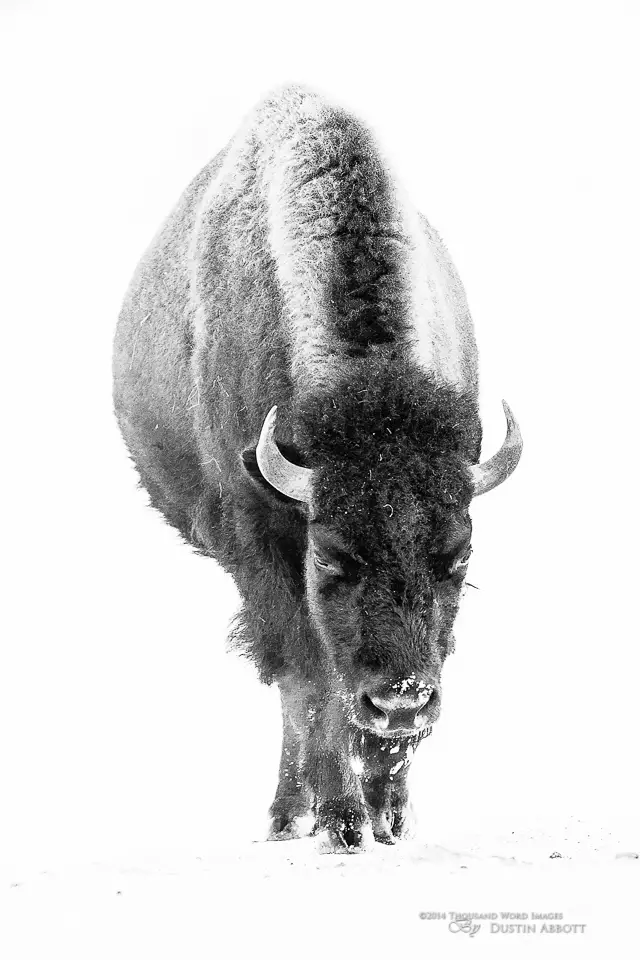 I'll briefly show you another example.  I had another shot of a bison in profile that I knew would work with a similar look.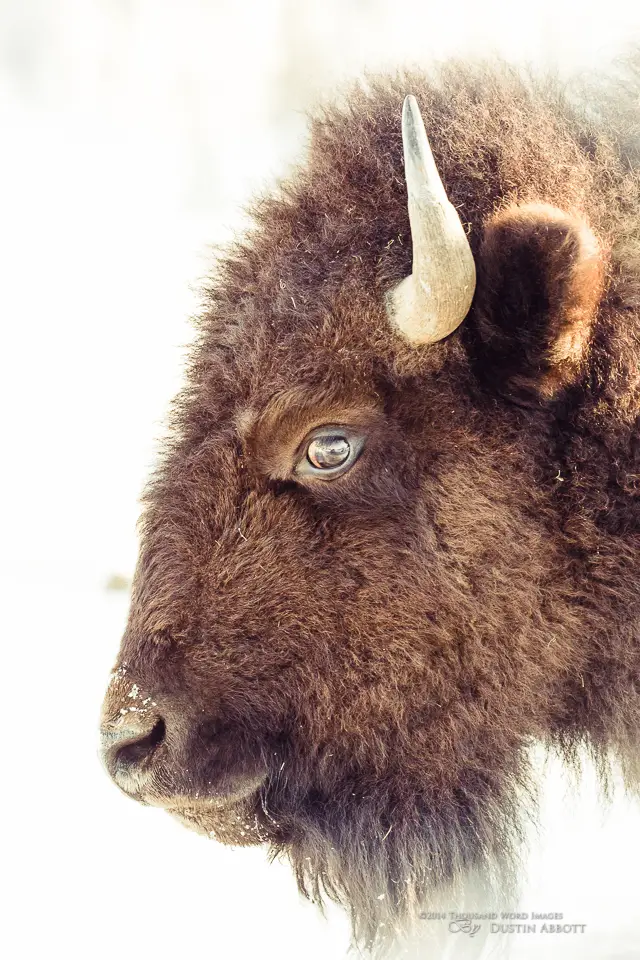 The degree of contrast between the dark fur of the bison and the extreme white of the snow made for a natural high key setting.  It is often very beneficial to have a specific "look" for a series when sharing or displaying your work, and so I had already saved the modified preset with my specific settings (you can download that preset here: B&W Films__Ilford Delta 100).  Exposure easily allows you to do this, and it means that your modified preset can be applied with a single click.  One click later, here is the exact look I wanted: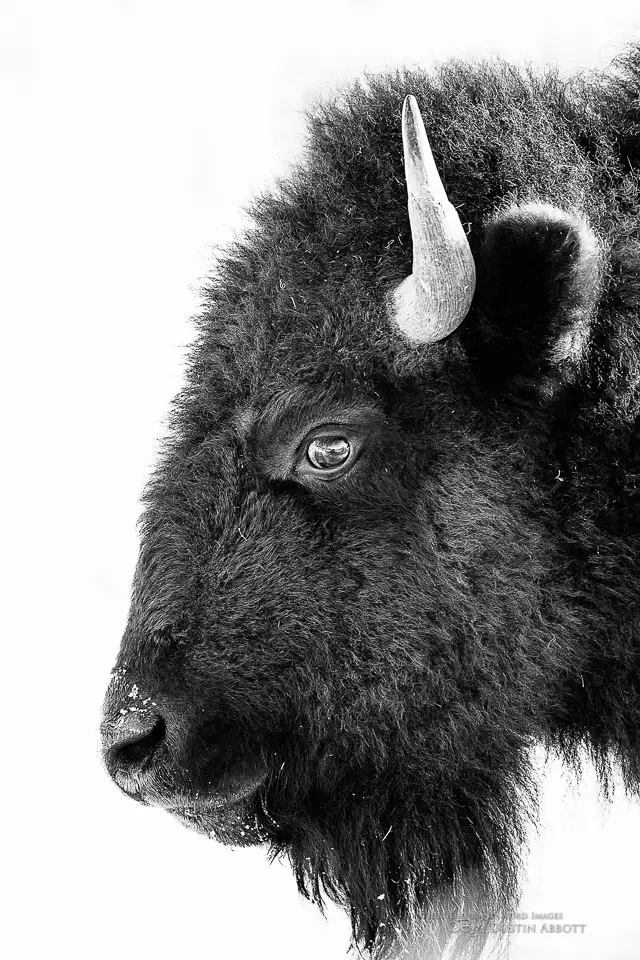 The final shot is of a different subject, but with a similar theme.  This shot of an Arctic Wolf had good eye contact, but I wasn't crazy about the very cool tones in the image.  I imagined the focus of the shot being on the eyes of the wolf and it "emerging" from the high key background.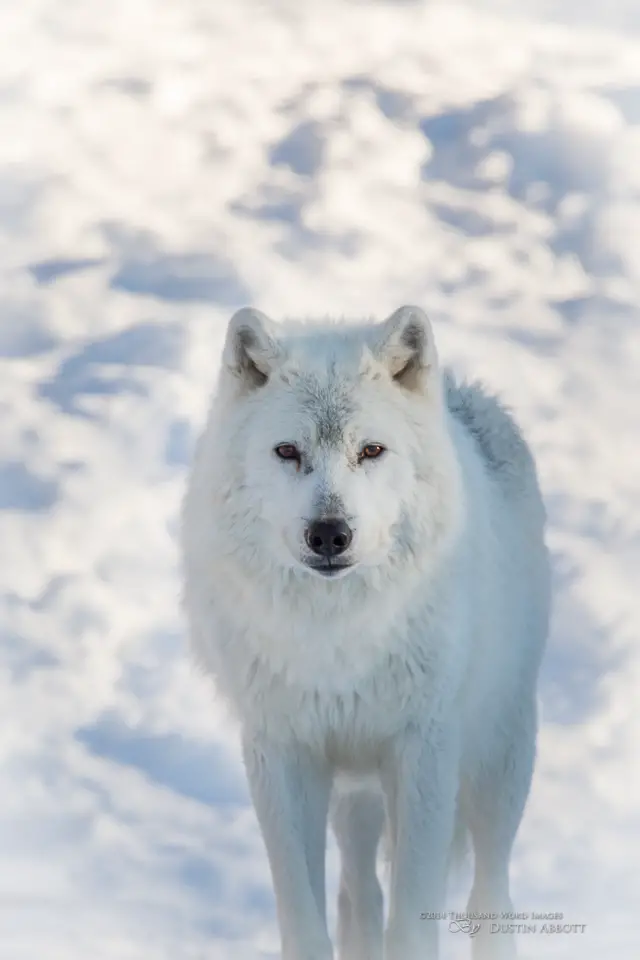 Part of the work (in Photoshop) was to minimize the texture of the snow, but what I really wanted was both the high key look of the series along with with a slight softening of the "depth" in the image.  I was able to achieve my goal through Exposure, adding punch to achieve my vision.  I also did a slight crop afterwards to emphasize the eye contact.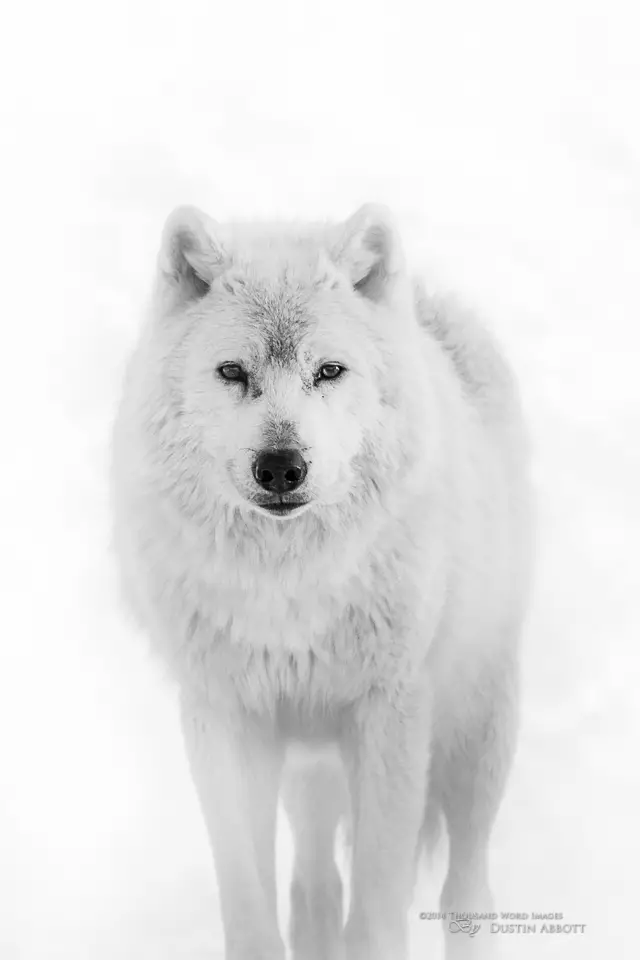 These photos all had good "bones", but a little processing work helps to elevate them to something unique and special.  If you have photos with good "bones" but are lacking punch, I strongly encourage you to give Exposure a shot.  Renovate those shots into something special!  P.S.  Enter code "dustinabbott" to get 10% off any Alien Skin software!
Gear Used:
Canon EOS 6D DSLR Camera (Body Only)
Tamron SP 150-600mm f/5-6.3 Di VC USD Lens for Canon
Adobe Photoshop Lightroom 5 Software for Mac and Windows (Boxed Version)
DISCLAIMER: This article and description contains affiliate links, which means that if you click on one of the product links, I'll receive a small commission. As an Amazon Associate I earn from qualifying purchases.