Quebec City and the Tamron 28-300 VC
Dustin Abbott
August 18th, 2014

I recently reviewed the new Tamron 28-300mm f/3.5-6.3 Di VC PZD Lens, an all-in-one or "superzoom" lens for full frame sensors. I noted that this lens would be a great travel option, and intimated that I trusted it enough that it could be the only lens I traveled with in certain situations. That's all well and good, of course, but it was (at the time) nothing but conjecture. So I decided to put the lens to the test on a getaway with my wife for our anniversary to the fabulous Quebec City. This article combines observations on the Tamron as a travel lens as well as highlights Quebec City in the Canadian province of Quebec as a travel destination.
First, a word on Quebec City for those unfamiliar with it. Ville de Quebec (or just "Quebec" to the locals) is one of the oldest cities in North America. It was founded in 1608 by Samuel de Champlain and remains a cradle of French culture in North America. Both its age and its influences make it a unique blend between European charm and North American sensibilities. It is a city loaded with ambiance and blessed with a beautiful natural situation alongside the St. Lawrence River. The metro area compasses about 750,000 people.
One of the reasons we enjoy visiting Quebec City around the time of our anniversary is that it coincides with two exciting events: the Nouvelle France festival in which many natives dress in French Colonial costumes and celebrate the cultural heritage of the city (the old city has many buildings and shops dating back hundreds of years). People in costume provide great photography subjects, and I had a great time capturing the ambiance. The second event that weekend is an International fireworks competition, held this year over the St. Lawrence with the fireworks launched from a massive barge. It is all choreographed to music and is, put simply, amazing.
Quebec City is also famous for its food. The city is about 95% French speaking (although most are kind enough to help you out if your French is lacking), and the Francophone influence extends to the food. Locals love dining al fresco, and the streets are buzzing with people enjoying great food and company.
Quebec City also has a "circus" tradition, and it is possible to enjoy some great entertainment in beautiful squares, streets, and on the boardwalk near the Chateau. Street entertainers and portrait artists are officially sanctioned, so expect a crowd to gather in various spots to watch acrobats, jugglers, and musicians.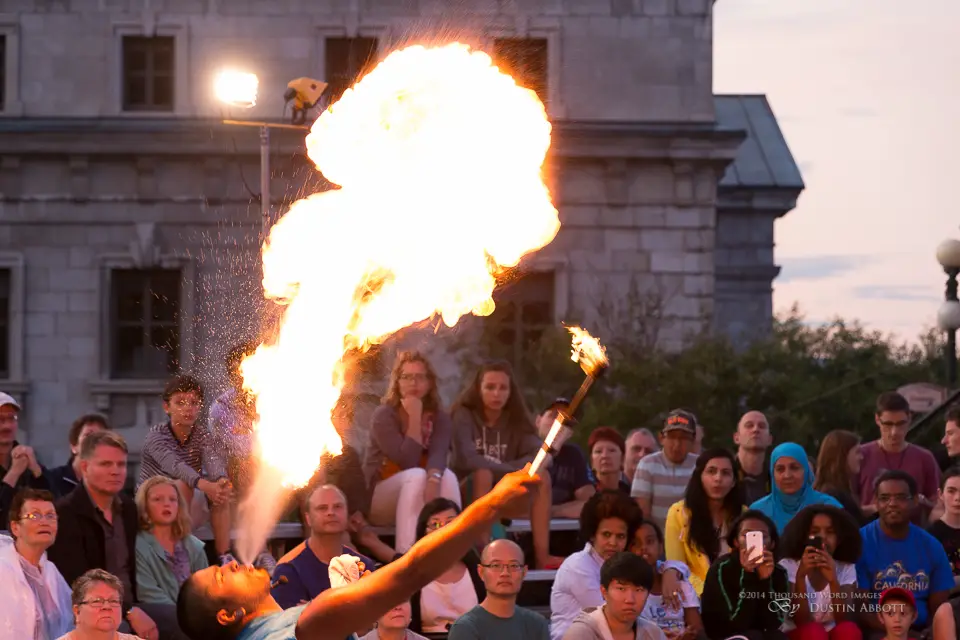 Another local attraction is a beautiful (and massive) waterfall right outside the city. Montmorency Falls is a massive 83m (275 feet) high, and is actually nearly a hundred feet (38m) taller than Niagara Falls, although with less width and volume. It is an impressive site, and has a far less commercialized vibe than Niagara. There are climbing steps up to the summit and a great suspension bridge right over the descent. For those less inclined towards climbing, there is a cable car that does the ascent for you. A beautiful Manoir is also at the top with dining and meeting areas.
Montmorency Falls provided a great opportunity to test not only image quality but also the weathersealing on the Tamron. The base of the falls is a world of wind and heavy mist. Everything gets soaked quickly down there, but after taking my photos and eventually getting out of the "splash zone" I simply wiped down the front element and continued shooting. The Tamron never gave a blip of protest.
Passing rain in the city also gave the lens a brief test, but it didn't affect the lens, either. What it did do, however, was give me some great after storm lighting that helped produce some of my most exciting images of the trip. The wet surfaces of boards and cobbles provided great reflections and enhanced the feeling of the images. It was in this great light that some of my favorite images of the trip were produced.
Some of those centered around what is the jewel in the crown of Quebec City, the massive (and truly gorgeous) Fairmont Le Chateau Frontenac. It has been called the most photographed hotel in the world, and when you are in Quebec City it is easy to see why. It dominates the skyline on the escarpment above the Old City, and the boardwalk, nightlife, and entertainment are all around it. It is very accessible, and being able to get near to it only expands your appreciation for this marvel built for wealthy travelers more than 120 years ago.
I found more great subjects at the Aquarium du Quebec. This large aquarium is near the bridges that come into the city, and has a lot of great indoor and outdoor exhibits. I found the shows with the walruses in particular provided some great photography moments.
I found the flexibility of this lens immensely satisfying on the trip. The ability to go from wide angle (28mm) to telephoto (300mm) meant I could frame just about every shot the way that I wanted.
I also had a 35mm prime with me on the trip for low light situations (Canon EF 35mm f/2 IS USM Lens), but due to great high ISO performance of my Canon EOS 6D camera I found that the slower aperture on the lens rarely prevented me from getting the shots that I wanted even indoors. The lens also does a pretty effective job as a pseudo macro lens for the times that I wanted to shoot blossoms or close details. I compared a few images taken with the [excellent!] prime lens and found that resolution was certainly higher on the prime, but the image quality is really very good with the Tamron despite the very broad focal range. I doubt that anything short of commercial applications would require more than what this lens could provide. It also has very good color rendering, and I brought home a bunch of images that I am very proud of.
In conclusion, this trip confirmed two things I thought I knew already: 1) Quebec City is a great travel destination and 2) The Tamron 28-300mm f VC is a great travel lens. It is light, quite compact, and has a fabulous focal range. Don't believe me about either of these things? Let the images speak for themselves. I have presented them with minimal processing so that you can appreciate the lens (and Quebec) for themselves.
Gear Used:
Canon EOS 6D DSLR Camera (Body Only)
Tamron 28-300mm f/3.5-6.3 Di VC PZD Lens for Canon
Adobe Photoshop Lightroom 5 Software for Mac and Windows (Boxed Version)
Adobe Photoshop Creative Cloud 1-Year Subscription
Alien Skin Exposure 6
Purchasing your gear through Amplis Foto (in Canada) and B&H (in the United States and abroad) through these links helps fund this website and keeps the articles coming. Thank you for your support.

[contact-form][contact-field label='Name' type='name' required='1'/][contact-field label='Email' type='email' required='1'/][contact-field label='Website' type='url'/][contact-field label='Comment' type='textarea' required='1'/][/contact-form]
DISCLAIMER: This article and description contains affiliate links, which means that if you click on one of the product links, I'll receive a small commission. As an Amazon Associate I earn from qualifying purchases.