How to Shoot and Process a Nightscape
Dustin Abbott
April 20th, 2015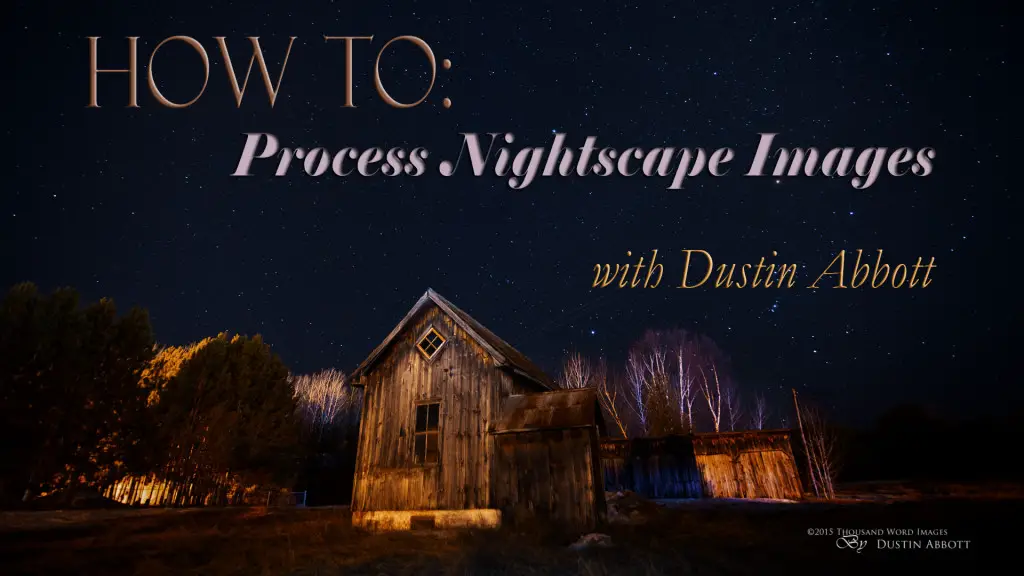 There are few people that don't enjoy the mesmerizing images of the night sky filled with stars over a beautiful foreground scene.  It was a friend of mine, Royce Bair, who popularized the term "nightscape" for these type of images.  Some of my own nightscape images have numbered amongst my most popular images that I've shared.  Almost everyone likes these images, but fewer know how to shoot them.  It's actually not as complicated as you might think, and in this short article that I am sharing in conjunction with my friends over at Alien Skin software I hope to demystify the process.
What Will I Need?
Here are the essentials:
A camera with good ISO performance.  This usually means either a DSLR or quality mirrorless equivalent.  Typically a full frame sensor will give the best results because of its superior light gathering ability.  I prefer the Canon EOS 6D for this type of work.
A good lens with (preferably) a large aperture and low coma.  Coma describes the distortion of distant points of light, particularly along the edge of the image circle.  Coma will make points of light (like stars) looking like flying ducks or flying saucers.  Not good!  My new favorite lens for this kind of work is the Tamron 15-30 f/2.8 VC (read my review here), and I also recommend the Samyang/Rokinon 14mm f/2.8 as a budget option (you can read that review here).
A good, steady tripod, particularly one that will allow you to adjust the camera up (towards the sky) even in portrait mode.  I chose the The Vanguard ABEO Pro 283AT with the Vanguard GH-300T Pistol Grip Ball Head (you can read my review in PhotoNews).
What you don't need is a cable or remote release, for the simple reason that the optimum exposure is about 15-20 seconds.  Longer exposures (those 30 second or longer) will begin to show movement in the stars (star trails are a different kind of shot).  I also recommend having a good headlamp or flashlight for some light painting (and to help you see in the dark!)  There are also helpful apps like SkyLive that help you plan which nights are going to be your best bets for getting good results.
Shooting Tips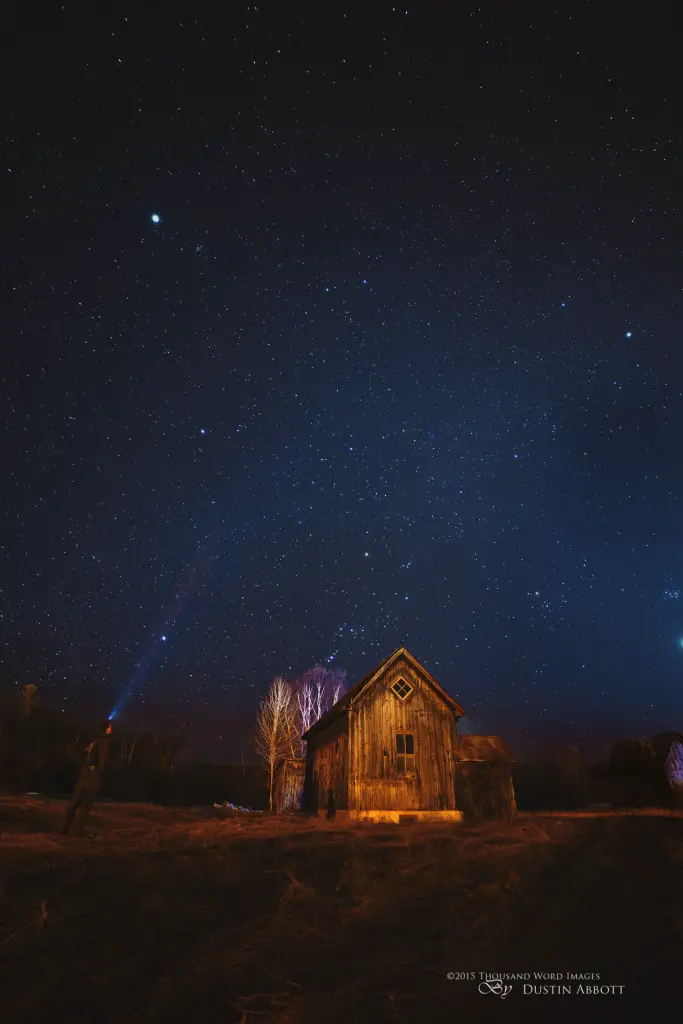 As cool as shooting the stars is, a good photographer knows that he/she will need a good foreground/background subject to anchor the night sky into reality.  Mountains are always good, along with rock formations, abandoned structures, a weathered tree, etc…  The area I live in is short on mountains, but has a number of old farmhouses that in the process of falling apart, and they work well for my purposes.  Here is a gallery of nightscapes that I have previously shared to give you an idea of what I am talking about.
I have found that a headlamp is more helpful than a flashlight during the setup stage simply because holding a flashlight leaves you with only one free hand.  The image above is a selfie I took with a single exposure – it shows a secondary nice purpose for using a headlamp.  I find that a typical camera setup will be:
ISO 1600-3200
Shutter Speed 15-20 seconds
2 Second Timer mode
Aperture value f/2.8
It's a good idea to find out where infinity focus is on your lens in advance, as you can't always trust the hard stop (where you physically turn the focus ring to its maximum position).  During the daytime autofocus on the clouds and then look at the distance scale.  This should give you a pretty good idea of where true infinity focus is for your lens.  You can also choose a very bright star at night and use Live View 10x magnification and make sure that the point of light becomes small and hard rather than large and soft (out of focus).  I will typically then turn off autofocus on the lens to make sure that the camera doesn't try to acquire focus after that and ruin your hard work.
If you have a foreground subject, it might be a good idea to shine your light on it and make sure that your composition is decent.  It can be hard to determine this in the dark as the camera probably won't be able to truly simulate that extreme an exposure time.  Illuminating your foreground will give you some feedback on the LCD of your camera.  Take a test shot with those settings, and then review your result.  Sometimes ambient light provides all the light you need on your foreground, but if you need more, simply start a new exposure and then play your light over the foreground subject for a count of 3-4 seconds and then quickly get it off the subject.  Too much light will cause white outs, and you will be surprised by how little light is needed to make a big difference.  Larger foreground subjects may require a more elaborate lighting setup, but we will keep it simple here for our purposes.  Some trial and error will help you get a sense for your own unique setting.
Processing Nightscape Images
Once you have acquired your images, a few simple processing steps will make a big difference.  I've put together a little video processing tutorial that I will share with you that will help you get the most out of your nightscape images.  Here is the before photo that we will start with (I shot this with the Tamron 15-30 VC I mentioned above).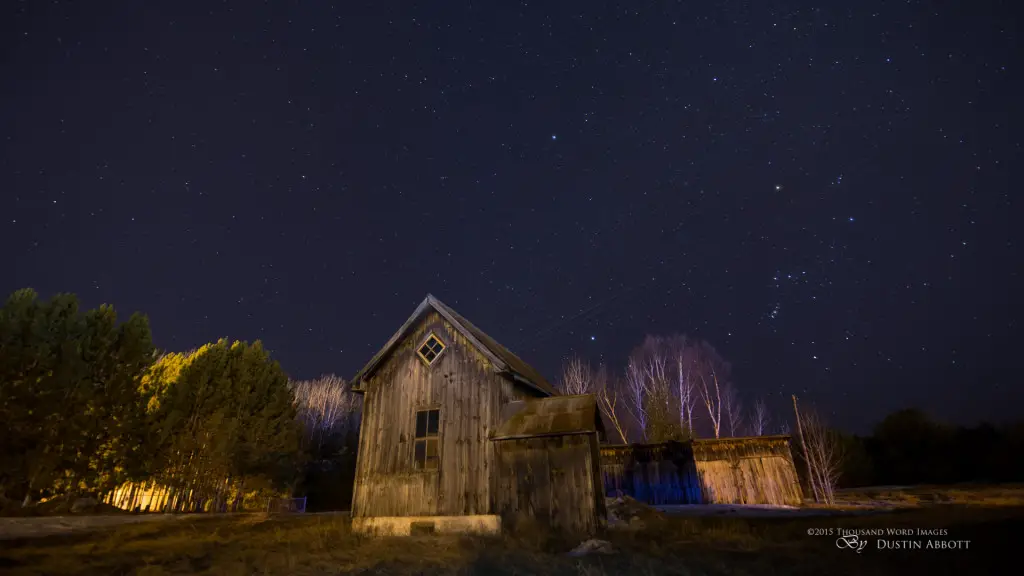 Here is the final image when the processing steps in the video have been applied.  You can see how that the finished image has more visual punch both in the foreground and in the night sky.  I should note that this photo was shot in less than ideal conditions.  The SkyLive app I mentioned above gives you a rating based on the conditions of where you are shooting, and this night only received a 63% rating, so you can image how much brighter the stars would be on a good night.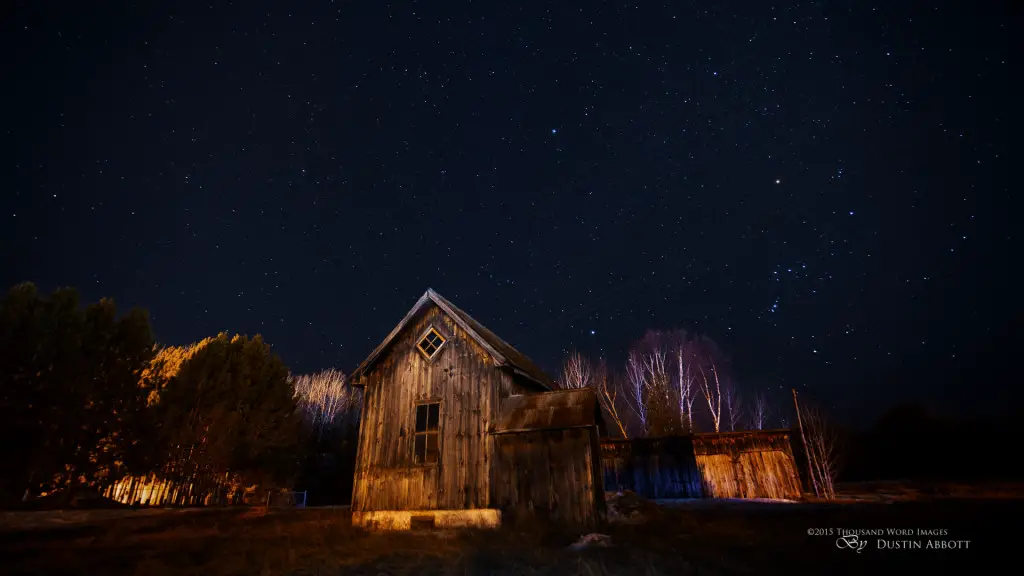 I hope this little combination of photography and processing tips can help you to go out and make some amazing nightscape images of your own.  There are few types of photography that are more rewarding, and getting images like this are easier than what you might think!
Gear Used:
Canon EOS 6D DSLR Camera (Body Only)
Tamron SP 15-30mm f/2.8 Di VC USD Lens (Canon EF)
Adobe Photoshop Lightroom 5 Software for Mac and Windows (Boxed Version)
Adobe Photoshop Creative Cloud 1-Year Subscription
Alien Skin Exposure 7 (Use code "dustinabbott" to get 10% off)
Purchasing your gear through B&H and these links helps fund this website and keeps the articles coming. Thank you for your support.

Great News! I can now offer a 5% discount on all purchases at Amplis Foto, Canada's Leading Photographic Supplier. Please enter discount code: AMPLIS52014 in your cart. It is good for everything in your cart, and is stackable with other coupons, too! It will take 5% off your entire order! Proceeds go towards keeping this site going and providing you with new reviews!
DISCLAIMER: This article and description contains affiliate links, which means that if you click on one of the product links, I'll receive a small commission. As an Amazon Associate I earn from qualifying purchases.