Tamron SP 85mm f/1.8 Di VC USD Review
Dustin Abbott
May 9th, 2016
The One We've Been Waiting For?
Tamron made a splash last year when they announced and then released the 35mm and 45mm f/1.8 VC lenses in their new line of SP (Super Performance) primes.  The photography community is programmed to think of prime lenses with a maximum aperture of f/1.8 as budget lenses, but the Tamron SP primes are a whole new breed, combining incredible optics with professional grade, weather sealed build and image stabilizers.  Those lenses received first acceptance and then acclaim from reviewers and photographers based on their merit.  Tamron's refreshed 90mm f/2.8 VC in the new SP build has been very positively received as well.  But the announcement that really got a lot of us excited was this lens, the Tamron SP 85mm f/1.8 Di VC USD.  Is the 85 VC the lens we've been looking for?
An 85mm lens is an indispensable tool for any photographer, but particularly for portrait photographers.  It is a very flattering focal length and provides a beautiful perspective and the potential of excellent separation of the subject from the background.  Canon and Nikon shooters have typically had two choices.  One is the f/1.8 variant that is affordable but has a number of optical flaws and a consumer grade build, while the other is an f/1.4 or f/1.2 premium lens that costs four to five times as much.  Tamron is targeting the middle ground and the many photographers that want a lens with premium performance without paying a premium price.  Sigma has had the only real option there with its EX 85mm f/1.4, but a lot of photographers are overlooking it in hopes that an 85mm f/1.4 ART replacement is soon coming (though no such announcement has been hinted at from Sigma).  Can Tamron deliver the lens that everyone is looking for instead?
Want to watch your review?  Check out my YouTube video review here:
Check me out on:
Google+: | Facebook: | Twitter: | Flickr: | 500px: | Sign Up for My Newsletter :
First Impressions and Build
At first blush the 85 VC is is very similar in overall form to the Tamron 45mm f/1.8 VC. It has an almost identical length (45mm is 3.6"/91.4mm while the 85mm is 3.59"/91.3mm) and carries the same design language as the other SP primes. A fairly constant width barrel (it doesn't really flare out at any point save right near the lens mount) with the same, clean satin finish in a lightweight, aluminum body with the platinum colored accent ring near the mount (Tamron calls this "Luminous Gold"). There is a similar wide focus ring with slightly rubberized ribs that moves along nice and easily, though without the exceptionally big focus throw of the 35/45VC primes. The lens has the same two switches (AF/MF and On/Off for the VC) with a premium look and feel along with a distance window (but no hyperfocal markings). Also shared with the other SP primes is the thorough weather sealing, which includes not only a rear gasket near the bayonet mount but also internal seals at key junctures and an expensive fluorine coating on the front element.  That coating not only helps with the weather resistance but also makes the front element very easy to clean.
You can see my video breakdown of the build and design of the lens here:
If you look a little closer, though a number of differences are revealed. First of all, the 85 VC is much thicker in girth. The 45 VC is 3.17"/80.4mm around, while the new 85 VC is 3.34"/84.8mm around. This is to accommodate the much larger glass elements that are required for a maximum aperture of f/1.8 at this focal length. As you can see from this picture, for example, there is a LOT more glass visible in the 85 VC.
As an aside, I discovered an advantage for that little extra bit of barrel width around the filter threads. When using a circular polarizer and the hood I found that I had some nice room to reach in and rotate the polarizer without being right up against the wall of the hood. Intentional? I don't know, but it worked out nicely.
That extra girth (and glass) comes at a weight premium. The 45 VC weighed in at 1.2lb/544g, but the weight jumps on the 85 VC to 1.54lb/700g. This is a significant premium over the Canon 85mm f/1.8 USM and its 425g weight, but the Tamron is not only vastly superior optically but also sports a weathersealed, metal construction and an image stabilization system.  (Many will want to know how these lenses compare, and, having owned the Canon for many years, I can safely say that the Tamron exceeds it in every measurable metric including overall look of the images.) The Tamron is slightly shorter and lighter than the Sigma EX 85mm f/1.4 (86.4mm long and 725g in weight), though the Sigma has a larger maximum aperture, obviously. The Tamron has the edge in build, however, and some may consider the inclusion of the image stabilizer more than adequate compensation for the slight loss of maximum aperture. The weight of the Tamron stays below the "onerous" threshold and compared to the Sigma 50-100mm f/1.8 lens I'm also reviewing it feels downright svelte. The stubby size keeps the weight close to the lens mount, so the lens doesn't feel front heavy at all and balances nicely on the camera.
This lens becomes the first full frame compatible 85mm lens (for DSLRs) to receive an image stabilizer. Despite having a fast aperture already, the VC (Vibration Compensation) is still quite welcome. For one thing it makes a noticeable difference in the viewfinder, which remains rock solid and inspires confidence in composition. The implementation of the VC is very nice and has no jumping at startup and also operates very quietly. Only when I put my ear right next to the barrel can I hear a light whirring inside.
I was actually remarkably impressed by how well the VC works on this lens. In my test sequence without VC I had a perfect result at 1/100th of a second but could see a difference even at 1/80th second. Everything beyond that point got steadily worse. With VC on, however, the results were remarkably different. Everything remained perfect down to 1/8th second and I even achieved some near perfect results down to .3 second. This exceeded my expectations and left me very impressed. As the megapixel count rises in camera bodies the need for image stabilization only increases. Motion blur is much more evident on high MP bodies. Tamron's inclusion of VC on this lens should be of primary importance to shooters who use such bodies.  This shot was captured at .3 of a second, handheld.
Tamron has managed to maintain the 67mm front filter thread shared with the 35mm and 45mm VC lenses, which is a nice touch. The 85 VC has a slightly more complex optical formula and has 13 elements in 9 groups (45 VC has 10 elements in 8 groups). It has an aperture with nine rounded blades that will help keep the aperture circular when stopped down but will also produce nice 18 point sunbursts when stopped down further.
One area where this lens diverges from the other lenses in the Tamron SP prime series is in its close focus/maximum magnification performance. The 35mm f/1.8 VC had an amazing .40x magnification figure (class leading), while the 45mm f/1.8 VC had an also impressive .29x magnification (also class leading). The 85mm f/1.8 VC can technically claim class leading magnification as well, but that is still a far less impressive figure due to the nature of 85mm lenses. It can focus down to 31.5"/80cm which results in a .14x magnification figure. Not great, I know, but other 85mm lenses range from .10x-.13x, with the majority falling around .12x. The tradeoff for losing the incredibly close focusing ability of the other two lenses is that autofocus is a bit snappier (see the section on AF below).
One final area that I will point out a distinction is that the first three lenses in the series very boldly displayed badges on the lens body saying, "Designed in Japan" with smaller badges on the barrel and lens hood stating, "Made in Japan". The copy of the 85 VC that I'm reviewing has the same "Designed in Japan" text but on the lens barrel says "Made in China" while the hoods says, "Made in the Philippines". Many camera companies are moving some of their manufacturing to new plants in other countries. That's understandable, but the Japanese have a particular pride in their manufacturing process that frequently results in a high standard. I only hope that this lens proves to have a similar high standard of build. There is no apparent difference in the build that I can tell, but it will take widespread distribution to determine if more copy variations have been introduced by this change.
As per normal the lens includes a hood (solid rather than petal shaped in this case) but not any kind of case. The hood is larger and deeper than the 45mm's, so with it in place it is the longer lens of the two. I use an EasyCover 110x190mm lens bag that is a nice fit for some extra protection. This is a great looking lens, and here is a little gallery of other images of it:
Autofocus Tests and Quirks
When I reviewed the 35mm and 45mm SP primes I found that their autofocus skewed towards accuracy over speed. They focused smoothly and accurately, but (particularly the 45mm) slightly on the slower side. I frankly felt that those lenses might actually have benefited from the inclusion of a focus limiter due to their extremely close focus abilities. As I've mentioned, the 85 VC lacks the extreme close focus capability of those lenses, so the trade off is a bit faster focus, particularly in the big focus shifts.
An 85mm lens is very demanding on the autofocus system, particularly at large apertures.  The depth of field is often very, very thin, and just a bit of focus shift can result in unsatisfactory results.  I've been delighted to have extremely accurate results during my review period.
The lens has focused very accurately for me (it required minimal microadjustment), but autofocus speed is still not top tier. The lens arrives quickly at the destination, but hesitates for a split second (fine tuning?) before focus lock is signaled. This was true on multiple camera bodies. The process is still quick, but there is a split second of frustration sometimes where it feels like focus should be locked but still isn't.
But then I discovered something very interesting!
While doing my handholding test I switched off the VC (Vibration Compensation) for a test group without the stabilization. After a few shots from that series I realized that the AF was locking on without the hesitation. I then intentionally began to shoot with it on, then off, then I switched to a different camera body (Canon 80D), and did the same. The results were all similar. The lens' hesitation before final lock disappears (for the most part) when the VC is turned off…which begs a couple of questions.
Is the hesitation caused intentionally so that the VC has time to fully engage and produce the best result?
Is the hesitation caused unintentionally by the VC engaging and producing some slight movement?
The good news is that if you are in situations where the VC is not needed you may be able to accelerate your AF lock by turning it off.
An early internet report/review stated that the optics of the lens were great…but only with the VC off. This review stated that having the VC engaged negatively impacted the image quality. I'm undecided whether or not this is true. On a few occasions where I compared the images side by side I felt like the image quality was better without the VC enabled, but in other head to head comparisons I couldn't tell the difference. Still, that combined with the other issue I've just detailed leads me to…
My personal conclusion is that I'm happy to have the option. There are some situations where the advantages of using the VC are tremendous, but I think if I get my own copy I'll simply switch it off in those situations when I don't need it. That will give a little extra battery life, too. This is a policy that often works well with other lenses, too.
Because Tamron's Tap-In Console (think Tamron's version of the Sigma USB dock) has not yet been released, it remains to be seen how much all of this can be "tinkered with" via the console, but there is a possibility that this will allow you to slightly tailor VC behavior to your own shooting style.
I've read another reviewer's report that they encountered focus shift when stopping down the image, but I haven't been able to recreate that issue myself.  I can't account for what others find, but I'm certainly satisfied with the copy I reviewed in this regard.
I also tested the 85 VC in AF Servo mode on both an 80D (excellent AF system) and the standard 6D body that I was doing most of the review on (mediocre focus system). The results were promising. In AF Servo mode with all points activated on the 6D I was able to accurately track my son running full tilt towards the camera until the final few frames where he was basically too close. There was 24 frames within the acceptable focus zone and 22 of those were essentially perfectly focused. There were two somewhat random misses about ¾ of the way through the series. Most importantly, the focus continually moved in the right direction and the background was increasingly out of focus. I used TV mode so that I could set a good high shutter speed (1/800th) and that gave me an aperture of f/2.5.  You can see some of those burst rate examples in the video review.

I ran a couple of series on the 80D. I used the center group zone (Large) and used TV mode, setting the desired shutter speed at 1/500th second. That gave me an aperture of f/3.2 (for most shots). These bursts came out to 28 shots (I stopped shooting sooner as the crop factor meant that my son filled the frame faster). One set I shot with VC engaged, the other with it off. One series had a couple of interspersed misses while the other was essentially perfect. The good news here is that the lens did an effective job tracking for me on multiple bodies.  Here is but one of those sample images: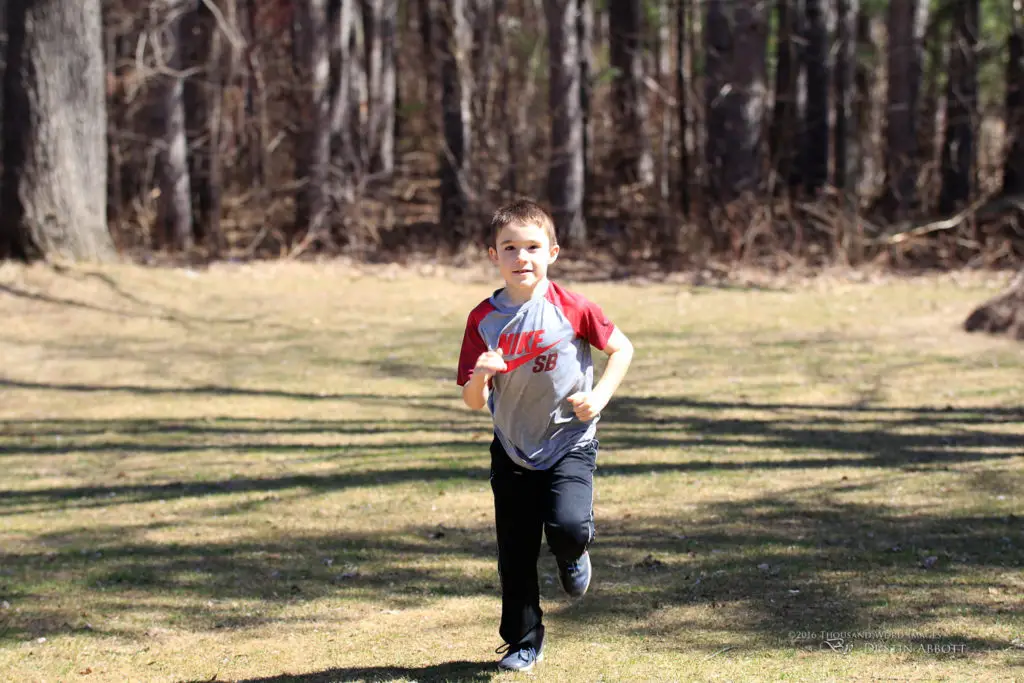 I've shot a few portrait sessions with the lens during my review period and was extremely satisfied with the focus accuracy in "One Shot" mode. Excellent optics are only as good as the focus, and it's nice to see that Tamron has both things working together here.
Image Quality
The image quality is pretty close to perfect from this 85 VC. Excellent sharpness across the frame that is consistent in a way that few lenses are…and that's wide open. Surprisingly there is a noticeable gain in both sharpness and contrast by stopping down the tiny bit to f/2, not to mention a reduction in vignette. The vignette from the lens is noticeable but not excessive. In the extreme corners it will reach a little over two stops and is noticeably better than the Zeiss Milvus 85mm f/1.4 that I recently reviewed in this regard. The vignette is very smooth and linear so may actually produce a desirable effect…particularly for portrait photographers. I used a slim circular polarizer quite a bit without any additional vignette that I could detect.
I find that the RAW images from the 85 VC can handle a lot of sharpening. It's almost as if they come out slightly flat but with a large latitude for "pumping up" in post. JPEGs, by contrast, are extremely crisp, but that mostly comes down to the camera's settings. This strikes me as a very good option in a portrait lens, as you can selectively sharpen where you want while leaving other areas (skin, for example) less sharp.
The amount of resolution in a landscape image like this at f/1.8 is truly stunning – it really has to be seen at a pixel level to appreciate it (which you can see in the video review):
Here's one pixel level sample from the extreme left side of the image – the amount of detail and contrast is very impressive.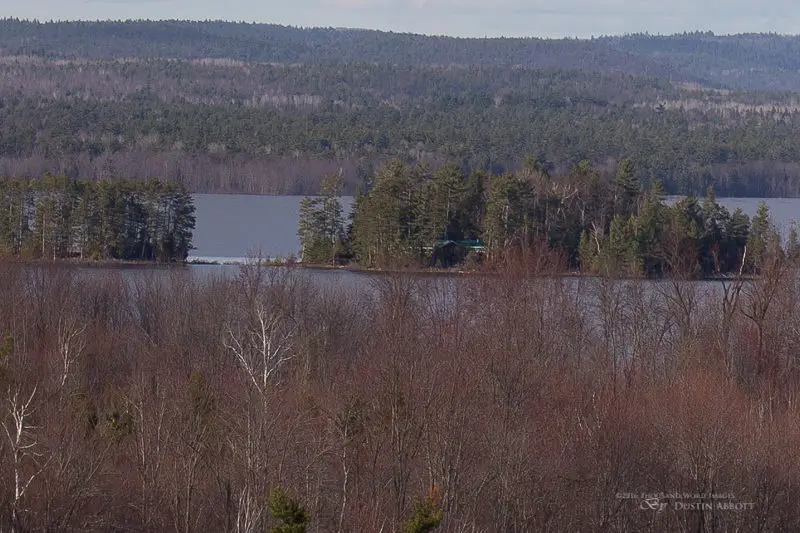 Equally positive is the very neutral color rendition of the lens. When comparing it side by side with the Sigma 50-100mm f/1.8 (another impressive lens!) I found the Sigma trended a little warm while the Tamron remained nicely neutral. The color rendition reminds me of a Zeiss lens.  This lens makes for an outstanding short telephoto landscape option…and here's a bit of proof:
The 85 VC employs Tamron's BBAR and eBAND coatings to reduce chromatic aberrations, flare, and to improve contrast. I've been impressed with the lenses using these coatings in those regards for the most part, though the chromatic aberrations in the 45 VC are one of my three least favorite things about it. The 85 VC is a champ when it comes the chromatic aberrations. They basically just aren't there even in demanding situations, so no complaints there. Contrast is likewise very impressive. Flare resistance is pretty good, though not as exceptional as the 35/45mm cousins. There is a bit of veiling at wide aperture with a slight prismatic effect, though I suspect that many people will find that flare pattern quite artful.
I actually preferred the image with the effect to the one I shot without it. Stopped down that rainbow colored ghost can become either more pronounced or disappear altogether depending on how you position the sun. I'm actually enjoying the ability to produce a little flare without the penalty of strong ghosting effects to spoil the party.  This image, for example, reminds me of some of the look from a wonderful vintage prime like the SMC Takumar 50mm f/1.4 – except without all the optical defects!
If you position it right, the 18 pointed sunburst from the 85 VC is really very lovely and definitely something worth working into some of your photos.
This is a prime portrait length, of course, and so one of the key things that I wanted to test is its ability to produce quality portraits. I was delighted with my initial results. Autofocus accuracy is incredibly important for portraits. I focus on the eyes, typically, and so I have very high expectations of there being a great deal of detail there when I zoom into faces. A well-focused portrait gives you tremendous latitude for cropping either for prints or a completely different look. My focus accuracy was excellent, meaning the full resolution of the lens was on fine display…and there is a lot of detail there.
Here's a crop from this portrait: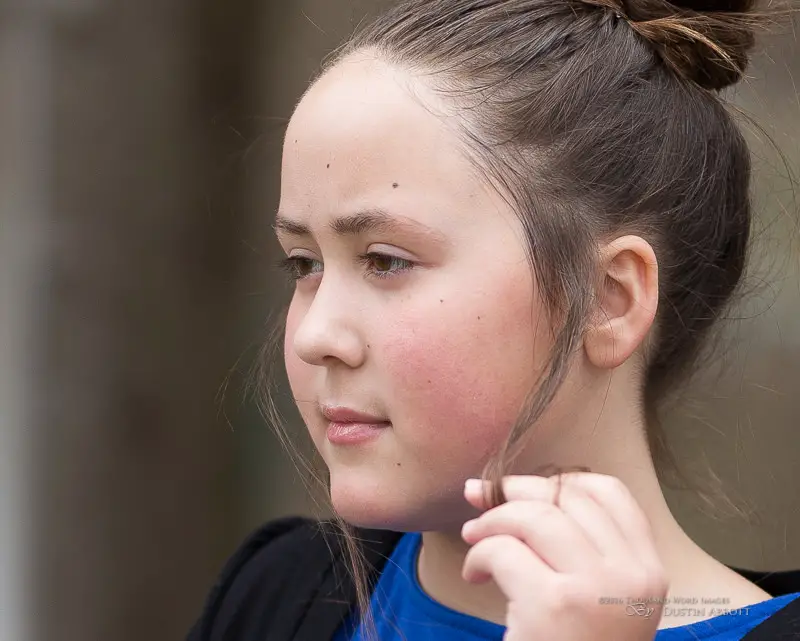 Here's a studio sample at f/2 along with the crop – as much detail as you could ever want!
But sharpness isn't everything in portraits. Perhaps the most popular portrait lens among portrait photographers is the Canon EF 85mm f/1.2L II. The Tamron blows it away in sharpness and contrast, even when the Canon is stopped down to f/1.8. The Canon doesn't really catch up in absolute contrast and sharpness until f/4, but that's not really the point. Portrait photographers don't love the 85L II because it is the sharpest lens on the planet (it's not). They don't even buy it because it doesn't have any other optical flaws (it actually has loads of chromatic aberrations). No, they buy the 85L II because of the look of the images. Call it drawing or rendering. It is special, and so people buy it. Portrait photographers don't shoot test charts…they photograph people. What matters in a lab isn't necessarily what matters in the real world.
While I don't believe that the 85 VC has quite the magical rendering of the 85L II, I do think that portrait photographers will find a lot to love about the lens. The very even sharpness of the lens means that you can compose with the subject pretty much anywhere that you like. There is a nice, smooth transition to defocus that really helps the background to melt away and so that you can focus on the subject.
The 35/45 VC lenses suffer from somewhat busy bokeh highlights. "Bokeh balls" show concentric circles within, often referred to as "bokeh balls". The overall look of the bokeh is actually very nice, without hard edges, but when there are bright highlights in the frame the "onion" look detracts somewhat. The 85 VC has no such issue. The bokeh highlights are very smooth without any distracting busyness, and the inner line around the circle is also nice and soft, which results in a smooth real world result that, because of the soft edges, means that bokeh is not harsh or distracting. This further helps the usefulness of the 85 VC as a portrait lens. I was really impressed by how well backgrounds melted away when shooting portraits, and the lens has a beautifully soft rendering of those areas that really reminds me of some of my favorite vintage primes. Nothing in the background is distracting or harsh, but the rendering is nicely artful from the lens. That's something of a rarity in the pursuit for exceptionally sharp lenses in the modern era. Tamron has accomplished the rare feat of having both.
The one area where the Tamron is not going to be able to match lenses with the larger apertures is in the ability to isolate the subject…but is that really as big a deal as you might think? At six feet (head and shoulders height), the depth of field is under 2 inches. At f/1.4 it is right over 1.5 inches while at f/1.2 it drops to a little over 1.3 inches. No big deal there, as even the largest figure is probably more shallow than what is ideal. Far more important, however, is the depth of field when you double that distance of the camera from the subject to 12 feet. At f/1.2 the depth of field is still only 5 ¼ inches – perfect for amazing subject isolation. At f/1.4 it is still only 6.13 inches, and at f/1.8 it rises to a still fairly shallow 7.88 inches. So even at 12 feet the difference between f/1.2 and f/1.8 is 2 ½ inches and 1 ½ inches between f/1.4 and f/1.8. There is a difference here, yes, but perhaps not a big enough one to make a massive difference in the look of your portraits. I found the subject isolation at about 14-15 feet still very good with the Tamron.
The longer focal length dictates that an f/1.4 aperture isn't as important to achieve subject isolation as it is on a wider focal length.
I love the "look" of some of my favorite vintage lenses, but I'm not crazy about their lack of sharpness or chromatic aberrations. The Tamron 85 VC manages to combine a lot of the charm of those vintage lenses…
…but adds the incredible resolution, low chromatic aberrations, and excellent contrast of a modern lens along with the convenience of autofocus and VC. That makes it a winner in my book!  I strongly urge you to visit the Lens Image Gallery for more photos.
Conclusion
A lot of photographers have been jonesing for new Sigma 85mm f/1.4 ART, but there has been no clear indication that such a lens is coming.  Sigma's current 85mm f/1.4 is a very competent lens and already has a fairly hefty price tag, not to mention it was only released about 5 years ago.  In the meantime, however, Tamron has jumped into that vacuum with a lens that, frankly, Sigma will be hard pressed to top.  A Sigma ART lens would definitely have an f/1.4 aperture and undoubtedly would be very sharp, but if the series standard proves true, it would be unlikely to have either weather sealing or Sigma's OS (optical stabilizer).  I personally see no reason to wait for a hypothetical lens when we have such a great lens here that already undercuts the price of the current Sigma lens by $220 (the Tamron's US release price is $749).  Clearly the lens is not cheap, but when you look at the combination of superior optics and build it seems like a strong value.  Plus, it can produce incredibly creamy rendering like this!
Tamron has charted their own prime lens path with this new SP prime series, and it is clear that they have been doing their homework in the development of these lenses. Their decision to produce prime lenses with stabilization but slightly smaller maximum apertures has allowed them to keep the size moderate with these lenses despite resolution figures up there with the very best. Their choice to really invest in serious weather sealing for their lenses helps set them apart from the competition.  The release of the Tap-In console will help eliminate one of Sigma's current edges over Tamron. In the 85mm VC I think they have hit a new high for quality optics in the rendering and look of the images, producing a lens that manages to achieve the rare feat of combining excellent sharpness (this lens competes with the class leading Zeiss Otus and just about holds its own) along with beautiful bokeh rendering. The autofocus accuracy has proven very good and the speed betters the 35/45mm twins but doesn't quite reach the level of, say, a Canon EF 135mm f/2L. Having an image stabilizer is a nice bonus on a lens like this both in the ability to stabilize the viewfinder but also to give you some flexibility to play with slow shutter speeds (static subjects and/or panning).  I've loved shooting with the lens, and can't help but think that one of these is going to make it into my personal kit.  The one thing that might give some photographers pause is the maximum aperture of f/1.8 rather than f/1.4, but this is a smaller issue than one might imagine. This is a professional grade lens despite the f/1.8 aperture, and the Tamron SP 85mm f/1.8 Di VC USD should be seriously considered by everyone looking for a quality portrait or short telephoto lens. What's next, Tamron?
Pros:
Exceptional resolution from f/1.8 on
Very even sharpness across the frame
Great color rendition
Beautiful bokeh, drawing, and overall rendering
Good flare resistance
No discernible chromatic aberrations for field use
Inclusion of the VC system, which works effectively
Beautiful design and build quality
Weather sealing
Quick, accurate autofocus
Class leading six year warranty in North America, 5 years in Europe
Compatibility with the Tap-In Console (not yet released at publication of this review)
Cons:
In some situations the VC is better left off
Smaller maximum aperture than true competitors
First of the SP prime series not made in Japan
Gear Used:
Canon EOS 6D DSLR Camera (Body Only)
Canon EOS 80D
Tamron SP 85mm f/1.8 Di VC USD In Canada (Use code AMPLIS52016DA to get 5% off)
Tamron SP 85mm f/1.8 Di VC USD United States and World
Adobe Lightroom CC Software for Mac and Windows (Boxed Version)
Adobe Photoshop Creative Cloud 1-Year Subscription
Alien Skin Exposure X (Use Code "dustinabbott" to get 10% anything and everything)
Purchasing your gear through B&H and these links helps fund this website and keeps the articles coming. Thank you for your support.

Great News! I can now offer a 5% discount on all purchases at Amplis Foto, Canada's Leading Photographic Supplier. Please enter discount code: AMPLIS52016DA in your cart. It is good for everything in your cart, and is stackable with other coupons, too! It will take 5% off your entire order! Proceeds go towards keeping this site going and providing you with new reviews!
Check me out on:
Google+: | Facebook: | Twitter: | Flickr: | 500px: | Sign Up for My Newsletter :
DISCLAIMER: This article and description contains affiliate links, which means that if you click on one of the product links, I'll receive a small commission. As an Amazon Associate I earn from qualifying purchases.