Zeiss Batis 85mm F1.8 Review
Dustin Abbott
August 28th, 2019
I recently completed a six-way comparison of all the currently available autofocusing lenses for Sony's full frame mirrorless (FE) platform. These lenses cover a wide range of price points, from $379 (all prices USD) for the Viltrox AF 85mm F1.8, to $598 (Sony 85mm F1.8), $699 (Samyang AF 85mm F1.4), $1199 (Zeiss Batis 85mm F1.8 and Sigma 85mm F1.4 ART FE), and, then at the top of the pile, is the Sony 85mm F1.4 GM (G Master) at a whopping $1798! The oldest and most respected of these is the Zeiss Batis 85 Sonnar mm F1.8 (hereafter referred to as the Batis 85), and it continues to be an excellent option…though the competition has gotten fierce.  
The Zeiss Batis series has been a serious treat for Sony FE shooters. The idea of having Zeiss optics in compact, weather sealed bodies with autofocus was one of the most compelling arguments for me to personally add Sony bodies to my own kit. I've spent time with all 5 of the current Batis lenses, including the 18mm, 25mm, 40mm, and 135mm lenses along with the 85mm more recently. I had saved the 85mm for my shootout so that I could review it in context of the current competition, as things have changed since the Batis 85mm was released in 2015.
Over the past year or so the 85mm focal length has gotten a lot of new options on the Sony platform (4 of them!), so the question has to be asked: "Is there still a place for the Batis 85mm in 2019? We'll do our best to answer that question in this review.
Prefer to watch your reviews? Check out my full video review to get all the info on the Batis 85!
Follow Me @  Patreon | My Newsletter |  Instagram | Facebook | Twitter | Flickr | 500px
Batis 85mm Build, Design, and Handling
The best way to get the details of this lens is by checking out my hands on video below. It will take you up close the lens and demonstrate all of its features.
The Batis 85mm will have a fairly familiar appearance to anyone who has used other lenses in the series. It's a handsome lens that has a familiar Zeiss look save the materials are engineered plastics (to keep the weight down) instead of the metal alloys common to many Zeiss lenses. The lens is moderately sized at 3.62" (92mm) in diameter and is also 3.62" (92mm) in length. The weight is a fairly light 15.9oz (452g). The filter thread is a common 67mm. It comes standard with a fairly substantial lens hood.
The 85mm and 135mm are the only two lenses in the Batis lineup with OIS (Optical Image Stabilization). This system is designed to work in harmony with Sony cameras with Steady Shot, and the end result is very stable. It's a little hard to separate what part is due to the lens and which part comes from the camera body with my Sony bodies (which have Sony's In Body Image Stabilization, or IBIS), but obviously that would be a different story if you happened to have a Sony camera without IBIS. Suffice to say that the resulting stability is excellent, though there's a practical limit to handholding shots due to the fact that your subject might keep moving even if the camera's movement is stabilized.
One hallmark of all the Batis lenses is the OLED display on the lens barrel that serves as a replacement for a typical distance window. There are no distance markings on the barrel, which is typical for mirrorless autofocusing lenses due to manual focus being "focus by wire". All focus input on the manual focus ring is routed through the autofocus motor of the lens, and it is actually the focus motor, not the ring, that moves the elements. Because there is no mechanical connection to the lens elements, there is no fixed position for the focus ring, and thus no traditional focus distance information. Most mirrorless lenses force you to rely on focus information in the camera body, but, as mentioned, the Batis 85mm has an OLED screen that can display this information instead. When the camera is turned on the OLED will flash the word "Zeiss", and then what information that is further displayed there will depend on what mode you put it. Out of the box it will mostly stay dark unless you are in manual focus mode, when it will display actual focus distance as a numerical value (in meters [up to two decimal points] or feet), which is very handy and arguably more useful than a traditional focus window.
The usefulness doesn't end there, however. If you put the camera in MF mode and then turn the manual focus ring to the left past minimum focus 360 degrees you will enter into the control for the OLED. You have three options there: ON, MF (Default Position), and OFF. In the ON position it will show the focus distance even in AF mode. If you put the camera in MF mode and twist the focus ring to the right for a while it will allow you to switch the readout to measuring in feet rather than meters. You might argue that this is of minimal value, but when you consider that many mirrorless lenses lose any kind of distance window, I think that this is one of the beneficial hallmarks of the Batis line that remains fairly unique (I've seen a couple of Canon lenses with something similar).
The Batis series does employ weather sealing to help enable photographers to keep shooting when the weather turns a little inclement.
As noted, the Batis 85mm can focus down to 2.6" (80cm), which results in a 0.126x magnification, which is about average for an 85mm lens. The Batis 85mm employs "floating elements" to help allow for strong performance at close focus distances. 
The lens barrel has a black anodized satin finish that is very handsome. The small, tasteful Zeiss badges on either side are an elegant touch. The front façade of the Batis lenses look nice but not quite as attractive as the metal façade of the Loxia/Milvus/Otus/Classic lenses. The Batis lens seem to employ engineered plastics in the front faceplate.
The manual focus ring on the Batis lenses (including the Batis 85mm) has a smooth, rubberized texture with great grip and a moderate damping. It works well for manual focus, allowing for smooth, precise manual focus despite the "focus-by-wire" nature of the manual focus. Zeiss does a great job with maintaining quality manual focus despite the transition to focus by wire. It's not as good as true manual focus on a classic Zeiss lens but the tradeoff is the instantly magnified image that allows you to quickly visually confirm focus.  One minor gripe about all of Zeiss' rubberized focus rings is that they are lint magnets.
If you are familiar with the Batis lineup, then you know what to expect here. This is a nicely built lens that balances the considerations of build quality and weight/size effectively. The Batis 85mm was the second-lightest of all the 85mm Sony FE lenses I have reviewed (8 of them!!). There is nothing negative that I observed about the build, and, considering the sample copy I reviewed is probably about 4 years old, the lens has help up well (as you can see from the photos)
Batis 85mm Autofocus
The Batis 85mm has a very effective, quiet autofocus system utilizing linear motors. One of the best things about the Batis series is that they pair great Zeiss optics with solid autofocus performance. The AF is very quiet in either AF-S or AF-C modes. Speed in either mode is also excellent, as is autofocus accuracy.  I did extensive autofocus tests as a part of my shootout, which can be seen in this video episode:
When shooting high speed action, the Batis 85mm fell in the middle of the pack. It had few complete misses, but it had a number of shots where the focus was not perfectly nailed, with an ever-so-slight front or back focus.
The same was true with my Eye AF test, where out of the 10 portrait shots I did for the test I had two shots where the focus was close but not perfect.
Eye AF detection worked well, however, and did a great job tracking the eye in real time.
In my video AF test the Batis was the best of the bunch, with smooth, quiet, and confident focus transitions. There was essentially no pulsing or "settling" when focus arrived on the subject. The quality of the focus system was readily apparent, which was true in general. I was actually surprised when the Batis didn't excel in some of my focus tests, as the quality of focus in every day use was probably tops in my tests.
While the Batis 85mm gets very high marks for its autofocus behavior during video, the focus-by-wire system is completely unsatisfactory for doing manual focus pulls using a gearing system. The problem is that the a focus-by-wire system does not produce repeatable results, so if you pull a focus lever to a specific point, it doesn't always produce the same result depending on the speed you pull it. True accuracy with video manual focus requires repeatability. If you want a lens with precision manual control for video, the Zeiss Loxia series is a definitely a better choice. For autofocus during video, however, the Batis series is great.
In everyday use or during use during an event I shot with the Batis, the lens performed admirably. Images were generally well focused, and I was able to grab the quick, unexpected shots that arrive when shooting an event with good success due the fast, responsive focus system. The cheaper Sony FE 85mm F1.8 is also a strong performer (and even bested the Batis in some of my tests), but the Batis 85mm's focus system felt a little more refined in general operation.  It's worth noting that I really liked the look of images captured in an event setting (a summer camp) with the Batis, and felt like it delivered very reliable results for me.
After my formal focus tests during the 85mm Shootout, I concluded that the lens might benefit from a firmware update post Sony firmware 3.0 for the third generation a7 bodies. It feels like the focus system has "more in the tank", and a firmware update at this point might improve on what is already a generally excellent focus result…particularly when tracking action.
It's great to have an autofocusing Zeiss lens; it's even better to have one with great autofocus.
Batis 85mm Image Quality
As odd as it may seem, this is a challenging area for the Batis 85mm. Not because of any shortcomings of the lens, but because the competitors are so strong…and frequently at a cheaper price. Does the Batis manage to justify it's higher price tag in optical performance? Let's jump in and find out. If you want to see how it ranks compared to the other 5 competitors in the shooutout, watch these video episodes:
The Zeiss Batis 85mm F1.8 employs a classic Sonnar optical design with 11 elements in 8 groups, which includes three anomalous partial dispersion elements. Like other Zeiss lenses, it utilizes Zeiss' proprietary T* coatings. Zeiss knows optics, and the Batis delivers a great optical performance.
Let's break it down:
If you would like to see some charts comparing different attributes, click on any of these and they will open in a separate tab where you can compare them in detail.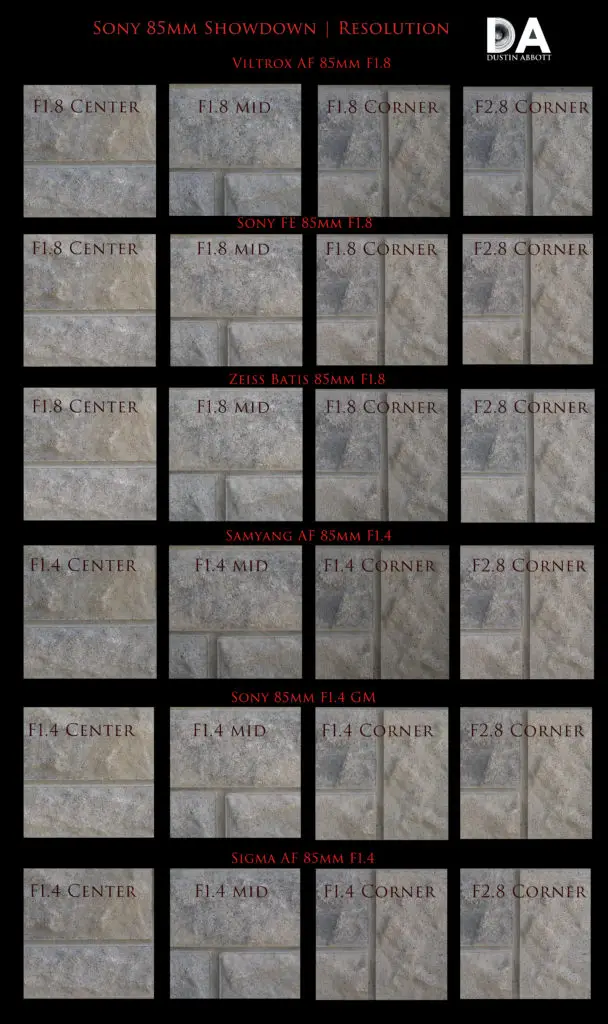 If you closely analyze these charts you will probably come up with the same conclusion I did after hundreds and hundreds of photos and shooting, shooting a number of comparisons, and looking at a lot of 42 megapixel files at a 1:1 level:  there are differences between these lenses in terms of performance…but it isn't massive.  The Sigma shows the strongest corner performance at F1.4, the Samyang has the softest bokeh, the GM has the highest contrast and delivers the highest resolution stopped down…but none of these differences are major.  I think it highly likely that if I were to mislabel any of the images from one of these six particular lenses that very, very few people would spot the difference.
The Batis 85mm takes high marks for being consistently excellent across the frame.  It is extremely sharp in the middle of the frame, and is only mildly less sharp and contrasty in the corners.  Take a look at this real-world, available light resolution on skin textures at F1.8:
Contrast, too, is simply exceptional, with crisp delineation of edges.
Aberrations are also well controlled, with very little CA to be seen in the form of either purple fringing before the plane of focus or the green fringing common after the plane of focus or in bokeh highlights.
While the contrast in the text example above isn't Otus level, real world contrast is excellent.
The one optical flaw from the Batis is that it exhibits the strongest level of pincushion distortion of any of the 85mm lenses I tested.  This will be corrected in-camera for JPEGs, fortunately.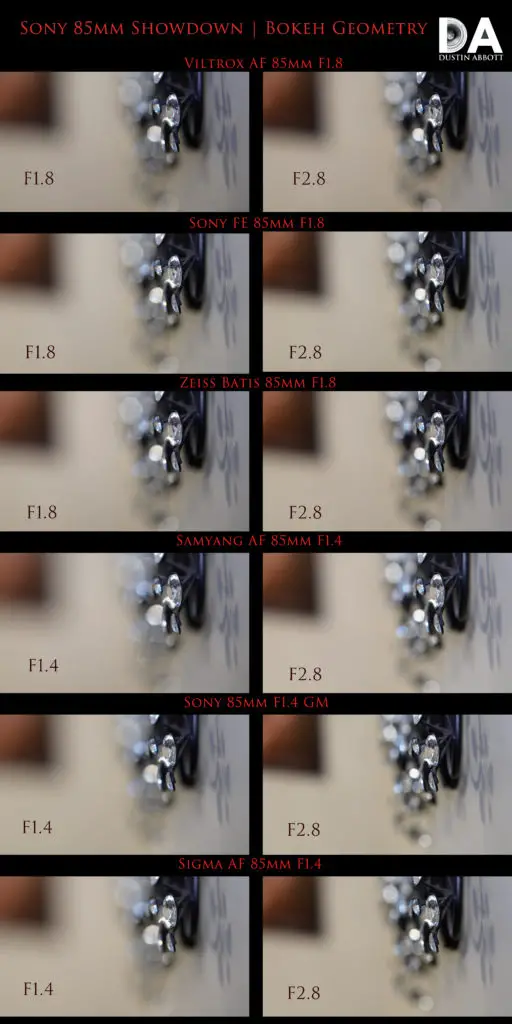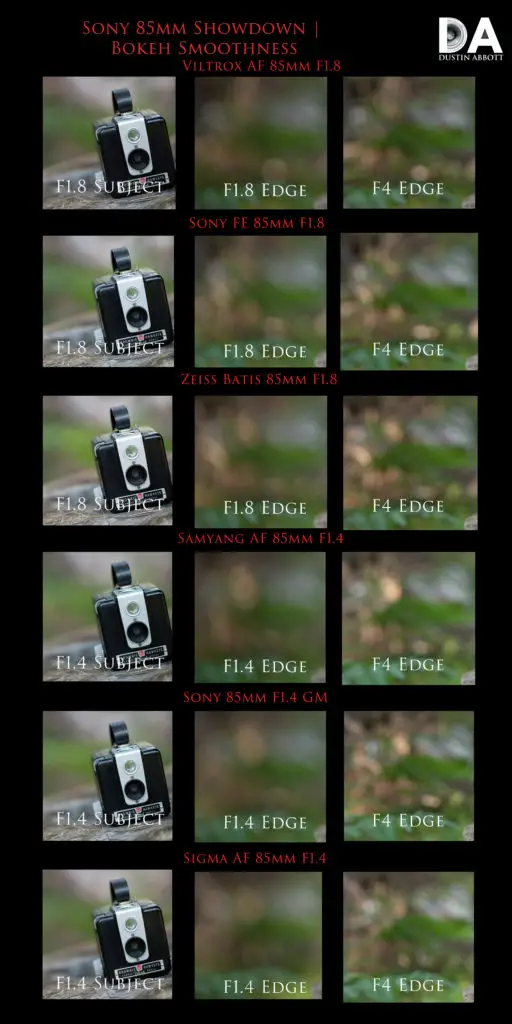 Bokeh is a subjective measure, of course, and these are just a few examples, but over time I get a feel for a lens by shooting with it.  I found the bokeh to be very nice from the Batis in many situations.  There were a few situations where it got a little busy, but those moments were thankfully rare.  The geometry isn't great (there is a lot of "cat-eye effect" along the edges, but the quality of the blur is nice and soft.
No 85mm lens is going to be mistaken for a macro lens, as they tend to have rather poor reproduction ratios.  The Batis 85mm does deliver a slightly-better-than-average performance, though, with a 0.126x magnification.  That was actually second best in my current comparison by a small margin.  Here's as close as it can get to my classic Kodak timer:
So while the Batis 85mm doesn't necessarily distinguish itself from the pack in the image quality department, that's only because all of these lenses are actually very good.   It's performance is actually excellent…but so is the competition.  And that is the challenge for the Batis 85mm in 2019; the competitions has gotten a lot better!
Conclusion
I thought it was worth noting that after years on the market, the Batis 85mm has 114 user reviews on B&H Photo with an aggregate 5 star rating. Simply put: people love this lens.  It has both the advantage of being the first autofocusing 85mm option on Sony's fledgling FE platform, but that's also a disadvantage, as more recent options have arrived with excellent performance and easier to swallow price tags.  The single greatest standout feature for the Zeiss Batis 85mm F1.8 Sonnar is the inclusion of an optical stabilizer, though this advantage too has been watered down somewhat by Sony going on to develop excellent in body image stabilization for subsequent cameras.  All that aside, however, the Batis 85mm is a beautiful lens that produces outstanding images.  
It's also overpriced in the current landscape of 85mm lenses.  It's hard to justify a nearly $1200 USD price tag for an F1.8 lens when one has two F1.4 options for that price or cheaper.  At the moment of this review there is an instant savings of $301 on the Batis 85mm, and it is a much better value option at $898 USD, though I don't know how long this price reduction will last.  The best customer for the Batis 85mm is the one who is already familiar with the unique Batis formula and wants to match up with the rest of the series.  Batis lenses deliver consistent color, excellent contrast and detail, and are light and portable.  Those are still good reasons to consider the Batis 85mm…particularly if that price reduction continues!
Pros:
The only 85mm FE option to include OS
Nice build – good mix of build quality and light weight
Quiet, smooth autofocus system
OLED distance window can be useful
Excellent sharpness across the frame
Good color and contrast
Eye AF worked well in real-world situations
Cons:
Overpriced relative to competition
Fairly strong pincushion distortion
Autofocus accuracy during action sequences slightly disappointing
Gear Used:
Purchase the Zeiss Batis 85mm F1.8 @ B&H Photo | Amazon | Amazon Canada | Amazon UK | Amazon Germany | Ebay 
Purchase the Sony FE 85mm F1.8 @ B&H Photo | Amazon | Amazon Canada | Amazon UK | Amazon Germany | Ebay 
Purchase the Viltrox AF 85mm F1.8 STM FE @ B&H Photo | Amazon | Amazon Canada | Amazon UK | Amazon Germany | Ebay 
Purchase the Sony FE 85mm F1.4 GM @ B&H Photo | Amazon | Amazon Canada | Amazon UK | Amazon Germany | Ebay 
Purchase the Sigma 85mm F1.4 ART E @ B&H Photo | Amazon | Amazon Canada | Amazon UK | Amazon Germany | Ebay 
Purchase the Samyang AF 85mm F1.4 @ B&H Photo | Amazon | Amazon Canada | Amazon UK | Amazon Germany | Ebay 
 
Sony a7R III Camera: B&H Photo | Amazon | Amazon.ca | Amazon UK  | Ebay
Peak Design Slide Lite:  Peak Design Store | B&H Photo | Amazon | Amazon Canada | Amazon UK
BenQ SW271 4K Photo Editing Monitor – B&H Photo  | Amazon | Amazon.ca | Amazon UK
Adobe Photoshop Creative Cloud 1-Year Subscription
Alien Skin Exposure X4 (Use Code "dustinabbott" to get 10% anything and everything)
Visit Dustin's Amazon Storefront and see his favorite gear


Purchasing your gear through B&H and these links helps fund this website and keeps the articles coming. You can also make a donation here if you would like.  Visit my Amazon page for some of my gear of choice! Thank you for your support.


Great News! I can now offer a 5% discount on all purchases at Amplis Foto, Canada's Leading Photographic Supplier. Please enter discount code: AMPLIS52018DA in your cart. It is good for everything in your cart, and is stackable with other coupons, too! It will take 5% off your entire order! Proceeds go towards keeping this site going and providing you with new reviews!
Check me out on:  My Patreon  | Sign Up for My Newsletter |  Instagram | Facebook | Twitter | Flickr | 500px |  Google+ |
Keywords:  Batis 85 1.8, Zeiss Batis 85mm, Zeiss 85 1.8, Batis 85mm F1.8, Batis 85mm F1.8 Review, Zeiss 85mm Review, Dustin Abbott, Zeiss, Batis, Batis1885, F1.8, Review, Autofocus, Sony a7RIII, Hands On, Video Test, Portrait, Video, Bokeh, Real World, 85mm Showdown, GM, 85mm F1.4, FE, Viltrox, 85mm 1.8, 85 1.8
DISCLAIMER: This article and description contains affiliate links, which means that if you click on one of the product links, I'll receive a small commission. As an Amazon Associate I earn from qualifying purchases.