Jackery Explorer 300 + SolarSaga 100 Portable Power Review
Dustin Abbott
February 14th, 2022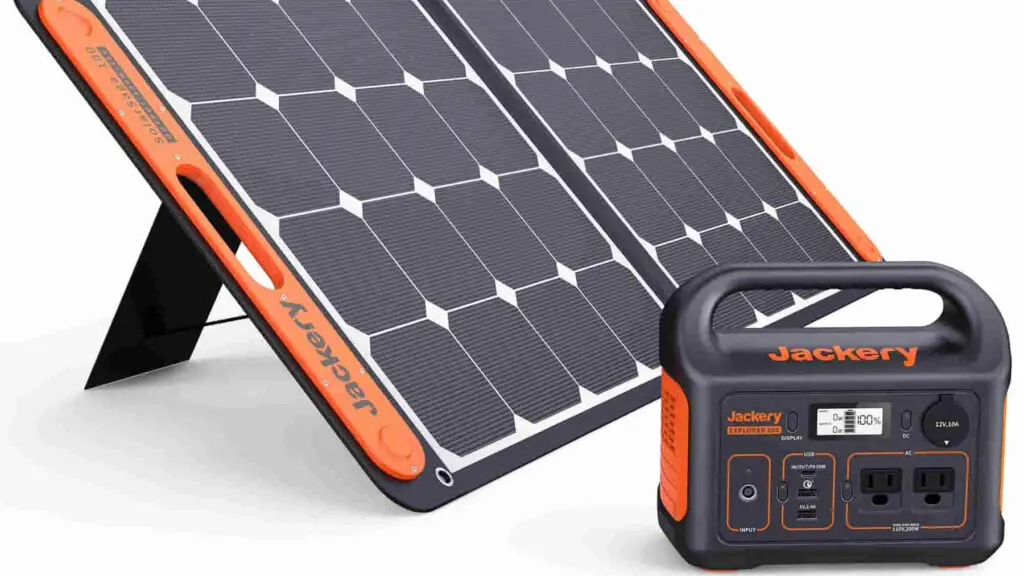 As a gear reviewer with a sizable following, I've become accustomed to the daily routine of being pitched new products by companies from around the world.  In most cases I simply respond with a kind, "No thank you" and explain that either the product is not a good fit with my audience or that I'm simply too busy to add it to my review schedule.  Every now and then, though, the product pitch strikes my interest.  Such was the case when Jackery, a company that specializes in remote power options like powerful battery systems and portable solar panels reached out to me.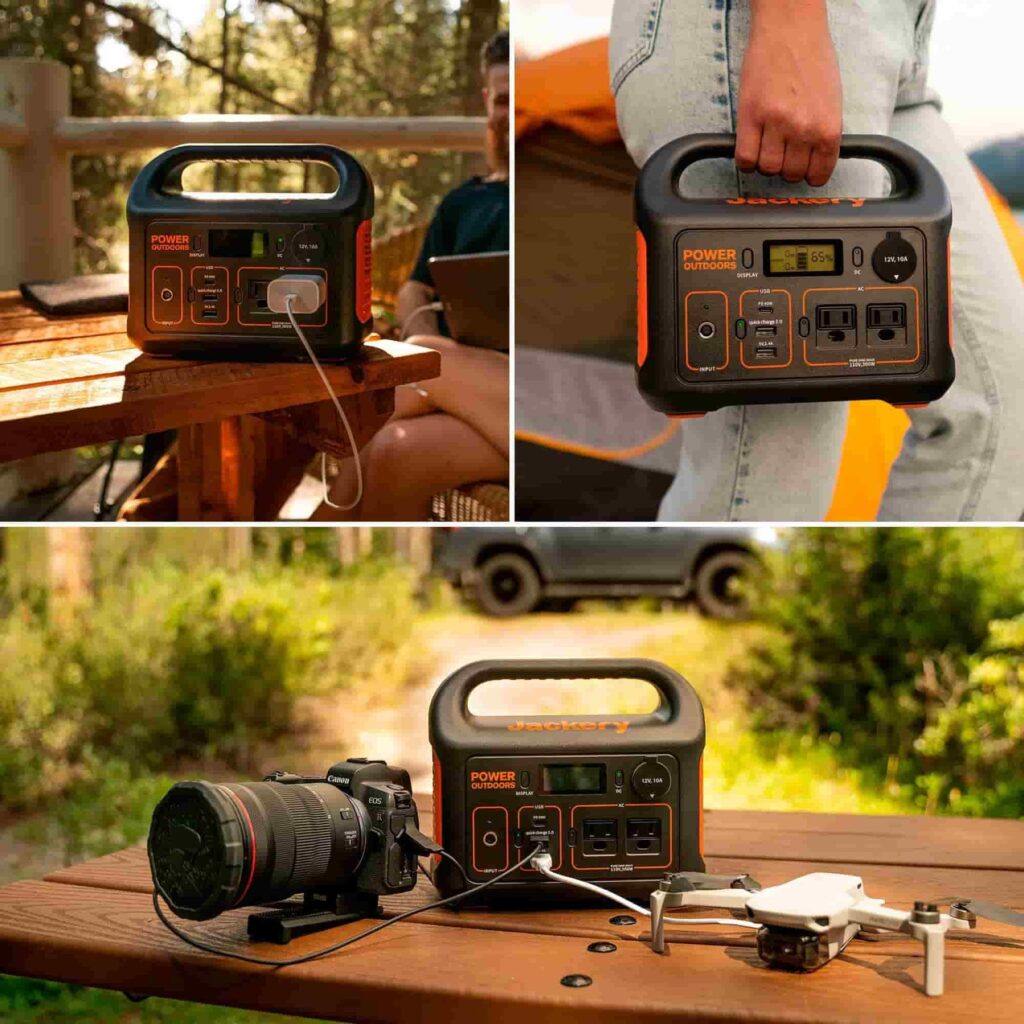 I began to think about the potential for photographers who need remote power for recharging their cameras, laptops, phones, or accessories.  And then the potential of running lights or strobes for outdoors sets or photoshoots.  The possibilities seemed endless, so I said "yes" to reviewing some of their products.  They chose to send me the Explorer 300 along with the SolarSaga 100W portable solar panel combination pictured above.
First Impressions
My first impressions of the Jackery products were positive.  The materials seem tough and durable.  Engineered plastics, but with rounded edges that won't knock on things or scuff easily.  I noted positive design elements like rubberized feet on the bottom of the Explorer 300 that will keep it from banging on surfaces and cleverly designed magnetic clasps on the solar panel that allow it to fold up instantly without any need for additional steps with clasps.  The carrying handles were comfortable and the layout was clear and instantly easy to use.  It's often those little details that really make the difference in the "joy" of using a product.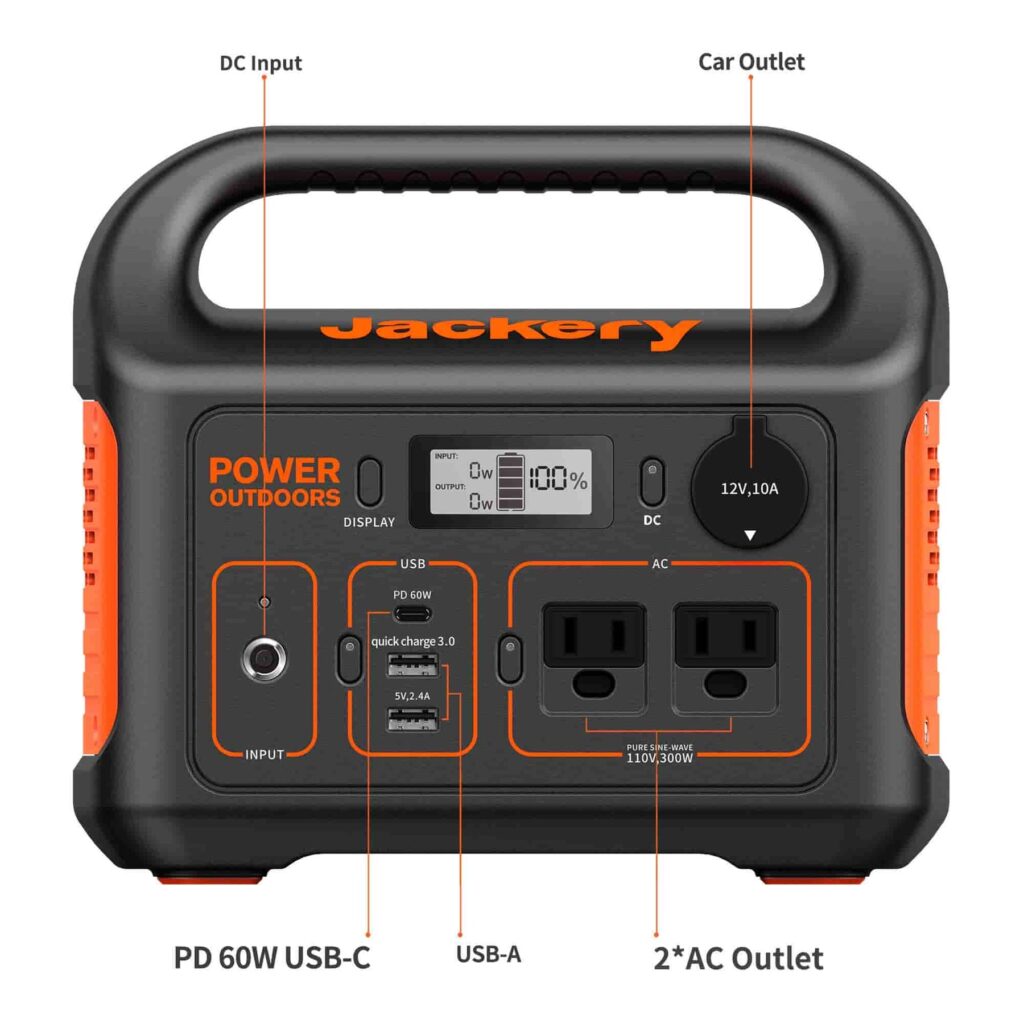 The front of the Explorer 300 was cleanly laid out with clear labelling for the various ports where power flows either in or out of the Explorer 300.  There is small LCD screen with a quality readout (and which can be backlit by pressing the "Display" button next to it).  It gives a fairly accurate readout of power remaining (to a percentage point), and, interestingly, also reads out both the power flowing in and/or the power flowing out.  I find this interesting in both directions, as while the power coming in from a standard source (like AC power) is a constant (it registers as 77W), the power from a source like the solar panel is going to vary widely depending on the conditions.  
On that note:  you actually have four different ways to charge the Explorer 300.  The first is the aforementioned AC adapter, which is included in the kit.  Secondly, you do have the option of charging from a 12V source (i.e. a "cigarette lighter" in a vehicle), and the charging adapter for that is included as well.  Connecting a SolarSaga panel is the third way to recharge the battery in the Explorer 300 (more on that in a moment).  The fourth method is to use the PD USB port to receive power rather than just send it.  In fact, you can actually combine two of these for a rapid charge much like a rapid charger for electric vehicles.  Here's what Jackery says on that, "Charging by a 90W wall charger and 60W USB-C PD charger simultaneously, the Explorer 300 can be charged to 80% in only 2 hours."  According the manual, a full charge can otherwise be achieved in 4.5 hours by wall charger, 5 hours by car charger, or 5.5 hours by solar charging, though that will depend on conditions.
Using the Explorer 300 and SolarSaga 100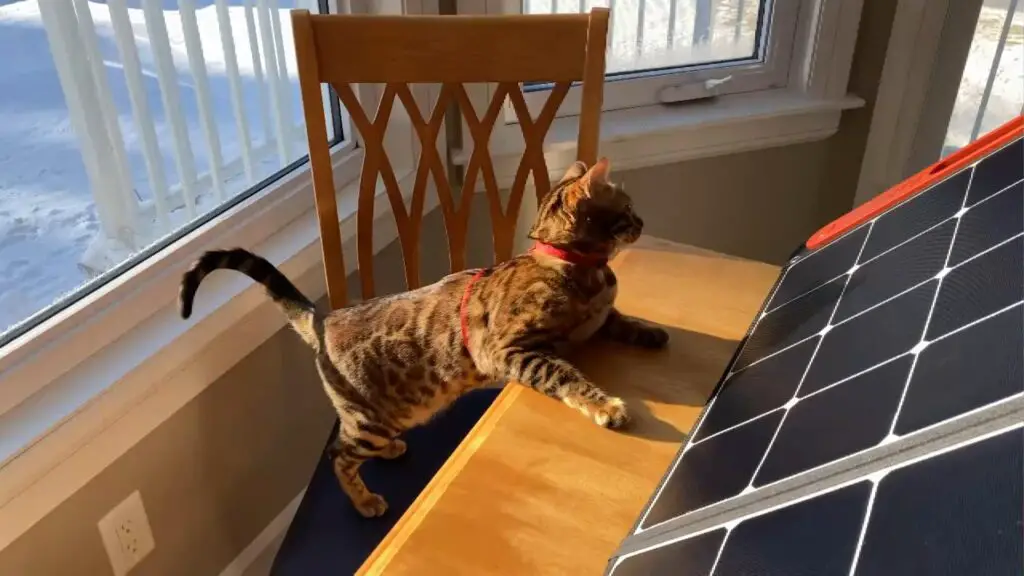 Speaking of those conditions:  Loki the cat and I tested the charging potential on a sunny but extremely cold winter day (I did my review in January).  It was about -30C outside; too cold for effective charging outdoors.  I thought that I would see if the bright sun through a window would still charge things.  I discovered that while there was enough solar energy to charge my camera or phone directly (there are USB-C and USB-A charge ports built right into a pocket on the back of the panel – very clever!), modern windows do block a lot of thermal energy.  I was only able to achieve a maximum of 34W flowing back into the Explorer 300.  I set things up outside, wrapping the Explorer 300 in a thermal blanket to help with the cold conditions.  Despite the less than ideal conditions I saw as high as 60W flowing back into the unit, and actually got back about 30% of the battery charge in roughly  1 1/2 hours, which was encouraging.  
I've taken to frequently charging my camera batteries directly from the solar panel mostly for the joy of being able to recharge those batteries for "free".  It's a rewarding feeling to get back that power "off grid".
I wanted to test the battery life of the Explorer 300 in a photography setting, so I attached the powerful 150W Godox SL-150 II video spotlight to it and turned the spotlight on to 100% output.  I started with a 100% charge on the Explorer 300 at 8:57 AM, and monitored it throughout the day.  By 2:15 PM the light was still going strong, but I was only showing a 1% charge left on the battery.  I needed to leave, so I shut things down at that point.  I estimated that I could get roughly 5.5 hours out of powering the light with the Explorer 300, which obviously would make for a very useful scenario if I was using one or two of these lights on set outdoors where I didn't have access to AC power.  I could have at least 2.5 hours of lighting even if running two of them, which would obviously be extremely useful.
The Explorer 300 is rated at 300W of clean, continuous output, but it is also rated for up to 500W of surge power, which should make it useful for running strobes, too.
The Explorer also solves an additional problem.  Many recent cameras have gone to the PD (Power Delivery) standard requirement for charging batteries in camera, but I've been somewhat frustrated by the fact that the standard is not consistent across brands.  My Canon EOS R5 won't charge from the same adapter and cable that my Sony Alpha 1 can charge from, and vice versa.  I've had to have two different charging setups to accommodate these cameras, which are my main "daily drivers."
Frustrating.
The Explorer 300 delivers power in such a way that I can charge both cameras from it, however, and while using the exact same USB-C cable.  I've taken to just charging my cameras from the Explorer when the sun isn't available and then just charging the Explorer via the SolarSaga.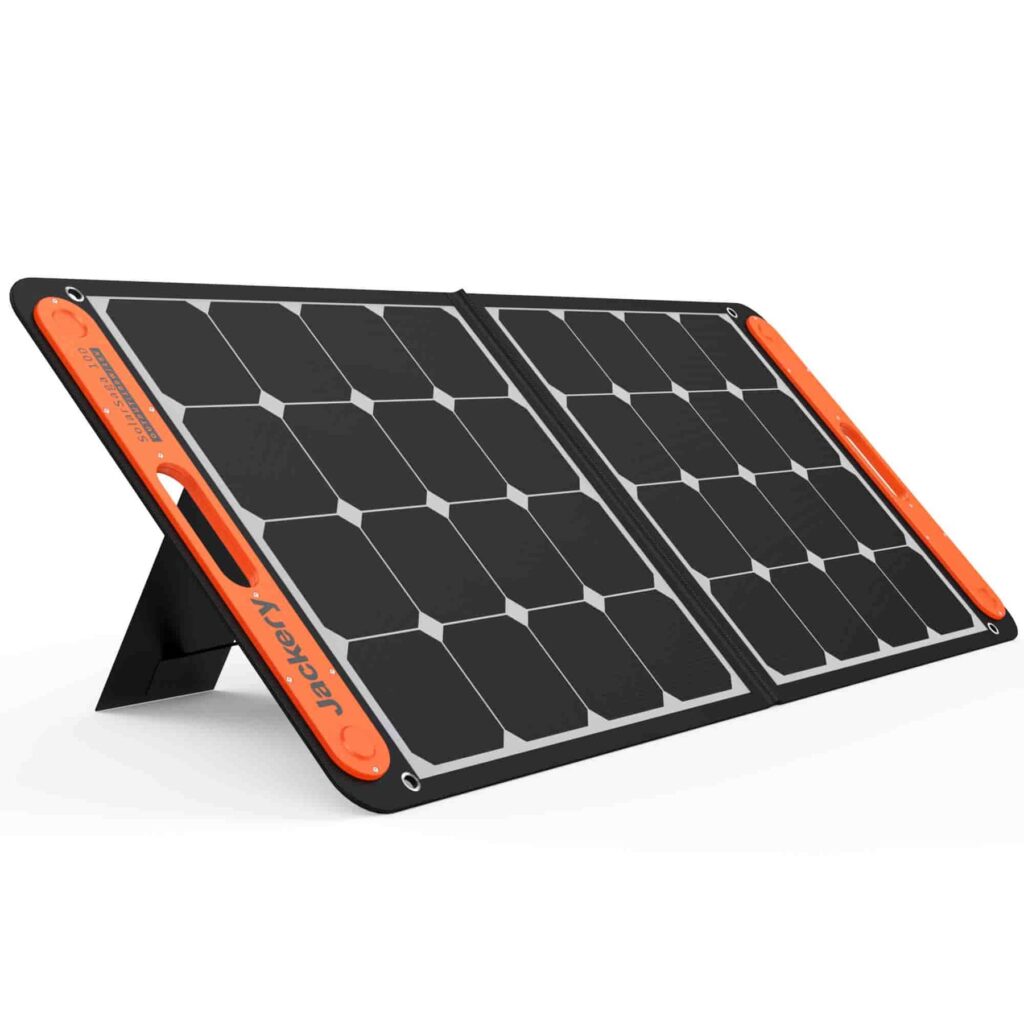 Let's talk about the SolarSaga 100 for a moment.  This is a 100W portable panel that weighs in at only about 9 pounds and folds up into a slim, portable package.  It is IP65 rated – meaning that it can handle being splashed with water, though they don't recommend submersing it or using it in heavy rain.  I love the rear design, that has two clever kickstands that normally stay laid flat via Velcro but can easily fold out to support the panel at a good angle for catching the sun.  Even better is the incorporated pouch on the back that stores the cable that runs to the Explorer unit but also a USB-C(5V,3A) output port and a USB-A(5V, 2.4A) output port that can easily charge 2 small devices directly (phone/tablet + camera, for example).  That gives the panel some standalone value, obviously, which could be very useful while camping.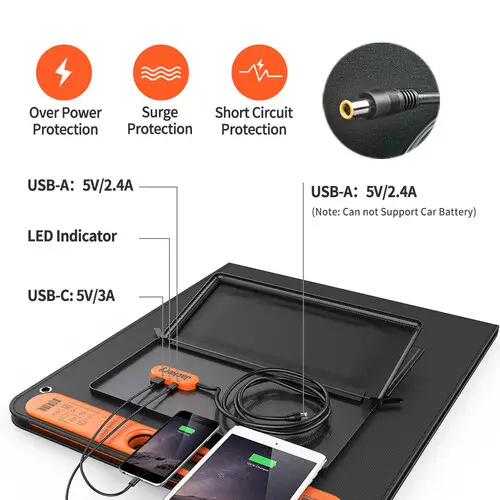 Jackery has a full lineup of products at various power outputs.  The Explorer 300 seems like a good one for the photography level of need, though I'm interested in looking at the larger Explorer 1000 or 1500 units to solve a different kind of problem – the power outages that happen periodically at my house and leave me not only without power for lights, heat, or refrigeration, but also without internet, telephone (cable connection), and running water.  Those larger units are not true "whole house" solutions, but I think they would definitely solve the communication and running water problems for a day and thus make those downtimes far more palatable…and could provide some heat in a pinch too.
The Explorer 300 has a price point of $299 USD, as does the SolarSaga 100, but you can also buy them as a kit and save a few bucks in the Amazon Jackery store.  There are cheaper options out there, but I feel like the quality and execution of the Jackery products make them a solid value.  You can check out my findings and tests in greater detail by watching my video review below or on YouTube.
Follow Me @  Patreon  |  My Newsletter |  Instagram | Facebook | DA Merchandise | Flickr | 500px
Thank you to Jackery for getting me a review sample of  the units.  As always, this is a completely independent review.  The opinions here are completely my own.
Gear Used:

Purchasing your gear through B&H and these links helps fund this website and keeps the articles coming. You can also make a donation here if you would like.  Visit my Amazon page for some of my gear of choice! Thank you for your support.


Great News! I can now offer a 5% discount on all purchases at Amplis Foto, Canada's Leading Photographic Supplier. Please enter discount code: AMPLIS52018DA in your cart. It is good for everything in your cart, and is stackable with other coupons, too! It will take 5% off your entire order! Proceeds go towards keeping this site going and providing you with new reviews!
Check me out on:  My Patreon  | Sign Up for My Newsletter |  Instagram | Facebook | Twitter | Flickr | 500px |  Google+ |
Keywords: Jackery, Jackery Explorer, Jackery Explorer 300, Jackery SolarSaga, SolarSaga 100, Review, Explorer, 300, 500, 1000, 1500, SolarSaga, 60, 100, 300W, Demonstration, Test, Photography, Solar Power, Portable, Camping, Hiking, Video Lights
DISCLAIMER: This article and description contains affiliate links, which means that if you click on one of the product links, I'll receive a small commission. As an Amazon Associate I earn from qualifying purchases.