Canon RF 100-400mm F5.6-8 IS USM Review
Dustin Abbott
April 18th, 2022
I recently finished up my review of the L (luxury) series Canon RF 100-500mm F4.5-7.1L IS – a lens that is thoroughly premium in both performance and price (retailing for about $2900 USD!).  That price point is a prohibitively high bar for many photographers, however.  Fortunately Canon has already created a much less expensive alternative in the form of the Canon RF 100-400mm F5.6-8 IS USM.  This lens retails at a much more palatable $650 USD, and while it is short on features relative to its big brother and has some real limitations, it is surprisingly competent alternative with a few advantages of its own.  The RF 100-400 IS (as we'll call it for brevity in this review) is compact, has good autofocus, and has quite strong image quality while covering a very important telephoto zoom range that spans from 100mm:
to an impressive 400mm:
There's a lot of subjects you can fit into a focal range like that, and the weight of only 635g means that you will be able to bring along the lens on your treks even if you aren't a photography Hercules.
There are some unique strengths of the RF 100-400 IS even relative to its much more expensive big brother.  These include:
Much lower price
Much smaller and lighter (700g lighter!)
Higher magnification level (0.41x vs 0.33x)
Fuller compatibility with 1.4x/2x extenders
Slightly higher stabilization rating (5.5 stops vs 5 stops)
That's not to say that the L-series is outclassed in some way, as it has a long list of its own strengths, including:
Bigger zoom ratio (5x vs 4x)
Faster maximum aperture throughout zoom range
Weather sealing and pro grade build
Dual Nano-USM motors vs 1 Nano-USM
More stabilizer modes
Focus limiter
Tripod collar
Friction ring 
Included lens hood and case
Much stronger image quality
I don't think that anyone is going to argue that the consumer grade lens is a better lens than the professional lens, but I do think that those who have a tight budget can be reassured that they are actually getting a very nice lens even if you could buy 4!!! of the RF 100-400 IS lenses and still pocket $300 for the price of the L-series lens!  And as a consolation, you can still get images like this!
Our goal here is to give a comprehensive review of the strengths and weaknesses of this lens, but I think that it is important to acknowledge that this the kind of lens of that Canon has desperately needed – less expensive alternatives to their premium offerings.  There have been more Canon RF lenses costing more than $2000 than those in the under $1000 range.  Lenses like the RF 100-400 IS help to fill out the catalog with lenses that average photographers can actually afford…and that's important.  To help you determine if this is a lens for you, check out my video review below…or just keep reading.
Follow Me @ YouTube | Patreon |  Instagram | Facebook | DA Merchandise | Flickr | 500px
Thanks to Camera Canada for getting me a loaner of the RF 100-400 IS.  If you're in Canada, check them out for a reliable online retailer. *The tests and the photos shown in this review have been taken on my 45 MP Canon EOS R5.
Canon RF 100-400 IS Build and Handling
I have to confess to a certain degree of frustration every time I review a non-L series lens from Canon.  Canon persists in the pettiest forms of "nickel and diming" with their consumer grade lenses.  The packaging of the lenses is often a bubble-wrapped lens inside a box and they never include a lens hood.  The ET-74B lens hood will set you back an additional $45, despite the fact that almost every other lens maker includes a lens hood no matter how inexpensive the lens.  I've reviewed $100 lenses with nice lens hoods included.  I'd recommend checking out this Vello lens hood alternative that retails for only $15, as I hate to reward this kind of pettiness. As things stand, this is what you get – a lens with front and rear caps…and that's it.
Weather sealing isn't even on the table with non-L lenses, despite the reality that weather sealing is available in many less expensive lenses.  While I can appreciate Canon's desire to create market separation between its premium and consumer grades lenses, the market has shifted on both lens hoods and (to a lesser degree) weather sealing.
Now that I've vented, let's take a look at what IS here.  The biggest thing here is how small the lens is.  When I unwrapped the package I found a lens that is more like a 70-300mm lens in size than a 100-400mm lens.  The lens is only 79.5mm in diameter and right under 165mm in length.  As noted, the weight is only 635g compared to the 1365g of the 100-500L, and that lens had shaved several hundred grams off the Canon EF 100-400mm F4.5-5.6L IS II.  Even the Canon EF 70-300mm F4.5-5.6 IS II weighed in at 710g, so that shows you just how svelte the new RF 100-400 IS really is.  If you really want to see an extreme, look what happens when I put it next to my Sony 200-600mm G OSS lens:
Canon achieves this size and weight package primarily by giving this lens a smaller maximum aperture throughout the zoom range than competing lenses.  The EF 100-400L II that I referenced began at F4.5 at 100mm and was F5.6 at its smallest maximum aperture (beginning at 312mm).  The RF 100-400 IS starts at F5.6 as its largest aperture and quickly closes down to smaller apertures as you zoom through the range.
100-122mm = F5.6
123-155mm = F6.3
156-258mm = F7.1
259-400mm = F8
This is not a "bright" lens.  As noted, I own the Sony 200-600mm F5-6.3 G lens, and that lens still has a maximum aperture of F6.3 at 600mm; you lose that amount of brightness on the Canon RF 100-400 IS at only 156mm!  Compromising on the maximum aperture allowed Canon to engineer a smaller, lighter lens while not compromising too much on the image quality.  This is probably a tradeoff that many are willing to accept.  What it means, though, is that you are going to need to use the lens in reasonable lighting conditions.  F8 requires twice as much light as F5.6, so you've got to get that extra light gathering either through the lighting conditions of your scene or through boosting ISO.  Many of your telephoto subjects (like birds) are going to need fast shutter speeds to freeze their action (typically 1/500th of a second is the minimum you want).  That means that in lighting conditions where an F5.6 lens would require ISO 800, this lens will require ISO 1600, or where the F5.6 lens needed ISO 1600, the F8 lens will need ISO 3200, etc…  Bottom line:  think of this as a daylight lens, not a dusk or dark kind of lens.  The only real compensation here is that modern cameras are increasingly good at higher ISO values, though, let's not kid ourselves – you're going to end up using this lens at higher ISO values than what you would prefer at times, and there will be some hit to the image quality as a byproduct.
I also noted when out hiking with the lens that I came home to much more images impacted by motion blur than what I expected.  Forest light can vary, as can the exposure relative to the subject.  I was shooting in AV mode, and, since I was shooting stationary subjects for the most part, I had set my ISO at 800, thinking that would be plenty.  And, with shots like this one (1/100th of a second at 335mm), I would think that it should have been enough, but I found a fair percentage (at least 25%) of my images affected by motion blur.
The bottom line was that though I am a very experienced photographer, thinking with F8 as my minimum aperture is new to me.  I probably should have been shooting at ISO 1600 instead…but that was odd considering I was shooting at ISO 100 with my second camera (Sony Alpha 1 with the Sony FE 35mm F1.4 GM attached).  A word to the wise – if you're out hiking with the lens, it might be better to use Manual mode, set your desired (safe) shutter and aperture, and then use auto ISO to ensure you get enough exposure to eliminate motion blur.
There's a secondary factor to consider here.  A lens with a small maximum aperture doesn't leave much room to stop it down further (to increase sharpness or depth of field) before diffraction starts to become a problem.  Diffraction is when rays of light enter through a small opening (like a small aperture opening) and the rays of light become bent or deflected.  This results in less sharpness and contrast, and typically the smaller the aperture the greater chance that image quality will be negatively impacted by diffraction.  It's also worth noting that higher resolution bodies show the effects of diffraction at an increased rate, so a higher resolution body (45MP) like my Canon EOS R5 test camera (and its ability to resolve finer details) is going to show that blurring more at, say F11, than the EOS R6 and its 20MP of resolution.  My point is that traditionally you can stop a lens down one or two stops to improve image quality (I often find that lenses perform best across the frame at about two stops smaller than their maximum aperture), but starting at F8 really limits your potential for doing that.
The IS system is rated at 5.5 stops (one half stop better than the 100-500L).  If you have a body with IBIS (like my R5), the combined system will achieve a rated 6 stops at 400mm.   This is the best of seven attempts at 1/6th second shutter speed, showing that you can potentially get the full six stops of stabilization…but probably not with any kind of reliability.
The other six shots show varying effects of camera shake/motion blur.  Ironically the lighter weight of the lens makes it a little harder to handhold…which may have accounted for some of my motion blur out in the forest.  
Image stabilization is pretty much a must on a lens with a longer focal length like this one, and Canon's system is mannerly and quiet.  There aren't bells and whistles in terms of modes, but the system gets the job done.  Here's a real world 1/40th shot from out in the forest where IS saved the photo.
But I also found that there were some images where I thought that IS should have saved an image but didn't.  We'll call the performance somewhat inconsistent.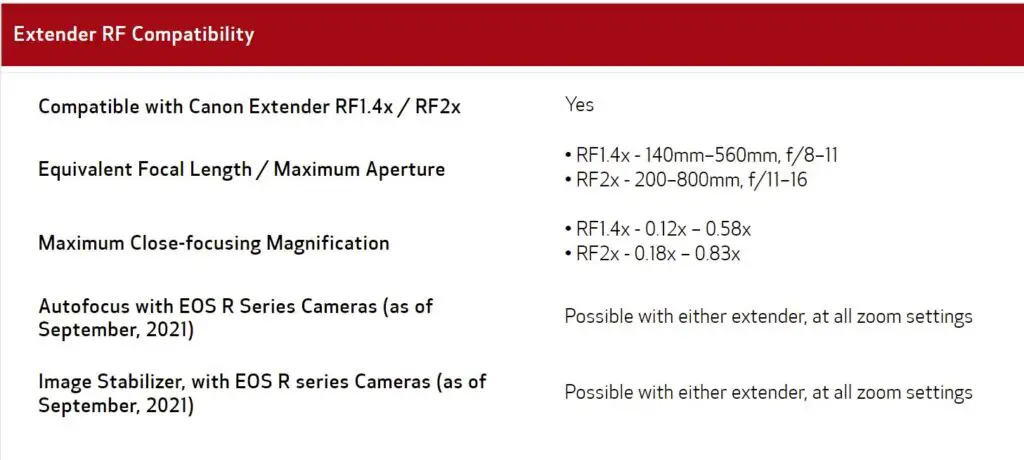 That leads us to an aspect of this lens design that I frankly found surprising.  The bigger RF 100-500L is a bit disappointing in its compatibility with Canon's RF 1.4x and 2x extenders, as they will only physically mount from 300-500mm, meaning that you can't travel with the zoom retracted and the extender in place.  This was a concession to making the lens more compact.  With that in mind, I didn't anticipate any kind of compatibility with extenders for the RF 100-400 IS.  I was wrong!  The lens is fully compatible with both extenders, with sufficient room at the rear of the lens to mount them even with the lens fully retracted.  That's great, though that aperture is going to be a factor.  Add the 1.4x extender, and your maximum aperture at 560mm is F11, and the 2x extender will result in a maximum aperture of F16 at 800mm.  My rule of thumb with most lenses is that introducing a 2x extender involves more compromises to the optical performance than I'm comfortable with (which I believe is true here), and while autofocus does work at an aperture of F16 (cameras like the R5, R6, and R3 can focus at F22), autofocus is going to be compromised in many lighting conditions and you will have a smaller autofocus zone available to you.  If you want 800mm of reach and have a tight budget, you would probably be better served with the unique Canon RF 800mm F11 IS lens, which I reviewed here.  It will give you better image quality and a better autofocus experience.  It's certainly a positive to have extender compatibility in a budget lens like this, though, and is rare in my extended Canon experience.
The outer shell is made of Canon's typical engineered plastics, and feels durable, resistant to marking or scratching.  The matte finish is also resistant to finger prints, so I find that the look of the lens stays consistent (it doesn't look one way when cleaned and unused and another if you actually take it out of the box and use it!)
There are two switches on the left hand side of the barrel, including an AF/MF switch and a simple ON/OFF button for the IS.  Canon states that the IS system will automatically switch to a panning-type stabilization when a panning motion is detected.  You can see in this shot of a loon in rapid flight (a crop from a burst of 70+ images) that panning stabilization seems to have worked properly.
There are three rings on the lens, starting with the zoom ring, which is wide, ribbed, and has a nice bevel in it that is ergonomically pleasing and makes it easy to find by touch.  The zoom action is nicely damped, and I found the amount of throw easily manageable for quick focal length changes.  The length of the lens grows by about 77mm with the lens fully zoomed to 400mm.
There is a zoom lock on the right side of the barrel that will only lock at the 100mm position.  This will help to prevent zoom creep, though I have found that the quality damping on the zoom ring has prevented most casual creeping while hiking with the lens.
The middle ring is the manual focus ring, which is nicely damped and has reasonably good focus feel.  It works best for fine tuning focus as opposed to quick, major focus changes.  You have to make more than three full rotations to go from minimum focus to infinity, but the focus throw is great for fine tuning focus and has good weight for those types of adjustments.
Near the front of the lens barrel is the unique control ring that Canon RF lenses have.  The control ring can be programmed to several different functions in the camera body.  Popular applications are for aperture control and exposure compensation.  The control ring has the typical diamond pattern texture that sets it apart from the tighter ribs of the manual focus ring and wider, deeper ribs of the zoom ring, so each ring has a unique texture to set it apart by feel.  
Up front we have filter threads in the very common 67mm size.  
Inside we have a 9 bladed aperture iris that serves to help maintain a circular shape with the lens stopped down.  The RF 100-400 IS shows fairly good geometry in the bokeh.
Minimum focus distance is 88cm, and the resulting magnification is an impressive 0.41x, a figure which I think is class-leading.  Here's what that looks like:
What's interesting is that I found the RF 100-500L to be significantly improved over the EF 100-400L II in terms of focus breathing (where the focal length behaves shorter at close focus distances), but clearly the 100-400 IS is better still.  It achieves the 0.41x at 88cm and 400mm, while the RF 100-500L achieves a 0.33x magnification at 90cm…and at 500mm.  The great news is that at close focus distances even a lens with a maximum aperture of F8 can obliterate backgrounds.
My typical criticisms of Canon's cost cutting measures aside, I think Canon has delivered an interesting package here.  This is a truly lightweight, compact lens for this focal range, and, while there are certainly drawbacks to the slower maximum aperture, in good light the lens is mostly a joy to use.
Canon RF 100-400mm F5.6-F8 IS Autofocus
The Canon RF 100-400mm IS utilizes Canon's Nano-USM focus motors to help achieve fast, quiet autofocus.  This is incredibly important in a lens designed for telephoto use, as many of the subjects that people want to use such a lens for (birds, for example) are fast moving.  Nano USM remains my favorite of Canon's current focus motors, and I'm really glad to see it employed here on a lens where focus speed is going to be important.
If you are new to the genre, there are a few tips worthy of consideration.  The first and most important will be shutter speed.  If you are tracking birds, for example, you'll want to keep that shutter speed up near 1/500th second or faster.  Going underneath that threshold will result in motion blur in some shots.  That will often mean moving up to higher ISO values to achieve that.  You'll probably also want to set Eye AF to animal priority, though I do find Canon more forgiving than Sony in this regard.  Sony is fairly rigid, and I've had a few videos where I mistakenly left Eye AF in Animal mode and had a video with the wrong focus for the whole segment even though I was the obviously primary subject in the frame.
The RF 100-400 IS didn't feel significantly different in the field than the premium 100-500L, though that lens employs due Nano-USM motors to give it optimal speed.  The elements are smaller and lighter in the 100-400, though, so the single motor seems plenty fast.  Due to the season, I struggled to find birds that I could reliably get close to for BIF work.  There is melting ice near the shoreline that prevented me from getting close, as most of the birds are further out near the open water.  Geese have returned, but they are mostly keeping their distance because they are nesting and getting ready for their young.  I saw enough to convince me that this would be a capable lens for tracking birds in flight and staying focused during erratic movement even during sustained 20 FPS bursts on my Canon EOS R5.   
Eye AF seemed to work fine, with good and reliable detection and tracking of eyes, either human, animal, or bird.
Focus speed was generally excellent, and I actually felt like it might have been a bit quicker in making major focus changes than the RF 100-500L.  Even big changes were near instantaneous.  To get this shot, for example, I had to react very quickly, as I and the chipmunk arrived on the scene at pretty much the same time, and I only had a few seconds to grab the shot before my presence scared him away.  Focus grabbed immediately on his eye, though, and focus results were impeccable.  
You can even see that Eye AF worked perfectly even though Ferrari was turned away from me and his eye was hooded by his brow.  Focus still detected properly and delivered a well focused result:
I heard little focus noise during standard use, and I didn't feel there is enough noise to be picked up by the on board mics in video applications.
Nano USM allows the lens to be competitive in terms of focus speed and noise.  The disadvantage here is the smaller aperture of the lens, so expect some focus speed slowdown in poorer light.  The improved autofocus systems in the modern mirrorless cameras will help with this, though, so the lens will remain usable in more situations than we would have expected in the past.  It is important to keep your expectations realistic, however:  this lens isn't going to focus like the RF 400mm F2.8L IS at dusk; there's a reason why pros will pay $12,000 for a lens like that!
Canon RF 100-400 IS Image Quality
It would unreasonable to expect the RF 100-400 IS to perform at the level of the L series lens (and it doesn't), but in many ways the RF 100-400 IS delivers quite a strong performance (particularly in the center of the frame), and, even at its weakest point (400mm), it can deliver extremely sharp results under the right conditions.
That looks pretty great!
One of the things I praised about the RF 100-500L was how consistent it was across the zoom range.  There was very little rise and fall in sharpness at different focal lengths, and I also found that it delivered very close to peak performance at maximum aperture.  The RF 100-400 IS is a little more inconsistent.  There are strong points and weaker points in the zoom range, and there is almost always some improvement to be found when stopping down a bit (though usually only a stop, as often by two stops you are getting some negative impact from diffraction that defeats whatever optical gains might otherwise exist.
So let's break it down.  You can get an even deeper dive by watching the image quality section of the video review.
First, a look at vignette and distortion.    This is a lens that has some pincushion distortion through the zoom range and increasing vignette, though neither is a significant problem.  Here's 100mm:
There is some apparent pincushion distortion (-7 to correct for it) and barely a stop of vignette in the corners (+32 to correct).  This is probably about the  best I've seen from an RF lens for vignette. 
At 400mm the distortion slightly diminishes and the vignette slightly increases.
Pincushion distortion reduces (+5 to correct), and while the vignette is up, it's still only a +46 to correct for it. The Canon correction profiles clear everything up nicely, so you probably won't have to manually correct like I have for demonstration purposes.
I was likewise happy with what I saw for chromatic aberration control.  In real world images I didn't see much of an issue with fringing though I did see a very slight "blooming" effect in high contrast transition areas, like the white of the seagulls here.
I looked for lateral chromatic aberrations along the edge of the frame in this shot and didn't really see anything worth mentioning.
All good!
So how about resolution and contrast?  Because of the length of the lens, I use a slightly different test chart from my typical one.  It is smaller to allow me to continue to frame it in my basement testing space.  Here's a look at the whole chart that we will be looking at crops from.
All of these tests have been done with the Canon EOS R5 (45MP), a very solid tripod (Robus RC8860), and using a 2 second delay to eliminate any vibration.  Here's a look at nearly 200% crops from the center, mid-frame, and bottom right corner (100mm, F5.6):
We can see a much more uneven sharpness profile than the premium L lens.  Center sharpness and contrast is excellent, but we can see it fall off into the midframe and in a pronounced way in the corners.  Stopping down to F8 makes for a significant improvement in the midframe (to very good levels):
The corners are improved, but not exceptional.  We find the best corner performance at F11.  But it in this metric that the L-series lens really demonstrates its superiority.  It is vastly sharper at F4.5 in the corners than the 100-400 IS can deliver even at F11:
It's sharper in the center, too, though the margin is slightly closer there.  The old adage, "You get what you pay for…" comes to mind.  I found real world images fairly decent, but I also largely treated the lens as an F8 lens (and shot most wider shots at F8, like this one):
That's good, but not exceptional, obviously.  One of Canon's lower resolution sensors would be a little more forgiving at pixel level than what you see here, though I will point out that the overall image looks nice.  Perhaps this is a lens better suited to those who aren't "pixel-peepers".
Minimum aperture is very small with this lens.  At 100mm it is F32 but as small as F45 by 400mm.  I would avoid anything beyond F16 at all costs (particularly on a high resolution body like the R5), as diffraction causes a tremendous amount of image softness.  Look at maximum aperture (F4.5) vs minimum aperture (F32):
Ouch!  This isn't actually the lens' fault; you can blame this one on physics!
The next marked spot on the zoom dial is 135mm, where maximum aperture has already closed to F6.3.  Center performance is essentially the same, as are corners, but there is a slight improvement in the midframe.  Nothing too exciting to report here.
Moving on to 200mm we find a maximum aperture of F7.1, but I would recommend shooting at F8.  It's only one-third stop darker, but the optical performance is significantly improved, with better detail and much improved contrast across the frame:
Real world results at F7.1 show that reduced contrast and the "blooming" effect on edge transitions:
As I've said, you're best served just treating this lens as a 100-400mm F8 lens.  This landscape shot at F8 looks much more compelling.
By 300mm our maximum aperture is F8, and, other than the corners, performance is fairly good across the frame at F8.    There is still performance to be gained by stopping down to F11, though.
Detail in shot of wild turkeys at F8 is quite good (those are some strange looking birds!):
Moving on to 400mm I see a fairly similar performance to 300mm, with good performance in the center, fairly good mid-frames, and softer corners.  The most obvious advantage in stopping down is found in the mid-frame, which sharpens up very nicely at F11.
There's some debate over how important corner performance is at a long focal length like this, though you'd rather have it than not, obviously.  Composing slightly off-center at F8 produces fairly sharp results, though as always you can see that the contrast isn't exceptional.
Here's another shot that I feel has held up well at 400mm, F8.  I'm happy with this result:
One factor that can be disconcerting with long lenses is that they can be strongly impacted by thermal pockets in a way that wider focal lengths aren't.  This will be particularly true when shooting over water, hot pavement, or other environments factors that cause temperature variations or where heat rises.  One way to easily pick up on this is that textures will almost have the appearance of painted brush strokes – you can see the distortion of the thermal waves.  This shot, for example:
This is typically most likely to occur with a distant subject.  It's not an optical flaw of the lens; it's the reality of physics.  You can avoid this by avoiding those thermal variations.
The bokeh from the RF 100-400 IS is a mixed bag.  Any long focal length like this has the ability to really compress backgrounds and deliver a strongly defocused background when you are close to your subject, and that's particularly true of a lens with such a close minimum focus distance.  Get close to your subject, and you will have a beautiful looking out of focus area:
This scene was a little more complicated, with more textures remaining in focus due to the F8 aperture.
It still looks fairly good, but busier.
But when your ratio of distance to subject to background isn't as favorable, however, things aren't nearly as pleasing.  I see a lot of "nervousness" in the textures of this shot.
You can see it in this shot, too, where the out of focus area feels fairly busy.  
There are moments that you are reminded that this is a budget telephoto, and the bokeh rendering in some situations is certainly one of them.  Your best bet for bokeh is to get close enough where the background is obliterated, as happened with this shot I took on my Sony 35mm F1.4 GM:
I didn't shoot into the sun much, but from what I did see flare was handled fairly well.  You probably still will want to invest in a lens hood to help cope with bright light, though.
In short, the performance of the RF 100-400 IS is roughly what you would expect from, say, a Canon 70-300mm (non L) lens.  Fairly good when put in situations where it can thrive, but not top tier when placed in more challenging ones.  If you would like to see more images, check out my image gallery here.
Conclusion
I loved the performance of the RF 100-500mm F4.5-7.1L IS USM, but its exorbitant price ($2900 USD!!!) will either scare potential buyers off or make them hold their noses and try to quickly forget what they paid for their shiny new toy.  The Canon RF 100-400mm F5.6-8 IS USM is a much more affordable ($650 USD) proposition, and, as such, I suspect there will be a healthy market of those who are willing to accept its limitations.  Most photographers simply can't afford to drop nearly $3000 on a new lens, so it doesn't matter how good its performance might be.  The performance of the RF 100-400 IS is more pedestrian, but, at its best, it can produce lovely images.
A lens with such a small maximum aperture is going to have situations that it struggles in, and I was often surprised by how low my shutter speed was in certain familiar situations because I am so used to have more aperture to work with.  But the tradeoff is a truly portable lens that brings this incredible focal range into the kind of size and weight combination that many more photographers can cope with.  That makes it a compelling lens for, say, landscape photographers who have figured out that telephoto landscapes are often very compelling.
It will also work fine for those that shoot action, birds, or wildlife in reasonably good light.  The autofocus is quick and quiet, and I had no problem locking onto subjects.  Just be realistic about the kinds of lighting situations that you'll be able to get enough shutter speed to stop action, and you'll be fine.  I can see this lens being a "bridge" lens for many – the telephoto option they can afford now while they save (or hope) for a more premium option in the future.  For the money, this is a solid lens.  It definitely has its limitations, but it pulls off this challenging focal range in a pretty convincing faction…and that small size might mean that even those with deeper pockets might pick one up just for the sake of its portability.  This is a solid move for Canon, and the RF 100-400 IS is a lens I suspect will sell very well for them.  The only potential fly in the ointment?  If (when) Sigma and Tamron arrive on the RF scene, they will almost certainly bring 100-400 options with far fewer compromises.  Until that day, though, the RF 100-400 IS is the only reasonably priced game in town.
Pros:
Lowest priced 100-400mm lens I've ever tested
Wonderfully compact
Excellent autofocus – quick and quiet
Lens handles nicely in the field
Good center sharpness over most of the zoom range
Good control of aberrations
Class leading magnification
Compatibility with extenders
Low vignette
Cons:
Very slow maximum aperture
No weather sealing or lens hood included
Corner performance fairly weak
Bokeh can get busy
IS system delivers inconsistent results
Adobe Photoshop Creative Cloud 1-Year Subscription
Exposure Software X6 (Use Code "dustinabbott" to get 10% anything and everything)
Visit Dustin's Amazon Storefront and see his favorite gear


Purchasing your gear through B&H and these links helps fund this website and keeps the articles coming. You can also make a donation here if you would like.  Visit my Amazon page for some of my gear of choice! Thank you for your support.


Great News! I can now offer a 5% discount on all purchases at Amplis Foto, Canada's Leading Photographic Supplier. Please enter discount code: AMPLIS52018DA in your cart. It is good for everything in your cart, and is stackable with other coupons, too! It will take 5% off your entire order! Proceeds go towards keeping this site going and providing you with new reviews!
Check me out on:  My Patreon  | Sign Up for My Newsletter |  Instagram | Facebook | Twitter | Flickr | 500px |  Google+ |
Keywords: Canon RF 100-400mm, Canon RF 100-400, 100-500, 100-400 IS, RF, 100-500L, L, IS, Canon RF 100-400mm F5.6-8 Is USM, USM, Canon RF 100-400 Review Canon EOS R5, EOS, R5, EOS R5, EOS R6, mirrorless, full frame, EOS R5 Review, Canon R5 Review, Canon 100-500 Review, Dustin Abbott, Real World, Comparison, Handling, Tracking, Focus, Burst Rate, Tracking, Sports, Portraits, Resolution, High ISO, Image Quality, Sample Images, Real World, Macro, 45Mp, Canon, Letthelightin
DISCLAIMER: This article and description contains affiliate links, which means that if you click on one of the product links, I'll receive a small commission. As an Amazon Associate I earn from qualifying purchases.