Viltrox 27mm F1.2 vs Sigma 23mm F1.4 – Fuji Showdown!
Dustin Abbott
September 21st, 2023
It's been a great couple of months for Fuji X-mount photographers, as we have two new excellent prime lenses from third parties, both of which retail for about $350 USD cheaper than the Fujinon XF 23mm F1.4 LM WR.  The Fuji is a great lens, and you can see my findings in my review here, but both the Viltrox Pro AF 27mm F1.2 (my review here) and Sigma 23mm F1.4 DN (my review here) are also really intriguing alternatives at a much lower price point.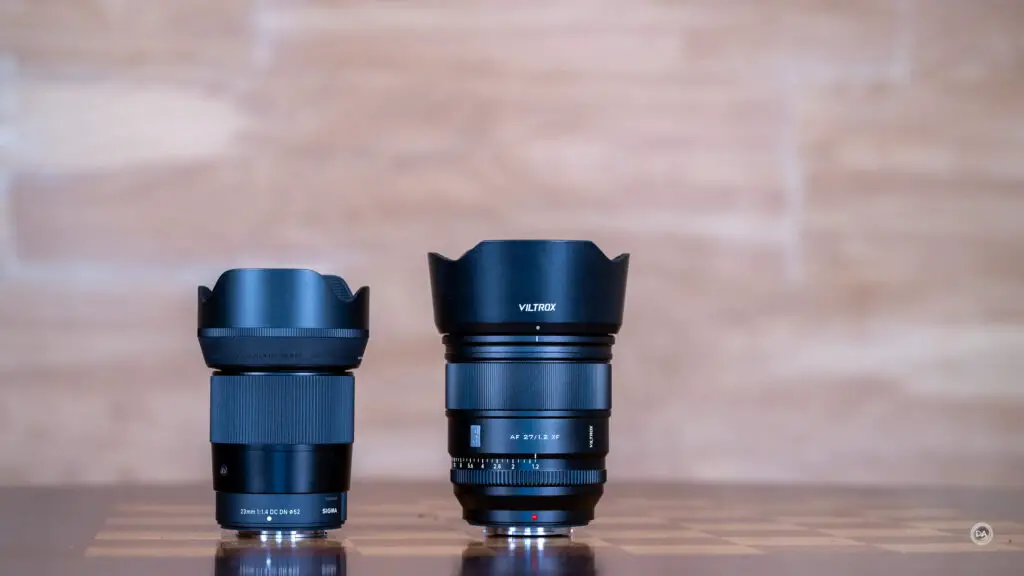 I've compared both in a variety of tests on a very demanding platform –  the Fujifilm X-H2 and its 40MP of resolution.  You can see all my findings in the video embedded here in this article as we put Sigma VS Viltrox – head to head!
Follow Me @ YouTube | Patreon |  Instagram | Facebook | DA Merchandise | Flickr | 500px   
__________________________________________________________________________________________________
GEAR USED:


Keywords: Viltrox, Viltrox AF, Viltrox 27mm, Viltrox 27mm, F1.2, f/1.2, STM, Viltrox AF 27mm F1.2, Viltrox Pro AF 27mm Review, Sigma 23mm F1.4 DN, Sigma 23mm, Sigma 23mm, Sigma 23mm review Viltrox AF 27mm F1.2 Review, X-mount, Fuji, Fujifilm, Fujinon, Review, Fujifilm X-T5, X-T5, X-H2, Bokeh, Dustin Abbott, Tracking, Hands On, Video Test, Sharpness, Autofocus, Build, Real World, 40 MP, Lens, Comparison, Test, Dustinabbott.net, APS-C, X-Trans, letthelightin, DA, #letthelightin, #fuji, Portrait, #Portrait, VS
DISCLAIMER: This article and description contains affiliate links, which means that if you click on one of the product links, I'll receive a small commission. As an Amazon Associate I earn from qualifying purchases.