SmallRig Camera Batteries with USB-C Charge Review
Dustin Abbott
October 21st, 2023
One of the first things one has to consider when buying a new camera is whether or not you need a backup battery or two. If you are buying into a new camera system, or if the same brand has updated to a new battery type, the answer is probably "yes". One of the great frustrations that we sometimes haven't considered when saving or planning for that new camera is the reality that it potentially uses batteries or a new memory storage card that we don't have…and suddenly we are looking at hundreds of additional dollars in expenditure. I've been in situations before where my shooting was cut short by the reality that my battery had unexpectedly died, so I've learned to have backup batteries and charging solutions on hand…particularly if I'm doing paid work. I've been exclusively using batteries from SmallRig in my Fuji, Sony, and Canon cameras over the past six weeks, and I'm happy to report that they are an excellent way to get upgraded power at a price point usually close to half what the OEM batteries from Canon, Sony, or Fuji. You can get my full thoughts in this video:
A quick word on SmallRig. I started using SmallRig products about five years, though first as grip extenders and L-brackets for my Sony mirrorless cameras. It took some time before Sony came up with grips that were accommodating enough for those of us with larger hands, and SmallRig helped make my cameras much more ergonomic.
I've bought other SmallRig accessories over time, most recently a truly excellent mount for my Atomos Ninja monitor/recorder. My previous one was miserable and actually made me use my Ninja less frequently because it was so unstable mounted on my camera. The SmallRig one was much sturdier and better engineered while still coming at a very reasonable price, something that has, in my experience, been a hallmark of SmallRig.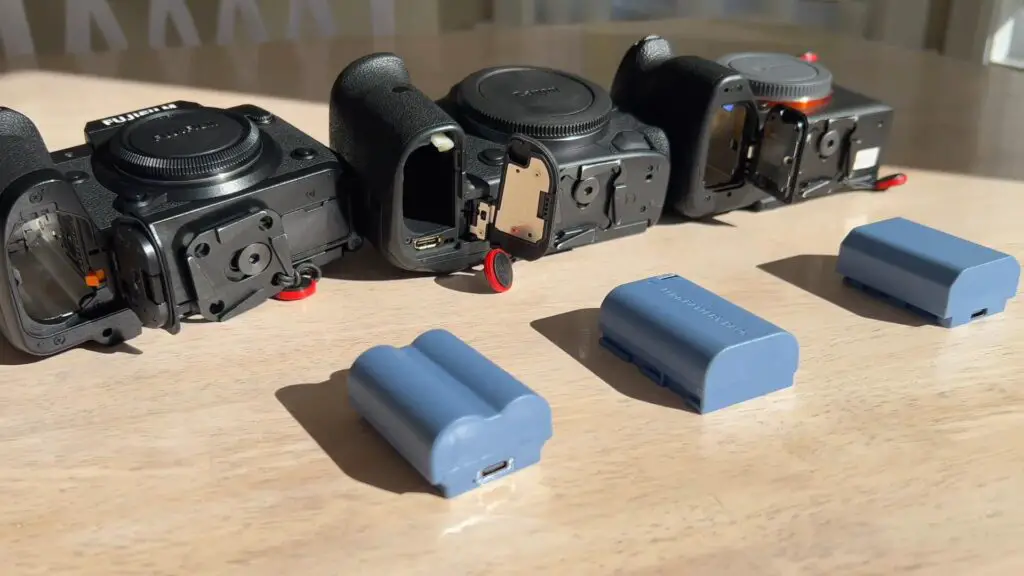 Batteries are a different SmallRig product for me, but I was intrigued by the premise (and price). The premise was that the SmallRig batteries not only offered higher capacity (2400 mAh) but also the unique addition of a USB-C port so that they could be directly charged. This opens up so many additional possibilities, as while most modern cameras will allow you to charge the battery in camera (eliminating the need for a separate charger), that also means that your camera will be tied up for the multiple hours involved in a full battery charge.
The USB-C port allows you to use a ubiquitous USB-C charge cable and connect it to a power brick, power bank, USB outlet, etc… No additional chargers needed. Not only that, but the SmallRig batteries can charge slightly faster via USB-C by accepting a little more current (5V 2.2Amp) and completely charge in 2.5 hours.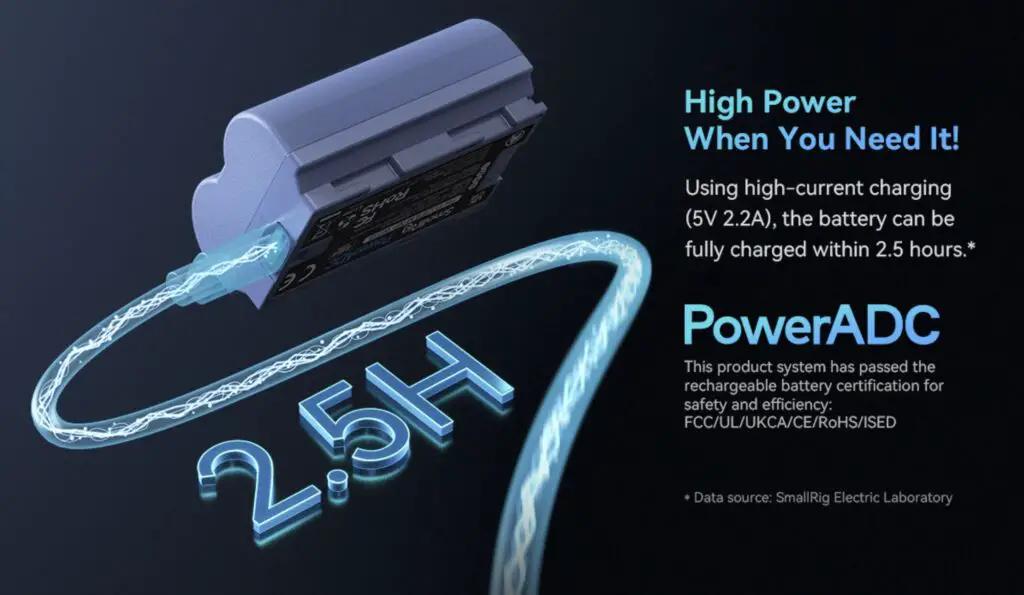 Real world use has been flawless. Unlike third party batteries that I've tried before from different companies, I have gotten no error messages or warnings on any of my cameras. They seem to function flawlessly. The 2400 mAh capacity is larger than all the OEM batteries I compared them to, ranging from 270mAh larger (Canon) to 120mAh larger on Sony.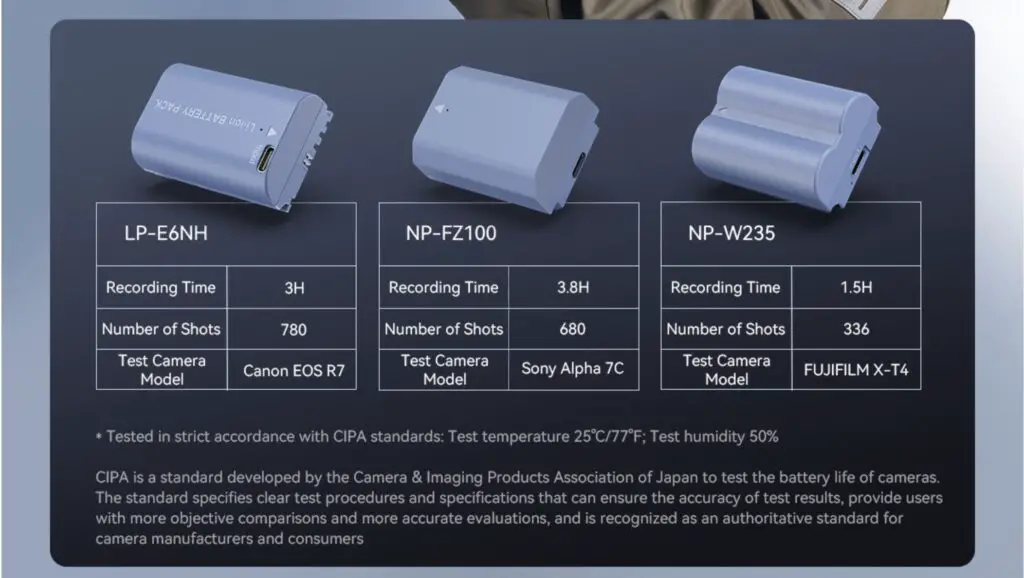 So, in summary, you are getting more capacity, no use issues, an additional way to charge, and a price point that ranges from $30 less (Fuji) to $40 less (Canon). If you want more of my thoughts, check out my video review.
_______________________________________________________________________________________________________________
Purchase the SmallRig batteries at SmallRig https://tinyurl.com/buySRbatteries | B&H Photo https://bhpho.to/45Gnxea | Adorama https://howl.me/ckOJ7gFmCIH | Amazon https://amzn.to/3rVrJZQ | Amazon Canada https://amzn.to/3M89zuy | Amazon UK https://amzn.to/46GtzNq | Amazon Germany https://amzn.to/3tB3Ffl
Keywords: SmallRig, Camera, Battery, USB-C, 2400 mAh, EN-EL15C, NP-FZ100, NP-W235, LP-E6NH, Canon, Nikon, Fuji, Sony, Demonstration, Test, Photography, OEM, Replacement, Charging, Coupon Code, Discount, Coupon
DISCLAIMER: This article and description contains affiliate links, which means that if you click on one of the product links, I'll receive a small commission. As an Amazon Associate I earn from qualifying purchases.