Canon EOS M Review
Dustin Abbott
September 11th, 2013
The old saying goes, "The best camera is the one that you have in hand…"
Updated October 15th, 2013 with info on the EF-M 18-55mm f/3.5-5.6 STM IS and a new gallery of images with the lens.
That is very true, and it is the primary reason why "camera phones" have seized such a big share of the market.  Fair enough, but for those of us who care about our images, a tiny camera built into a phone is only going to produce images that we are proud of in very rare conditions.  That being said, carrying along a full frame DSLR with heavy lenses requires both inconvenience and certain dogged degree of persistence.  I know; I've been that guy plenty of times.  But the allure of  the EOS M is that it promises the image quality of a crop sensor DSLR in a small, compact, mirrorless body that offers a high degree of portability.  What if the camera you just happened to have along could also produce some fabulous images?  Images good enough to satisfy even full frame DSLR users?
Now I'm not going to try to convince you that the EOS M can hang with the image quality of my EOS 6D's, but it produces images good enough that I am more than happy to share them and put my name on them…and some that I am very proud of.  In fact, many scientific tests have shown that the EOS M's 18mp sensor actually produces marginally cleaner images than it's big brothers like the 7D and 60D (here's hoping the newly released 70D raises the bar, though).  On the image quality front, the EOS M truly delivers.  It is far from a perfect camera, and some early missteps by Canon have made the EOS M system a slow starter out of the gate (in more ways than one), but a recent firesale on the first generation of the camera has suddenly made it a very attractive pickup to many photographers, including myself.  In this review, we will examine both the good and the bad of the EOS M…but it is my conclusion that there is far more good than bad in this system.
Built to Last!
I was one of the firesale guys, so I got my own copy of the EOS M with the (great) 22mm f/2 STM lens for only $299.  In fact, B&H was backordered and so ended up very kindly filling my order with the kit that also included the tiny 90EX speedlite.  This is an incredible bargain for all that the M represents, and, to me, is a no brainer at that price.  I will also confess that at the original price of $799, the camera was not overly appealing to me, but that was primarily because I didn't feel I needed it.  It's amazing how a bargain price changes one's perception of need…and that may prove the salvation of the EOS M line.
The EOS M feels anything but cheap in hand.  It has a premium feel in the materials used, which features a surprising amount of metal (it is a blend of stainless steel, magnesium alloy, polycarbonate, and glass fiber).  The end result is that the camera has a nicely dense feel despite its compact size.  It features several raised grips, including one for the forefingers, and while it is appreciated, this is one of the ergonomic touches that I would like to see improved.  It needs to be a little more substantial to serve its intended purpose.  As it stands you will end up holding the camera more by the lens or the bottom than the "grip".
I should note here that I have been similarly impressed with each of the associated accessories in this new system.  The lenses have a very nice build quality and smooth finish, but with metal shells and not at all "plasticky".   Nice touches like a metal mount make these lenses feel a cut above a lot of the lower end EF-S lenses.  I have been similarly impressed with the EF adapter; it is sturdy, very well constructed, and the implementation of the tripod mount to the adapter is very well thought out.  The engineering in the system is very nicely executed.  Slightly off topic, but I have actually even been impressed with the other cheap adapters for legacy glass – third party attempts to match the system have produced nicely clean, quality looking accessories. We'll talk more about legacy glass in a moment.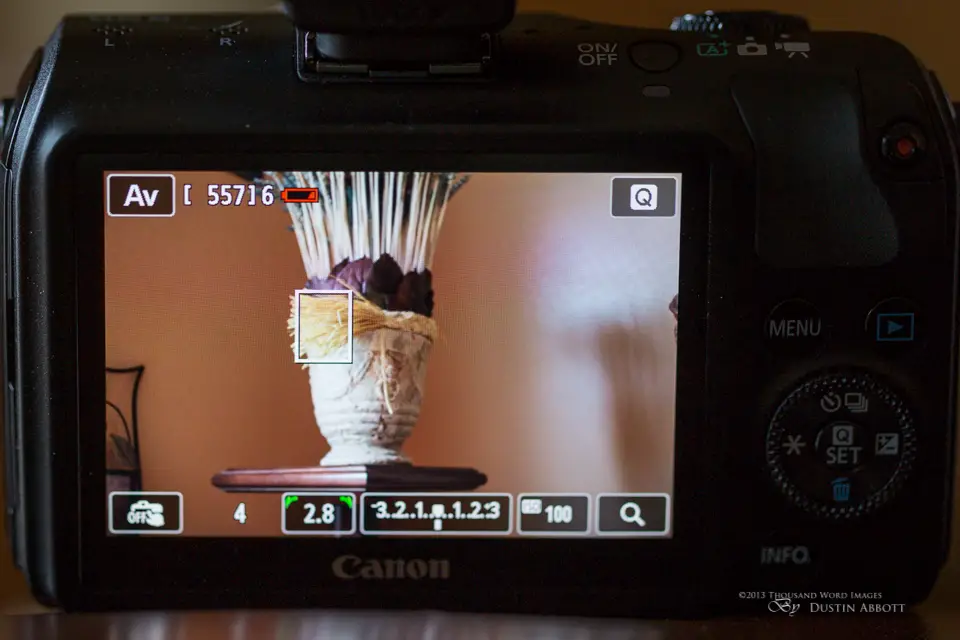 The M features a large 3″, 1,040,000-dot 3:2 ratio LCD display that dominates the majority of the rear of the camera.  This is not a vari-angle screen, unfortunately, something that hopefully will be rectified in the next generation.  This is a capacitive touchscreen that is nicely responsive and responds to many of the gestures that tablet users are familiar with.  Using a touchscreen for reviewing images is a very pleasant experience. Those coming from DSLRs will find that many of the features you are accustomed to controlling with dials and buttons have been confined to this touchscreen (one of the perils of downsizing to this degree).  One multi directional dial does remain on the back, and, while it is much smaller than a DSLR user is accustomed to, it is well made with nicely defined clicks when selecting and fairly good feel when using it as a dial.  I use it frequently to set shutter speed in Manual mode and Aperture in AV mode.  Each of the four directions also carries a set function, some of which can be changed and custom defined in the menus.  The interface takes a little bit of adjustment (in both directions:  I now find myself trying to touch the screen on my 6Ds on occasion!), but is fairly intuitive when you gain a degree of comfort with it.  One way or another, the camera retains most of the functionality that DSLR users are accustomed to.
One can choose to automatically release the shutter by touching an area on the screen to focus on and automatically capture, although I must confess that I am still very DSLR oriented – I like capturing by pressing the "shutter release" button.  I use quotes because this is, after all, a mirrorless design that doesn't have a traditional shutter.  Like most cameras, a half press of the shutter button will enable AF/lock focus, and this is the way that I use it most of the time.  It should be noted that the ability to manually focus or manual override is a menu choice that needs to be enabled, otherwise using the manual focus  ring on a lens will do nothing (save on legacy, non electronic lenses, of course).  If you are using one of the new STM (stepping motor) lenses remember than manual override doesn't mean that you actually manually focus so much as you "focus by wire".  It is slightly more disconnected than typical manual focus (there can be a slight lag), but you quickly adjust.
In different modes there will be various "boxes" or icons on the screen to touch and access certain functions.  These are, for the most part, nicely laid out and fairly intuitive.  Overall operation of the camera and handling is quite good, although going in and out of menus is obviously slower than larger DSLRs that have many controls already mapped to buttons and dials.  I particularly miss the wheel near the shutter release for controlling shutter speed or aperture, for example.  Many people that have used multiple systems have commented that the menu layout is more logical in the Canon than rival systems.
The M has some nice options, including built in stereo microphones and also a line in for an external microphone (very important for video!).  It has a standard hotshoe, along with standard mini-HDMI and USB ports.  It does have an AF illuminator and an IR sensor so you can use your remotes to release shutter.
One perhaps unsurprising omission is still sorely missed – a viewfinder.  In this case an optical viewfinder would be out because of the mirrorless design, but a nice EVF (electronic viewfinder) would be nice.  Many of us that are accustomed to using a DSLR prefer shooting at eye level, and even the best of LCD screens will wash out somewhat in the sun.  I don't find that using a LCD is nearly as precise as a viewfinder in bright conditions, so I find that I must rely on a combination of the camera's electronics and my own practiced intuition in such situations.  Still, I think many users like myself would sacrifice a bit more bulk for the addition of a nice EVF.
The included battery is a proprietary 875mAh Li-ion (LP-E12) that is rated for 230 shots but often produces significantly more.  Getting 300 shots per charge is not uncommon, but is still not an overly impressive number.  Plan on either keeping a backup battery or not straying too far from the charger.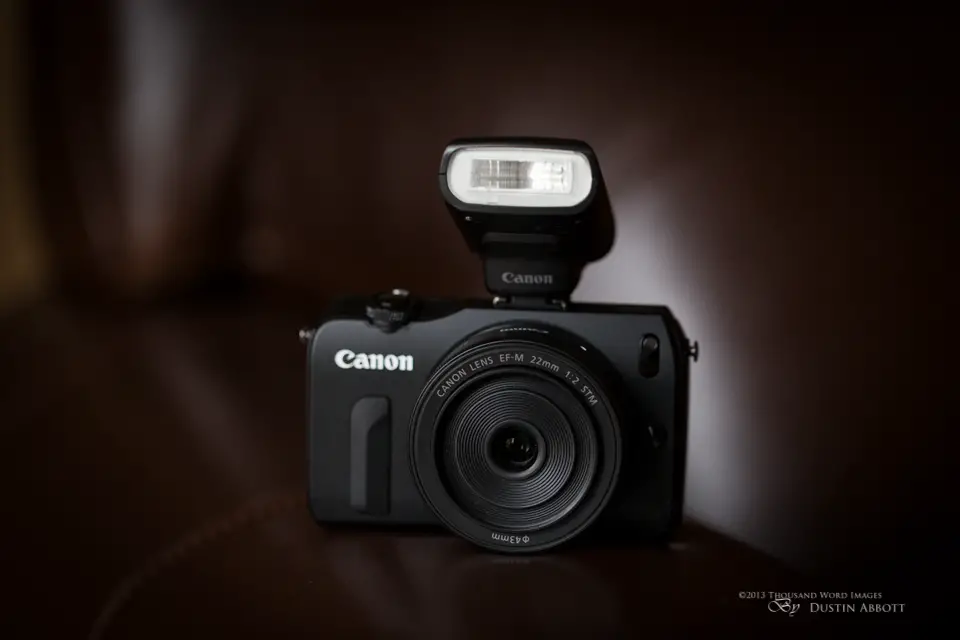 One other thing of note – the M doesn't have a built in flash.  If you are accustomed to Canon full frame bodies like myself, you don't even look for one.  If you are coming from a crop DSLR or some other type of camera, this may be a huge omission for you.  The substitute is the little 90EX Speedlite, which I was fortunate enough to get with my kit.  It is tiny, weighing less than two ounces empty (1.715 oz or 48.5g).  It takes two AAA batteries to power it.  It is an interesting proposition in some ways, as it can act as a master for any of Canon's other speedlites, giving one a lot of flexibility in lighting if you have other flashes.  It also is a little higher than a popup flash would be, helping a bit with the direction of the light and also not having light blockage from lenses.  It would be even more helpful, though, if it could at least be bounced.  Direct light from flashes is rarely flattering, but I was able to get somewhat more pleasing results by messing with the flash output in the menu.  It isn't incredibly powerful (the Rated Guide Number is 9 meters or 30 feet at ISO 100), but its small size also means that it is very easy to throw in a bag (even a very small one) and bring along.  Being able to add some fill light can be very handy.  The other nice thing is that this flash is compatible with all of Canon's DSLRs, which makes it nicely versatile, and, to me, more valuable than an onboard flash.
The Elephant in the Room
The M did not have an auspicious start because of one key component – the AutoFocus (AF).  The M has a Hybrid AF like some of the recent additions to the Rebel/xxxD line-up.  Since the M launched Canon has brought the 70D to market with a revolutionary new AF system, but the M was viewed as anything but revolutionary on arrival.  On the plus side it has pretty good continuous focus in both still and video mode, but the actual speed of acquiring focus was, well, on the slow side.  This fact limited the situations in which the M was a viable option.  I use the past tense because in late July 2013 Canon brought out a firmware update (2.02) that dramatically improved AF acquire performance.  That being said, the M's AF speed is still not top of the class for mirrorless performance, but it is now more than adequate for most applications.  I have found it quite good in most situations,  and, it is my opinion that if Canon had released the M with the equivalent AF speed that it now has the perception of the camera and its reception would have been much different.  The M is actually a fine little instrument for capturing images, and the focus could have been more on its merits rather than its deficiencies.
Speed is only one half of the equation.  Accuracy is as important.  So, is the M's AF accurate?  In this case the answer is a qualified yes.  Most of the time the M's AF does a great job.  Photos viewed at high magnification look very sharp and properly focused.  This has been true with the native mount M lenses that I own (22mm f/2 and 18-55mm STM ) and with the EF lenses that I have used with the system.   There are rare occasions, however, when the M simply refuses to grab on, and increasing magnification (up to 10x, like most camera's Live View) makes no difference.  In this case being able to manually override focus is important to get it latched on.  Fortunately this phenomenon is very infrequent, but certainly frustrating when it does occur.
M in Video
The story is overall quite favorable on the video front.  There is a dial along the top of the camera that can be used to select one of the three modes:  Auto+, Stills (AV,TV, and Manual modes), and Video.  The video quality is quite good (be sure to carefully watch your picture style to enable natural results – even the standard photo setting has overly saturated video quality to my eye).  I typically choose "Faithful" and add more effects/saturation by taste in post.  When using a native EF-M mount lens with an STM motor the autofocus is quiet enough to not be picked up by the microphones, and the same is true of STM EF/EF-S lenses.  You will notice a significant difference in the AF sound of even good USM motors by comparison.  It is also very smooth while focusing in video operation, pulling focus nicely and doing quite a good job tracking.  I am of the opinion that the best DSLR type video will be had through manual focus, but certainly having the option of AF during video is great.  And let's be honest:  your average user is probably not doing a lot manual focus type video anyway.  The AF during video is going to appeal to a lot of people…and rightly so.
The M lets you choose between Auto Exposure and Manual Exposure modes in video capture.  The video control is nicely integrated, and there is a dedicated button on the rear near the thumb grip for starting/stopping video.  The dual stereo microphones are a nice addition, particularly since even Canon's full frame bodies still only have a monaural microphone.  Better still is the inclusion of a microphone jack which allows for an external microphone to be used.
It is here where the touchscreen becomes very handy.  Being able to touch the area that you want to be focused on makes for a nice video solution, and the camera will do a fairly good job of pulling focus in a situation like that.  Be warned, though:  it will hunt at times when you least want it to.  I would still recommend manual video focus if you want to do extreme focus changes, but it does quite a good job tracking in AF mode.
Considering the compact nature of the camera, the video performance is very nice.
M with Legacy Glass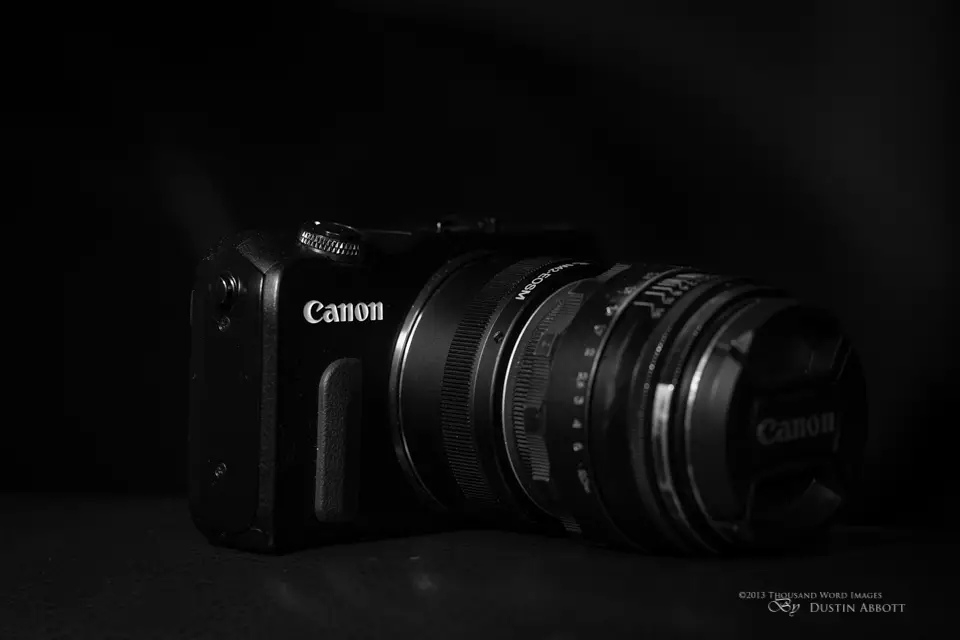 This leads me to an entirely different type of focus – the very manual type.  One of the first things that came to mind when I got the M was my little collection of legacy lenses.  Some of those lenses didn't make the transition to my full frame bodies all that well because the mirror clearance is smaller on full frame bodies than crop sensors.  But the M is a completely different proposition because it has no mirror, and thus the very short flange to sensor distance on the M means that it has almost endless options for adapting different mounts to the system.  It is in large part due to the mirrorless market that many legacy lenses have enjoyed not only a resurgence in popularity but also in value.  The difference between the M and many other mirrorless systems is its crop factor.  Many mirrorless systems (micro 4/3rds, for example), have a 2:1 crop factor, meaning that a 50mm lens will have the angle of view of a 100mm lens.  The downside to this is that getting wide to normal options are tough, and the resulting focal length often defeats the designed purpose of the lens.  The 1.6x crop factor means that this is less exaggerated.  In our example above, the 50mm would have the angle of view of 80mm.  For those that are already accustomed to using a crop sensor camera this will seem very natural.
There is already a proliferation of adapters available on the market for the M system.  Note that only the EF adapter and EF (or EF-S) mount lenses will allow for autofocus capability, so the adapters for other mounts will be "auto nothing":  both focus and aperture setting will need to be done manually on the lens.  That being said, I have been impressed with the adapters that I have gotten so far (both M42 and Konica mount) for their very nice build quality and functionality.  They are actually nicer than any of the EF based adapters that I have used.
First, the downside:  the adapters that I have in hand (EF, M42, and Konica AR) are all about the size of the 22mm f/2 lens, so the length of your lens will increase by about 1 1/4th inches.  It is unfortunate on such a compact system, but is also typical for the adapters to any of the mirrorless systems.  The upside is that a very wide variety of lens mount adapters are available at very reasonable prices ($10-20).
The sheer amount of lens options this versatility affords is incredible, including some mounts like Canon FD/FL that did not allow infinity focus when adapted to DSLRs.  More importantly, the system is a very natural fit for manual focus lenses, as many users have used Live View to focus them anyway.  The option is there for increasingly magnification (x5 and x10), although that can be difficult when handholding because of camera shake.  As long as the conditions are not overly bright, manual focusing while using the LCD  screen is quite easy.  Some form of focus peaking would be a nice addition or perhaps some type of AF confirm for manual focus would be nice (the Alpha builds of Magic Lantern for the system already include this functionality).
Most importantly, some of these great classic lenses perform really nicely on the M.  I have a bit of a love affair with old Takumar lenses as well as some of the Helios lenses, and they produce lovely images on the system.  I have been very happy to get back the use of my Super Takumar 35mm f/3.5 M42 lens, for example, a lens that I loved when I shot crop sensor cameras  but one that just didn't work very well (at all!) on my full frame bodies.  I have hung onto it in hopes of using it again someday, and through the M it has had new life.  I was also able to get an adapter for a Konica  Hexanon AF 50mm f/1.7 lens that has a good reputation but had no EF based adapter.  Check out the gallery below for a selection of images all taken with legacy glass on the EOS M.  Some of the old lenses have both unique rendering qualities and color.  Many of them also sport beautiful build quality and manual focusing rings.  Yard sales will have a whole new meaning…
Lens Options
Canon has chosen to continue with lens-based stabilization, which is, to date, employed on the two zooms (18-55mm and 11-22mm) but not on the 22mm f/2 prime lens.  These three lenses are the only EF-M native lenses that have been released to this point, and it should be noted that Canon has gone the very curious route of releasing the most recent lens (the EF-M 11-22mm f/4-5.6 IS STM) in most markets except the United States, curious, considering that this is one of the largest markets in the world for all consumer products.  Because I enjoy using the vintage glass I do wish that the camera had some form of in body stabilization.
The small number of native lenses for the mount does leave some potential buyers with fear that Canon is not fully invested in the system.  I am one that is hoping that this is not the case, although the native M mount lenses are not necessarily my priority when I have a full kit of lenses in the EF system.  I am impressed by the quality of all the lenses produced for the system thus far, and they have each been very well received for both their build and optic qualities.  Better to make fewer quality lenses than more options that aren't worth purchasing.  The 18-55mm lens, for example, is universally held as being a superior lens to the EF-S equivalent.  It is nicely built, the zoom ring/action is very smooth and precise, and the image quality is really quite good.  I have found it both a handy walk-around lens as well as a nice backup to shooting with a very specific type lens on a full frame body (an ultrawide, for example).  Another welcome point is that thus far Canon has put a reasonable price on each of these lenses.
The 11-22mm, for example, is priced considerably below the EF-S 10-22mm or the EF 17-40L.  I do not own that particular lens but have heard nothing but good about it.
The 22mm f/2 lens is a very nice little piece of glass.  It is essentially the equivalent of a 35mm f/2.8 FF lens, and I am personally quite fond of the 35mm focal length.  The compact nature of the pancake lens makes it an incredibly portable package, and frankly I don't feel overly limited just at that focal length.  It is this combination in a little bag that I grab when jumping into the car so I have a "just in case" camera that goes beyond my iPhone.  The lens is nicely sharp wide open, and when stopped down, provides great detail throughout the frame along with excellent color rendering.  It is actually very similar to the EF 40mm f/2.8 STM lens, another lens that punches way above its weight (and price). I used it exclusively as a travel/walk around option in New York state and on a Cruise, and here is a gallery of images taken with that combination:
Speaking of the EF 40mm f/2.8 STM; it is actually a very nice fit on the M through the EF adapter.  It remains a nicely compact package, is a good focal length, and works very well on the system.  The STM motor also makes it a good video option as well.  It is worth noting that all three EF-M mount lenses have a very nice minimum focus distance and perform very well at minimum focus.  This is made more important by the fact that there is no dedicated macro lens for the system yet.
I would like to see a macro lens (a rebuild of the excellent EF-S 60mm f/2.8 would be welcome), a compact telephoto, and, above all, a few more pancake lenses for the system (starting with a 50mm option).  Pancake lenses are a natural fit because they keep the system so impressively compact while offering great image quality.  At least one new lens announcement is expected soon.
EF on M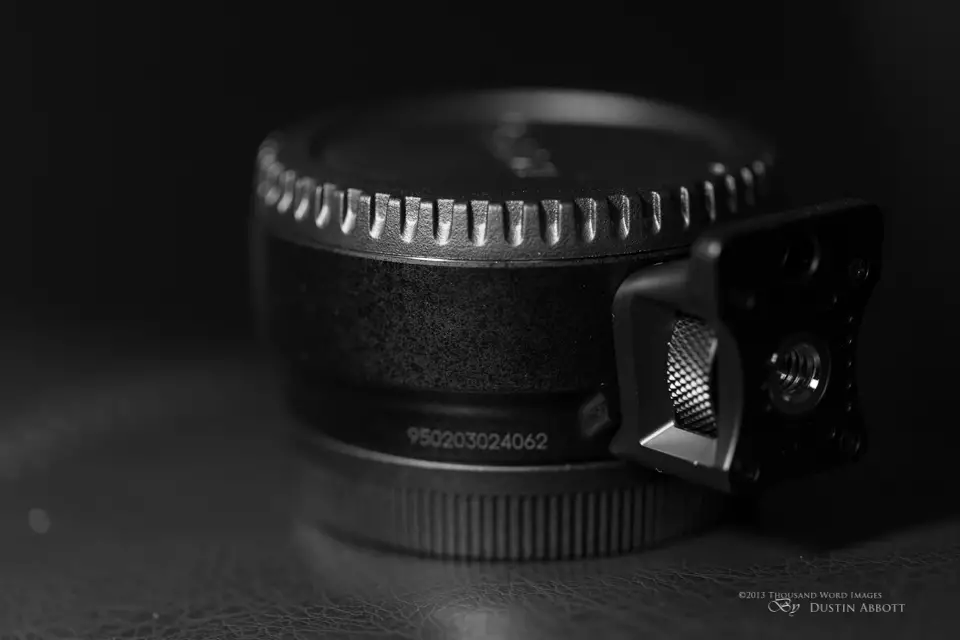 The genius of Canon's plan with the M becomes evident when you consider that the ENTIRE range of EF or EF-S lenses can be mounted on the M through the use of the EF to EF-M adapter.  There are already a variety of knock-off adapters, many of which do support the AF ability, but I have read that there can be issues with those adapters on occasion.  They are considerably cheaper than the OEM version (I paid right over $100 for mine).  But, when you have that adapter, you have myriad lens options.  On a practical level, the size and weight of many EF lenses means that the combination can be an ergonomic disaster.  Out of my personal kit, I find that my 40mm pancake works excellent, along with the 17-40mm f/4L, and finally the 85mm f/1.8.  Don't get me wrong:  all of my other lenses take great pictures on the M, but the 85mm is about the limit to me where it feels reasonably natural to handhold and balance.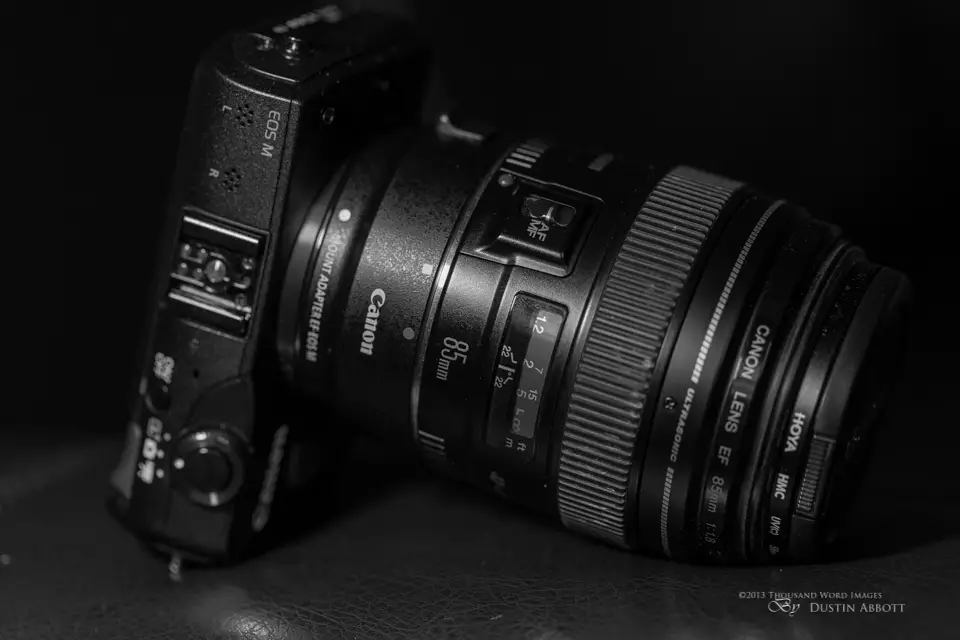 If you are using lenses larger than this, I would recommend either learning to mostly support the lens (rather than the body) with your hands, and definitely, if you are using a tripod, please use the tripod mount on the adapter.  One lens I am strongly considering for both of my systems is the new Canon EF 35mm f/2 IS.  I think it would be an excellent choice on either body.
Most importantly, all of these EF lenses retain full AF abilities and work with varying degrees of success, but mostly work very well.  The AF speed of the lens itself and the newness of the design will probably be the single biggest factor.  All of my lenses work fairly well.  Here is a sampling of images taken on the M with EF lenses (I haven't shot this way a lot, yet).
Gripes
I have already stated my laments over the "grip" and its ergonomic challenges.  A viewfinder and an articulating screen would be welcome additions to the next generation of M (which is rumored to be announced soon).  But there is one other significant ergonomic issue that irks me:  the location of the playback button (for reviewing images) is located in such a way that I almost always hit it when trying to pull the camera out of a bag.  This causes the camera to stir (it makes a whirring noise) without actually fully coming on.  It happens way too often, however.
I'm also not thrilled about the quantity of noise that is evident by ISO 3200, but this is unfortunately more a byproduct of where crop sensors are at than something unique to the M.  I have been spoiled by the marvelous high ISO performance of my 6D bodies.  I would rather shoot the 6D's at ISO 12800 or sometimes even 25600 than at 3200 on the M.  On the plus side, the noise renders at a somewhat film grain like level until ISO 6400, where banding begins in earnest.
Another small annoyance is that while I was able to map flash exposure compensation to the "garbage" button during capture, I find that it is very easy to depress that setting while trying to just rotate the wheel for adjusting shutter speed.  I have inadvertently ended up in that menu on several occasions.  It seems to be difficult to maintain pressure that is heavy enough to spin the dial without pressing down too much in some of the preset areas on the dial.  A little more fine tuning on that wheel would be welcome.
The battery could be more robust, although I personally have not found it overly limiting.  I think that the AF can be further improved (and fully expect some form of the new 70D's technology to eventually trickle into the M line).  I would really like to see Canon incorporate an option to have a picture in picture magnification mode where the point of focus can be shown in greater magnification while retaining a look at the whole scene for framing purposes.  This would be huge for both video work and the use of manual focus lenses.
One other gripe is that while the M has a decent burst rate (4.3 frames per second.  17 JPEGS or 6 RAW files rated but a little better in practice), the LCD is the viewfinder and there is a delay after taking a shot.  It doesn't last long, but you won't be able to instantly reframe like you can with an optical viewfinder.  Another somewhat weird phenomenon is that during that "flash" as the recorded image flashes on the viewfinder, the color can seem really flat, although it isn't when reviewing the image on either the LCD or when it is downloaded.
Conclusion
Gripes aside, the EOS M is actually a surprisingly sophisticated little package.  In the right light there are very few compromises made optically, and, in fact, the image quality perhaps surpasses other Canon crop sensor cameras save the new 70D.  The EOS M is capable of producing fabulous images, and considering how compact a package it is, that makes it a very intriguing option for either a walk around or travel camera (I used it a lot on recent trips to New York and on a cruise to the Bahamas).  But perhaps the most clever thing that Canon has done is by giving the M the crop sensor with the same crop ratio as its EF-S mount cameras.  This, combined with the EF/EF-S adapter, allows the M to become a true back up camera to the many of us who have already invested in a lot of Canon glass and accessories.  My whole kit of lenses, from the modern EF lenses to my collection of legacy lenses ALL work on the M through adapters, which means that I have about 18 choices of what I can mount on the camera, and I've only purchased two of them in the native mount!
Canon's greatest strength is its lenses, and the M can take them all.  That was genius!
The compact nature of this camera makes it easy to take along, and the updated firmware means that the AF isn't anywhere near as painful as what it originally was.  At current prices, I think the EOS M is a real winner.  Here's hoping that enough people jump on board that Canon pours some real development money into the system and makes it shine.  Because it is so easy to bring along, you just might find that the camera you have in hand is a pretty competent one.  It's far from perfect, but all things considered, it's a pretty sweet little camera.
Here's one more gallery for you – a variety taken with the 22mm f/2 lens.
DISCLAIMER: This article and description contains affiliate links, which means that if you click on one of the product links, I'll receive a small commission. As an Amazon Associate I earn from qualifying purchases.