Tamron 18-200mm f/3.5-6.3 Di II VC Review
Dustin Abbott
August 26th, 2015
Tamron makes a number of professional grade zoom lenses (some of which I personally use in my own kit), but their bread and butter has been in producing consumer grade zoom lenses that often provide a broader zoom range than competitors at highly competitive prices. I was recently in New York City for a week and saw a LOT of cameras, and the majority of the times that I saw a Tamron lens mounted on a camera body the lens would invariably be one of Tamron's popular "superzoom" lenses. According to Tamron the predecessor of this lens was introduced ten years ago. This is from Tamron's press release a few weeks ago: "The new 18-200mm F/3.5-6.3 Di II VC (Model B018) is the successor to AF 18-200mm F/3.5-6.3 XR Di II LD Aspherical [IF] MACRO (Model A14), which has been one of Tamron's best-selling lenses since its introduction 10 years ago. The new 18-200mm VC uses the most modern optical and mechanical design to achieve compactness and high performance. Incorporating image stabilization, the 18-200mm VC delivers superior image quality and is the lightest zoom in its class. Tamron made full use of its long experience and expertise as a pioneering force in high-power zoom lenses to create an optimal all-in-one™ lens that opens up new photographic possibilities to all DSLR camera users."
One of my first observations when I read that announcement is that at the least Tamron has managed to slightly reduce the length of the NAME of its lenses in that ten years, so that's a start!! The original lens (which sells for a bargain $199) is replaced by the new lens, and while the 18-200mm f/3.5-6.3 Di II VC is slightly more expensive ($249), it brings a number of new upgrades to the table that will surely continue its popularity. Let's go back to that press release for a moment to highlight some of those changes, and then I will elaborate of how those improvements play out in real world use.
But first of all, if you prefer to watch your reviews, take a look at my video review of the lens:
From the Press Release
1. No need to change lenses—shoot in a wide variety of settings, from true
wideangle to telephoto, with a single lens
A zoom range of 18 to 200mm (35mm equivalent: 28-310mm) means there is no need
to change lenses even when switching from wideangle shots in tight places to long
telephoto shots of distant objects. Ideal for everything from large groups photos, family
pictures, portraits, scenery, animals and school events—even for close-up shots (less
than 0.5m / 19.7 in.) of food.
This is, in a nutshell, the primary reason why the predecessor to this lens was so popular and why this lens will be no different. In a Canon mount and its 1.6x crop factor (tested here), the focal range is a full frame equivalent of 28.8-320mm. In Nikon and Sony mounts the crop factor is 1.5x and the focal range is a full frame equivalent 28-310mm. This is obviously a very, very useful focal range that will cover the vast majority of a person's photography needs. This is slightly over an 11.1x zoom range and allows many people who have used a superzoom/compact camera with a big zoom range to use a DSLR with a smaller penalty on their zoom range while taking advantage of the enhanced image quality of a DSLR. Most kit lenses are typically something like 18-50(ish)mm, meaning that this lens adds on a significant advantage in reach while not compromising the wide end that people are accustomed to. Many DSLR users simply don't want to switch lenses or carry heavy gear, and this lens enables them to do just that.
The press release highlights the very nice maximum magnification due to the close focus of the lens. It allows for a 1:4 reproduction ratio, or .25x magnification – a very useful figure. As this photo shows, I was able to fill the frame with a relatively small Black-Eyed Susan blossom.
My experience says that large zoom ranges usually equal compromises in image quality, particularly in a compact lens like this. Please recognize that I am not the target audience for this lens; my own personal lens kit runs 20+ lenses and I own five camera bodies. I've reviewed the Zeiss Otus 1.4/55mm, the Tamron 15-30 VC, and Canon 100-400L II (a few standouts for the year) this year alone. My previous crop sensor review was the Sigma 18-35mm f/1.8 ART series. This lens is obviously not going to threaten any of these in the image quality department. That being said, these are clearly not the comparisons. The Otus costs 16x as much!
A more fair comparison are the kit lenses. I don't have an 18-55mm f/3.5-5.6 on hand, but I do have the 55-250mm f/4-5.6 STM and the EF-M 18-55mm STM for mirrorless. While both of these lens have a slight edge in image quality, the overall image quality is very similar. I wasn't often wowed, but every now and then an image would come out of the camera that would impress me.  Here is one of them along with a crop from the point of focus:
I don't think the typical user of this lens will be disappointed with the image quality. I was encouraged to find that images looked better on the more demanding 24MP sensor of my EOS M3 mirrorless body. That tells me that the lens is not being "outclassed" by the more demanding sensor.
I was very impressed by the image quality of the equivalent Tamron lens for mirrorless (same lens name except for Di III in the name instead of Di II).  I think the mirrorless lens was perhaps a bit sharper overall, but it also costs twice as much.
In the interest of fairness, I will report that I only had about a week with the lens for this review, and so I didn't have a chance to shoot it in as many situations as I normally might. In that time, however, I used the lens at a Men's event I was shooting, a golf tournament, and then in some general purpose and nature shooting.
Color rendition is nice, and overall sharpness is at times impressive for the extreme nature of the focal range and its compact size. I had no problem producing nice looking images with it and that broad focal range gives you many shooting options. Chromatic aberrations seem well controlled. This photo has plenty of transition areas from dark to very light areas, but I don't see any apparent chromatic aberrations or fringing.
The micro-contrast of the lens isn't amazing, however, and I see a bit of "haze" at the edges of things like leaves.
The lens is also somewhat flare prone. I played around with putting the sun in the frame and found that in some situations I got some ghosting artifacts and in other situations I got a fairly extreme veiling effect. The included lens hood helps, but I would be careful when pointing this lens towards the sun.  The middle shot of this series shows the difference when I made a minor adjustment of the sun's position.
2. Greater portability at a weight of just 400g (14.1 oz.)—the lightest lens in its class
Covers the focal length range of 18 to 200mm and features Tamron's VC (Vibration
Compensation)*2, but weighs a mere 400g (14.1 oz.). Tamron designed the 18-200mm
VC to be as user-friendly as possible by emphasizing portability and convenience.
Users will appreciate the incredible balance and comfortable feel of this lens—even
when used with the newest APS-C DSLR cameras.
The equivalent lenses from Canon and Nikon both weigh in at 560-590grams, or nearly a third more than the Tamron. The predecessor from Tamron weighed 398 grams, so Tamron has managed to provide a more robust build (more on that in a moment) and VC (image stabilization – "Vibration Compensation") while only increasing the weight a paltry 2 grams. None of these lenses are backbreaking, obviously, but if you are traveling and walking all day with a camera around your neck that light weight will be very welcome. Tamron's own 16-300mm PZD lens is also light at only 539g, but it costs more than twice as much ($629) and may not be an option for your budget. If it is in your budget, however, it should be considered, as it adds both 2mm extra width on the wide end (16 vs 18mm) and adds another 100mm to the long end (300 vs. 200mm).
The light weight of the lens makes it an easy match for entry level DSLRs, but it doesn't feel out of place on my more robust 70D body. The light weight also makes it an alternative to throw on a mirrorless body if you happen to have one. I used mine via adapter on my EOS M3, and it didn't feel out of place there (more on that in a moment).  One potential sacrifice to weight is found at the lens mount, which is plastic rather than metal.  I rarely see plastic mounts these days, and I wasn't thrilled to see this one.  It is the one area of the lens' design that seems, well, cheap.
The overall dimensions of the lens are 3.8"/96.6mm, although the lens adds another 65mm/2.5 inches when fully zoomed out. It has a double barrel zoom design, but I didn't detect any wobble when the lens barrel was extended. It has a relatively small (and somewhat uncommon) 62mm front filter thread. I can only recall using or reviewing a couple of other lenses that share this filter size, but at the same time they are easy to find and relatively inexpensive. The optical formula for the lens is fairly complex, with 16 elements in 14 groups.
3. Features VC and AF, providing valuable support for DSLR camera novices
Camera vibration is magnified in telephoto shots and when a slow shutter speed is
used because of dim lighting. Even beginners can take great photos at long distances,
at night, and indoors—and avoid camera shake—thanks to Tamron's acclaimed VC
mechanism. By incorporating a newly designed autofocus drive module with optimal DC
motor-gear train integration, the 18-200mm VC also focuses much more quickly and quietly
than models with conventional DC motors.
Both of these features are significant improvements in their own way. The Vibration Compensation (VC) is a huge asset in a lens that reaches a full frame equivalent 300+mm. Trying to handhold such a lens without stabilization at lower shutter speeds becomes nearly impossible. Thanks to an effective VC system, I was able to handhold 1/5th second shots at 200mm with fairly good results, and quite consistent results at 1/10th second. This screenshot shows the difference between the 1/10th second shot with VC on and with it off.  The second shot shows the acceptably sharp VC result in more detail.
The VC also does a great job of stabilizing the viewfinder image, although I detected a consistent "shifting" of the viewfinder image down before the stabilization locked the image in place. I've seen this behavior before in other lenses, and, while I'm not crazy about it, I can also live with it in a lens that costs this little. Tamron makes great stabilizer systems, and this is a very welcome addition to a lens like this.
The predecessor of the lens also had AF (autofocus), but it was an earlier generation of micromotor that was somewhat "buzzy" and loud in operation. I didn't own that lens, but I did own the slightly upscale 18-270 VC lens (first generation), and it had a similar micromotor AF system. At this stage I'm very familiar with Tamron's modern AF systems that fall under the heading of USD (Ultrasonic Drive) and PZD (Piezo Drive). This lens employs a different system that I suspect is akin to Canon's STM (stepping motor) AF system. The lens focuses fairly fast and quietly, and is definitely an improvement.
I recently picked up a copy of Canon's 55-250mm STM lens as a lightweight travel telephoto option. My plan was to use it on both my 70D body and via adapter on the EOS M3 body. STM lenses seem to function better on the mirrorless body, and I hoped that it would be a decent option for the M3 (I don't own a native telephoto lens for the M system). I was disappointed by how slow the lens autofocuses on the M3, however, despite snappy performance on my 70D. I am rethinking that plan and may spend the extra money to get Canon's EF-M 55-200mm instead. I was pleasantly surprised when I mounted this lens on the M3, however, as while the lens didn't focus super-fast, it focused considerably more quickly than the Canon STM lens. This behavior is part of the reason why I suspect the AF motor may work in a similar fashion to the STM system along with the actual way the lens focuses.
One negative that I encountered (and one I hadn't encountered for a LONG time) was the fact that the focus ring spins while focusing. My standard means of supporting a lens with my left hand would sometimes interfere with that. This behavior (along with no mention otherwise by Tamron) indicates to me that full time manual override is not available with this lens' AF motor, and this would be a deviation from stepping motor technology. STM does allow manual override, but manual focus is a focus by wire system where the AF motor still actually drives the movement of the internal elements.  I found that many times I had to readjust my natural grip to allow the lens to focus properly (because my fingers were impeding the movement of the focus ring).
I calibrated the lens on the 70D body and seem to get pretty consistent focus results. I was [frankly] shocked by how good the lens performed in AF servo mode. I had my son run at his top speed towards me and I shot burst mode in AF Servo. Over 19 frames in one sequence (right under 3 seconds) the lens did not miss. The same was true for the other three sequences. I didn't expect such a good performance (even with the "advantage" of a slow aperture with fairly deep DOF). That's a plus for those of you who have active youngsters that you want to chronicle. Here is that 19 frame sequence:
If you watch the background in this sequence, you will see that it slowly becomes increasingly out of focus until in the final shots it is quite diffused.  This is further evidence that the lens is doing its job of focusing, as the plane of focus is moving appropriately towards the camera.
The AF is a definite improvement, and these two upgrades alone more than justify the slight ($50) price increase over the previous model.
4. Delivers enhanced imaging performance in a lightweight package
Featuring 16 elements in 14 groups, the 18-200mm VC uses an LD (Low Dispersion)
lens element to minimize chromatic aberrations. Although light and compact with VC,
Tamron's new offering also delivers amazing overall optical performance for an allpurpose
lens. A circular, seven-blade aperture diaphragm maintains an almost perfectly
round shape even at two stops down from its maximum aperture, providing desirable and
beautiful bokeh with point light sources blurring into naturally rounded shapes.
I've dealt with the effective handling of chromatic aberrations (a significant improvement over the predecessor), but another nice upgrade is the improved aperture iris. The rounded seven blade aperture helps to produce fairly nice bokeh, and I can attest to the fact that the aperture stays very nicely round even when stopped down. Here are some shots that illustrate that:
Careful examination of some of these bokeh highlights show some concentric rings with in the bokeh highlights (often called "onion bokeh"), but these lines are not pronounced.
I did notice some fairly extreme distortion on the wide end. It has a bit of the "moustache" pattern that tends to be very difficult to correct.  You can see this in the ceiling line above the speaker in the image below. There isn't a profile yet available for the lens (it's barely on the market!), but I suspect a bit of distortion will remain after correction.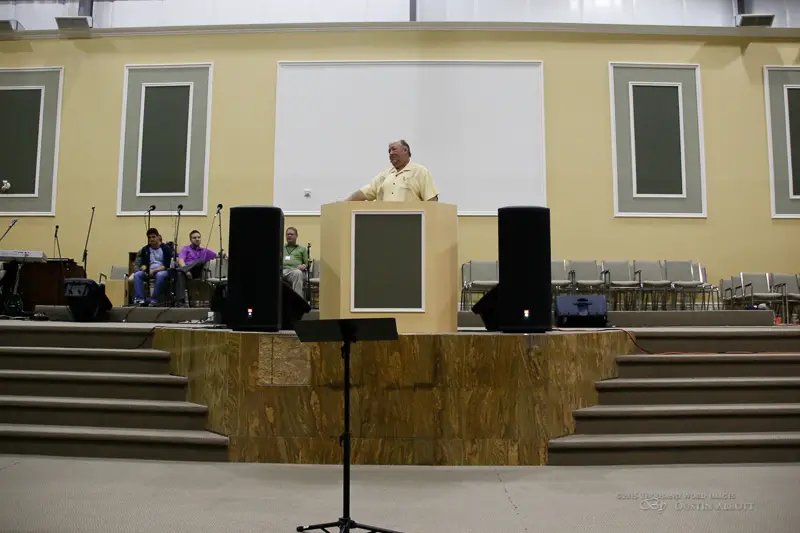 This is a "slow" lens in terms of aperture, with a maximum aperture on the long end of f/6.3. Just to allay any concerns, however, this lens will autofocus on all DSLRs with the appropriate mount. Sometimes uninformed (or unscrupulous) salesmen will try to tell potential customers that lenses with a maximum aperture of f/6.3 won't autofocus. The lens starts on the wide at f/3.5, but that lasts only until 22mm, when the lens shifts to f/4. f/4.5 comes around 33mm, followed by f/5 around 44mm, f/5.6 at 76mm, and f/6.3 at 163mm. Put simply, this lens will thrive most when there is a good amount of available light. I had to use it at fairly high ISO's when using it shooting an indoor event. It was quite a change from the ISO settings I typically use when shooting the same facility with my f/2.8 (and faster) lenses. Fortunately even crop sensor bodies are making good strides forward in high ISO performance, so using a lens like this has less of an impact than it used to. The slower aperture values come as part of the territory of having a large zoom range in a compact body.
5. Works great as an easy-to-use lens for day-to-day use
For added dependability and longer life, Tamron's new lens features moisture-resistant
construction that helps prevent damage caused by accidental exposure to wetness. The lens
also comes with a Zoom Lock feature to prevent unwanted barrel extension when users carry
their lens and camera body combinations with the lens pointed toward the ground.
This final bit is an unusual inclusion on such a budget lens. "Moisture-resistance" certainly doesn't mean "feel free to dunk this lens in a fountain", but it should help to allay some fears if you are traveling and need to shoot in a light rain. There is a rubber gasket around the mount to prevent moisture from creeping in there, and I presume there is some light sealing around the two switches on the body (AF/MF and On/Off for the VC). This is a nice bonus from Tamron, and the lens has Tamron's current design ethos of lightly flocked engineered plastics and the tungsten toned accent ring. The zoom ring is nice and wide, with a ribbed, rubberized grip.
The focus ring is less impressive at only a little over a quarter inch. When in MF mode the ring moves extremely easily – perhaps too easily. There isn't quite enough damping for supremely accurate manual focus, but this isn't a Zeiss lens – 99.5% of the users will probably never manually focus the lens [not a scientific estimation].
The inclusion of a zoom lock is always welcome, although you probably won't need to use it very often. The front element is very light and the lens shows zero inclination towards zoom creep. Sometimes when using a chest harness or lens strap friction on the zoom ring can make a lens start to zoom out, so you might have a use for it in that kind of situation.
Once all of Tamron's lenses were made in Japan, but in recent years some of the lower end Tamron lenses have had some of the manufacturing outsourced. This lens is produced in China, while the lens hood is produced in the Philippines. Tamrons come with an industry leading warranty. In North America that warranty is six years; certainly very welcome. If you are in Canada I recommend purchasing from Amplis Foto; they are the Tamron distributer and would be handling any potential warranty service.  The price in Canadian dollars is $299, which is cheaper for Canadians when you consider the current exchange rate (you can chop an additional 5% off by using my code "AMPLIS52014"). If you are in the United States (or other countries), my partner is B&H Photo.
In conclusion, those of you who are looking for an inexpensive all-in-one lens will find little to be disappointed by. The 18-200mm f/3.5-6.3 Di II VC lens is a significant upgrade over its predecessor and basically offers all of the performance of the Canon/Nikon counterparts at a significantly lower price point ($599 for the Nikon; $699 for the Canon). Canon's own 18-200 is due an update, and experience says that it is unlikely to retail for anywhere close to the Tamron's $249 price point. I didn't expect the 18-200 VC to offer prime-like image quality, and it doesn't, but there were some shots that I came away impressed by. It will ably capture your family or travel photos, and the inclusion of even a bit of moisture resistance is a nice touch in such an inexpensive lens. The 11x zoom range coupled with excellent minimum focus performance and magnification opens up a very diverse range of subject matter. The lens has a few flaws (distortion and being a bit flare prone are some of those flaws), but all in all is fairly mannerly in its performance. There always compromises made in a superzoom lens, but Tamron has done a nice job in minimizing those and delivering us a tool that is both useful and inexpensive.
Pros:
Great focal range (18-200mm)
Upgraded AF motor with quiet and fast focus (and surprisingly good AF Servo tracking)
Lightest lens in its class
Has moisture resistance sealing
Impressively low price
Rounded aperture blade produces quite decent bokeh
Well controlled chromatic aberrations
Effective VC image stabilizing system
Cons:
No full time manual override
Fairly heavy barrel distortion with some mustache effect on the wide end
Flare prone
The focus ring turns while autofocusing
Some shifting of the image in the viewfinder when the VC kicks in
Not always tack sharp
If you have more of a budget (and need a bigger focal range), you might consider Tamron's 16-300mm f/3.5-6.3 VC PZD (my review here) as another compelling option.  Check out more images at a photo gallery here:
Gear Used:
Canon EOS 70D
Tamron 18-200mm f/3.5-6.3 Di II VC Lens (Use code AMPLIS52014 to take 5% off everything in the Amplis Store)
Adobe Lightroom CC Software for Mac and Windows (Boxed Version)
Adobe Photoshop Creative Cloud 1-Year Subscription
Alien Skin Exposure 7 (Use Code "dustinabbott" to get 10% anything and everything)
Purchasing your gear through B&H and these links helps fund this website and keeps the articles coming. Thank you for your support.

Great News! I can now offer a 5% discount on all purchases at Amplis Foto, Canada's Leading Photographic Supplier. Please enter discount code: AMPLIS52014 in your cart. It is good for everything in your cart, and is stackable with other coupons, too! It will take 5% off your entire order! Proceeds go towards keeping this site going and providing you with new reviews!
DISCLAIMER: This article and description contains affiliate links, which means that if you click on one of the product links, I'll receive a small commission. As an Amazon Associate I earn from qualifying purchases.