Rain Keeps Fallin' on My Head
Dustin Abbott
January 13th, 2015
"Rain Keeps Fallin' on My Head"
This piece was originally written for B&H Photo's "Explora" e-zine. You can find it in it's original form here:  Hopefully this little photography technique article can help you in your future shooting.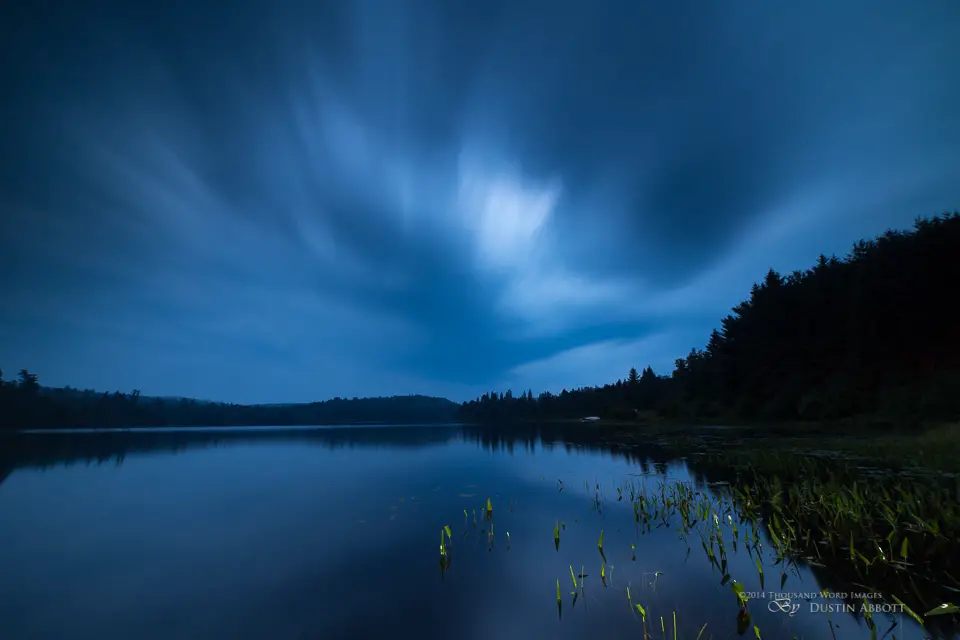 What do you do when the weather you want never materializes?
Every photographer has been disappointed by the weather. The big day of a wedding, or the evening of a portrait session, or that backpacking trip that was supposed to provide the grand landscapes…and doesn't. Mother Nature is a fickle mistress, and it is imperative that every photographer learn to develop a Plan B. But the point of this "How I Got the Shot" piece is that sometimes the worst of weather produces the best of photos. Photographers can learn how to turn lemons into lemonade. Here's my story…
I loaded up for a weekend of camping in Algonquin Provincial Park in Ontario, Canada. This nearly 3000 square mile patch of wilderness is crisscrossed with forests, lakes, rivers, and marshlands and is Ontario's outdoor playland. On this particular outing we camped alongside Whitefish Lake. Some friends had arrived the previous day and raved over the intense starry sky so untainted by noise pollution.
Oh yeah!
This was going to be a highlight for me. I had packed my gear and was planning on taking advantage of getting some awesome shots of the starry sky reflected in the pristine Canadian lake. I had brought along my favorite astraphotography lens – the Rokinon (Samyang) 14mm f/2.8 lens.  (Click the link to read the review) This is one of the absolute best lenses for shooting the night sky (and any number of other things!) because of its low coma (distortion of light sources) and excellent sharpness. It also happens to be one of the greatest bargains in photography! It has a huge angle of view on my full frame bodies, and I knew that the magic was going to happen.
And then it started to rain.
And rain.
And…wait for it…rain.
It quickly became clear that this was no passing shower. Every little easing of the intensity of the rain on the canvas of my tent was quickly followed by another deluge. At some point (hours later) I began to realize that I was going to have to go to a plan B.
In that moment when the blues of the day blend into the black of night I put up a golf umbrella over my head and my gear and headed to the shore. I found a picnic table that was mostly submerged in the lake (how did that happen?) and was able to walk out to it on a few small logs. It was a relatively flat surface in an area surrounded by the greens of marine plants near the shoreline. I set up my Manfrotto 190XPro tripod on the table and then mounted my Canon EOS 6D body with the afore mentioned Rokinon 14mm lens. The EOS 6D is a great body for shooting in low light conditions because of its full frame sensor and exceptional high ISO performance. The weather didn't change…and my umbrella stayed up. But I was determined that I was going to get some special despite the weather.
I visualized three main goals for the shot: 1) I wanted to balance the exposure between the sky and the foreground 2) I wanted a long enough exposure to smooth the surface of the water (which was being hit by rain!) and enable some reflections from the distant shoreline and 3) I wanted to illuminate some of the marine plants around me to add some visual interest to the foreground.
To accomplish the first I used a square filter system for the 14mm lens and then added a graduated ND (Neutral Density) filter. Graduated ND filters have a dark half that "graduates" into the clear half of the filter. Such a filter is one of a landscape photographers best friends, as it enables them to "hold back" the brighter light in the sky with the dark half of the filter and thus harmonize it with the foreground. Without a ND filter you are left trying to choose which you want to properly expose for. By using the graduated ND I was able to properly expose for both.
The second goal was even easier to accomplish. I chose a very low ISO setting for the lighting conditions (ISO 200) and then narrowed my aperture to f/8 to allow me the longest possible exposure without using a remote shutter release of some kind – 30 seconds.
My last goal required a little more creativity, but was still relatively simple. I had used a small LED flashlight to illuminate my way to my shooting spot. When the exposure began I played the light over the foreground in an even pattern for approximately 5-6 seconds of the exposure. This is an acquired skill mostly developed through trial and error over time. Too little light would not achieve my goal; too much would cause blown highlights and a ruined photo. But like Mama Bear in Goldilocks, this proved to be the "just right" amount of light.
As soon as I saw the first shot on the LCD, I knew that my "ruined shooting experience" was anything but. The rain kept falling, but the resulting effect was a brilliant blue world with a fabulous sky full of cloud movement and a water surface that looked like a mirror. The little pops of green in the foreground were a great contrast to the deep blue tones elsewhere. The sky took on the appearance of a blue toned Aurora. This series of photos proved to be my favorite of the weekend.
Because I had taken the time to visualize the shot and had the right tools with me, there was relatively little to do in post processing. I made a few minor adjustments to the RAW image in Adobe Lightroom 5 (always my "home base" for importing images and making initial adjustments before going into Photoshop or other plug-in programs). The final result is pretty much what came out of the camera. I love post processing, but it is always pretty gratifying when images look fantastic SOOC (straight out of camera).
This first shot I called, "Rain Keeps Fallin' on my Head", and much like the song that I borrow the lyric from, the result just makes me happy. I've included a few other compositions from the same series: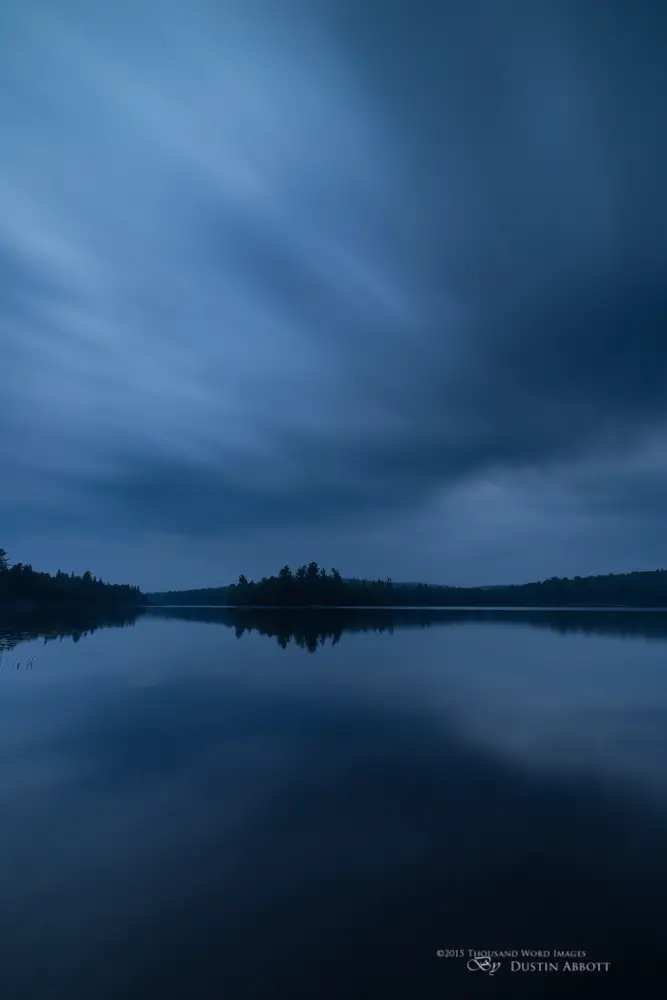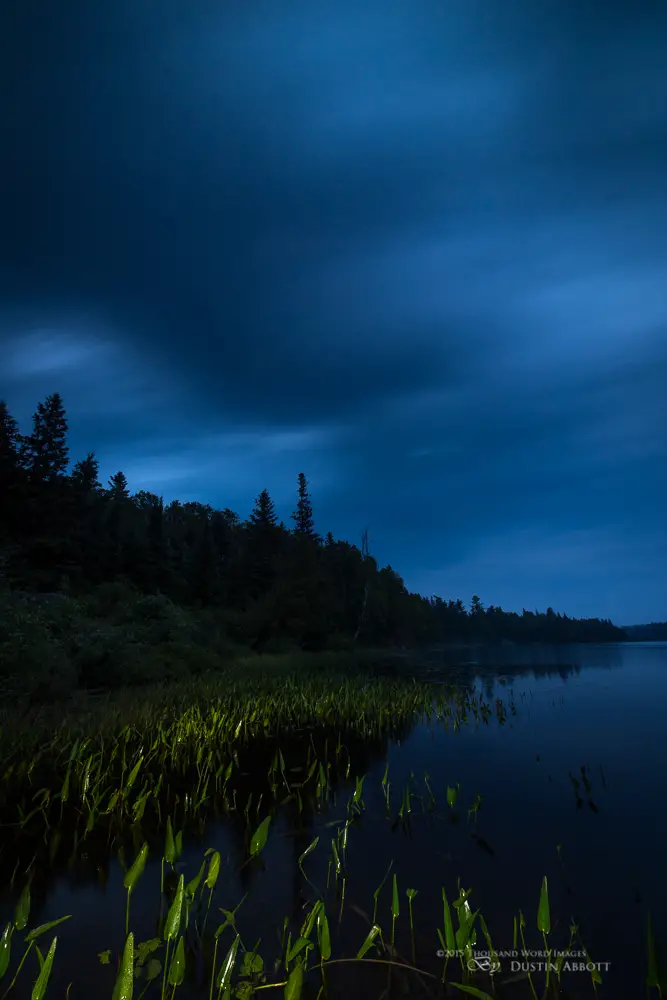 So the moral of the story is don't put the camera away when the weather doesn't seem to cooperate. You might be surprised to find that some of your best photos come during some of the worst weather. The right planning (and the right tools) can shape the light to your purpose…and that's what photography is all about.
Oh, and by the way, I did get a little peep at the stars between clouds the next night: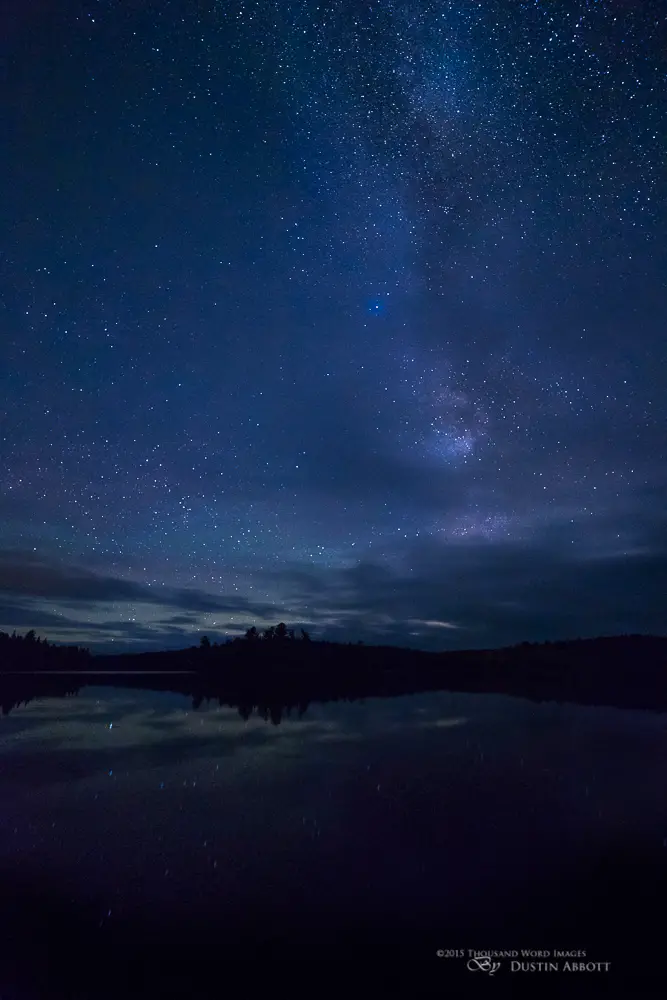 Gear Used:
Canon EOS 6D DSLR Camera (Body Only)
Rokinon 14mm Ultra Wide-Angle f/2.8 IF ED UMC Lens For Canon
Manfrotto 190XPROB Aluminum Tripod with 804RC2 3-Way Pan/Tilt Head Kit
Adobe Photoshop Lightroom 5 Software for Mac and Windows (Boxed Version)
Adobe Photoshop Creative Cloud 1-Year Subscription
Alien Skin Exposure 7  (use code "dustinabbott" to get 10% anything in the Alien Skin store)
Purchasing your gear through B&H and these links helps fund this website and keeps the articles coming. Thank you for your support.

Great News! I can now offer a 5% discount on all purchases at Amplis Foto, Canada's Leading Photographic Supplier. Please enter discount code: AMPLIS52014 in your cart. It is good for everything in your cart, and is stackable with other coupons, too! It will take 5% off your entire order! If you want to go directly to this lens, click here: Proceeds go towards keeping this site going and providing you with new reviews!
DISCLAIMER: This article and description contains affiliate links, which means that if you click on one of the product links, I'll receive a small commission. As an Amazon Associate I earn from qualifying purchases.